Easy Peach Cobbler is a simple summer dessert you can whip up in no time at all. Made with fresh peaches and a handful of pantry staples, it's super quick to whip up. Serve this family favorite with a scoop of ice cream for a special treat!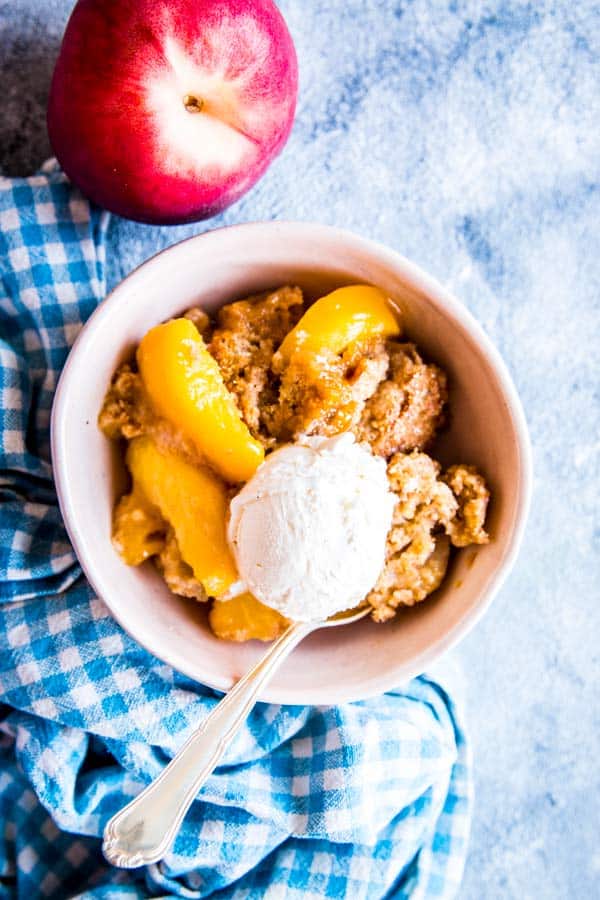 You know how you sometimes get these cravings for old-fashioned recipes like Grandma used to make, only to realize that Grandma's coveted recipe was the one on the back of the canned biscuits with all the very, very strange ingredients?
You want to share your childhood food memories with your kids. You want the baking to be quick and easy, but you also want to stay scrappy and make it from scratch.
And can you get that mess-free, too?
Lucky for you and me, this from scratch peach cobbler is the answer to all our nostalgic prayers.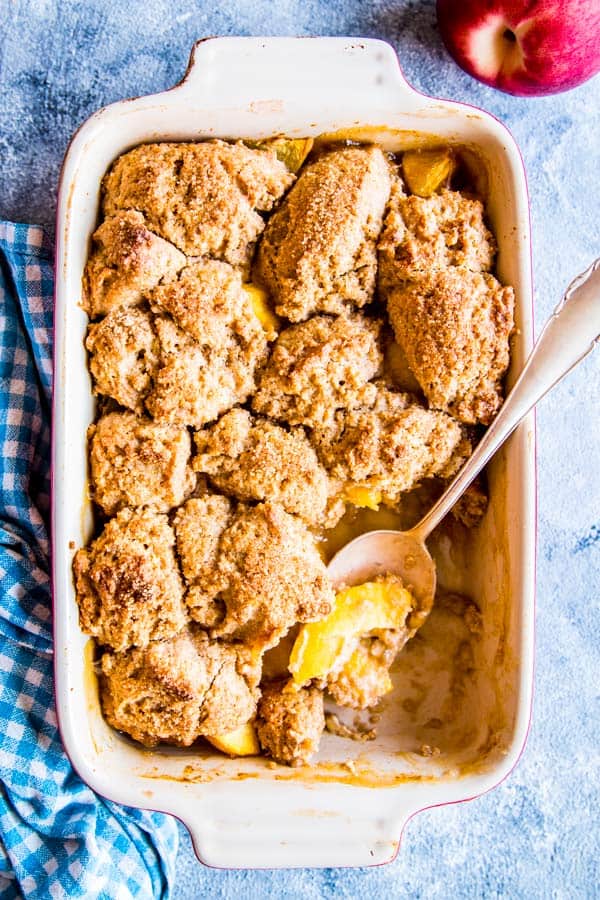 In fact, this cobbler recipe is one of my go-to desserts around here. It's fast, it's easy, it's amazingly delicious. And you can make it with pretty much any fruit, all year long.
Just to prove my point: It works as a Fresh Cherry Cobbler, as a Crockpot Berry Cobbler and stay tuned to watch me turn all the fall fruit into cobblers, one at a time.
Bonus: My kids and my husband love cobbler (and so do I!).
My 4 year old frequently pretend-plays cobbler baking sessions, so when my grandma handed me two pounds of slightly battered FARM-FRESH peaches from a branch that had broken off in her garden – I mean, duh.
It was peach cobbler time, without a single doubt.
And peach cobbler is company-friendly, too!
My go-to peach cobbler recipe is so easy that I often make it when we have company during summer. Just yesterday my sister was visiting, and I whipped up a quick cobbler for dessert.
With ice cream, obviously.
And we ate it on the front porch because life is so, so good to us. (Ignore the bare mess in the background, our house is not even close to being done ?)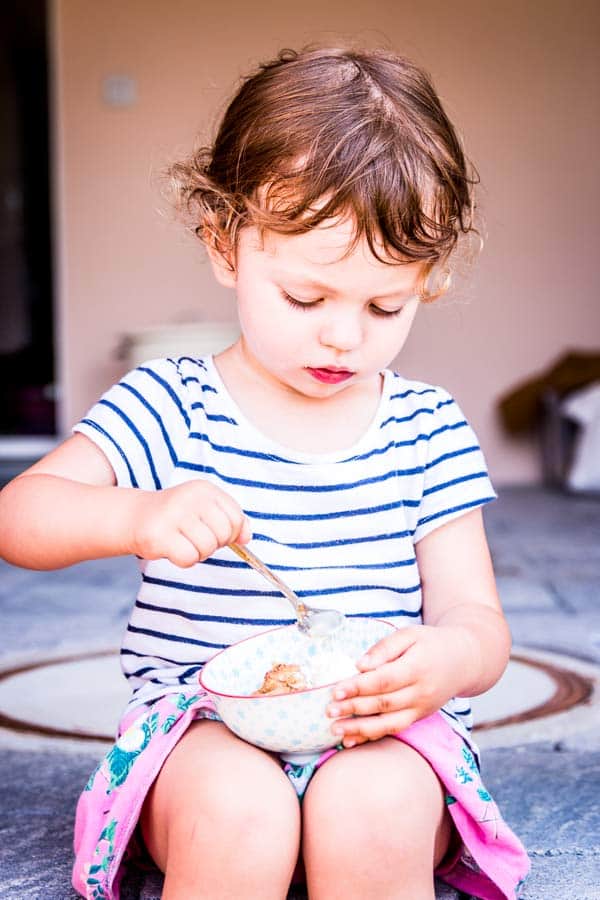 I even make cobbler for holidays and birthdays, yes – it's a rustic dish. But YES it's also way too delicious and loved by everyone. So – why not?!
And I have a summer baby, so she gets to enjoy peach and cherry cobbler on her birthday, and she's the happiest little gal for it.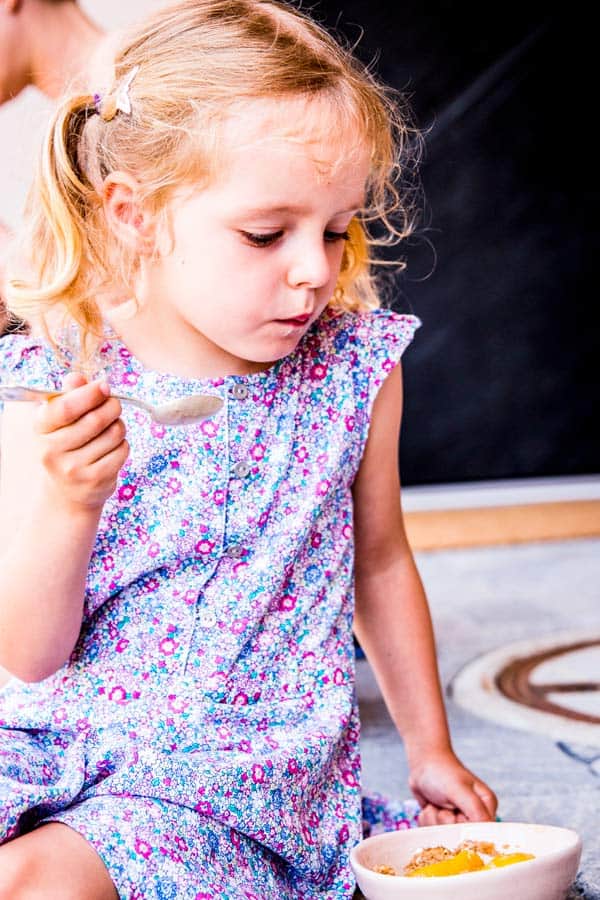 My favorite part when it comes to making cobbler, though?
I pretty much always have the ingredients on hand. And you don't need a lot of things to make a perfectly delicious cobbler!
How To Make a Fresh Peach Cobbler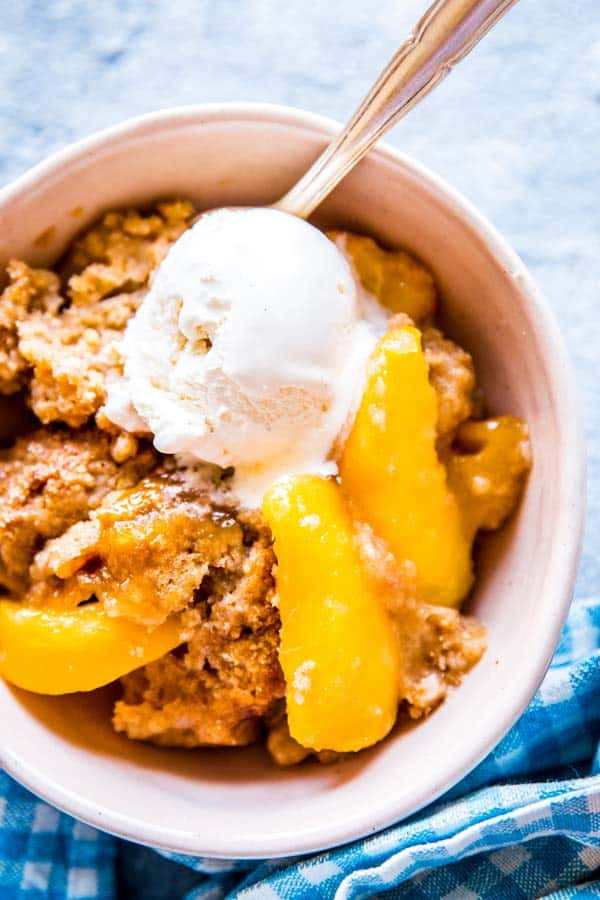 The ingredients
My fresh peach cobbler recipe is made from a handful of pretty basic ingredients:
Peaches – and you can actually use pretty much any fruit in this recipe. Your fruit can be fresh or frozen. And you only need a little cornstarch or white flour, plus a couple tablespoons of sugar to make the filling.
The biscuit topping is equally easy. Flour, cornmeal (for an extra-rustic feeling!), baking powder, salt, butter and buttermilk are pretty much all you need to make this very peachy summer dessert.
And if you don't have any buttermilk… A spoonful of white vinegar stirred into regular milk works in a pinch, too.
How to make this fresh peach cobbler on a budget:
Buy peaches when they're really, really in season. Which is August. You can also use frozen if that's cheaper for you. OR you can buy peaches when you spot a great sale and peel, slice and freeze them yourself.
Butter is expensive, I know. But there's really no cheap alternative that's good for you and tastes amazing. This recipe uses 1 stick (as opposed to the million sticks in some other recipes floating around out there), so consider this a treat and don't sub in anything else. You would only be disappointed. I also pick up a few pounds of butter whenever it's on sale and just stick it in the freezer.
No need to go out and buy cornmeal just for this recipe, if you don't use it otherwise. Just sub in more flour.
The step-by-step:
So, making any fruit cobbler with my recipe is super, incredibly simple.
But nevertheless, I find it helps to see the steps in photos, especially when it comes to baking.
I want your baking attempt to be successful, so you don't feel like you wasted your grocery money and can be sure to have an absolutely foolproof recipe on hand!
1. Make the Biscuit Topping
First, you need to make the biscuit topping so it can chill in the fridge for 10 minutes while you prep the filling.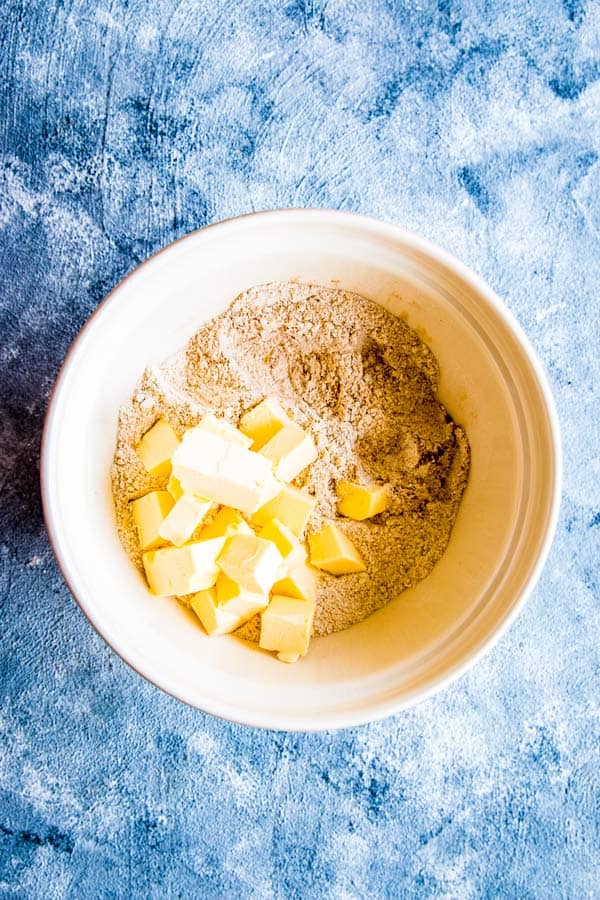 To get started, place all dry ingredients in a bowl and mix them very well. Then, add cubed butter cold from the fridge.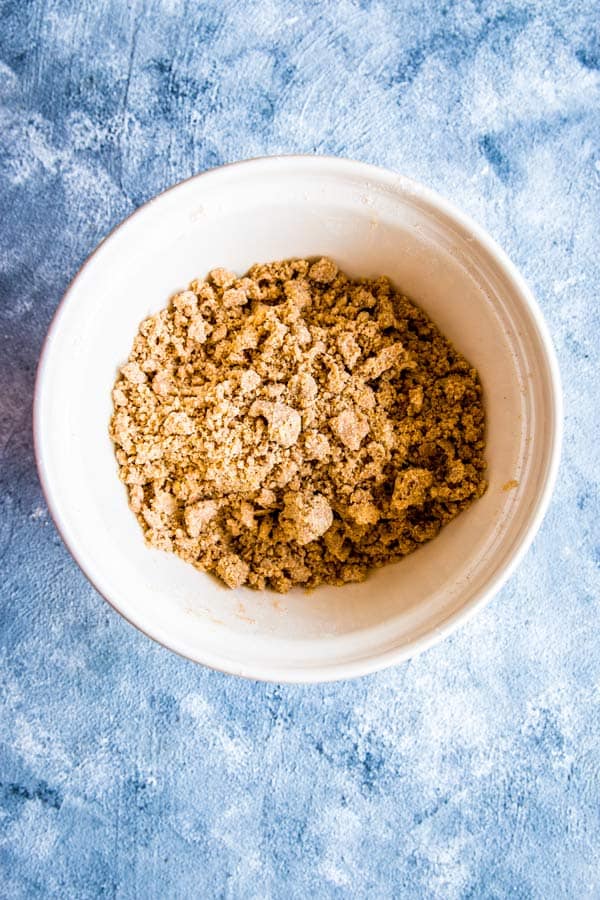 Next, you'll want to cut the butter into the dry ingredients, until there is no more dry flour left and you have kind of a streusel-y, crumbly mass in your bowl.
Some do this with a pastry cutter… I just use clean fingertips to kind of rub everything together.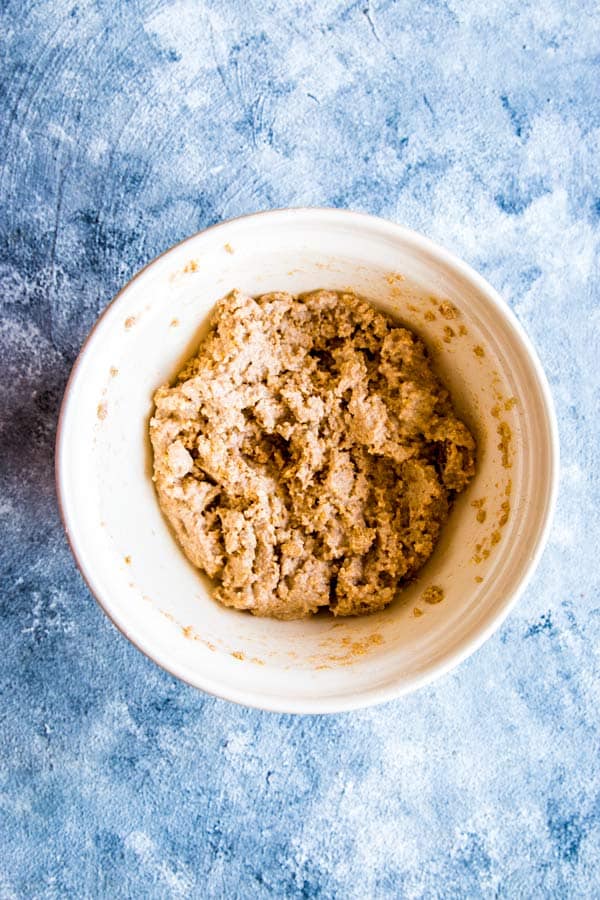 And then add the buttermilk and stir JUST until combined. This is like muffin or pancake batter. Only biscuits are even a little more finicky.
Use a spoon (definitely not a whisk) or a spatula and stir 4-5 times or until you have a messy, shaggy dough in your bowl. Do not try to make it pretty. It is not meant to be pretty. It is meant to be tall and fluffy when it bakes, and you only achieve this with minimal stirring.
It will also seem a little too wet, but resist the urge to add flour. Just stick it in the fridge for 10 minutes or so, and it will be perfect.
2. Make the filling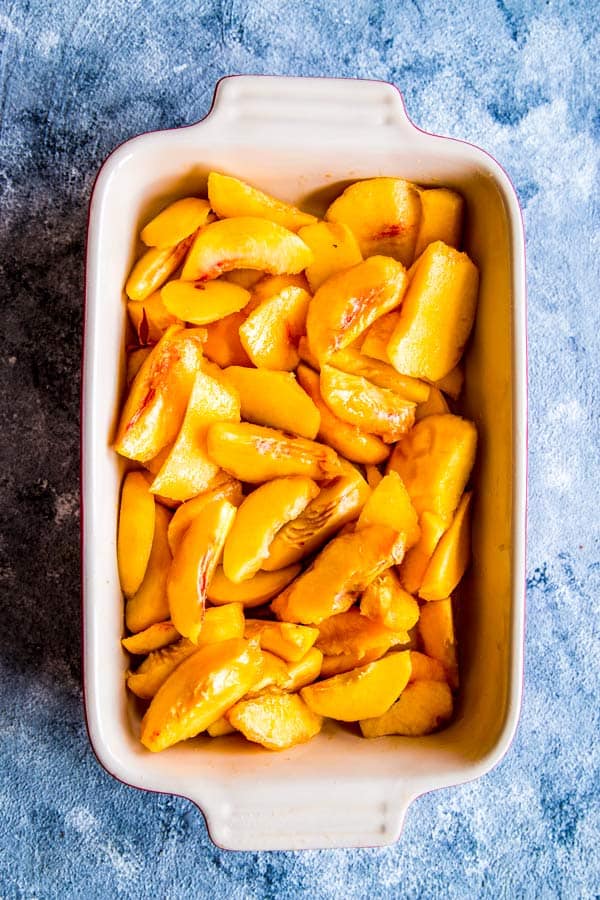 While the topping is chilling, prep your peaches.
I do not usually bother with peeling, but these were very battered and furry, so I enlisted the husband to do the dirty work for me ?
Otherwise you just need to slice them and dump them in a 7×11 casserole dish.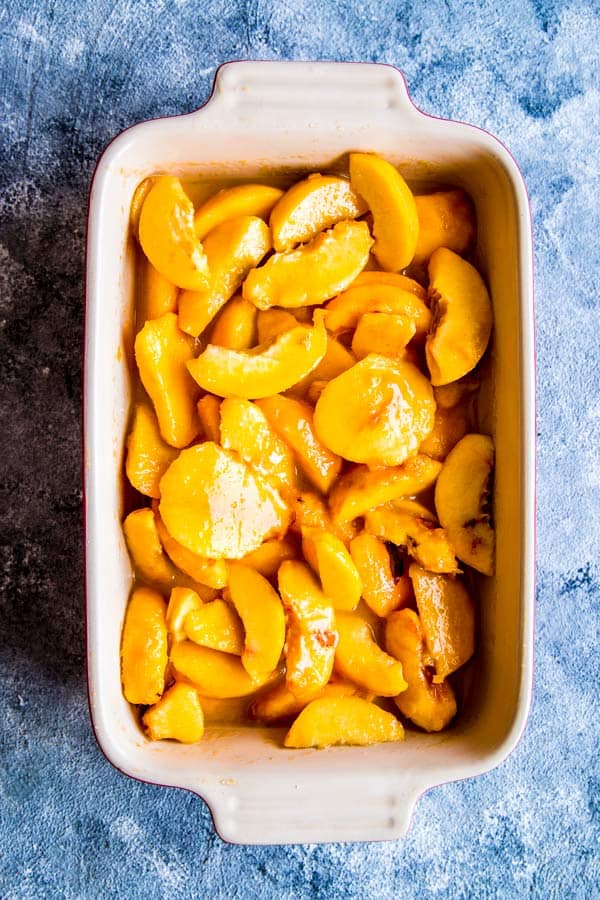 Stir some cornstarch, a little brown sugar and vanilla and water into them.
The vanilla and water are optional. I like adding a little water because I'm a huge fan of a pie-filling-like cobbler filling. You know, a little thick and gooey.
You can just skip it if you like your cobbler filling less pie-like. Depending on your fruit, it can turn out a little dry then though.
3. Assemble and bake your super easy peach cobbler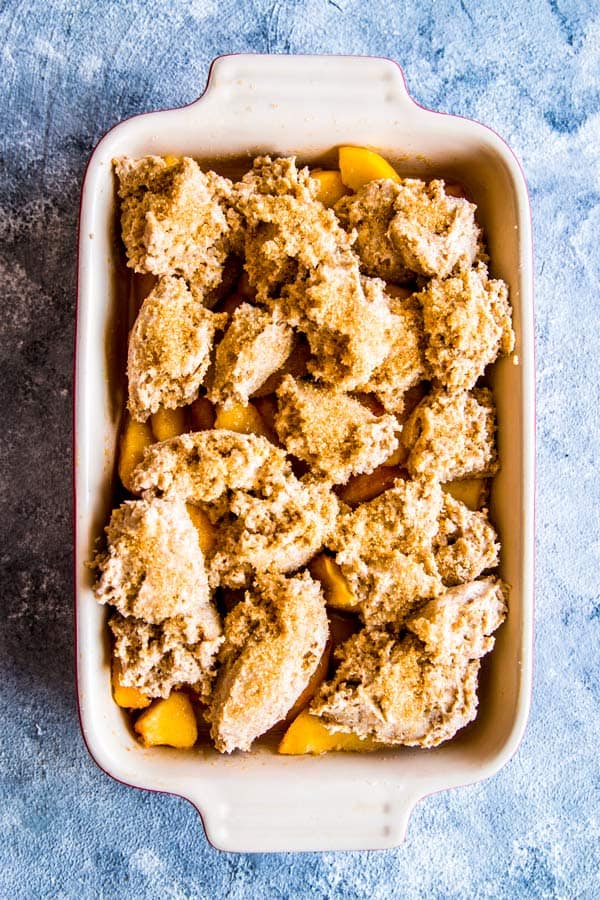 Drop the chilled biscuit dough all over the peaches in blobs. Again, this is rustic. No need to be precious about it.
And while there's no sugar in the biscuit dough itself (it doesn't need it! promise! fruit desserts aren't meant to rot your teeth as you're eating them!), I do like sprinkling the top with some brown sugar.
It looks pretty, gives everything a nice crunch and makes it feel extra special.
Then… Bake this baby.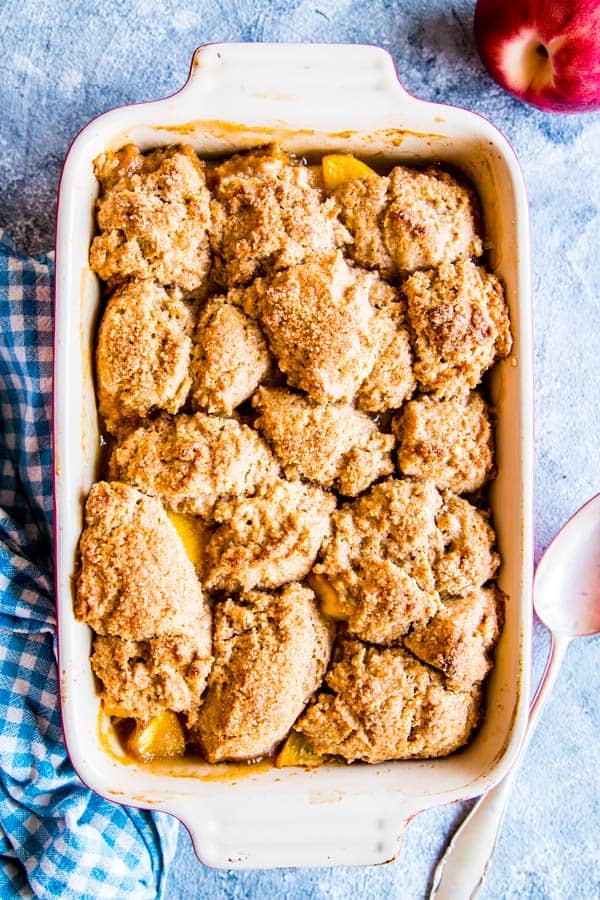 Isn't it a beautiful treat?
I always said I loved fruit desserts even more with a spoonful of yogurt than with a scoop of ice cream… But the current heat wave we're experiencing might just have changed my mind.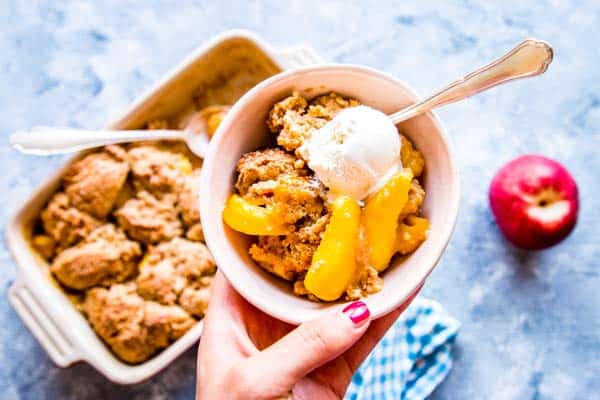 Dang, this dessert is just way too good to even share ?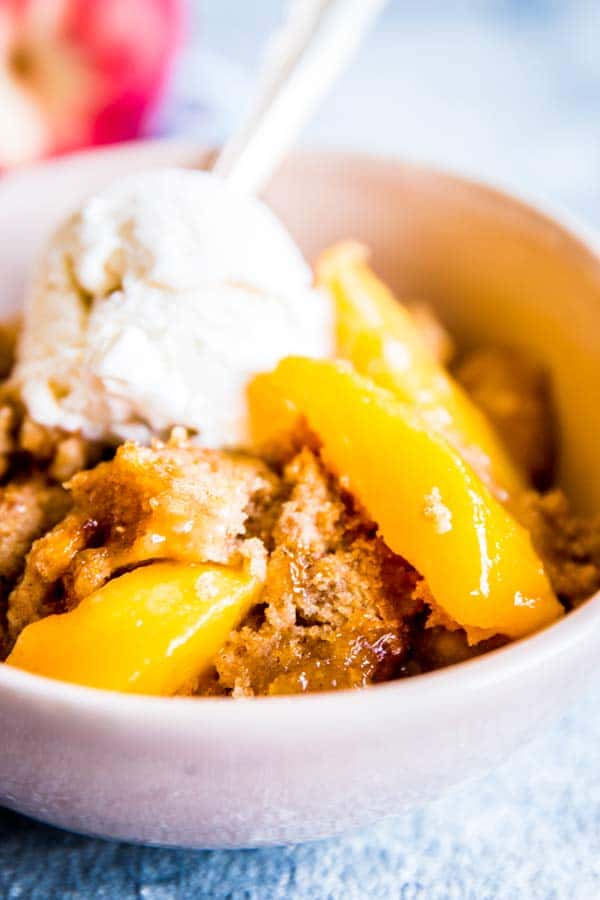 Grab the printable recipe for this fresh peach cobbler:
Printable recipe
Printable Recipe Card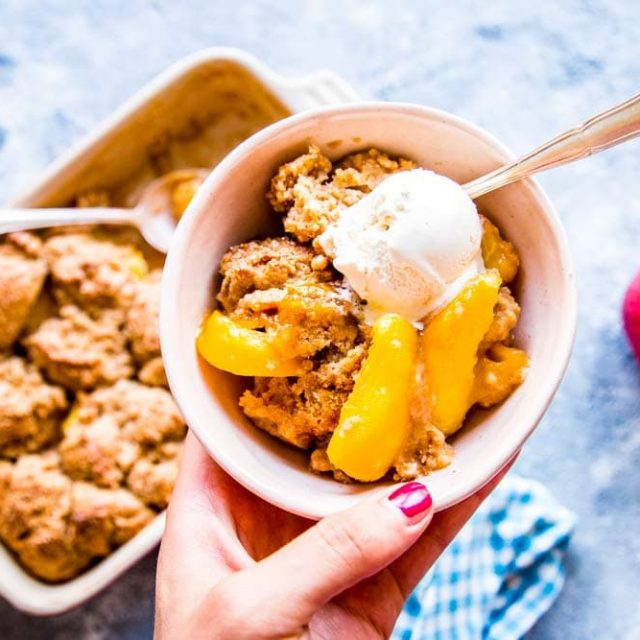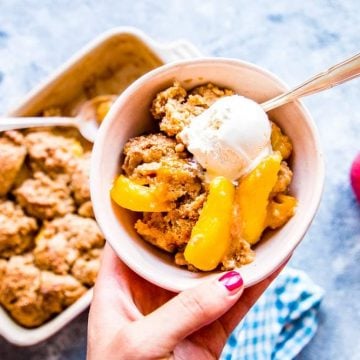 Easy Peach Cobbler From Scratch
Easy Peach Cobbler is a simple summer dessert you can whip up in no time at all. Serve this family favorite with a scoop of ice cream for a special treat!
made it? tap the stars to add your rating!
Ingredients
For the Topping:
½

cup

cornmeal

1

cup

whole wheat flour

can substitute white

2

teaspoons

baking powder

1

teaspoon

ground cinnamon

¼

teaspoon

salt

½

cup

butter

cold from fridge

⅔

cups

buttermilk
For the Filling:
10-12

peaches

peeled, pitted and sliced

¼ -½

cup

water

1

tablespoon

vanilla extract

2 – 4

tablespoons

cornstarch

OR white flour

2-4

tablespoons

brown sugar
To Finish:
2

tablespoons

brown sugar
Instructions
MAKE THE BISCUITS:

Combine dry ingredients: Whisk cornmeal, flour, baking powder, cinnamon and salt together in a medium bowl. Whisk well.

Add butter and milk: Cut in the butter until you have a bowl full of small crumbs. Add the buttermilk and stir JUST until combined. Do not overmix! Chill for 10 minutes in the fridge.

MAKE THE FILLING:

Preheat the oven to 400°F.

Combine all ingredients for the filling in a deep 7×11 rectangular baking dish.

FINISH THE COBBLER:

Drop the biscuit mix all over the filling. Sprinkle evenly with the remaining brown sugar.

Bake for 25-30 minutes, or until the biscuits are puffy and golden, and the filling is bubbly.

Allow to rest for 5-10 minutes before serving.
Want to save this recipe?
Create an account for free to start your personal recipe box. Save any recipe by tapping the heart in the bottom right corner.
Join Now
Notes
Very sweet peaches will need little to no extra sugar. More tart peaches may need even more than specified in the recipe.
Very juicy peaches need less water to help make a nice and juicy filling. If your peaches are still very firm, you will need more water to make a bubbly filling vs if your peaches are very ripe and juicy.
Nutrition
Calories:
438
kcal
Carbohydrates:
66
g
Protein:
7
g
Fat:
18
g
Saturated Fat:
10
g
Cholesterol:
44
mg
Sodium:
265
mg
Potassium:
761
mg
Fiber:
7
g
Sugar:
31
g
Vitamin A:
1332
IU
Vitamin C:
17
mg
Calcium:
125
mg
Iron:
2
mg
Nutrition is an estimate.
More recipe information