Bake a Strawberry Rhubarb Pie like grandma used to make. The perfect dessert with a scoop of vanilla ice cream – yum!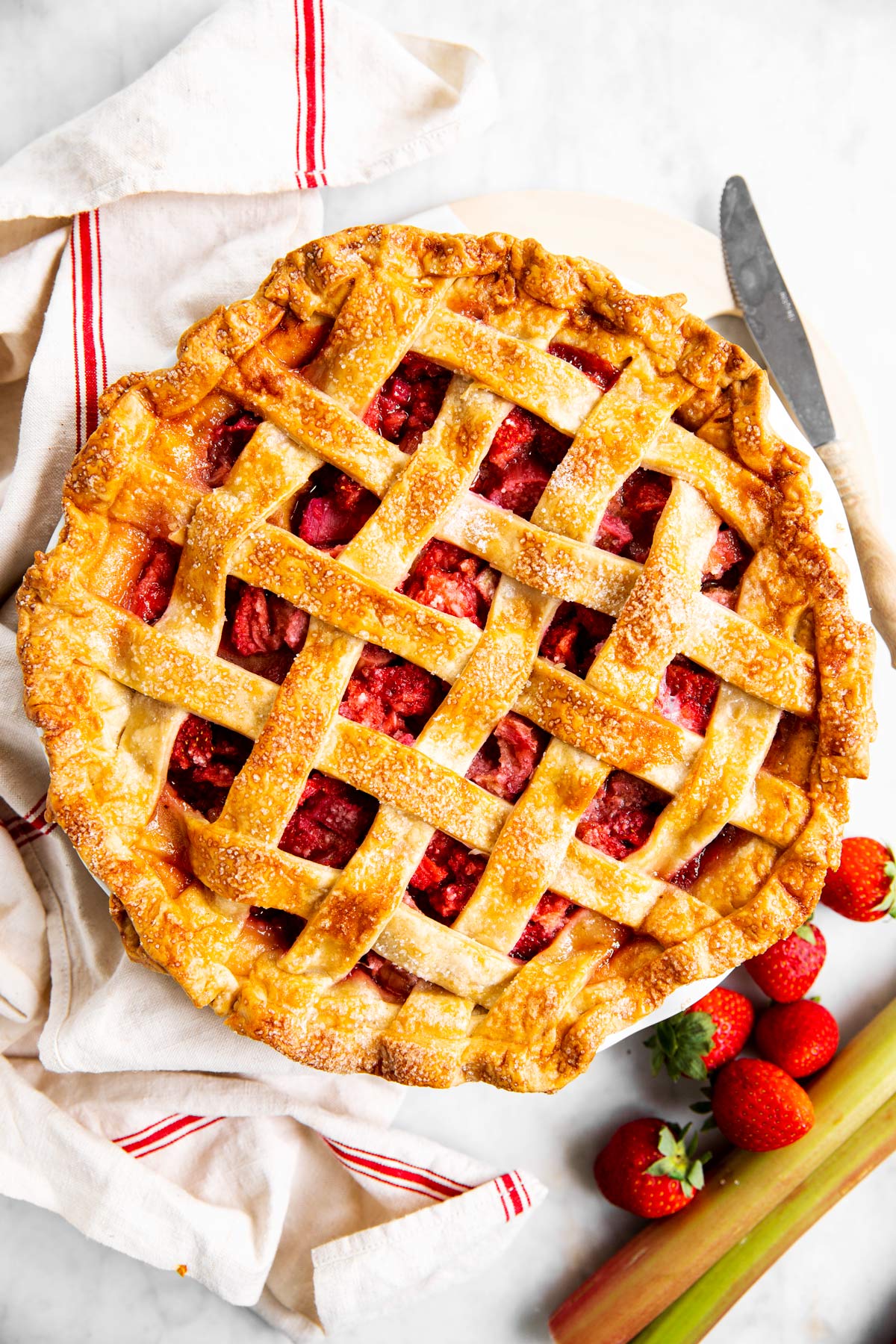 Pie is one of my all-time favorite desserts. I love everything about it: The sweet filling, the flaky pie crust, the bit of pie crust where the fruit juice kind of seeps into it…
So, is it inappropriate to call this the best recipe for strawberry rhubarb pie? Well, maybe. But it is the best to me, so I'm going to roll with it. It has such a delicious, jammy filling. AND a super easy homemade pie crust that bakes up flaky and crispy.
If you're short on time, feel free to use a ready made crust – with three kids at home, I'm definitely past the "100% homemade, 100% of the time" stage when it comes to cooking and baking ?
Ingredients you'll need
Here is a visual overview of the ingredients in the recipe. Scroll down to the printable recipe card at the bottom of this post for quantities!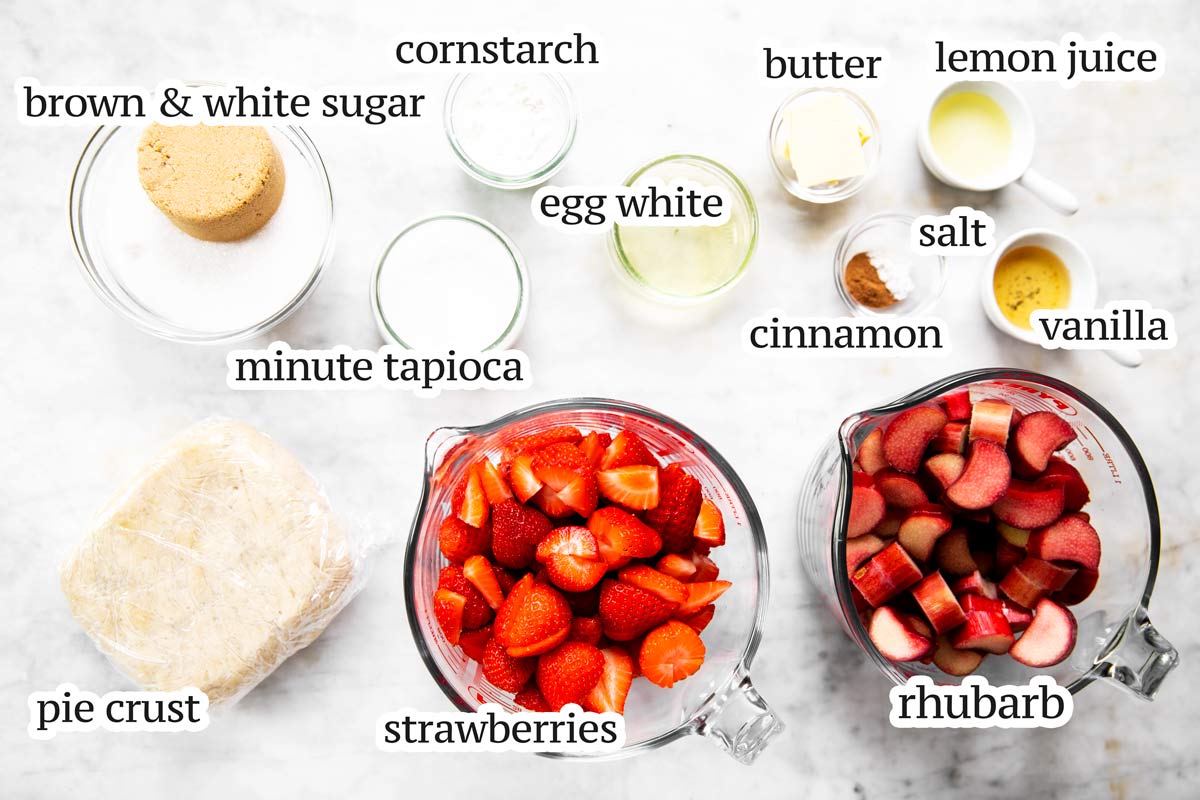 Ingredient notes
Fruit: I have tested this recipe with fresh fruit, not with frozen. Frozen fruit generally releases more liquid than fresh fruit when used in pie fillings, so if you're using frozen fruit, you will want to add 2 extra tablespoons of cornstarch.
Sugar: Using all white sugar is fine if you don't have any light brown sugar on hand.
Minute tapioca: Make sure to use tapioca clearly labelled as "minute tapioca", else the filling may not thicken enough.
Pie crust: I used my easy homemade pie crust in this recipe. You can use your favorite homemade or store-bought refrigerated or frozen pie crust. This is a double crust pie, so plan accordingly. Defrost froze crust according to package directions before using.
How to make a Strawberry Rhubarb Pie
Please note: If you are making your own crust, you will need to have that in the refrigerator at least 1-2 hours before you're planning to assemble the pie! You'll want to divide the crust into two discs to refrigerate, for easy rolling later.
1. Start by rolling out one of your crusts, then fit it into a buttered 9-inch deep dish pie plate. Place the dish in the fridge – this helps to develop a flaky crust later!
2. Assemble the filling – just combine all of the filling ingredients in a large bowl and stir well!
3. Spread the filling in the prepared crust and dot with diced butter.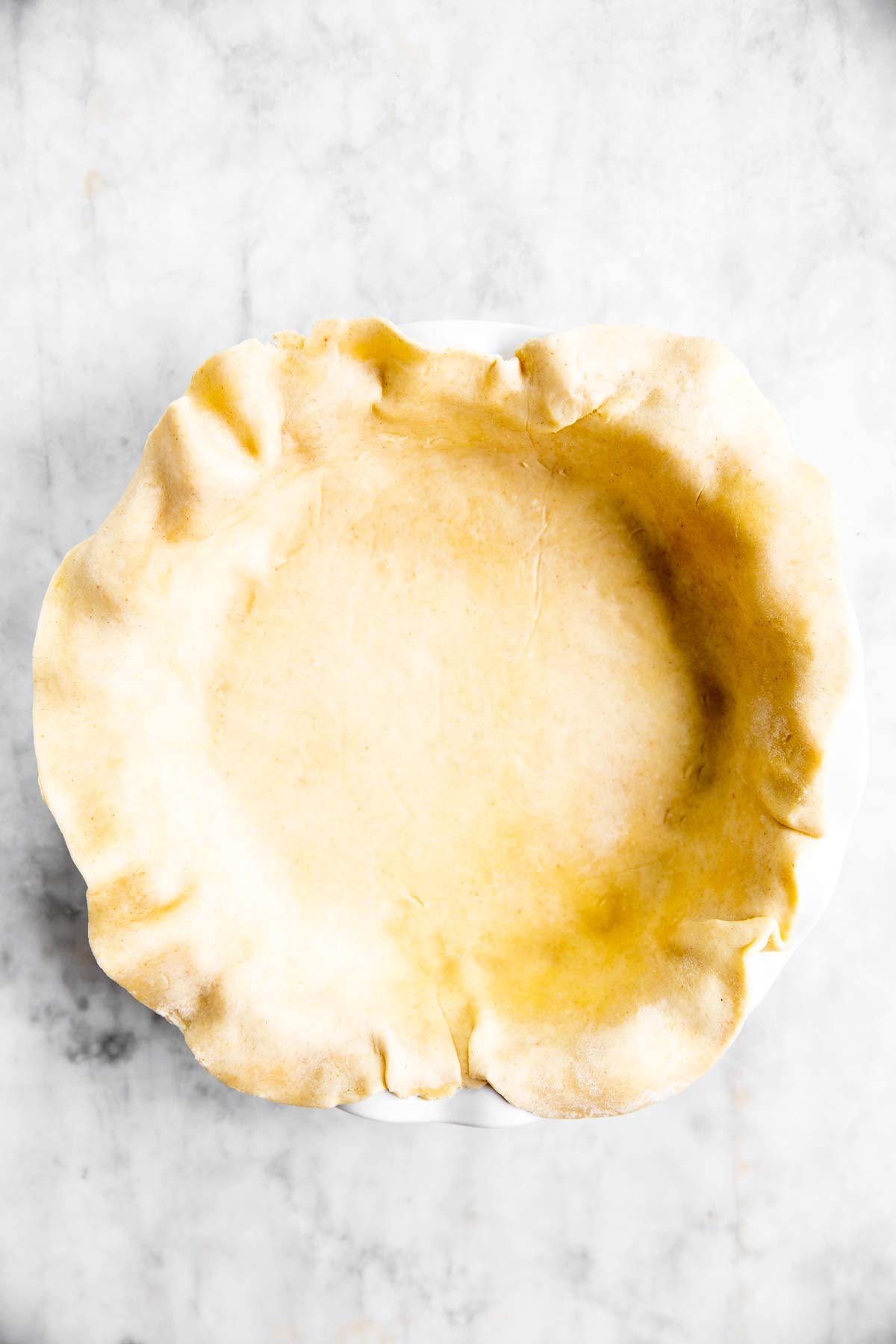 4. Roll the top crust into a ~10-inch circle. For a lattice crust, cut it into strips and assemble on top of the pie filling as follows: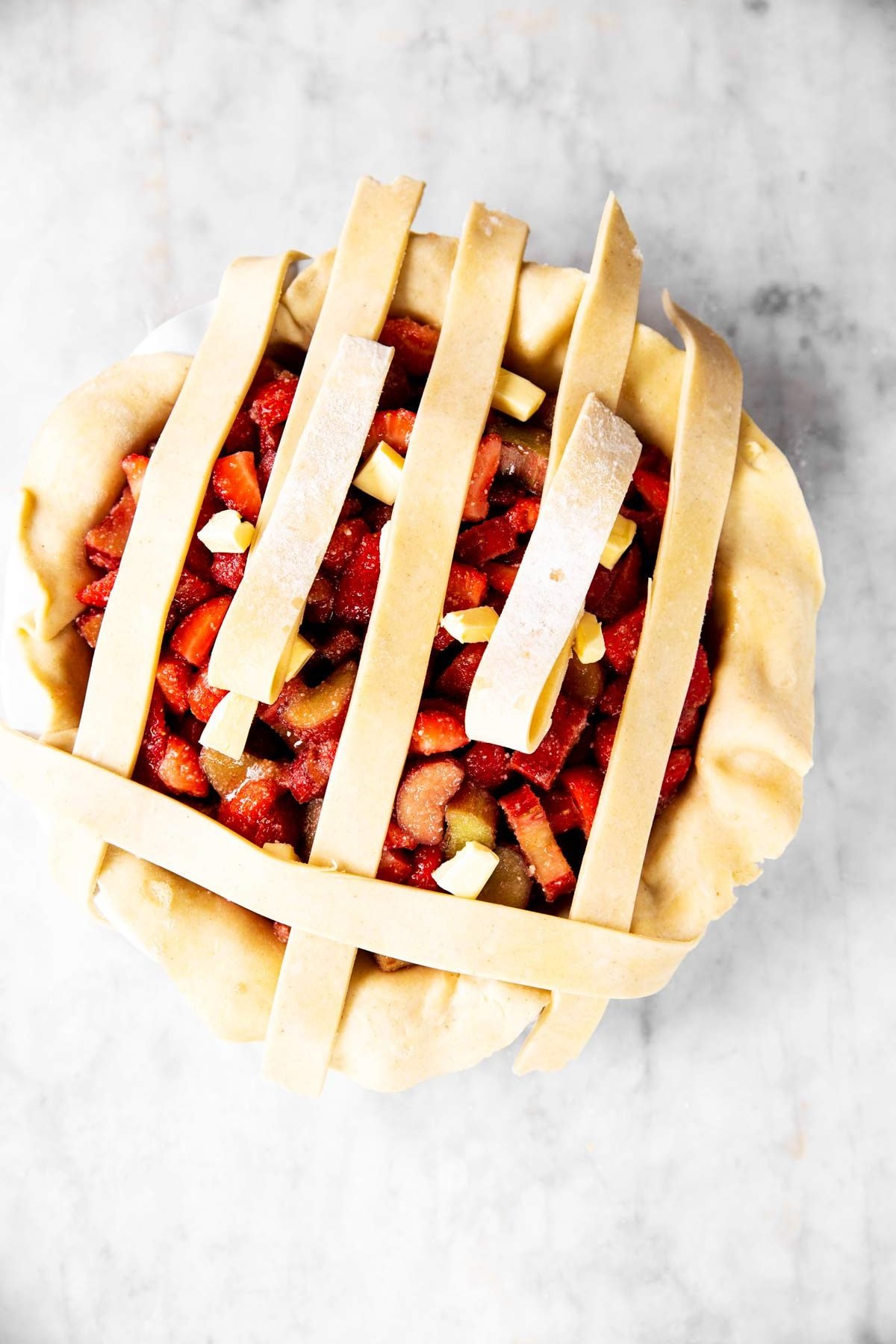 5. Once you have weaved all of the crust strips over the top of your pie, use clean kitchen shears to trim the overhang all around the pie. Crimp the edges to seal.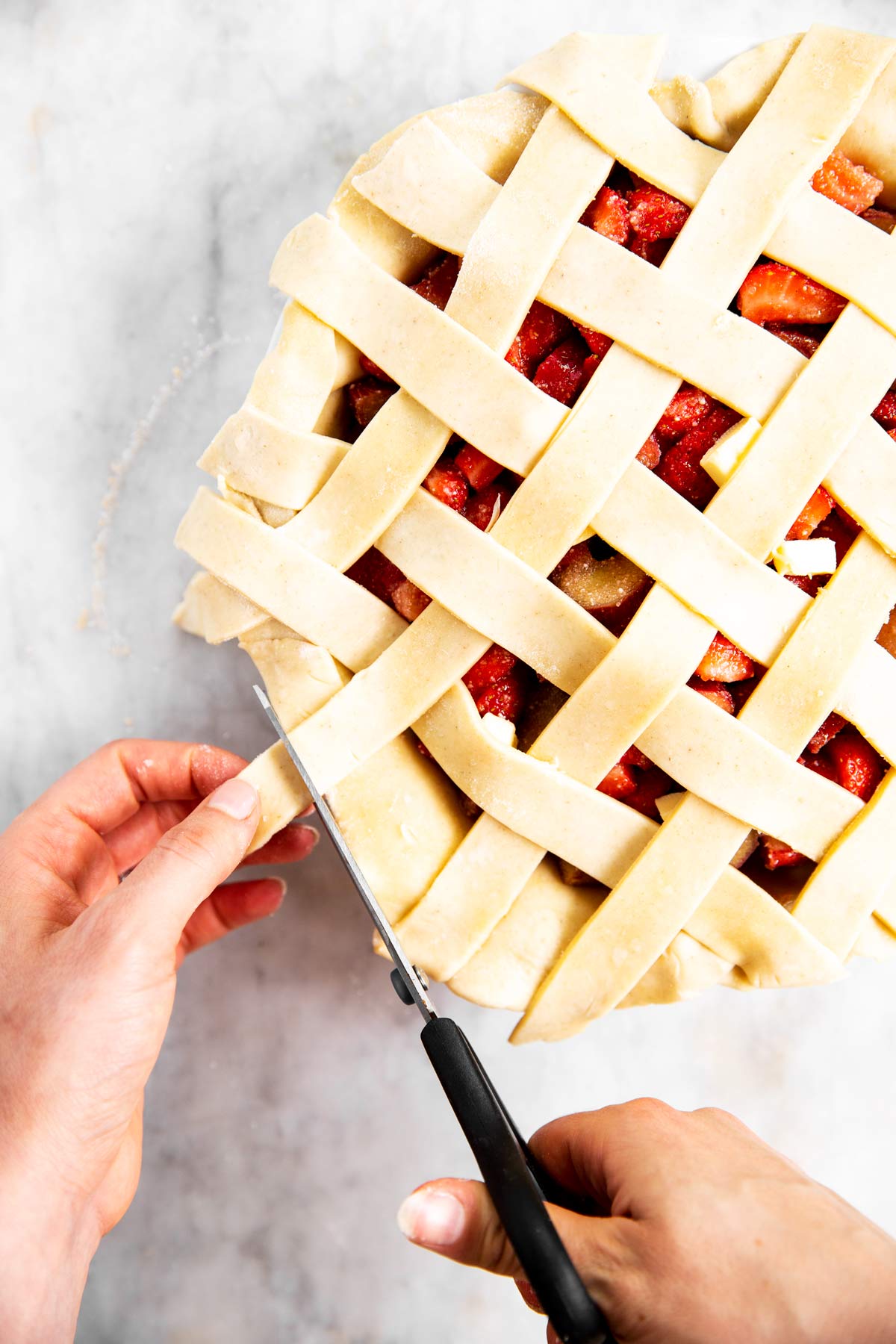 6. Brush the crust with egg white and sprinkle with sugar (you may use coarse sugar if you have it, but regular is just fine).
7. Bake the pie according to the instructions in the recipe card at the bottom of this post, then let it cool before slicing to serve.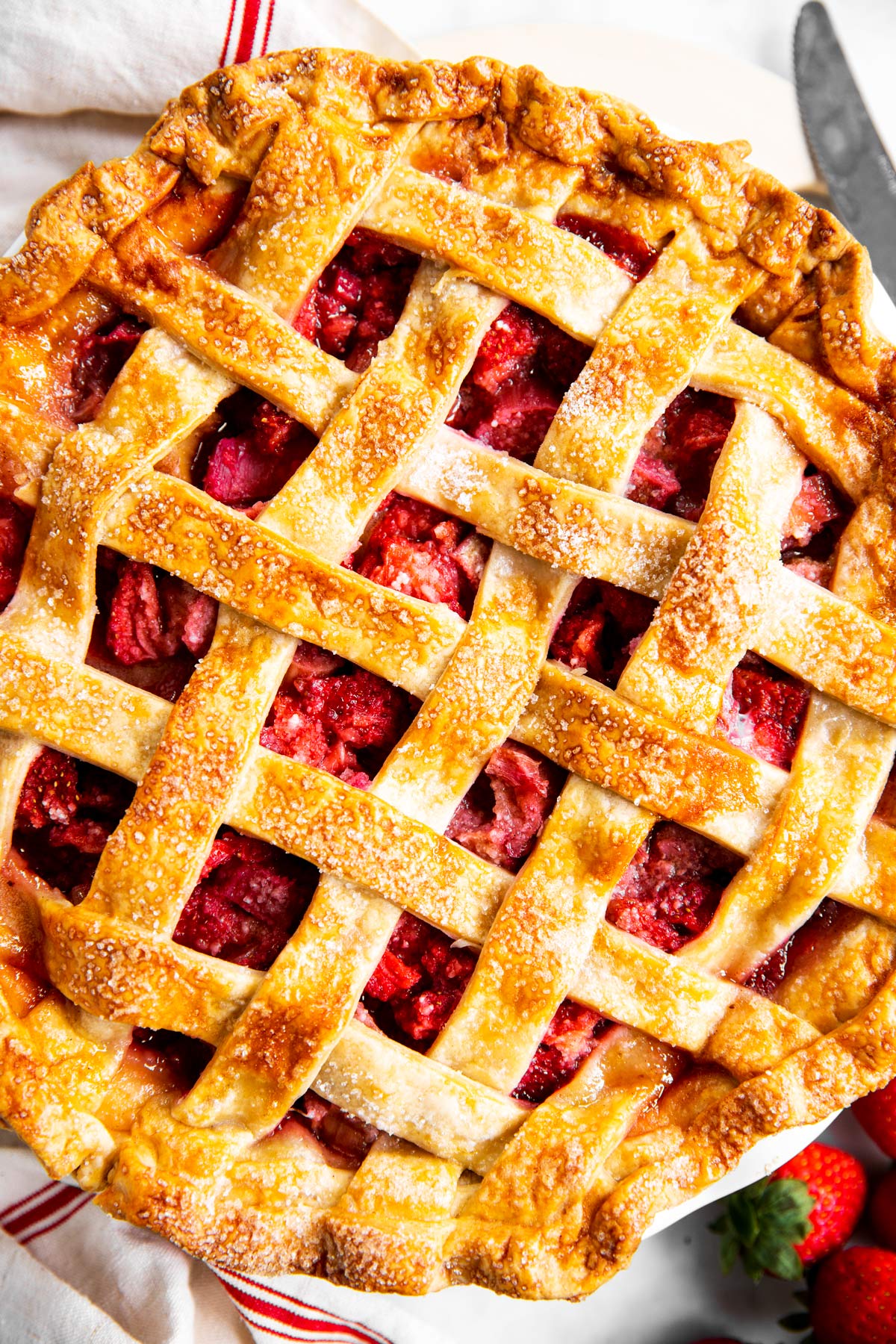 Recipe tips
What does a Strawberry Rhubarb Pie taste like?
Since the rhubarb is quite tart, the filling has quite a tang to it.
But we're balancing this tartness with sweet strawberries (and sugar, of course), for a sweet-tart, very fruity and jammy filling.
Do you have to peel rhubarb for pie?
It's not necessary to peel rhubarb, unless you have very coarse, thick stalks.
Don't worry, the rhubarb skin is not poisonous. BUT if you have garden-fresh rhubarb, make sure to remove the leaves, because these are toxic.
How do you thicken a Strawberry Rhubarb Pie?
The thing with Strawberry Rhubarb Pie filling is that it has the tendency to end up runny. Rhubarb releases quite a lot of water as it cooks, and strawberries soften up a lot as well.
To counteract this, you will need to add thickeners to your filling. There are recipes out there using flour, but I REALLY do not like how it kind of makes the filling past-y and flour-y.
Instead, we're using tapioca and cornstarch to bind and thicken the filling.
Also, make sure to cut enough air vents in the top crust (if you don't want to bother with a lattice crust) – this will allow the steam to evaporate as the pie bakes.
What pie dish should I use?
I tested this recipe in a deep 9-inch pie dish. I have never tried a different size dish, so I cannot recommend any substitutions.
This is the exact one I have on Amazon (FYI, this is an affiliate link and I make a commission for purchases made after clicking through) – it's so pretty, I love it!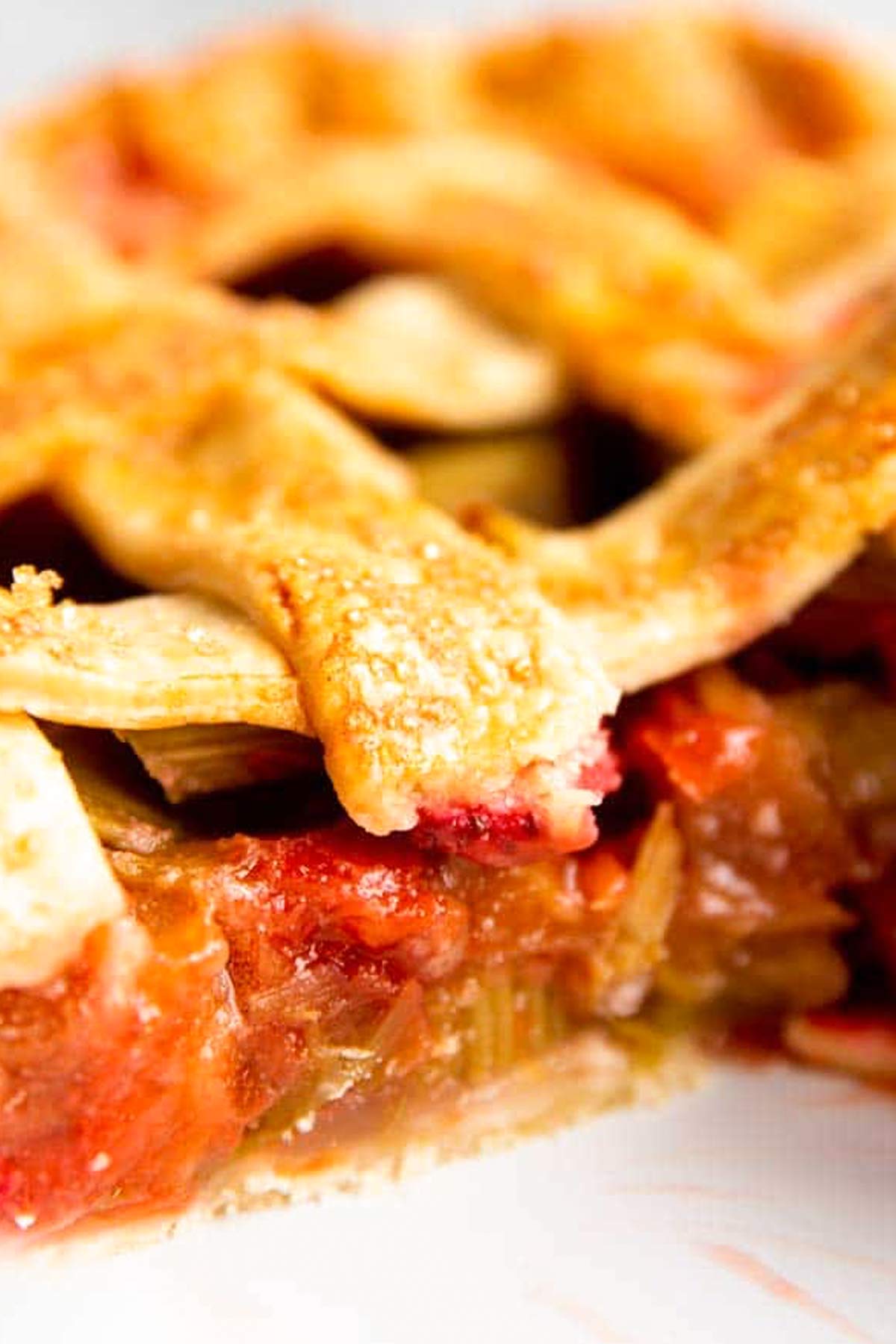 Storage tips
Should you refrigerate strawberry rhubarb pie?
You can leave a baked fruit pie covered with plastic wrap at room temperature for up to 2 days.
I do refrigerate a fruit pie if I want super clean slices though!
Freezer tips
Wrap the unbaked pie well in a double layer of foil, label and freeze for up to 3 months.
To bake, unwrap the pie and bake it from frozen as the recipe states. Add about 15 minutes of baking time at the end.
Fruit tends to be more watery after freezing, so if you know you're going to freeze your pie for later, you may want to add an extra tablespoon or two of cornstarch to the filling.
PS If you try this recipe, please leave a review in the comment section and add a star rating in the recipe card – I appreciate your feedback! Follow along on Pinterest, Facebook or Instagram.
Printable recipe
Printable Recipe Card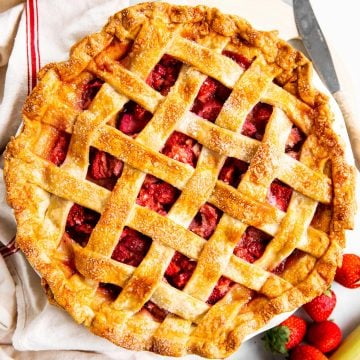 Strawberry Rhubarb Pie
Bake a Strawberry Rhubarb Pie like grandma used to make! The best dessert with a scoop of ice cream to go with the fruity filling & buttery crust.
made it? tap the stars to add your rating!
Ingredients
Pie Crust (OR use ready-made double crust)
2 ½

cups

all-purpose flour

½

teaspoon

salt

¾

cup

cold unsalted butter

diced

1

teaspoon

apple cider vinegar

½

cup

ice-cold water
Pie Filling
3

cups

sliced rhubarb

1-inch pieces

3

cups

strawberries

quartered

1

cup

sugar

⅓

cup

light brown sugar

¼

cup

minute tapioca

2

tablespoons

cornstarch

½

tablespoon

vanilla extract

1

teaspoon

lemon juice

½

teaspoon

ground cinnamon

Pinch

of salt
To Finish
2

tablespoons

butter

diced

1

egg white

beaten

granulated sugar
Instructions
Make the crust:
Blend dry ingredients and butter:

Mix flour and sea salt in a large mixing bowl. Add the butter and blend using pastry blenders or your fingers until you have a bowl filled with crumbs.

Make pastry:

Mix vinegar and water in a measuring jug. Slowly pour over dry ingredients and mix just until it comes together into a dough. Push into a ball. Do not knead or overwork! Divide into 2 disks, wrap in foil and chill for 1 hour.

Roll out bottom crust: Place 1 disk of the pastry between 2 sheets of baking parchment. Roll into a circle slightly larger than a 9 inch pie dish. Fit into the lightly greased pie dish and place back into the fridge to chill.
Assemble pie:
Prep:

Preheat oven to 420°F.

Mix filling ingredients:

Place all ingredients for the filling in a large bowl and mix well. Pour into prepared bottom crust. Evenly dot with the diced butter.

Add top crust:

Remove the second disk of dough from the fridge and roll into a 10 inch circle between two sheets of baking parchment. You can either place it on top as a whole (make sure to cut some air vents into the top if doing this!) OR cut it into strips to make a lattice. The lattice is a bit of a pain with this crust… But it looks pretty and helps the filling to thicken and set as more liquid can evaporate.

Crimp edge:

Pinch together the edges of the top and bottom crust, then crimp. Brush with egg white and sprinkle with granulated sugar.
Bake the pie:
Hot bake:

Bake the pie on the bottom rack for 10 minutes at 420°F. Place a pie shield or aluminum foil over the edge once these 15 minutes are up.

Finish Baking:

Lower the heat to 375°F and finish baking the pie for 35-45 minutes, or until the filling is bubbly and the crust is baked. Cool on a wire rack before slicing.
Serve:
To get neat slices, cool overnight. If you want to eat the pie warm after a shorter cooling period, the filling will be a little more lose like in a crisp. But it's delicious either way!
Want to save this recipe?
Create an account for free to start your personal recipe box. Save any recipe by tapping the heart in the bottom right corner.
Join Now
Notes
If using frozen fruit, add 2 more tablespoons of cornstarch to filling.
Additional white sugar is fine to use in place of the brown sugar.
If rhubarb stalks are very coarse/thick, peel before slicing.
Store baked and cooled pie covered with plastic wrap at room temperature for up to 2 days.
Nutrition
Serving:
1
slice
Calories:
405
kcal
Carbohydrates:
61
g
Protein:
4
g
Fat:
16
g
Saturated Fat:
10
g
Cholesterol:
42
mg
Sodium:
148
mg
Potassium:
223
mg
Fiber:
2
g
Sugar:
29
g
Vitamin A:
540
IU
Vitamin C:
28.5
mg
Calcium:
53
mg
Iron:
1.8
mg
Nutrition is an estimate.
More recipe information
Recipe first published on 03/20/2019. Updated with additional photos and better text on 05/15/2022.
More recipes you'll love