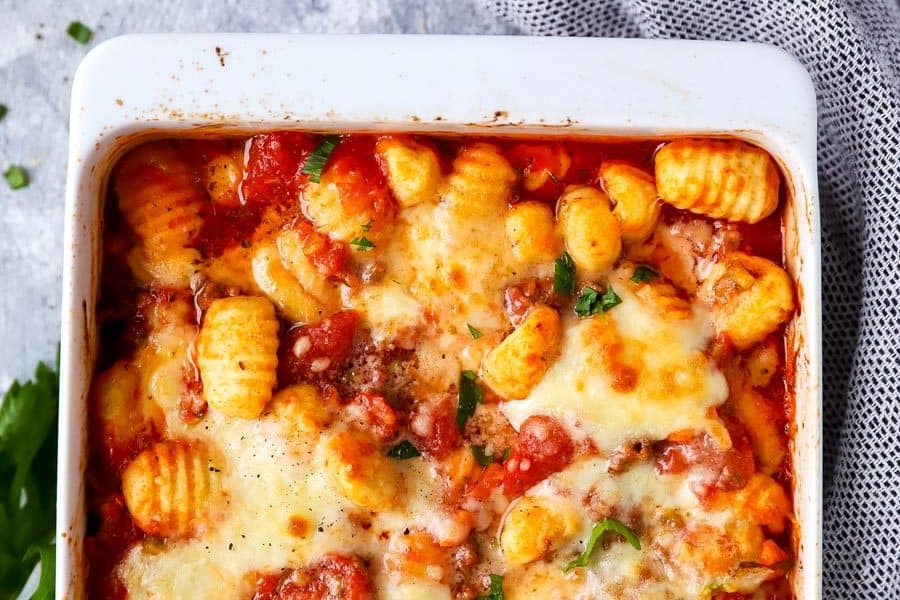 made it? tap the stars to add your rating!
This Bolognese Gnocchi Bake is my number one emergency meal. Once the beef is browned, all that's left to do is stirring everything together in the casserole dish, then bake. This is such a quick prep, kid-friendly meal – perfect for those extra busy nights!
Ingredients
1

tablespoon

olive oil

1

pound

ground beef

½

teaspoon

salt

(or more to taste)

black pepper

(to taste)

1

carrot

(peeled and chopped)

1

celery stick

(chopped)

1

15-oz can tomato sauce

1

15-oz can diced tomatoes, not drained

1

tablespoon

Italian seasoning

½

teaspoon

dried onion powder

¼

teaspoon

dried garlic powder

1

16-oz package gnocchi

1

cup

shredded mozzarella cheese
Instructions
Prep: Preheat oven to 400°F and lightly grease a deep 9×13 inch casserole dish.

Brown beef: Heat oil in a large skillet over medium-high heat. Add beef and season with salt and pepper. Cook until browned and crumbly. Remove to the prepared casserole dish.

Assemble casserole: Add remaining ingredients EXCEPT for the cheese to the casserole dish. Stir well, making sure the seasoning is well distributed. Check for seasoning, adding more salt as needed and evenly top with shredded cheese.

Bake: Bake casserole in the preheated oven for 15-20 minutes, or until bake is bubbly and cheese has melted. Let stand for 5 minutes before serving.
Add Your Review
Nora's Tips
Make Ahead Instructions:
If you want to make this ahead of time, I recommend adding the celery and carrot to the skillet with the ground beef to cook for 4-5 minutes before proceeding with the recipe. Do not top with cheese yet.
Once the casserole is assembled, cover it tightly with foil and refrigerate for up to 3 days.
To bake, remove the casserole from the fridge and unwrap it. Let it sit on the counter while the oven preheats. Top with cheese and bake as directed in the recipe (it may need an extra 5 minutes, as it is cold from the fridge).
Freezer Instructions:
To freeze the unbaked casserole: Follow the make ahead steps for the carrot and celery. Assemble the full casserole, then wrap tightly first in plastic wrap and then in aluminum foil. Label with the name and use-by date (freeze for up to 3 months) before placing in the freezer.
To reheat, you don't need to defrost it. Unwrap it completely, then loosely cover the top with aluminum foil. Bake at 375°F for about 1 hour, on until hot. Remove the foil and finish baking for 15 minutes until bubbly and cheese has melted.
To freeze the baked casserole: If you have leftovers or want to freeze the baked casserole for whatever reason, you can do that, too! Make sure the casserole has cooled for 30-60 minutes on the counter (but no longer), then place it in the fridge to chill completely. Once cold, tightly wrap it in plastic wrap, then in aluminum foil. Label with the name and use-by date (freeze for up to 3 months).
To reheat the baked casserole, I prefer defrosting it in the fridge overnight. Loosely cover the defrosted casserole with aluminum foil and bake at 375°F for 20-30 minutes, or until steaming hot all the way through.
Cooking Tips:
More flavor: Feel free to sauté the carrot and celery with the ground beef if you have time. You can also use a chopped onion and minced garlic in place of the powdered ones – just make sure to sauté the onion with the beef, or it will taste raw and unappealing.
Extra liquid: Depending on the kind of gnocchi you're using, you may need to add ½ cup of beef broth to the casserole. Mine are quite soft when they come out of the package, but harder/more dry ones need more liquid. If it seems dry once you have mixed it up, try adding some liquid to make sure the gnocchi cook.
Gnocchi: Packaged Gnocchi tend to stick together. Make sure to break them apart, or they may not cook through everywhere in the oven.
A few more notes:
This is the recipe I whip up on a weekly basis these days. I've tried to make it more complicated – with cooking the entire sauce before baking, pre-cooking the gnocchi and adding more complicated seasoning.
But at the end of the (very long) day, I reverted back to the simplest form of making this: Brown the beef, throw everything into your casserole dish, top with cheese and bake. It turns into a soul-warming, bubbly bake filled with tomato sauce, beef and pillow-y gnocchi. The ones at the top crisp up – those always go to the 5 year old around here 😉
I usually don't serve much with this, other than a leafy green salad(or a tomato salad if they're in season) with homemade Balsamic Vinaigrette Dressing. My kids love it when I whip up a Lemon Pound Cake for dessert though – one of our favorite ways to end an Italian-inspired dinner (I'm aware that there's no big connection; but try it and see – it's nice).
I hope you'll cherish this recipe as much as I do on a busy day! Enjoy.
Nutrition
Serving:
1
serving
|
Calories:
458
kcal
|
Carbohydrates:
40
g
|
Protein:
30
g
|
Fat:
20
g
|
Saturated Fat:
7
g
|
Polyunsaturated Fat:
10
g
|
Trans Fat:
1
g
|
Cholesterol:
99
mg
|
Sodium:
809
mg
|
Fiber:
5
g
|
Sugar:
6
g
More recipe information
Join my Newsletter to Get Recipes in Your Inbox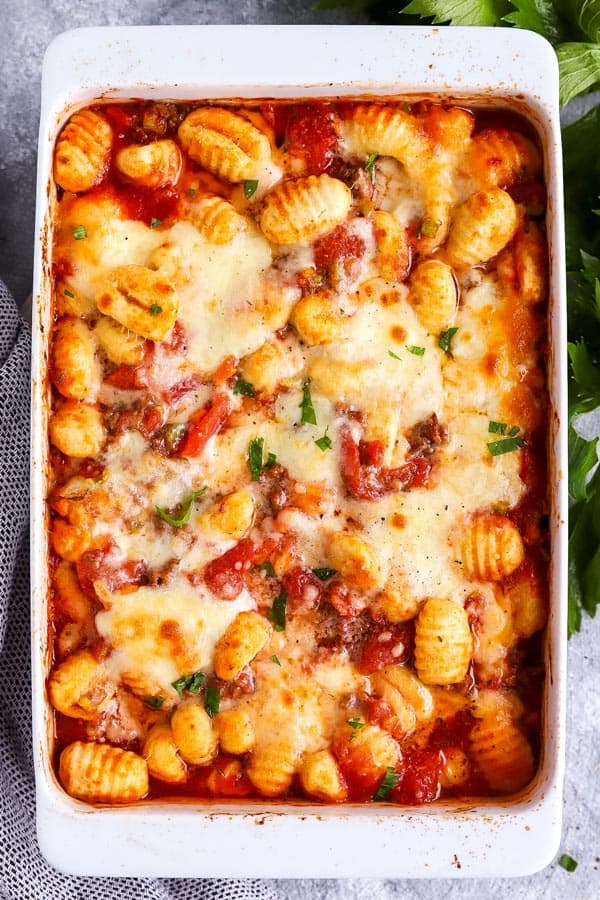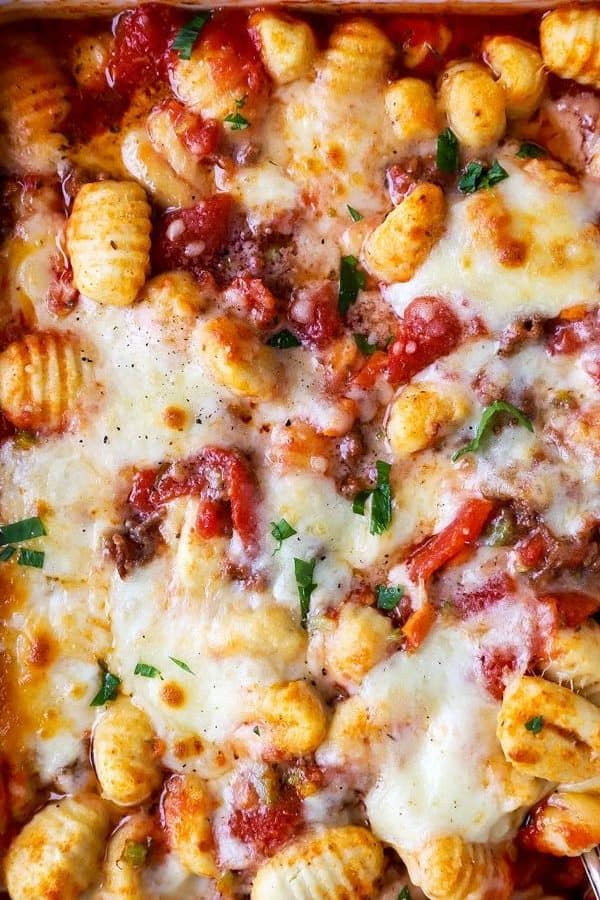 Try these casserole recipes next: