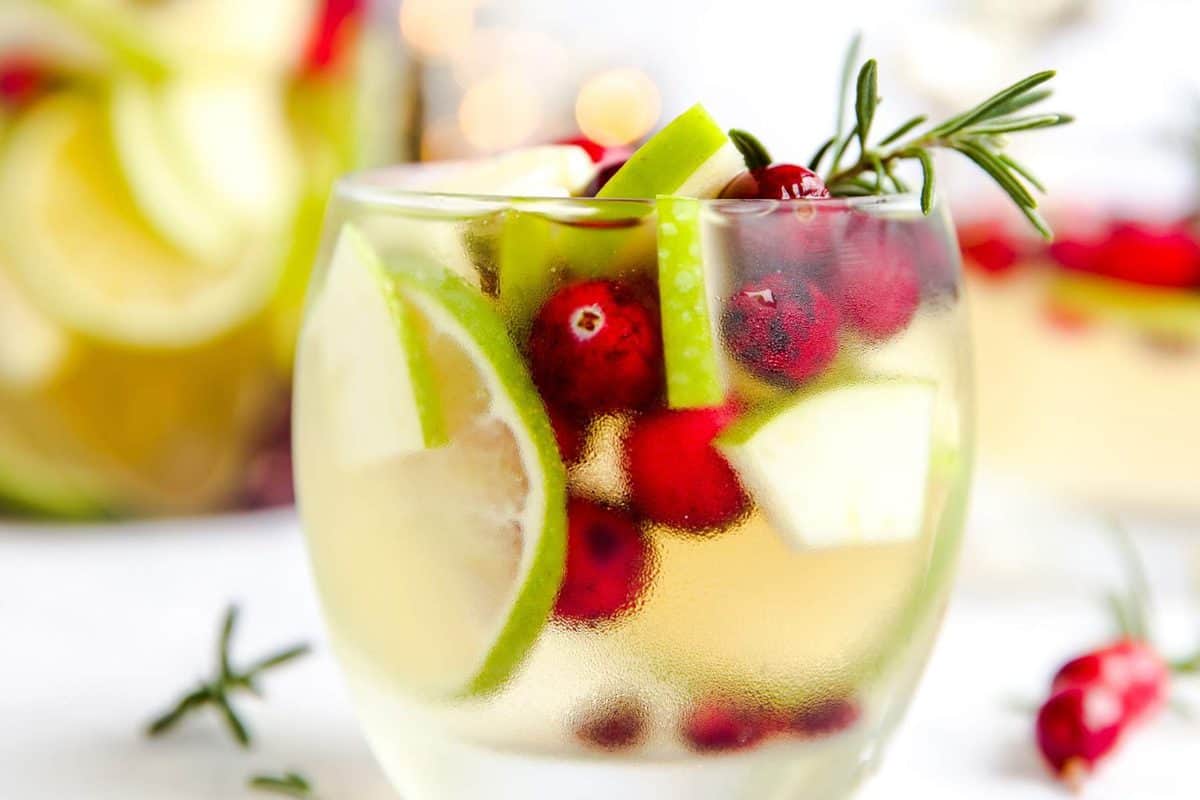 made it? tap the stars to add your rating!
Ready In:
1

hour
10

minutes
This is my way of making sangria for Christmas. I make mine with white wine, sparkling prosecco or Champagne, and plenty of seasonal red and green fruit. I love decorating this with sprigs of rosemary – festive holiday cheer in a glass!
Ingredients
1

lime

(thinly sliced)

1

Granny Smith apple

(cored and thinly sliced (see note))

1

cup

cranberries

¼

cup

pomegranate seeds

¼

cup

Vodka

1

bottle (750ml)

white wine

(see notes)

1

bottle sparkling white wine

(see notes)

Ice

Optional: Rosemary sprigs and cranberries

(for garnish)
Instructions
Place lime, apple, cranberries and pomegranate seeds in a large pitcher. Pour vodka and white wine on top, then chill for at least 1 hour and up to overnight (the longer it sits, the more intensely alcoholic the fruit gets. Up to you where you're going with this.)

When ready to serve, top with sparkling wine and serve over plenty of ice. I like to make little sticks of cranberries threaded on rosemary sprigs for garnish, for some reason my guests like stirring their sangria, ha!
Add Your Review
Step by Step Recipe Video
Nora's Tips
Ingredient Notes:
Cranberries: I used whole fresh, but you can use frozen, too. No need to defrost, just pop them in frozen and they will help chill your sangria even faster.
Apple: Definitely use Granny Smith here for the most beautiful color and tangy taste.
Lime: If you're not a fan, just leave it out. You can use orange instead, but then you'll lose the beautifully festive color scheme.
Pomegranate: They tend to sink to the bottom, which is why I like spooning the fruit out of the pitcher into glasses, then pour the liquid on top. You can leave them out if you don't want to bother, but I think they add such wonderful bursts of flavor to this drink!
Vodka: Helps to make this a little stronger and to add another layer of interest. I also feel it helps to keep the apples from browning, but that could be entirely subjective. Can be left out if you don't want any hard liquor in your drink.
White wine: This time I used a Californian Chardonnay I found hiding in the basement to make the Sangria for the blog, but my favorite is actually Gewürztraminer. Pinot Grigio or Sauvignon Blanc are also delicious.
Sparkling wine: I usually do a Prosecco, but you could do Champagne if you want to go the decadent route. If you like your Sangria on the sweet side, definitely use a sparkling white dessert wine. You could also use ginger ale in place of the sparkling wine to make your sangria less alcoholic.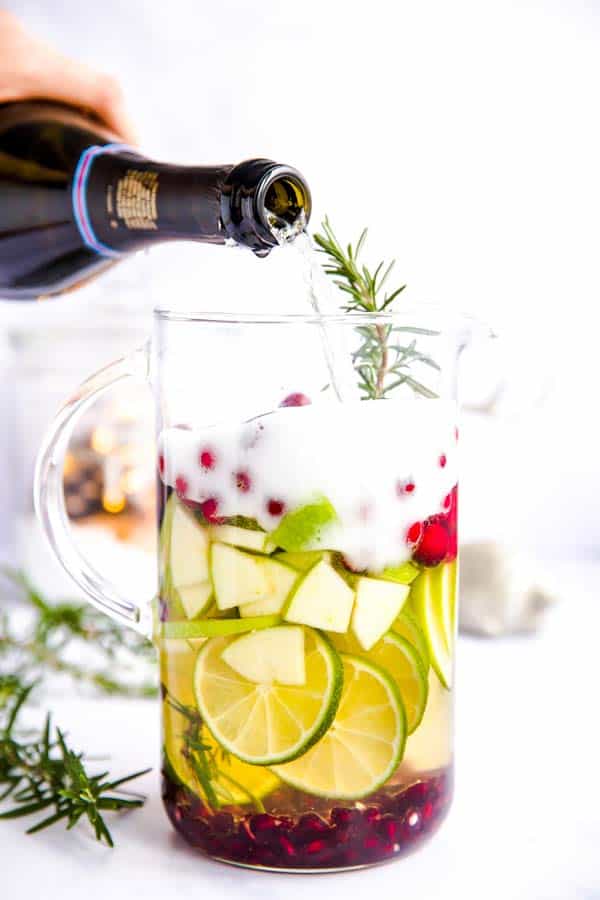 Prep Tips:
Slicing the fruit: I slice half of the apple into thin slices, and the other half into bite-sized pieces to make the Sangria more interesting. Cut the apple right before adding the alcohol to keep it from browning.
I don't cut up the cranberries because frankly, they're mostly there because they look beautiful, so I don't care if they soak up enough booze or not. And I prefer the look of them whole, so… If you're positive everybody is going to eat all of their raw cranberries, cut them in half for more flavor/booziness.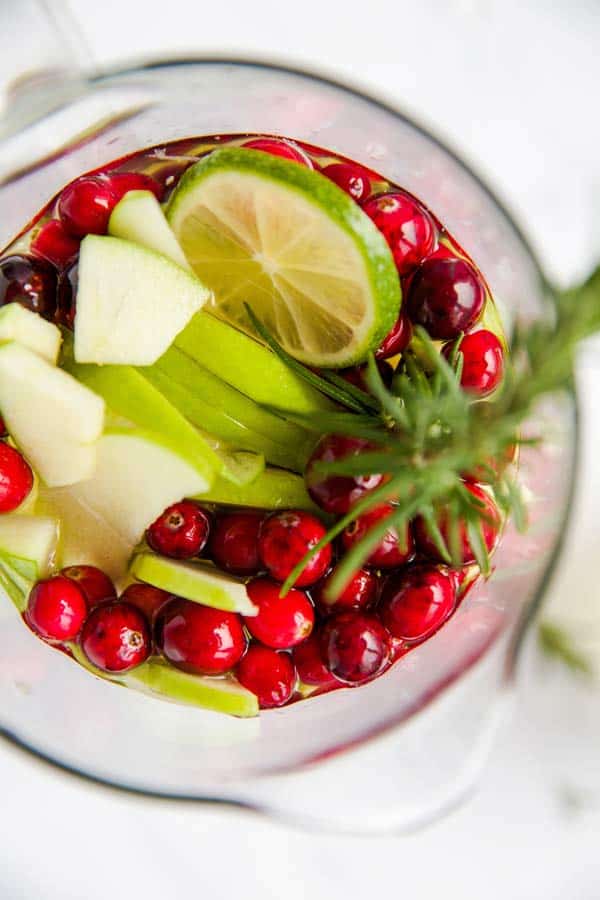 Keeping the sparkling wine sparkly: Definitely only add this right before serving. If your party is going to be a while and you're concerned about slow drinkers, pour just the wine/fruit mix into glasses and top them off with sparkling wine vs adding the sparkling wine to the pitcher.
More recipe information
Join my Newsletter to Get Recipes in Your Inbox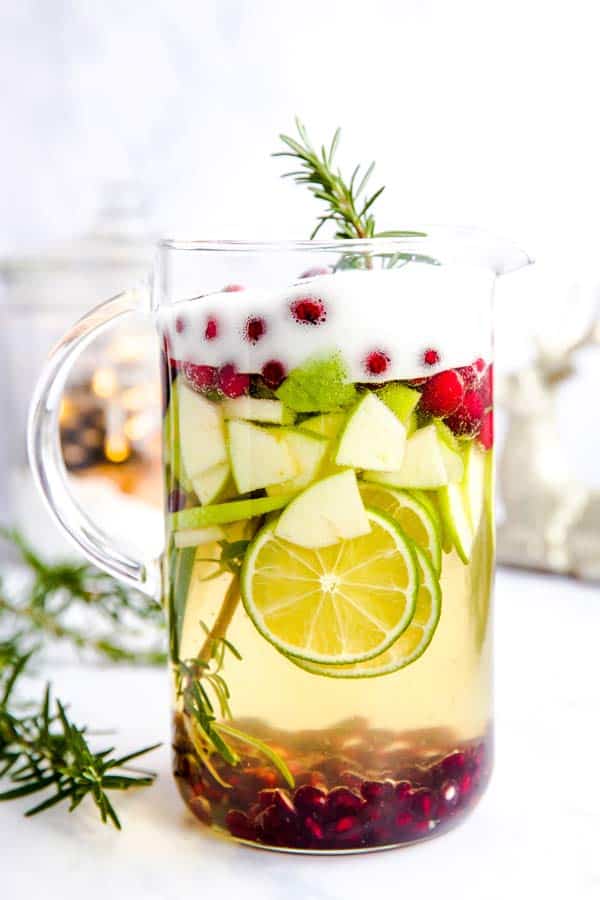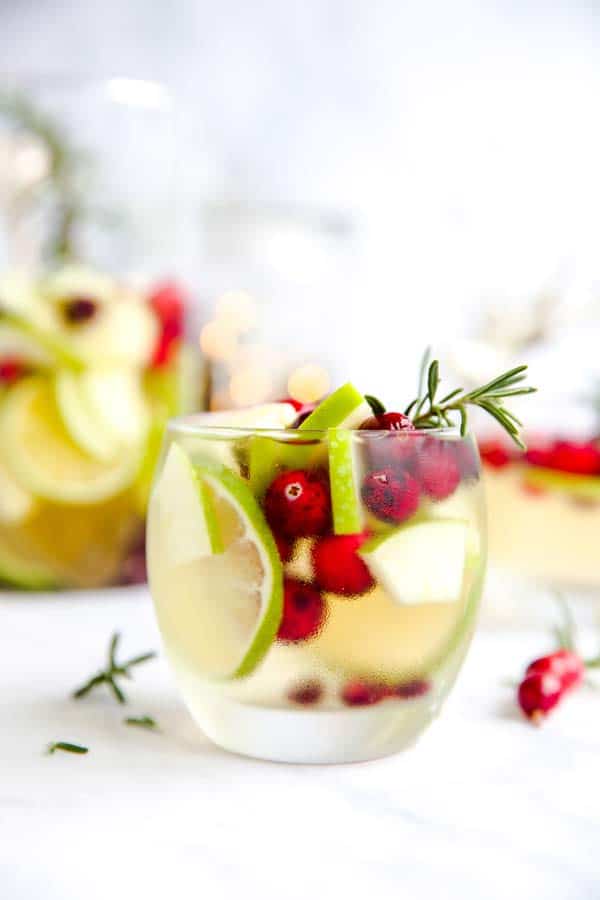 More Drink Recipes You'll Love: