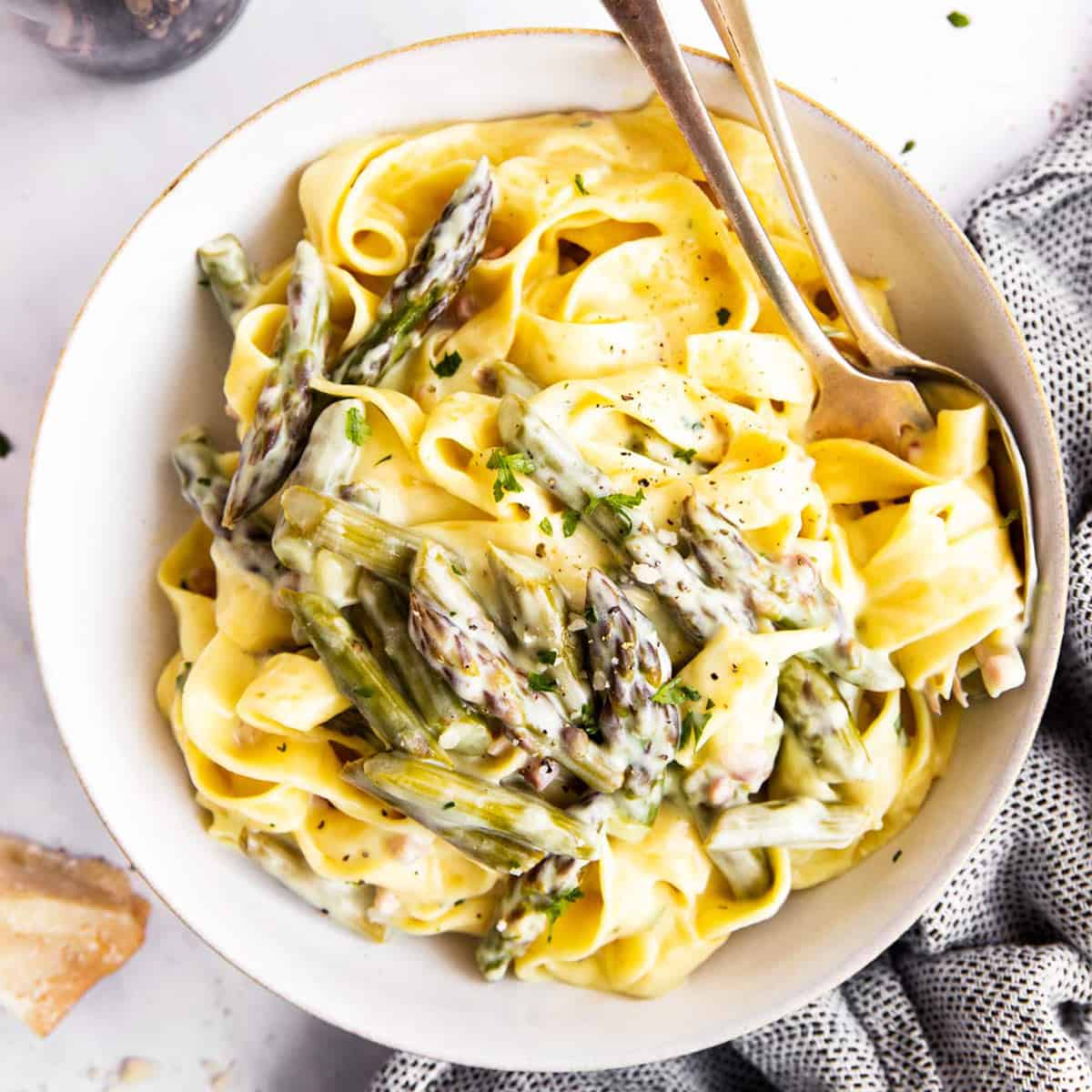 made it? tap the stars to add your rating!
This is a creamy asparagus pasta dish you can cook in one single pot – that's right, even the pasta cooks right in the sauce!
Jump to:
Ingredients
1

tablespoon

oil

3

oz

diced bacon

1

pound

asparagus

(trimmed and sliced into 1-inch pieces)

2

tablespoons

flour

⅓

cup

white wine

(OR more broth, if avoiding alcohol)

3

cups

broth

(chicken or vegetable both work)

1

cup

heavy cream

1

small

lemon

(grated zest only)

½

teaspoon

garlic powder

1

pinch

ground nutmeg

8

oz

uncooked pasta

(I used Tagliatelle)

4

tablespoons

cream cheese

2

tablespoons

chopped parsley

grated parmesan cheese

(to taste)
Instructions
Brown:

Heat oil in wide skillet over medium heat. Add bacon and asparagus and cook for a few minutes until starting to brown. Stir in flour.

Add liquids and seasoning:

Pour white wine into pan and stir well. Simmer until liquid has evaporated, then pour in broth and cream. Add lemon zest, garlic powder and ground nutmeg; stir well.

Cook pasta:

Add uncooked pasta (break in half if necessary), bring to a boil then reduce heat to a low simmer. Cover with a lid and simmer 8-10 minutes, stirring from time to time.

Finish:

Once pasta is done and sauce has thickened, remove from heat. Stir in remaining ingredients and serve immediately.
Add Your Review
Cooking tips:
If you're unsure about what kind of wine to use for cooking, always use a dry wine you would also drink. I'm not a fan of wines labelled as "cooking wine", so I tend to use a Sauvignon Blanc of Pinot Grigio. But feel free to use cooking wine if that's what you usually have on hand, just make sure to alter the recipe accordingly if your wine has other additives (like flavoring or salt).
Make sure to use uncooked pasta, do not pre-cook it! This is a one pot recipe, so everything cooks in one pot together. Yes, even the pasta cooks right in the sauce!
Do not brown the flour, only stir it in and cook for a few seconds. It burns easily, which yields an inedible sauce.
Make sure to stir from time to time while the pasta simmers, so you catch if it's stuck to the pan anywhere.
Ingredient Substitutions:
Bacon: feel free to skip, or use diced ham or chicken instead.
Cream: feel free to skip for a lighter dish. Use more broth, then add another tablespoon or two of cream cheese in the end.
White wine: If you don't have any, please just use more broth. Do NOT use vinegar to replace the wine. I repeat: Do NOT use vinegar to replace the wine!
Leftovers:
Leftovers keep well-covered in the fridge for up to 2 days. I like best to reheat them as a pasta bake: I place leftovers into a casserole dish straight away to refrigerate, then I pour ½ cup of broth on top (to make sure it doesn't dry out), sprinkle with cheese and bake at 410°F for 20-25 minutes, until heated through and bubbly.
This is definitely one of my "must-makes" come asparagus season. Since asparagus is the main crop of my extended family's farm, we always get plenty during spring and early summer. And bonus: All of my kids love it just as much as I do!
I appreciate the ease of this particular recipe, especially on a busy day. Sometimes we'll eat it as a main, but it's also great with grilled chicken or fish. We mostly enjoy Lemon Garlic Marinated Chicken, Lemon Baked Cod or Lemon Butter Baked Salmon with this pasta. So good, so simple – that's all you really need!