You know how they say it gets easier after 3 months? No, not with Chicken and Asparagus Pasta. With babies I mean.
Well, they (whoever "they" may be) are so. terribly. wrong. Once babies turn 3 months old, they realize there's a world out there the need to see, now, in its entirety, within 5 minutes.
Or maybe that's just my kids? Ha!
Don't get me wrong, I LOVE seeing them grow up. It's amazing to me that I get to stay home with them to watch how every day brings something new. But. Lately every day has also been bringing increasing stubbornness, silliness, boundary-testing.
Like mother, like daughter.
During meals, one of them will try to get away with only eating plain pasta. And refuse to eat cooked vegetables. The other one will try to use the sauce as shampoo. And so on and so forth.
But this meal? I don't know. It's a miracle; send cake to celebrate (and make it a Summer Stone Fruit Streusel Coffee Cake, while you're at it). They ate it, nobody complained about the sauce on their pasta, nobody tried smearing said sauce onto their head, the asparagus was gone within seconds.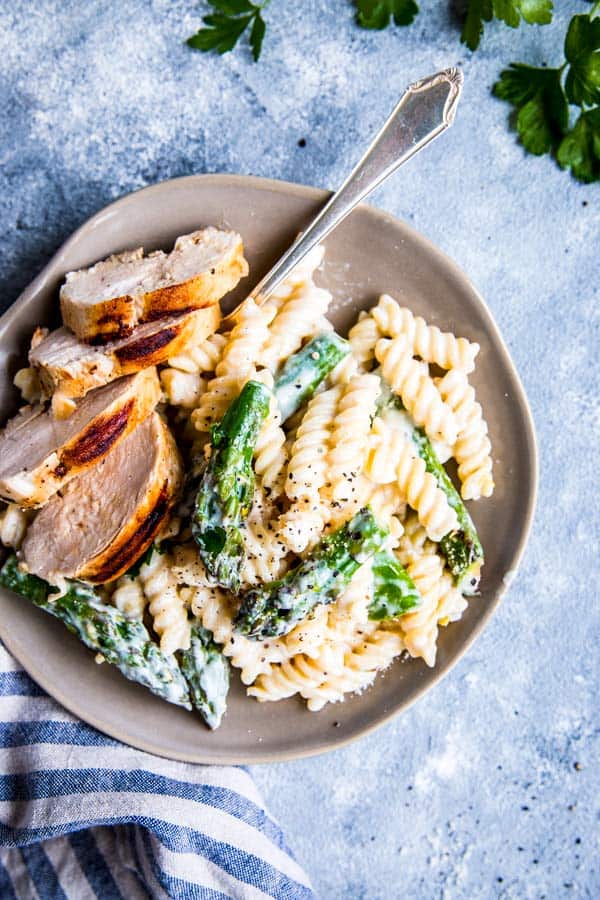 It's not that either of my girls is a particularly picky eater, but there's a lot of unnecessary whining and mess-making and just… Ugh. It gets to me. So having a nice and quiet meal is awesome, and it's also super easy to make!
How to make this one skillet chicken and asparagus pasta:
There are two (super simple!) steps to this meal:
Cooking the chicken
Cooking the pasta and asparagus right in the sauce
I mean, you cannot beat the simplicity of that.
A few tips to make this recipe absolutely foolproof:
Make sure the chicken is all the way done before removing it from the skillet.
The first time I made this dish, I didn't cook the chicken long enough. In the end, everything was ready but the chicken needed some more time to cook, which was super frustrating.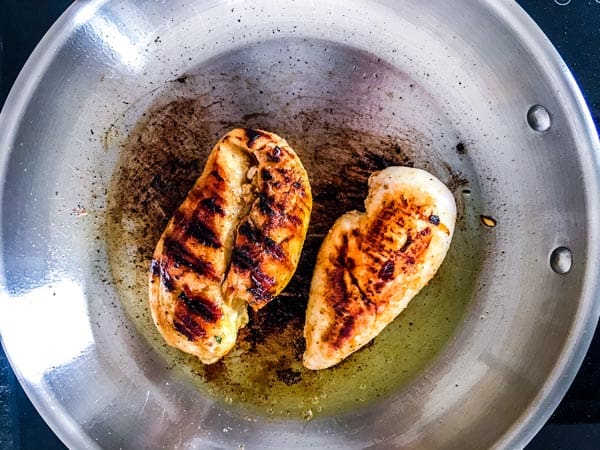 Yes, all the remaining ingredients really can all go into one skillet.
That's the beauty of one pot pasta dishes – you just have one pot (or in this case skillet) to wash.
I prefer adding the asparagus once the pasta has had some time to cook already, because that way it still has some bite.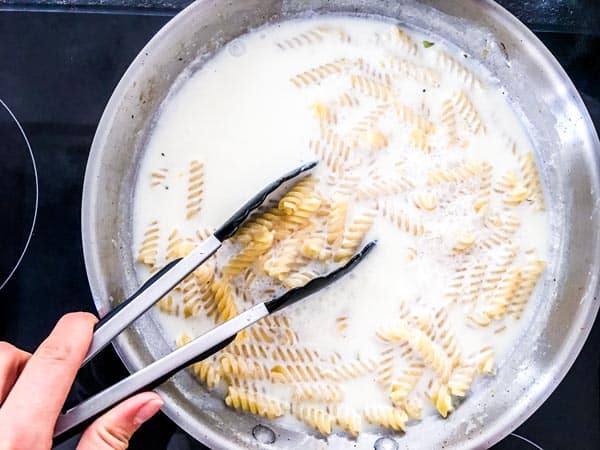 If you think the sauce is still too liquid-y once the pasta is done, turn up the heat and boil it for another 30 seconds.
If it's still not thick enough (it totally depends on your pasta!), set it aside and let it rest for 5 minutes. It should have thickened nicely by then.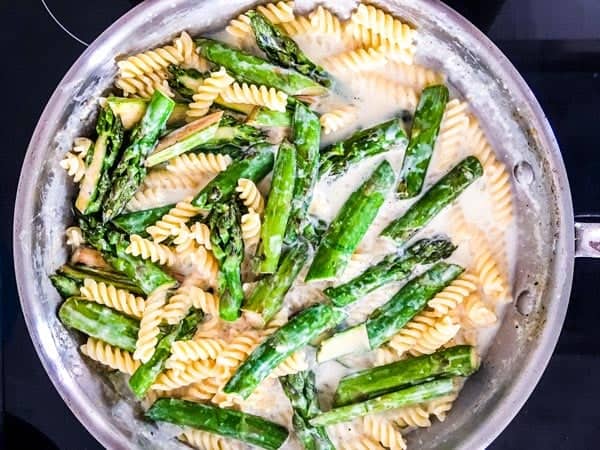 If you prefer your asparagus very soft, you can boil it separately in a large pot filled with water and just add it in the end.
The way it is cooked in the recipe does cook it through, but it still has some bite, which we love.
Make it even more creamy, if you like.
This is my secret. I just stir a little cream cheese (or in this case soft goat's cheese because it's the actual best) in with the parmesan at the end.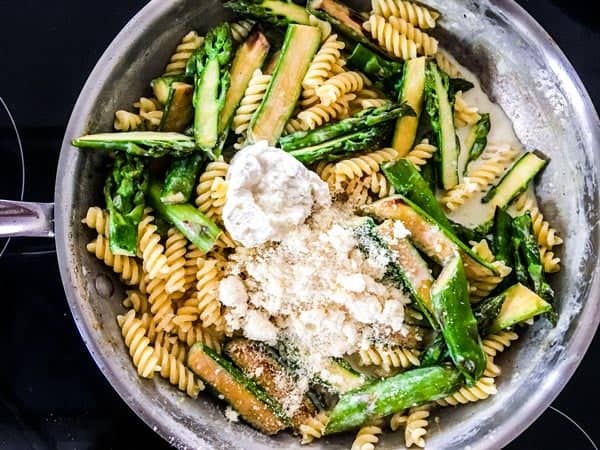 It's not in the recipe card because in some of my recipes (uhm like my one pot garlic butter parmesan mushroom pasta) some people go crazy on Pinterest how it tastes only of cream cheese and it's awful. Tired of the crankiness, so you only get this tip if you're reading the actual post.
Look. If you add the amount I add, which is one or two heaping tablespoons, it's pretty much impossible to make this dish taste of cream cheese ONLY. Or you have the shittiest cream cheese in the world, in which case I really can't help you.
If you think your pasta sauce is not creamy enough, and you trust me to not mess up your dinner, try it. I live for this.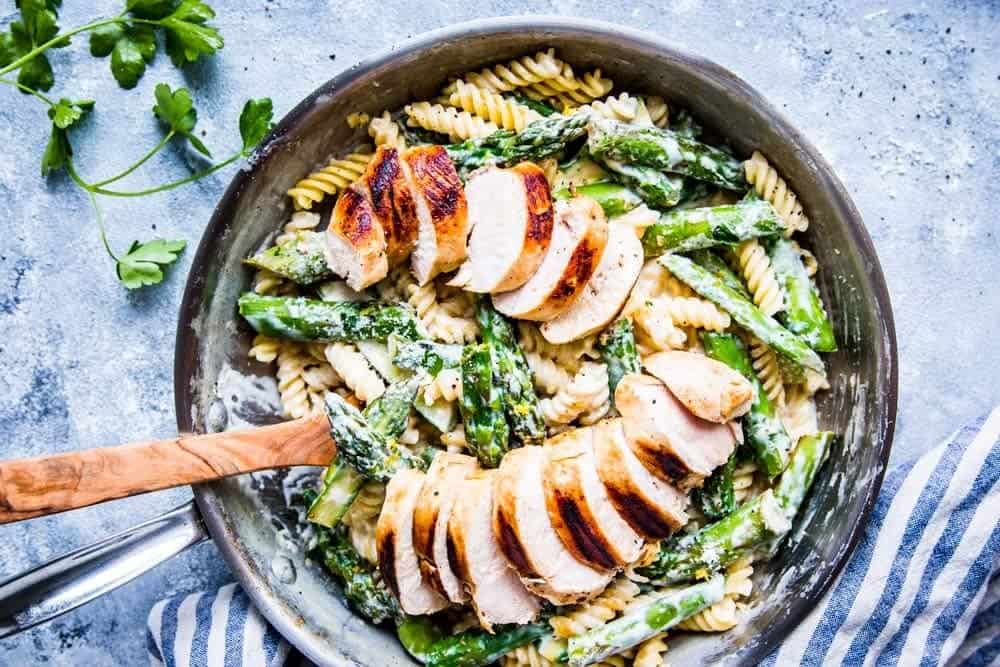 I know you know I love a good one-pot pasta, and this one is no exception.
It's creamy, it feels special, yet it is so simple to make.
I've been feeling that my go-to one-pot ham and pea pasta needs an upgrade, and I'm pretty confident I've achieved it with this recipe.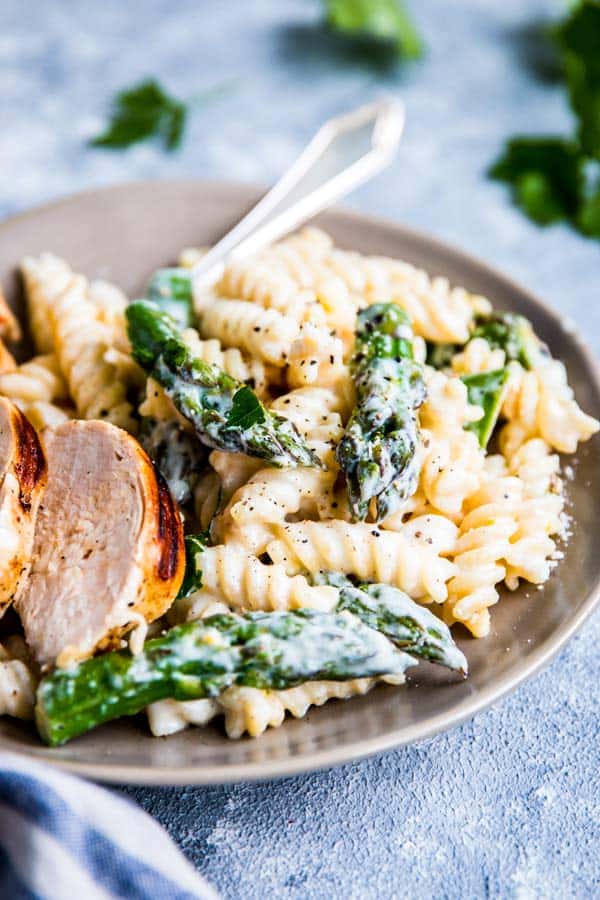 I like how this meal keeps prep time and dishes minimal, which means I also have time/headspace to make a side salad (strawberry spinach salad, anyone??) and yell at my husband to set the table with the kids.
Wait, did I say yell? Oh, I definitely meant lovingly ask.
Get the recipe here:
I first shared this recipe on Food Fanatic as Chicken Asparagus Pasta Recipe.