Made with oatmeal, buttermilk and honey, these Zucchini Oatmeal Muffins are easy to make and so delicious. They're super freezer friendly to stock up for easy lunch box assembly, and my kids absolutely love them!
We always keep a batch or two on hand for quick breakfasts on the go or when snack attack hits.
This will be your new go-to recipe for zucchini oatmeal muffins!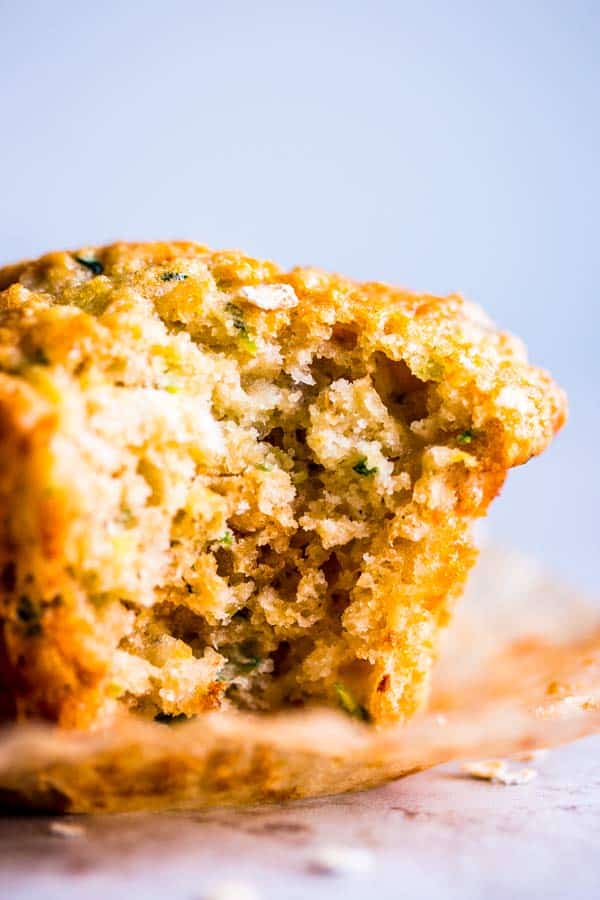 My kids are not all that crazy about eating zucchini all summer long. But turn them into zucchini oatmeal muffins? And they cannot get enough.
I mean, it's borderline obsessive. And I'm not one bit sorry about it.
The best part is that I can throw these muffins together in no time at all. WITH THE KIDS IN THE KITCHEN.
I know, unbelievable.
Usually it takes me an hour to boil pasta when they're hangry-ing out around me.
With summer in full swing, they ask at least once per week if we can whip up a batch of zucchini oatmeal muffins. But I've become smarter than them and we whip up a double batch, so I can keep half of them in the freezer ?
It's so easy to make a double batch instead of a single batch of muffins, which is why this kind of mom hack is my favorite.
Not a lot of extra work, but I feel SO accomplished with muffins stashed away in the freezer.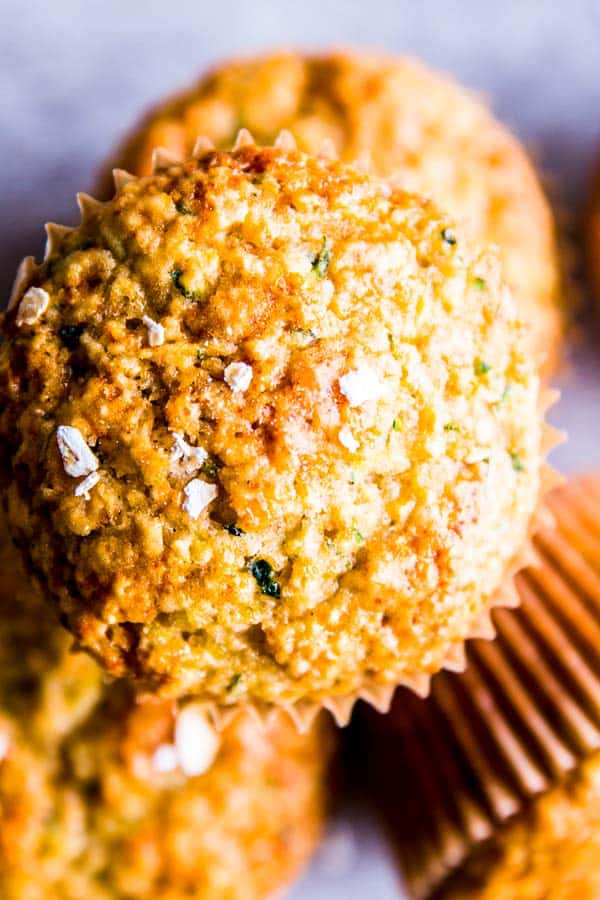 I mean, imagine this:
You have to leave the house REALLY early. And before you herd everyone out of the door, you just happen to remember… Uhm, they need to eat?
So you pull the bag of muffins out of the freezer, and 30 minutes later you're all munching on homemade muffins, crumbing up the car real good… But hey, HOMEMADE MUFFINS!
Yeah, those are the times I pat myself on the back.
How to Make Zucchini Oatmeal Muffins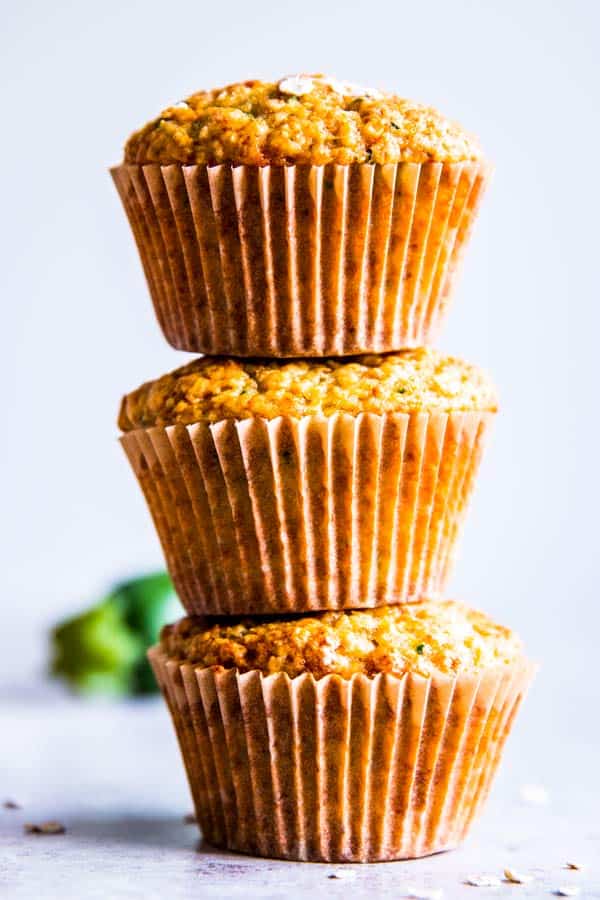 Mix the dry ingredients:
First, you'll want to grind some oats into flour. Because honestly, who has oat flour hanging out in the pantry?
All you'll have to do is add about a cup to a food processor or strong blender and process until finely ground. Don't worry if there's a few larger bits left.
Then you'll want to mix 1 cup of your oat flour with all the rest of the dry ingredients.
Don't worry, it's just flour, brown sugar, baking powder, baking soda and salt.
Do some prep work:
Then, prep a 12 cup muffin pan and preheat the oven to 400°F.
Prep the wet ingredients:
Next, you'll want to shred a medium zucchini and squeeze out all the excess moisture. Make sure you squeeze it as well was possible, because otherwise your muffins might fall apart.
The shredded zucchini goes into a separate bowl with an egg, honey and buttermilk.
Add the zucchini mixture to the flour mixture and stir JUST until combined. Do not overmix.
Seriously, do not overmix or you'll have gummy and dense muffins and very sad children.
Add batter to muffin cups and bake:
Then scoop the batter into the prepped muffin cups.
Another mom hack: Use a cookie scoop to add the batter to the muffin cups! So mess free and easy and I'm so in love with this thing.
Then bake for 18-20 minutes, or until a toothpick inserted into the middle of a muffin comes out clean.
Let the muffins cool in the pan for 5 minutes, then remove them to a cooling rack until completely cooled.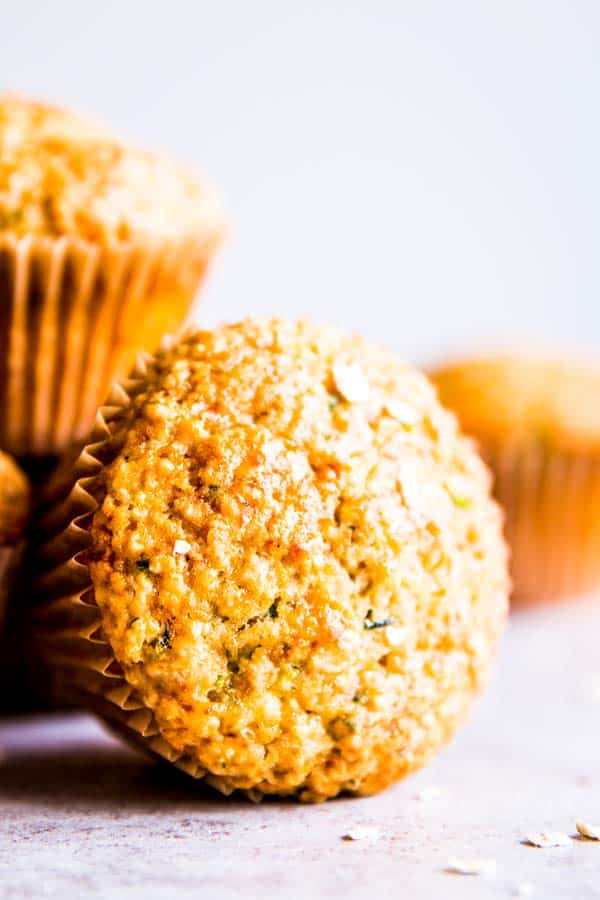 How to store and freeze the muffins:
You can eat them right away or store them in an airtight container for a couple of days, or you can transfer them into freezer bags or a freezer container and store in the freezer for up to 3 months.
Get the printable recipe for Zucchini Oatmeal Muffins:
Printable recipe
Printable Recipe Card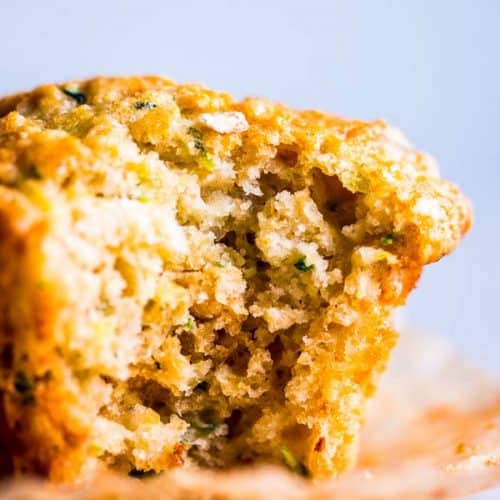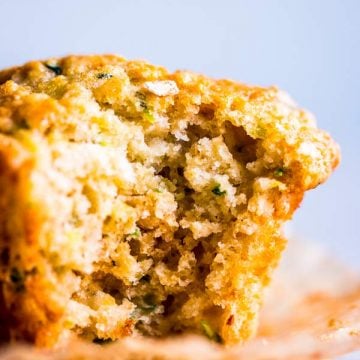 Zucchini Oatmeal Muffins
Whip up a batch of Zucchini Oatmeal Muffins to keep on hand in the freezer when the summer snack attack hits!
made it? tap the stars to add your rating!
Ingredients
Dry ingredients:
1

cup

oat flour

1 ¼

cups

all purpose flour

⅓

cup

brown sugar

packed

1 ½

teaspoons

baking powder

½

teaspoon

baking soda

¼

teaspoon

salt
Wet ingredients:
1

medium zucchini

finely shredded and excess moisture squeezed

1

cup

buttermilk

¼

cup

honey

1

large egg
Instructions
Mix dry ingredients: Add all dry ingredients to a large bowl and mix very well.

Prep: Prepare a 12 cup muffin tin with paper liners. Preheat the oven to 400°F.

Mix wet ingredients: Add all wet ingredients to a medium bowl and mix very well.

Combine batter: Add the wet ingredients to the dry ingredients and stir JUST until combined. Do not overmix!

Bake muffins: Evenly divide the muffin batter between the prepared muffin cups (I like using a cookie scoop for mess-free work). Bake the muffins for 18-20 minutes, or until a toothpick inserted into the middle comes out clean.

Cool the muffins: Cool the muffins in the tin for 5 minutes. Remove them to a wire rack and cool them completely.
Want to save this recipe?
Create an account for free to start your personal recipe box. Save any recipe by tapping the heart in the bottom right corner.
Join Now
Nutrition is an estimate.
More recipe information
Looking for More Great Muffin Recipes for Kids?
If your kids are as obsessed with these muffins as mine are, here are a few more fruit and veggie filled muffin recipes they might love.
Just click the links below to get to the full recipes!
Healthy Carrot Muffins – These are made without any sugar and turn out so moist – almost like carrot cake. Yum!
Healthy Pumpkin Muffins – This is such a fall favorite around here. My preschooler doesn't actually like pumpkin, but she LOVES these pumpkin muffins!
Strawberry Oatmeal Muffins – These are just perfect. My babies both go crazy for these, and to be honest, I'm just obsessed with these muffins as the kids are.