What, don't you love feeling like a freaking goddess, too? Because this omelet certainly makes me feel that way. Hence the name – Green Goddess Omelet.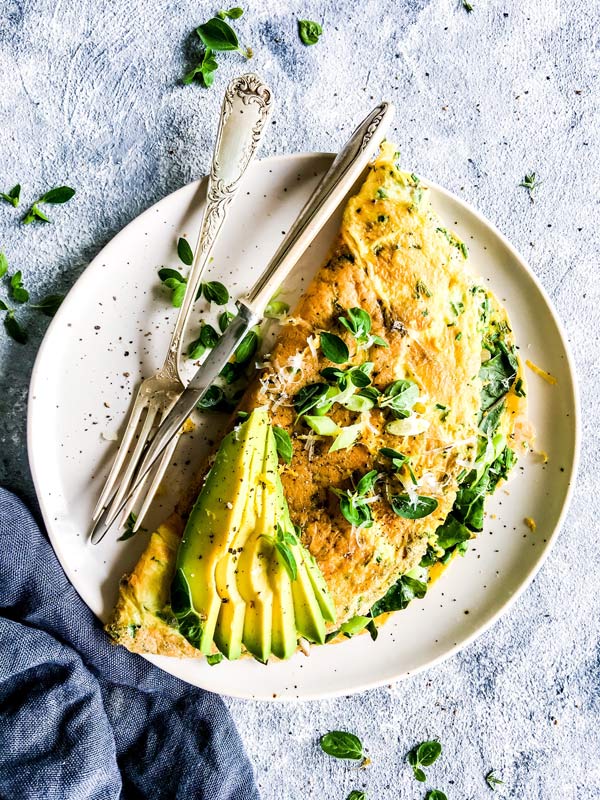 My goal when I'm sharing recipes is always to inspire you to try new things, to fall in love with food, to make things for their nourishment to the body and soul. I try to share dishes I actually eat in real life, because I know it can be so hard to figure out what to eat and when to eat and anyways.
Dishes like this Green Goddess Omelet, which gets its name from a) being awesome and b) being green from all the chopped herbs and green filling. Oh, and then I topped it with avocado, because eggs and avocado are a match made in heaven.
So, let's talk about this omelet today. I love omelettes. Even though they're technically a brunch dish, I have them whenever I feel like it.
For breakfast, as part of a weekend brunch, as a quick weekday lunch or even for dinner. They are super allrounders, just like scrambled eggs.
Are you coming off years of making your omelettes with egg whites, only? Well, you're in for a treat. This is all-egg (because whyyyyy would you remove those beautiful yolks from a dish that directly benefits from it?), which makes it incredibly satisfying and nourishing.
It comes together in about 15 minutes, which is awesome, and is crazy easy to make, which is even more awesome.
How To Make a Green Goddess Omelet
First, you'll need to chop up some herbs. It doesn't really matter which herbs you use, as long as you like them.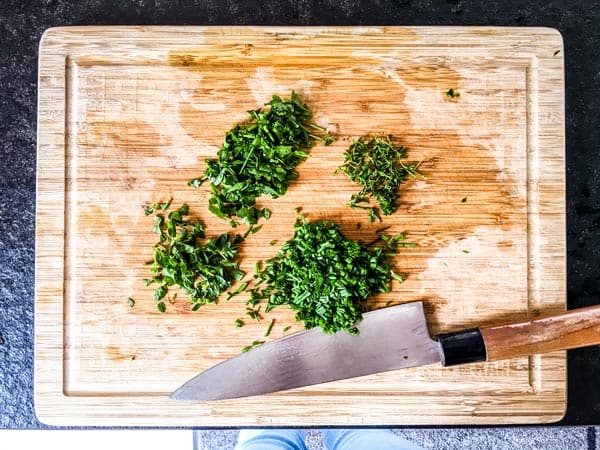 It's perfect to use up these leftover bunches in the back of your fridge. I used chives, flat-leaf parsley, oregano and a little thyme. Stuff like dill and basil would be delicious, too.
Then, you're going to whisk up some eggs. 4 large eggs are about the perfect amount for an 8-9 inch skillet.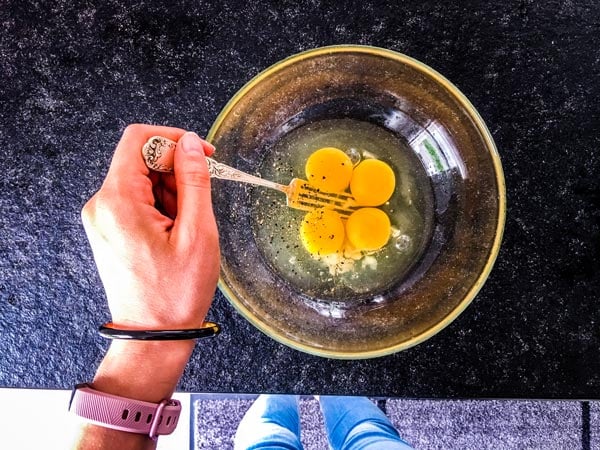 When I'm super hungry and don't feel like a starchy side, I can eat an entire 4 egg omelette by myself. Sometimes we share one between two adults and two kids. It always depends on how hungry I am, and that varies every single day.
Anyways, herbs and seasoning go into the beaten eggs.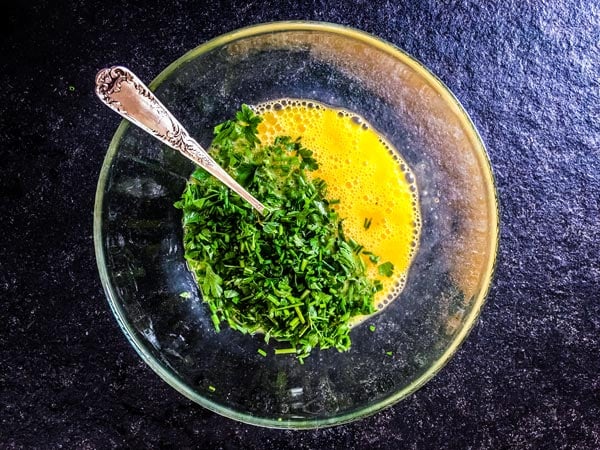 That mix goes into a lightly oiled non-stick skillet over medium to medium-high heat.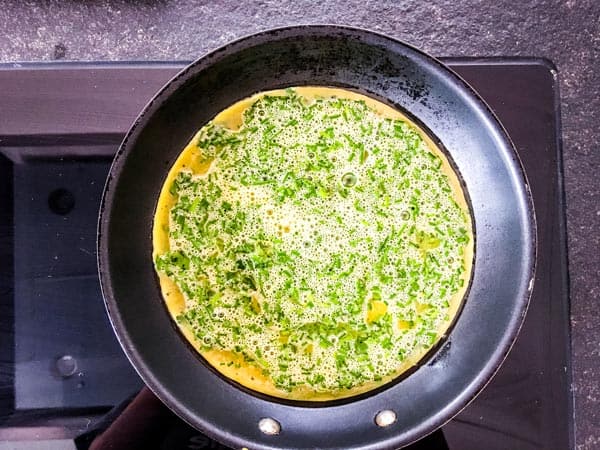 Now you're going to let it set for a minute, then you're going to carefully lift the edge and tilt the skillet to let the runny egg mix flow underneath the omelette. Do this all around the pan, then let it cook for another 30 seconds.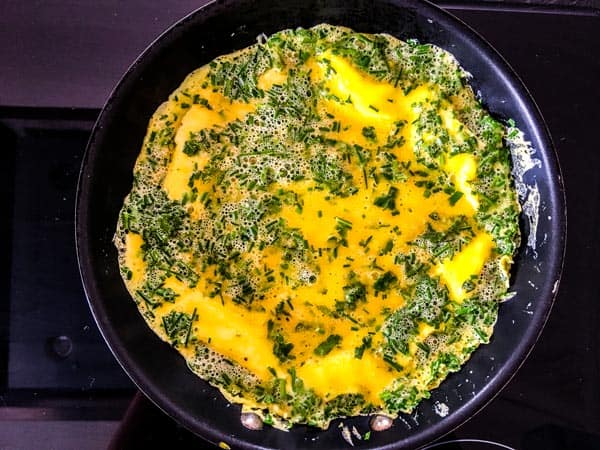 Add the filling to one side and fold the omelet over.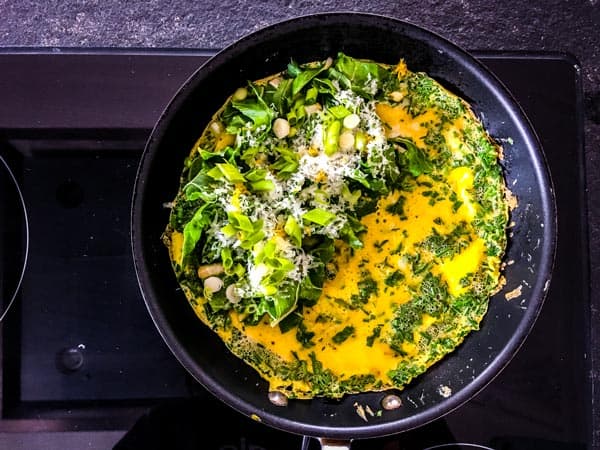 Cook for another 30 seconds or until the greens are starting to wilt.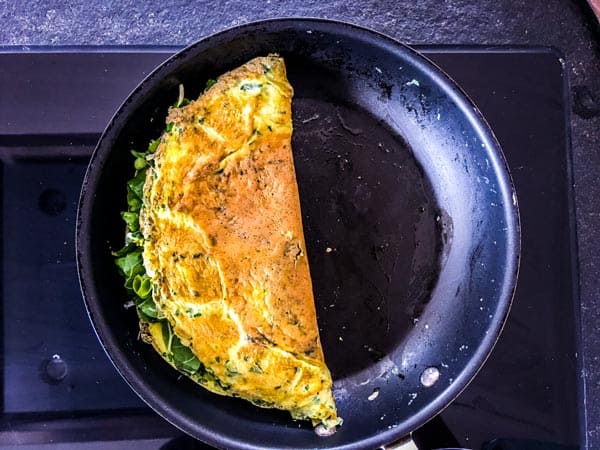 Serve ASAP with avocado, extra herbs and extra cheese.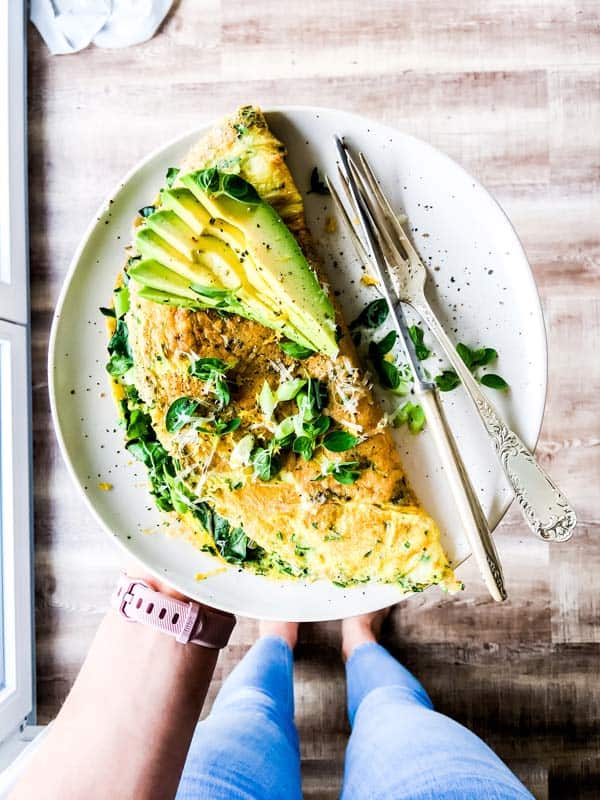 So… What do you have with this to make it a full meal?
This entirely depends on your hunger, what you have an appetite for and frankly, what you have on hand.
But here is some inspiration, all ways I have turned this into a meal before:
have the entire omelet and probably nothing else, at most a small mixed green salad
share the omelet (or not if I'm super hungry/moved around a lot!) and have a couple of slices of buttered whole grain bread on the side
share the omelet and follow with a bowl of oatmeal or bircher muesli and fruit, or some baked oatmeal
if we have it for dinner, I'd also be fine sharing it with a green salad on the side, and then having a rich but satisfying dessert after, something like a fruit cobbler or fruit pie
I hope you'll enjoy this omelet just as much as I do – it's one of my favorite meals when I don't feel like cooking but know I need fuel.
Get the recipe here:
Printable recipe
Printable Recipe Card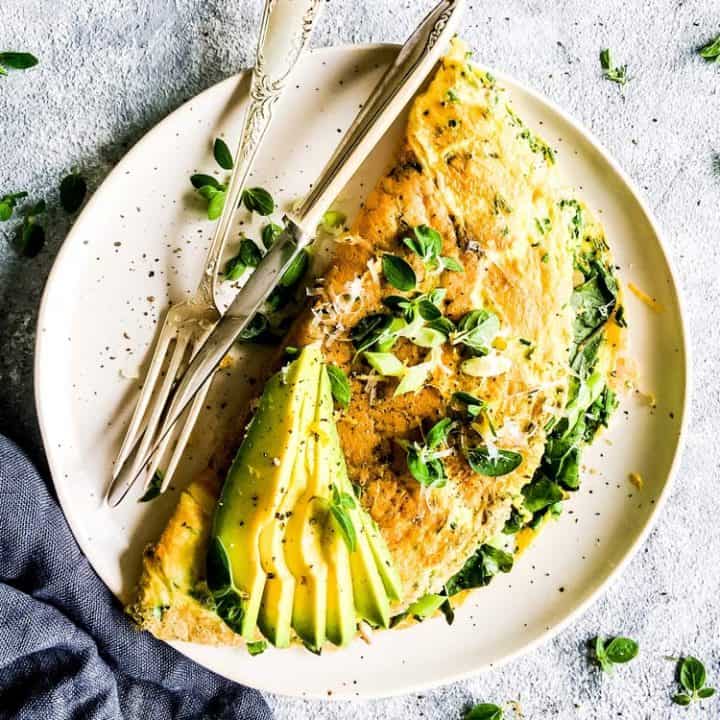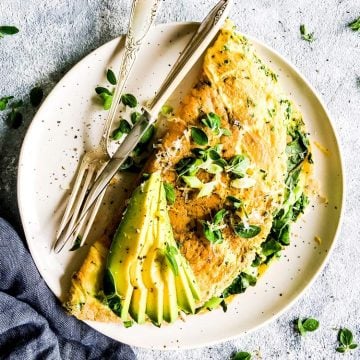 Green Goddess Omelet
Green Goddess Omelette is a quick and healthy vegetarian breakfast or brunch dish. You can whip it up in no time, and it is just as delicious as a quick lunch or dinner with a salad.
made it? tap the stars to add your rating!
Ingredients
FOR THE OMELETTE:
4

large eggs

2

handfuls of fresh herbs

I used oregano, flat leaf parsley and chives, finely chopped

salt and pepper

to taste

a little coconut oil
FOR THE FILLING:
a large handful of greens

I used Swiss chard leaves, but spinach would be delicious, too

grated pecorino cheese

grated lemon zest
TO SERVE:
1

small avocado

sliced

extra herbs

cheese and lemon zest (if you like)
Instructions
Make the egg mix: Beat the eggs, chopped herbs, salt and pepper in a medium bowl with a fork.

Cook the omelette: Heat a medium non-stick skillet over medium heat. Once it's hot, melt the coconut oil in it. Pour the egg mix into the hot pan and allow it to set for 30 seconds. Carefully lift the edge away a little and tilt the pan to allow some of the raw egg mixture to run underneath the omelette. Do this in a few places, then let the omelette cook for 1-2 more minutes. Don't overcook it, it should still be soft. Do not let it dry out.

Fill the omelette: Place the greens, cheese and lemon zest on one half of the omelette. Fold the other half on top and finish cooking for around 30 seconds, or until the greens are starting to wilt.

Serve: Serve immediately with sliced avocado and any extra toppings you like.
Want to save this recipe?
Create an account for free to start your personal recipe box. Save any recipe by tapping the heart in the bottom right corner.
Join Now
Notes
Lightly adapted from a modern way to cook by Anna Jones.
Nutrition
Calories:
329
kcal
Carbohydrates:
10
g
Protein:
15
g
Fat:
27
g
Saturated Fat:
8
g
Cholesterol:
333
mg
Sodium:
197
mg
Potassium:
643
mg
Fiber:
7
g
Sugar:
1
g
Vitamin A:
849
IU
Vitamin C:
15
mg
Calcium:
115
mg
Iron:
2
mg
Nutrition is an estimate.
More recipe information