Printable recipe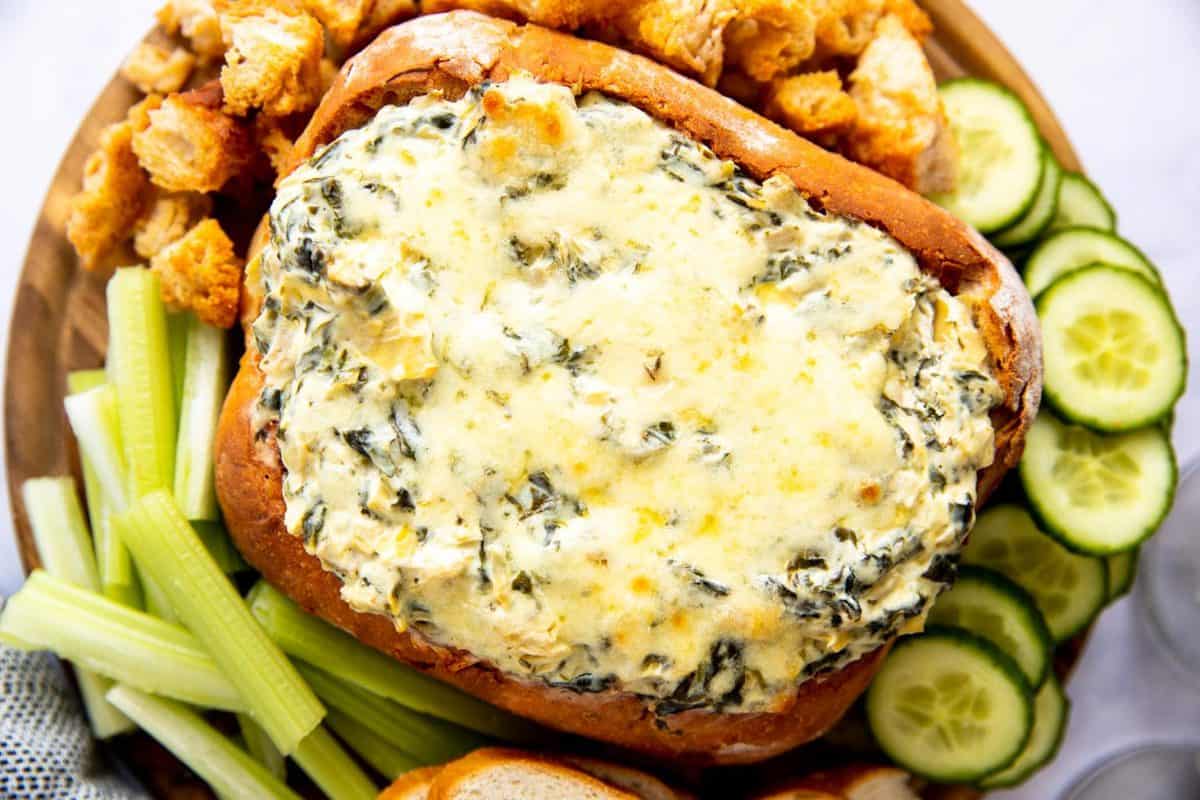 made it? tap the stars to add your rating!
This is my favorite way to make spinach artichoke dip – hot, cheesy and baked right into a crispy bread bowl! Perfect for holiday parties, as a game day snack for football or anytime you need an easy but impressive appetizer.
My kids LOVE the toasted bread I make from the bread I remove from the loaf for the bowl, and I always serve it with celery and cucumber slices, too. A great finger food!
Ingredients
For the Bread:
1

round white bread loaf

2

tablespoons

olive oil

½

teaspoon

garlic powder

¼

teaspoon

onion powder

¼

teaspoon

ground paprika
For the Dip:
2

tablespoons

butter

1

(10-oz) package

frozen spinach

(thawed, chopped and excess liquid squeezed)

2

(14-oz) cans

artichoke hearts

(drained & chopped)

½

teaspoon

Italian seasoning

½

teaspoon

garlic powder

¼

teaspoon

onion powder

2

(8-oz) packages

cream cheese

½

cup

shredded mozzarella

(plus more for topping)

½

cup

grated Parmesan cheese

½

cup

sour cream
Instructions
Prepare bread bowl: Heat oven to 350°F. Hollow out bread, slice removed bread into chunks. Toss with olive oil and seasoning. Oil and season inside of bread bowl. Bake in hot oven for 20 minutes.

Prepare dip: Melt butter in a large skillet. Stir in spinach, artichokes and seasoning and sauté until excess moisture is gone. Stir in cheeses until melted, then take off the heat and stir in sour cream.

Bake: Transfer dip to toasted bread bowl. Top with extra cheese and bake for 10-15 minutes, or until bubbly. Serve immediately with toasted bread and veggie sticks.
Add Your Review
Step by Step Recipe Video
Nora's Tips
Ingredient Notes:
Bread: Something like a country loaf or round French bread is perfect. You can also make my no knead bread for this!
Spinach: You can also use a 12-oz bag of fresh spinach. Sauté the fresh spinach on its own until wilted, then chop and proceed as you would with frozen.
Cheese: If you'd rather use a different cheese mix than me, feel free to substitute your favorites. I do, however, recommend using one kind that's very melty (mozzarella for me) and one kind to add flavor (Parmesan is what I usually use).
Sour cream: Feel free to skip, I use it to add some extra flavor, and to make a creamier dip. Without the sour cream, the mozzarella is very melty/stringy. If you prefer it stringy with lots of cheese pulls, don't add the sour cream.
Cooking Tips:
Don't skip seasoning/toasting the bread before adding the dip. It helps to keep the bowl from getting soggy too fast. Also, that seasoned and toasted bread is SO good!
Make sure you chop the spinach and artichoke hearts well, but don't mince them. You want the dip to be scoop-able as an appetizer without huge chunks in it, but you don't want everything to disintegrate either. About ¼ inch pieces or just a bit smaller for the artichoke hearts is what I do.
Baking Dish and Crockpot Instructions:
To bake in a baking dish: If you want to make the dip in a baking dish instead of a bread bowl, just skip the instructions for the bread. Spread the dip in a 7×11 inch casserole dish, sprinkle with cheese and bake as directed.
To make in the crockpot: Combine all ingredients for the dip in a small (around 3 quart) crockpot and heat on high setting until bubbly around the edges, around 1.5 hours. Stir well, then top with shredded cheese and cook on low setting for 15 minutes. Serve straight from the crock, or transfer to a bread bowl before sprinkling with cheese and bake as directed in the recipe above.
Can you make the dip ahead?
I'm a huge stickler about food safety, and it is not recommended to reheat spinach. I do not recommend making this dip ahead.
More recipe information
Join my Newsletter to Get Recipes in Your Inbox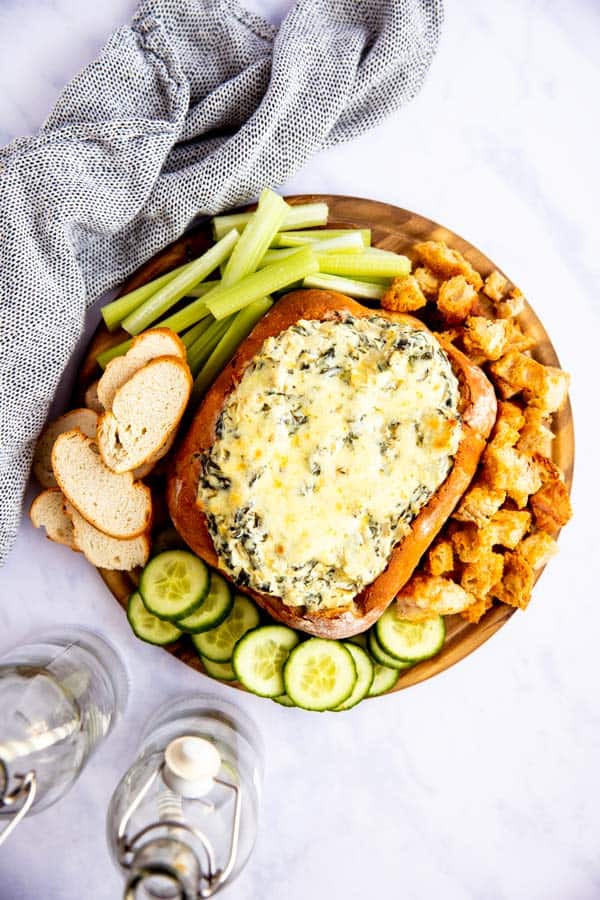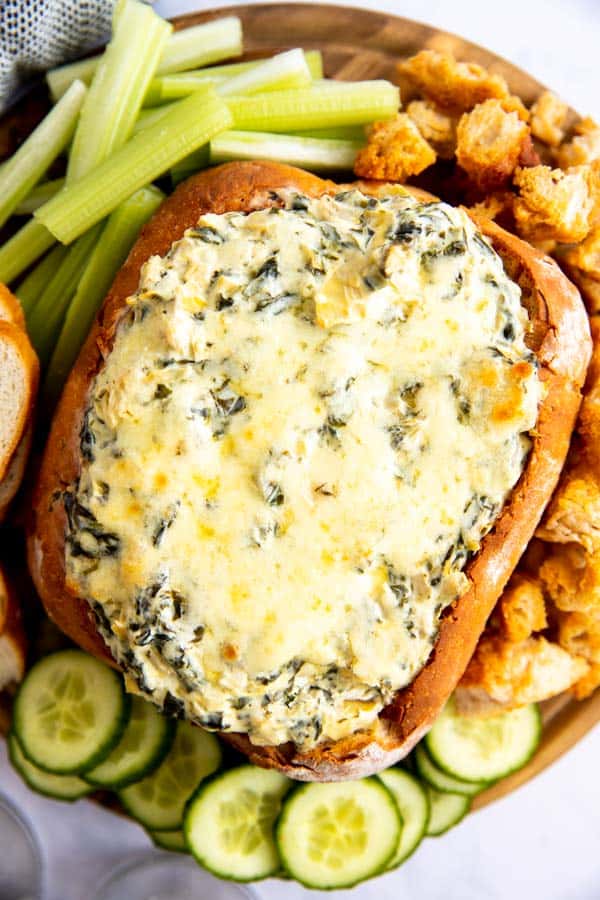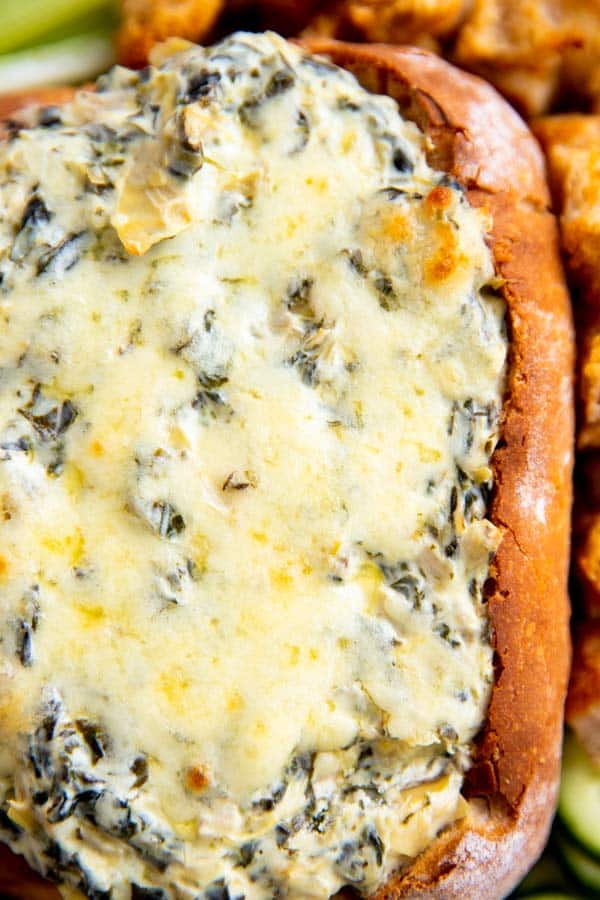 More Appetizer Recipes You'll Love: