How To Reheat Fried Chicken in the Oven: The best way to reheat fried or oven fried chicken in the oven to keep the chicken crispy and delicious.
We love making oven fried chicken for dinner – my recipes are some of the most popular here on Savory Nothings after all.
See the regular Crispy Oven Fried Chicken, the Buttermilk Oven Fried Chicken, or my Garlic Parmesan Oven Fried Chicken.
I know some of you have been asking about reheating leftovers and I never had a good answer, because my leftovers always ended up soggy somehow.
So I went to work in the kitchen to figure out the best way to reheat oven fried chicken – or Homemade Chicken Nuggets! – and it works for regular fried chicken, too!
I just reheated our leftover fried chicken from last night for lunch today, so I thought I'd write down a small tutorial for you.
How To Reheat Fried Chicken in the Oven:
What you need:
A dark cookie sheet
An oven rack
A cooling rack
Your leftover fried chicken
How to reheat your oven fried (or regular fried) chicken:
Heat a dark cookie sheet in the oven
Preheat the oven to 430°F, then place a dark cookie sheet on the middle rack to heat up for 5 minutes.
Place the chicken on the oven rack
While the cookie sheet is heating up, place the chicken pieces on the oven rack.
Make sure the fried chicken pieces are spaced apart and can't fall through the gaps.
Bake the chicken
Place the oven rack with the chicken pieces directly over the preheated cookie sheet, making sure there's a gap between the chicken and the cookie sheet for air to circulate.
If that sounded confusing, here's a not-very-pretty photo I snapped with my iPhone today while holding a hungry and squiggly 15 month old: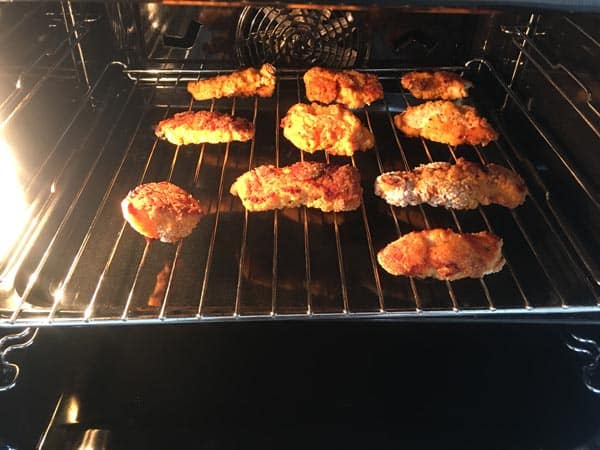 This will do two things:
The chicken will get heated all around (no chance for the bottom to stay soggy because there is only dry air reaching the bottom!) and
The hot dark cookie sheet will reflect heat directly back onto the chicken pieces AND catch any crumbs that may fall down.
Bake the chicken for 5 minutes, flipping once. Then remove the cookie sheet and put the chicken pieces under the broiler for 1-2 minutes.
Let the chicken rest
Finally, remove the chicken from the oven and set it on the cooling rack.
It will only need 1-2 minutes, but it will help for the breading to really crisp up.
Serve
After that short rest, make sure to serve the chicken immediately!
Please note:
Yes, this is the best method I've found to reheat leftover oven fried chicken. BUT. It will still be reheated and not taste just as nice, juicy and crispy as it does cooked fresh.
I wouldn't recommend purposefully making oven fried or fried chicken ahead of time specifically to be reheated later.
But I will say it still tastes amazing reheated this way, and it's way better than eating soggy leftover fried chicken – unless you're into that sort of thing, of course 😉