Last Saturday we came back from hitting up a few thrift stores… And decided we needed a change of scenery. Immediately. Destination of our dreams? Bergamo, Italy.
We already visited Bergamo for a few hours last summer, and all year long we've been saying how much we liked it and that we want to go back.
So… Go back we did. I found a cute AirBnB apartment (which we would later find to be more than cute, it was absolutely perfect) and ninety minutes later we were on our way to Bella Italia.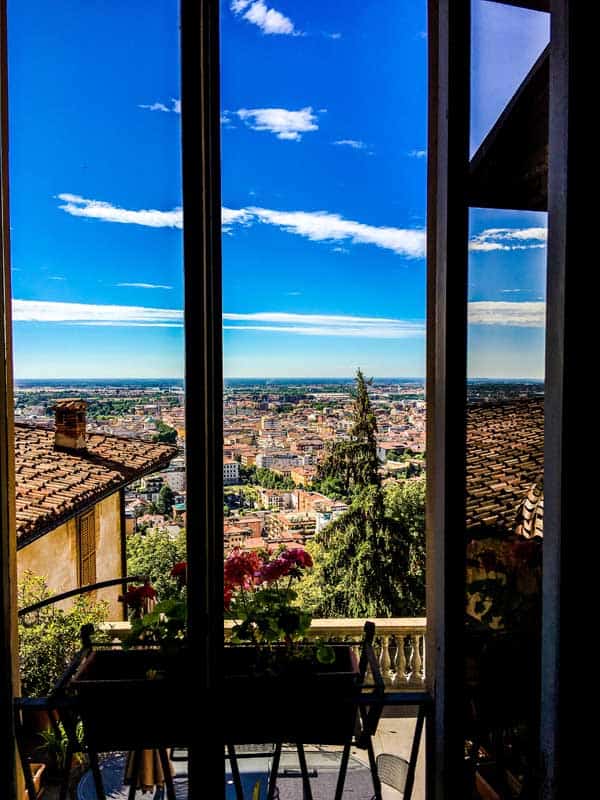 This little getaway turned out to be incredible. Kids loved it (yes, you CAN do last-minute city trips with littles!), we loved it, it was magical.
Bergamo isn't the most popular travel destination, probably because Milan is so close. But I think it SHOULD be. The architecture, the food, the general vibes… Simply wonderful.
Here are 10 things to do in Bergamo, Italy that make a visit so worth it:
1 The view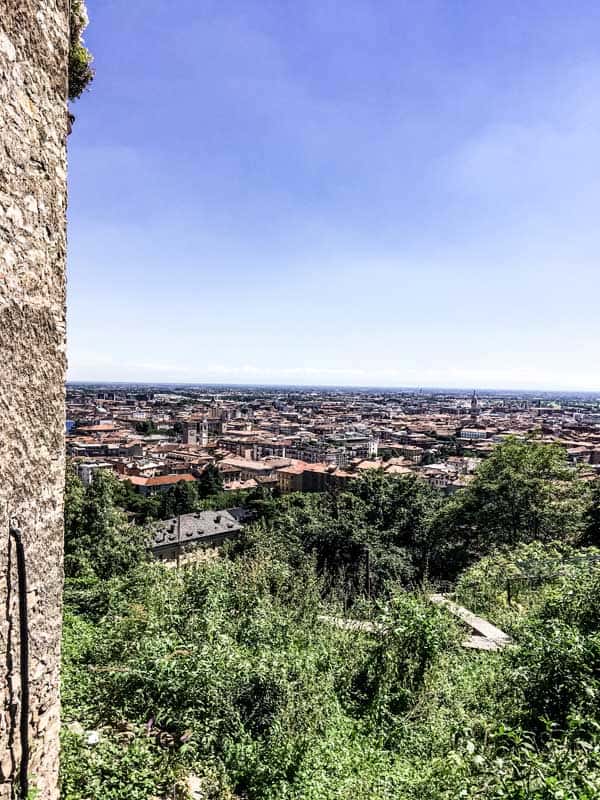 Bergamo comes in two parts: the Citta Alta (upper city) up on the hill and the Citta Bassa (lower city). The Citta Alta is the medieval part of Bergamo, while the lower city is the modern center.
When we visited Bergamo last year we stayed in the lower city, mainly because it was just a stopover of a few hours and I was one heavily pregnant lady in search of an instant lunch option.
This time around we found the most beautiful AirBnB (on a whim, too, I booked 6 hours before we arrived) in Citta Alta, with the most amazing view over the lower city. You can enjoy this view from various places in Citta Alta, and that alone is worth a visit.
2 Exploring on foot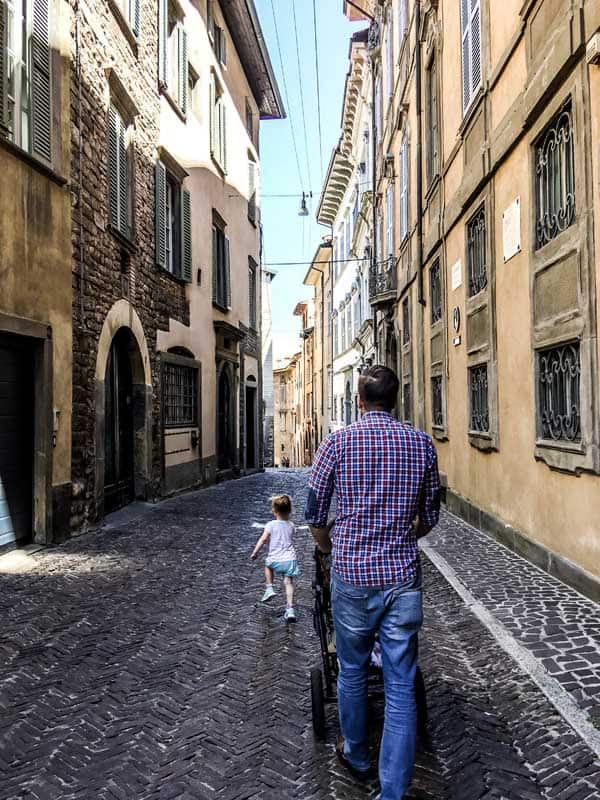 There's nothing better on a city trip than exploring on foot, in my opinion. There's no way to really get to know a place and feeling its character when you have yourself transported from popular sight to popular sight.
We rarely do the big sights during our travels anyways, we prefer enjoying the little things a place has to offer and avoid the crowds. My favorite thing to do is to experience a place as a local, because then I feel like I really get to know the culture AND can get my kids in touch with it, too.
This comes in handy when you're no genius when it comes to organizing your travel, or if you like to take last minute trips. (We do both, ha!)
All you need to figure out is how you're going to get there, where you're going to sleep and if there's any food available in your proximity – the rest will (hopefully) fall into place as you wander the streets.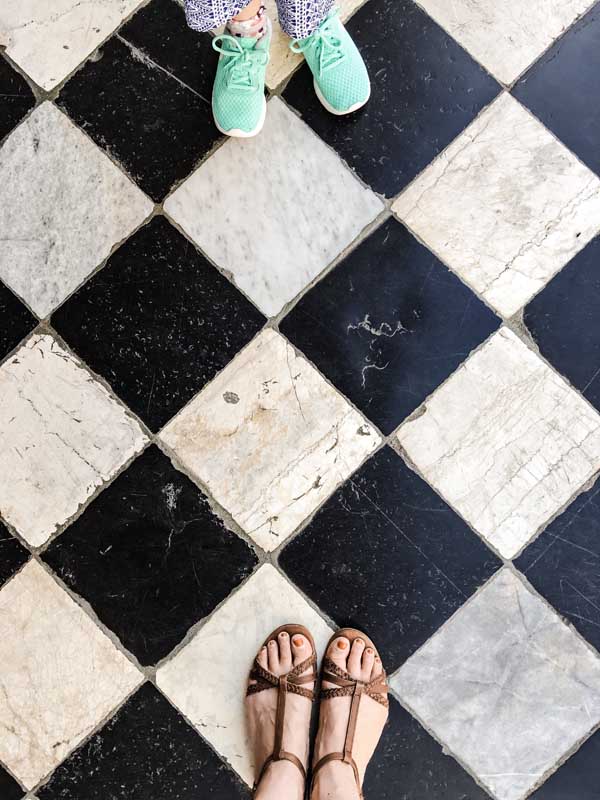 Bergamo, especially the Citta Alta, is a place you can only really do on foot anyways. There's buses and a cable car between the upper and the lower city, and you can also reach the upper city by car (though parking is very limited!). But then? The only thing is to just start walking.
On Sunday we went on a 13k step walk (thanks Apple Health app for counting for us) down to the Citta Bassa and back up again – it was one of the most beautiful walks of my life, no exaggerations here.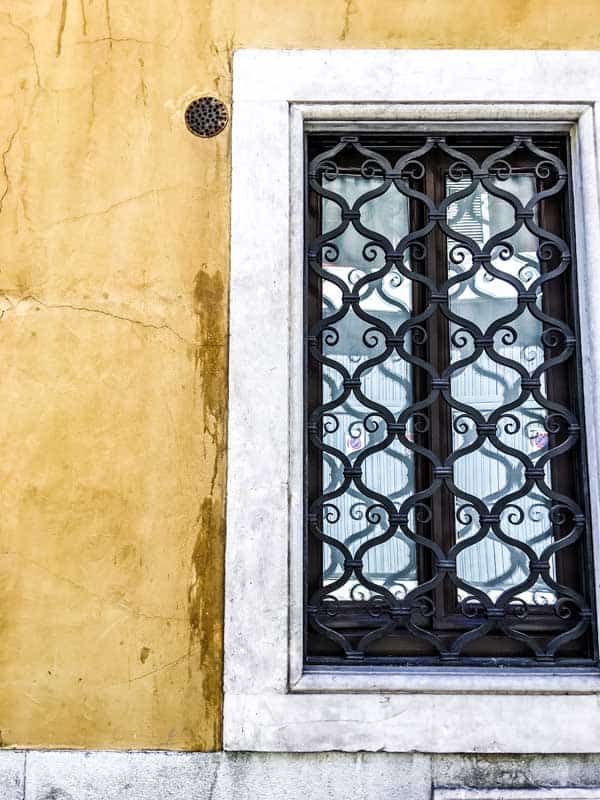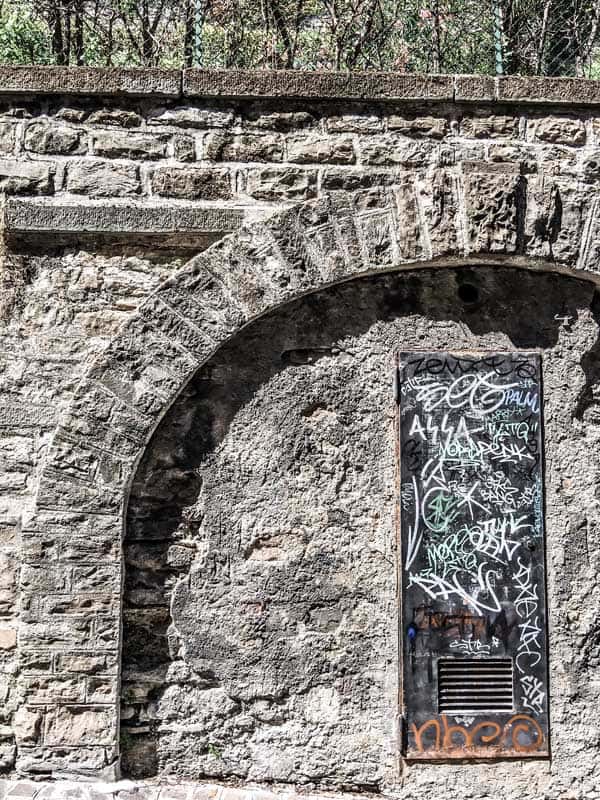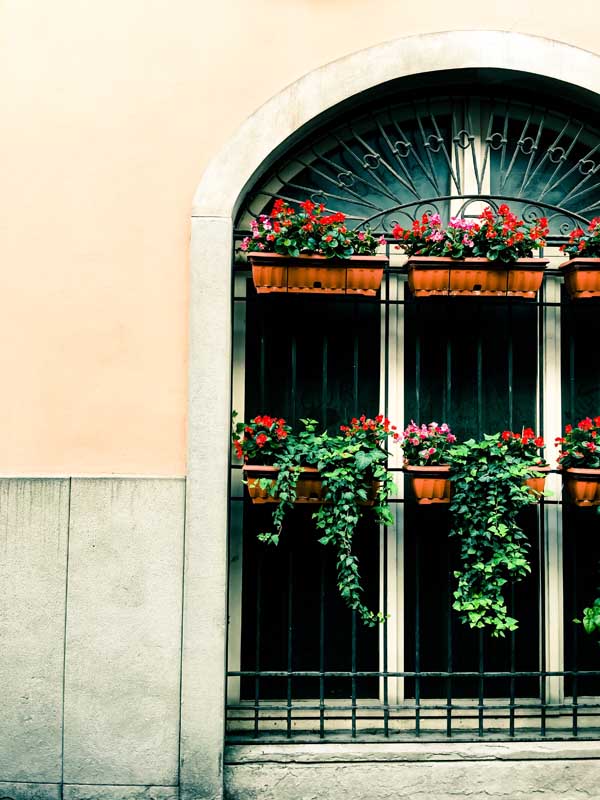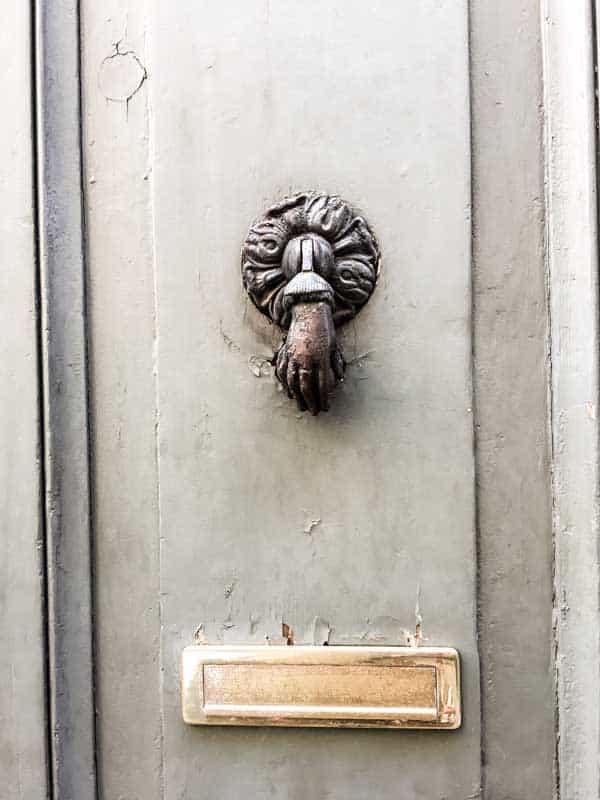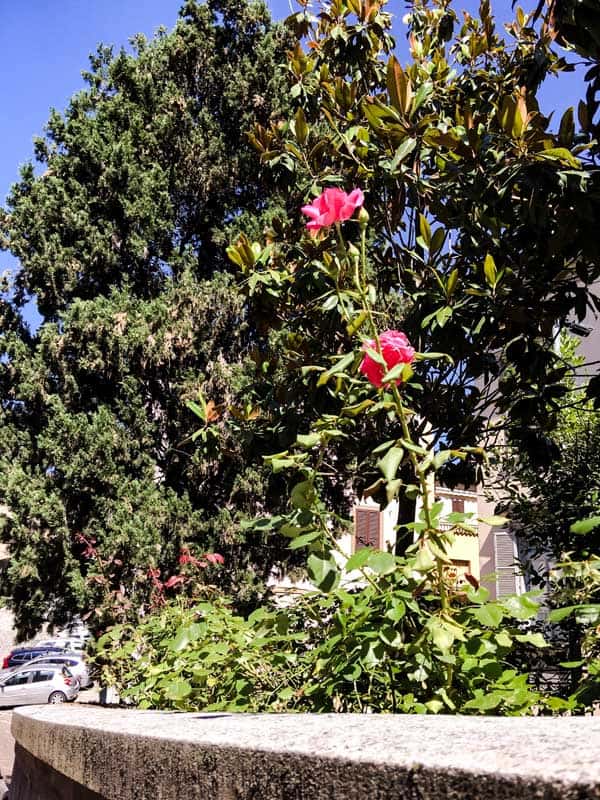 3 Delicacies from Salumeria Gastronomia Angelo Mangili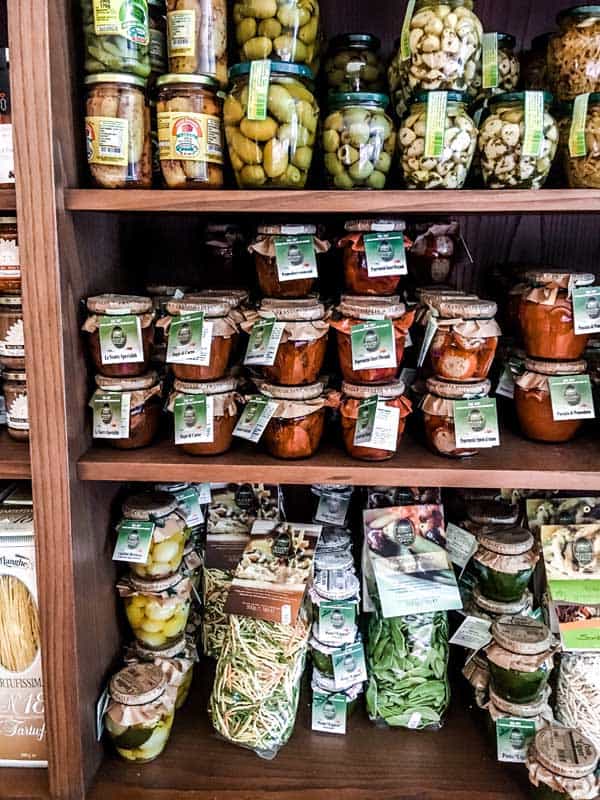 If you're in Bergamo and don't visit Salumeria Gastronomia Angelo Mangili, a kind of deli, you're missing out.
This is especially true if you're staying in a place where you can cook your own meals (which is one of my favorite things to do on vacation – believe it or not!). We went to the Salumeria to get some ravioli for our lunch on Sunday. The staff were beyond helpful to explain how we need to prepare our traditional sausage ravioli (with butter, sage, pancetta and parmesan, which, honestly, is out of this world).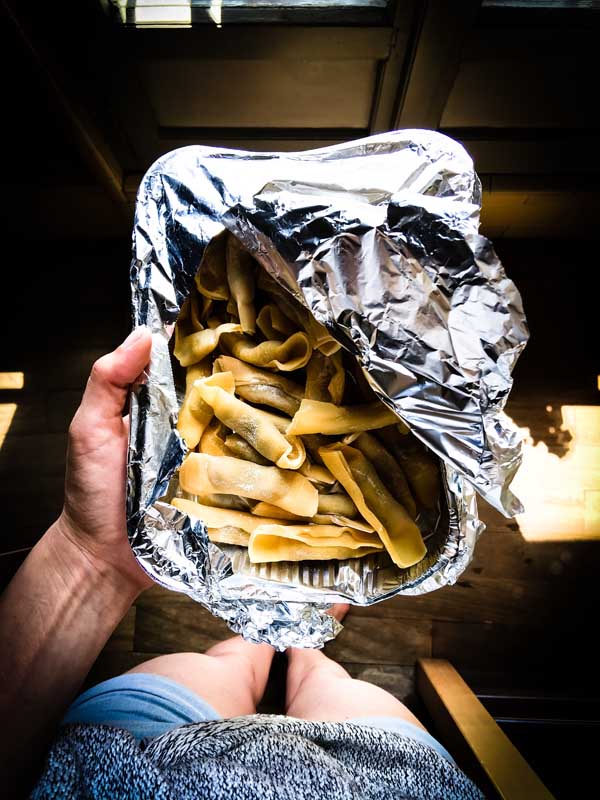 Also worth trying here:
The tortas (pastry cakes with savory filling, very rich but very delicious, a small slice is more than enough)
their wide varitey of cheeses and meats
… everything? 🙂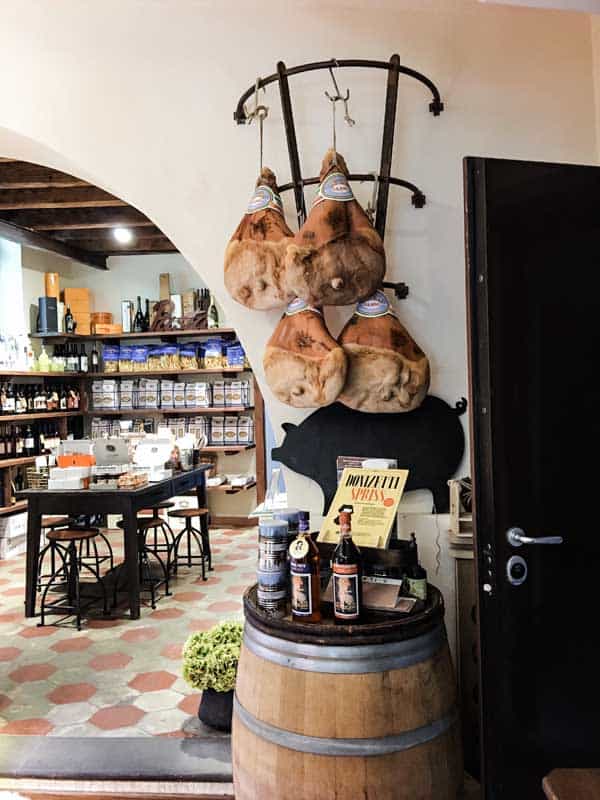 4 Dinner at Al Donizetti's
This one is 100% Brani's fault. He took one look into the window to see the chefs at work… And immediately decided we had to eat here.
Sometimes it comes in handy being married to a chef (it can be tedious, too, don't be fooled).
The food was excellent. The staff incredibly friendly and accommodating.
Keep in mind, we were there with a toddler and a baby – and they went above and beyond to make our dinner pleasant, down to re-arranging the tablecloth so the kids wouldn't be able to pull it down. AND one really lovely waitress even took a family picture of us in the middle of a busy dinner service.
Confession: We ate here both of our nights in Bergamo. Never change a winning team, right?
They have a nice selection of wines, even organic ones. The menu is on the smaller side (which is a good thing) and interesting. They serve their Apérol Spritz in glasses bigger than your head, up to you to decide if that's fun or not, ha!
Definitely worth trying here:
The traditional ravioli
The polenta shards with buffalo stracciatella, cacao nibs and tomato confit (this is a summer dish, and it's absolutely beautiful)
The roast beef carpaccio with smoked paprika, saffron and capers (our kids devoured this, much to our surprise) and the lamb chops with ginger mashed potatoes (both pictured below)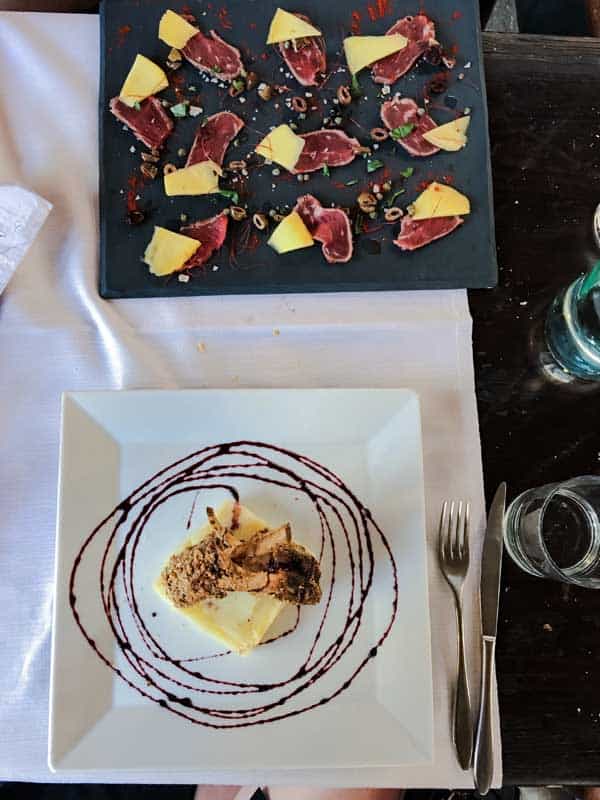 If you like good food, you should pay Al Donizetti's a visit. And if you're really enthusiastic about your experience there… Be prepared to have the chefs greet you on the street the next day (whoops ? ).
Please note, portions are not huge here (they're normal). I keep seeing this in reviews on Trip Advisor – people noting huge portions as a positive thing. No, it's actually not. You cannot expect quality food if you want to pay low prices and eat big. Al Donizetti's does this exactly right – is it cheap? No (but it's also not outrageously expensive, it's average priced for a restaurant in Europe where you get decent food).
You will definitely intrigue your palate here and the money is money well spent.
5 Pastries and bread from Panificio Tresoldi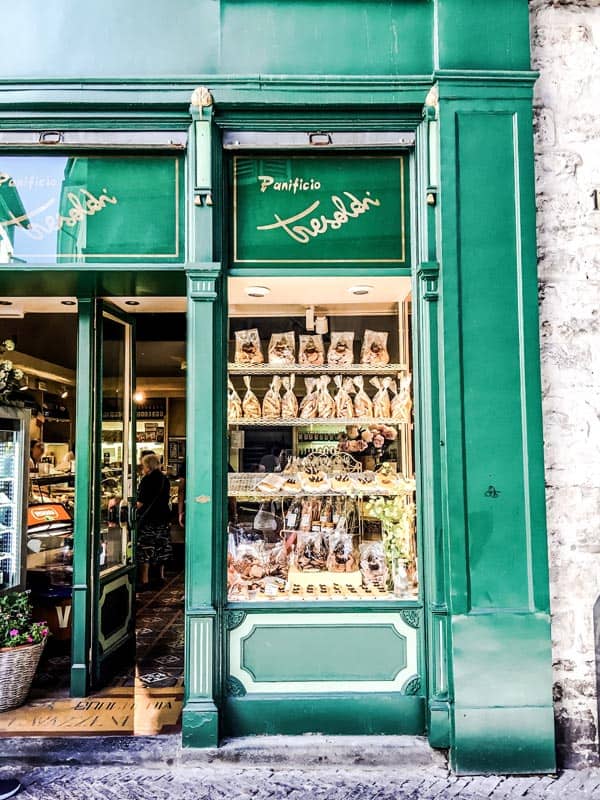 Oh, I'm sure this place made me gain fifty pounds in a day. Worth it.
We asked a friendly lady working at the salumeria for a place to buy really good bread and she pointed us to Tresoldi. Imagine a vintage bakery shop, filled with the smell of artisan bread, sweet pastries and locals popping in and out – incredible.
Also, the floor tiles are pretty amazing: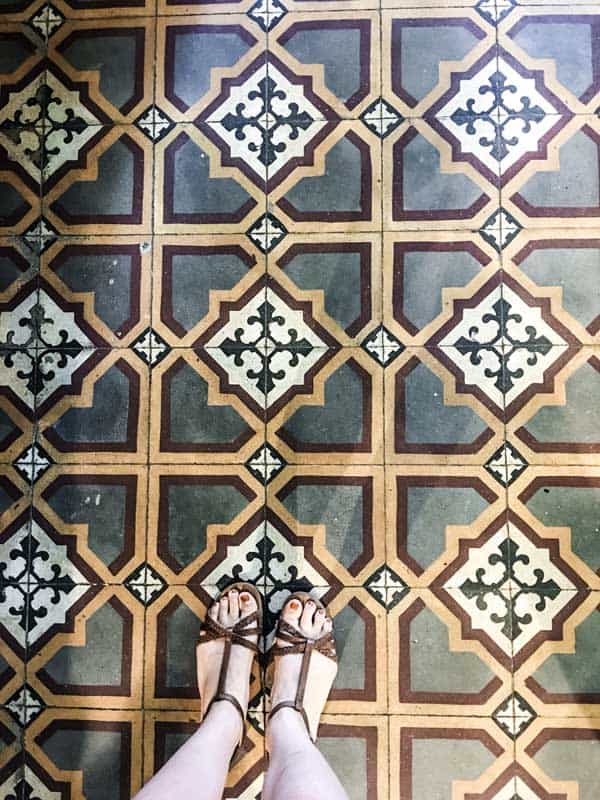 Brani walked there early Sunday morning (7 a.m., since our kids believe this to be an appropriate waking time when vacationing) to pick up a few things for breakfast. They only had one kind of bread and a few croissants ready. At first I was disappointed, but that bread? It was incredible. Naturally leavened, with a chewy crumb and a really beautiful crust.
The croissants were not too shabby, either. If you like the sort of pastry that's filled with jam and topped with a crackling sugar crust. Which I, honestly, absolutely adore – hence my remark about gaining fifty pounds in this bakery alone.
Must-try foods:
Any kind of their naturally leavened bread
Pane al fichi (figs) and also the one with albicocche (apricots)
Polenta e Osei (traditional cake from Bergamo shown in the picture below, theirs is fantastico)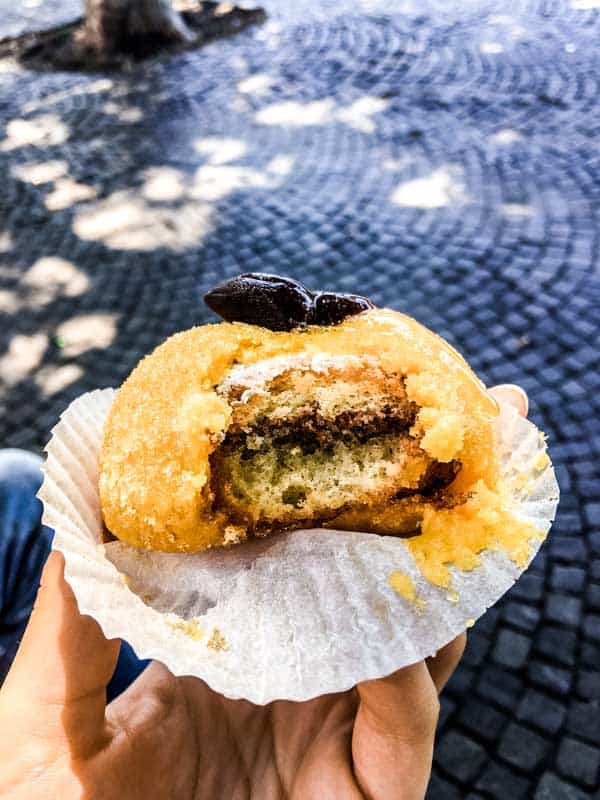 They also sell pizza and focaccia, though we didn't try them this time around (hard to believe, I know).
6 Coffe at Cafe Bar Flora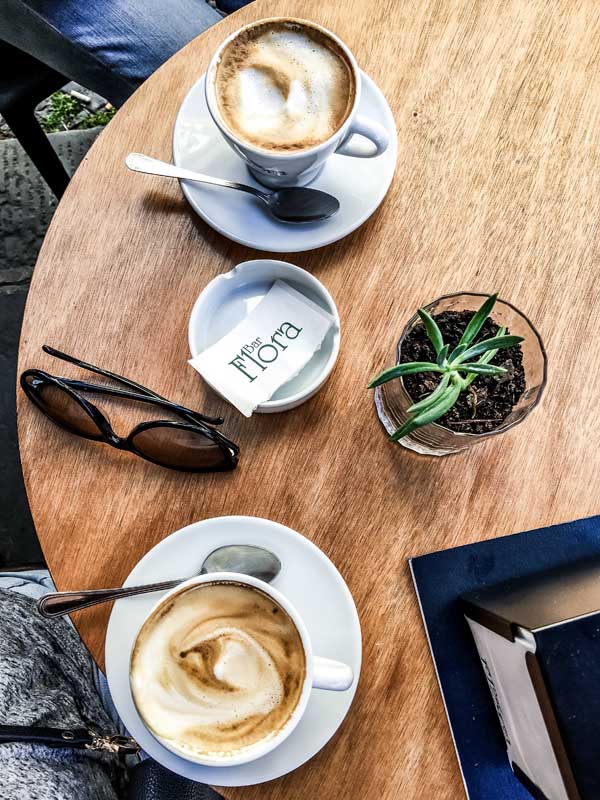 This coffee shop is located on the corner of Piazza Vecchia, which makes it a pretty incredible dwelling place.
We had slightly terrible coffee on our first morning in Bergamo and were outrageously glad when we found cafe Bar Flora for our next (read: 5 minutes later) coffee break.
Worth noting: Where we're generally snobbish about food, we're extra-snobbish about coffee. And this one delivered.
The place is great to visit with kids, too. Our waiter took a few chairs off the terrace to accommodate our stroller in the shade and brought not only one, but two Babyccinos for our toddler Em.
Not much else to say about this – a great cappuccino in a great place.
7 Old architecture
I don't know about you, but gorgeous old architecture makes me feel almost as warm and fuzzy as a plate of homemade pasta.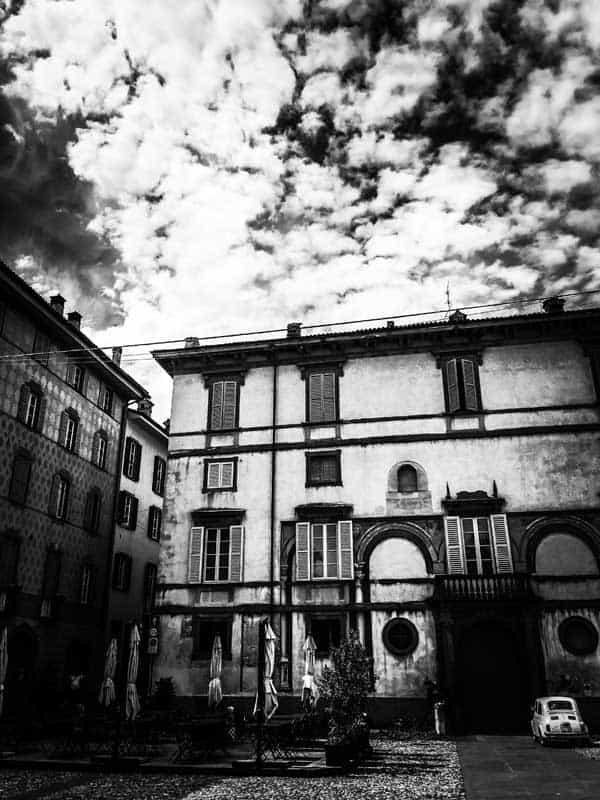 The Citta Alta is definitely full of beautiful buildings – but the Citta Bassa is gorgeous, too.
There are beautiful churches, old town houses and even just beautiful cobblestone streets – exactly my idea of a beautiful place to visit.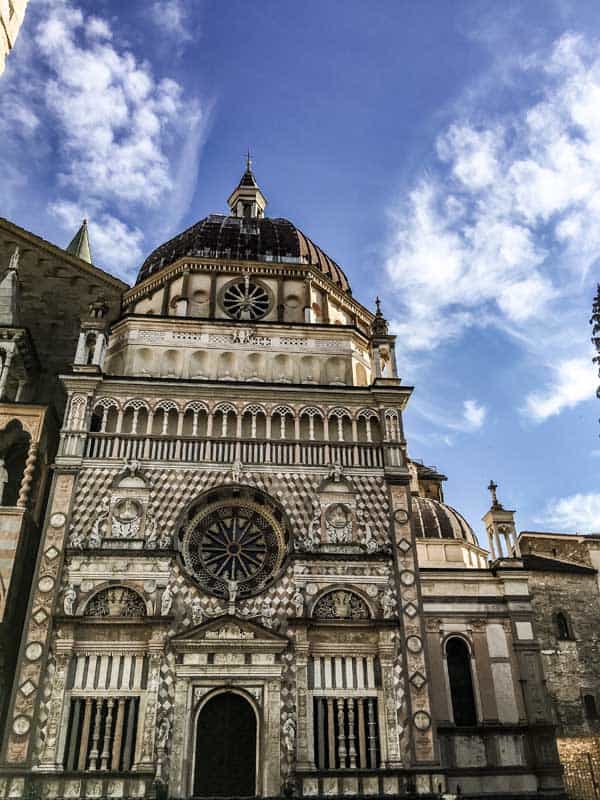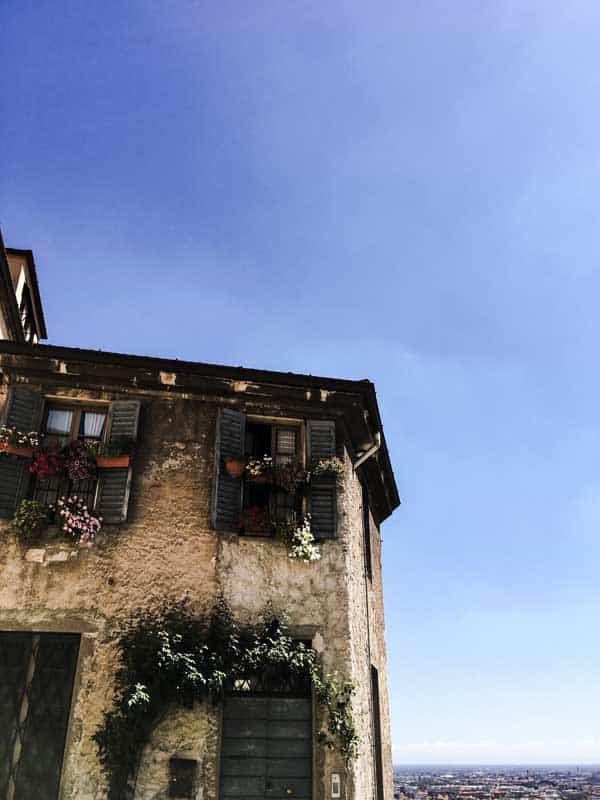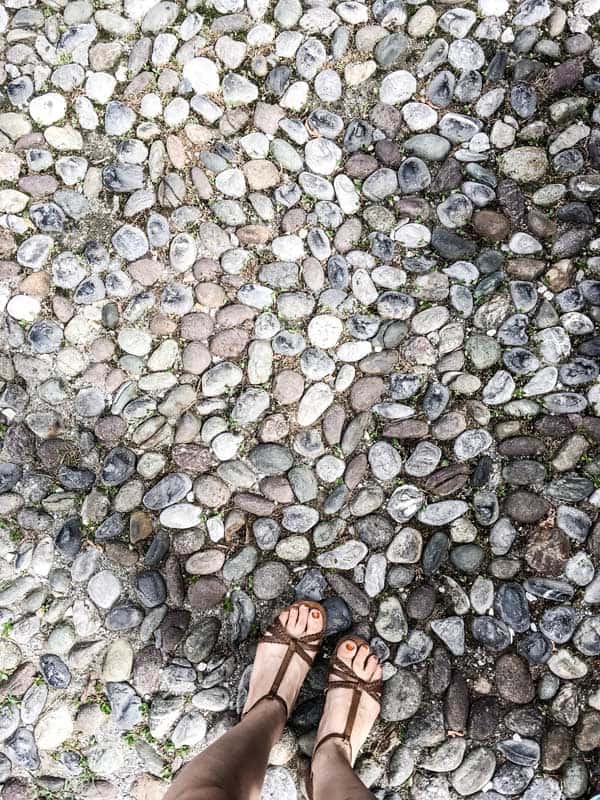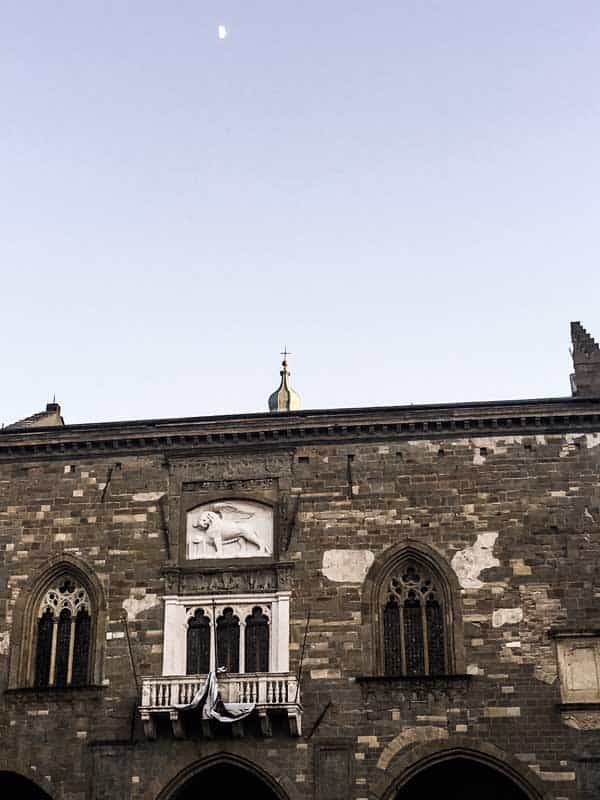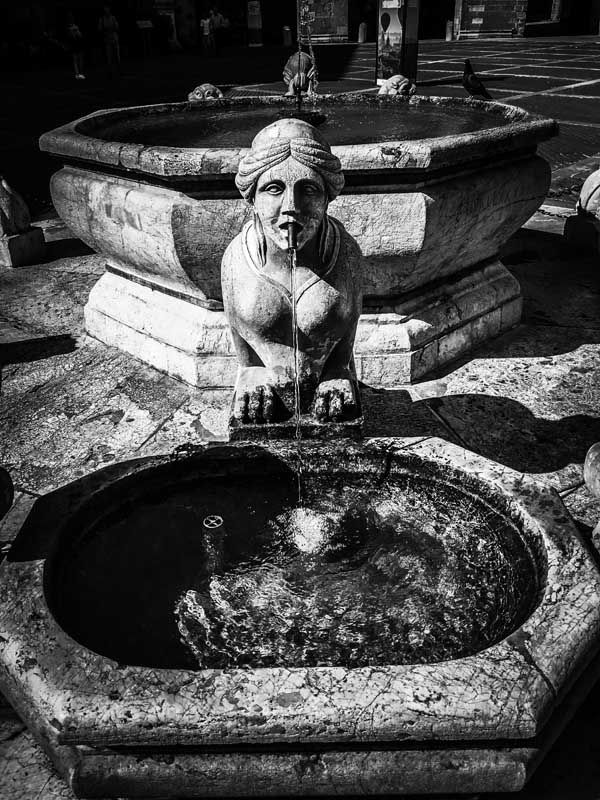 8 Lack of gigantic crowds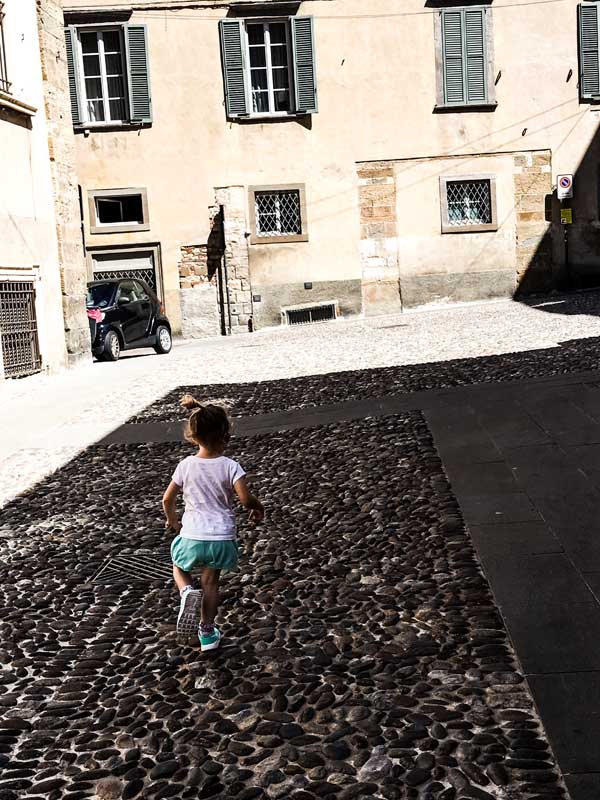 As I already mentioned in the beginning of this post, Bergamo isn't a huge tourist-y destination. With Milan so close and Bergamo not really being the flashy-flashy kind of town, the crowds definitely don't hang out around here.
My love for huge gatherings of people is… Small. Tiny, actually.
Non-existent, in an effort of full transparency.
We were in Bergamo from Saturday night to Monday afternoon AND on the weekend there was a street festival (we didn't know about). Sunday was still easily manageable.
On Monday? The town was basically empty.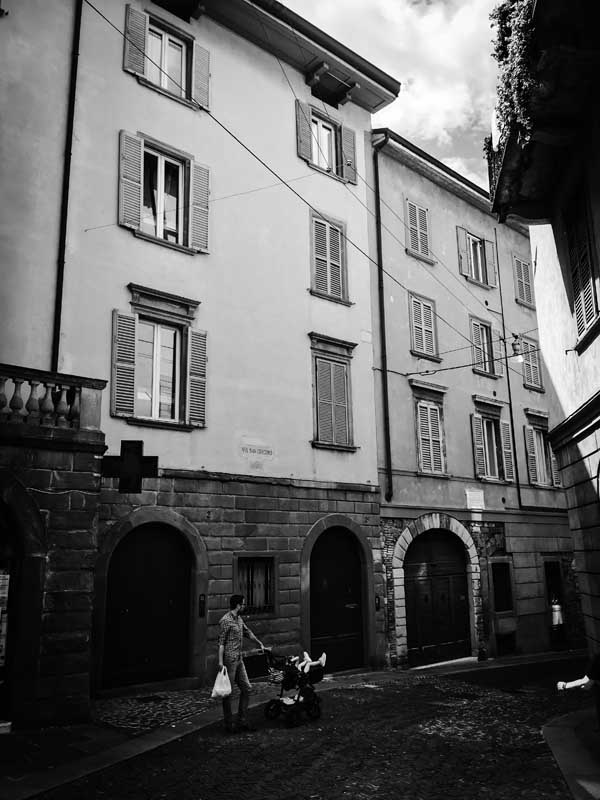 If you come to visit during the week, you'll definitely be able to capture quiet moments with nobody in the street, but even on Sunday I was able to take a few photos with nobody in the frame.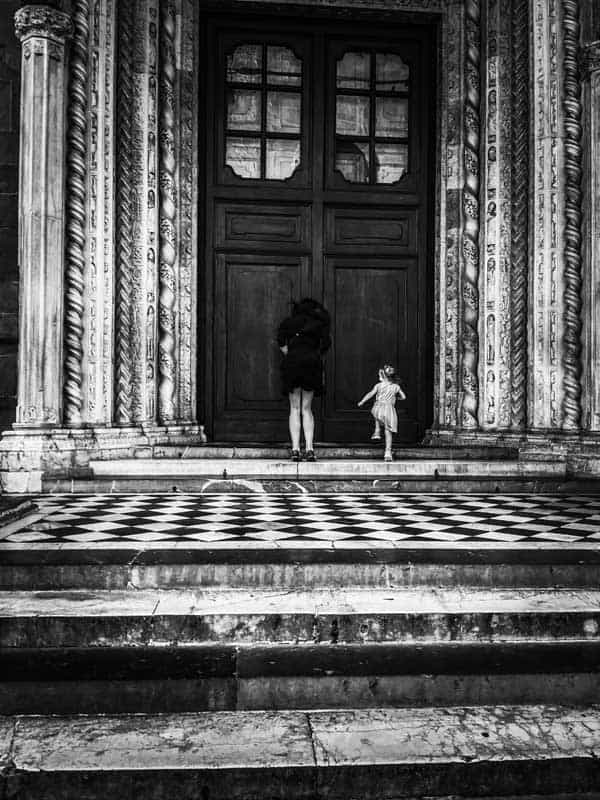 The trick is to get off the Main Street and into the smaller side roads – I took loads of photos in VENICE last summer with nobody in them, just by getting out of the crowd's way.
If you're somebody who likes a little more quiet time during your travels and city trips – Bergamo is definitely your cup of tea (or rather caffeinated hot beverage).
9 Window Shopping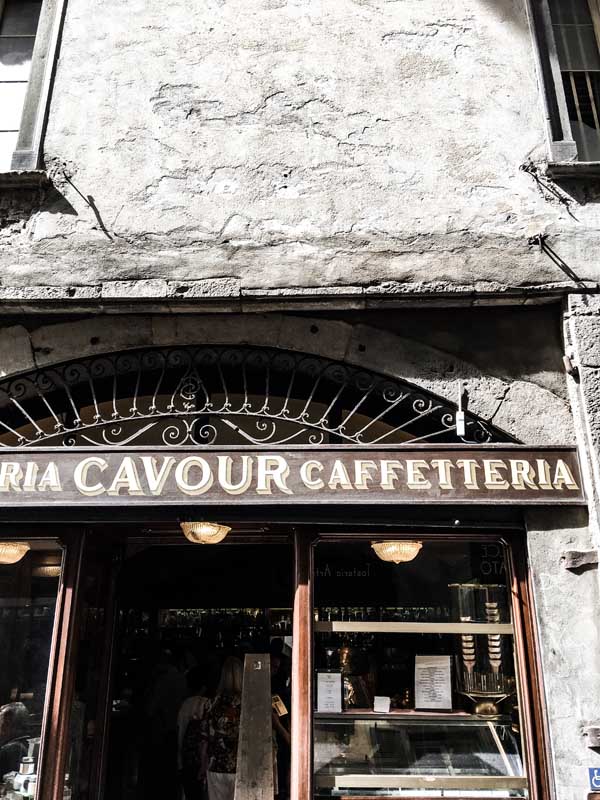 There are plenty of small and artisan shops with beautiful window decor, it's a pleasure to walk by and gaze at them until people start staring.
Since the shops are all in ancient buildings, they have the most artful exteriors.
Many shop owners do an excellent job with mixing old and new – which results in such an eclectic and interesting display of storefronts.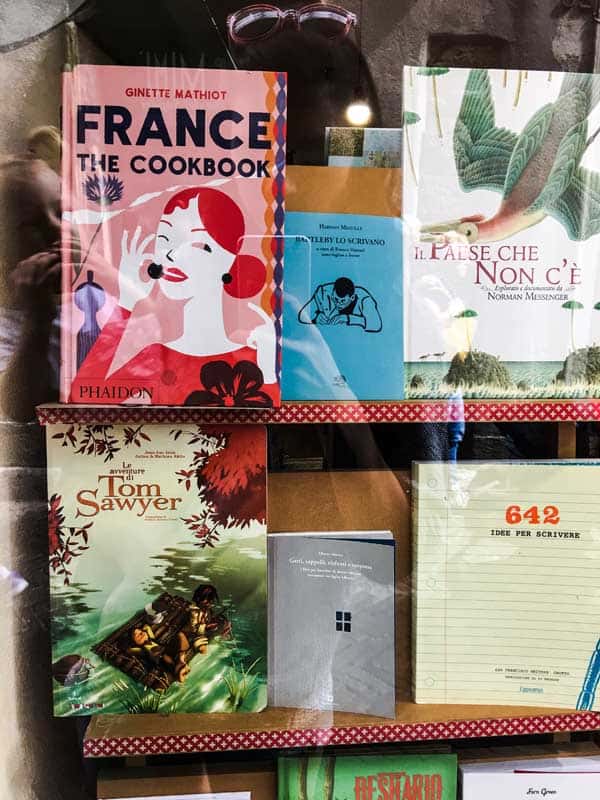 P.S: Careful, window shopping can easily turn into real shopping – especially when it involves Arancini.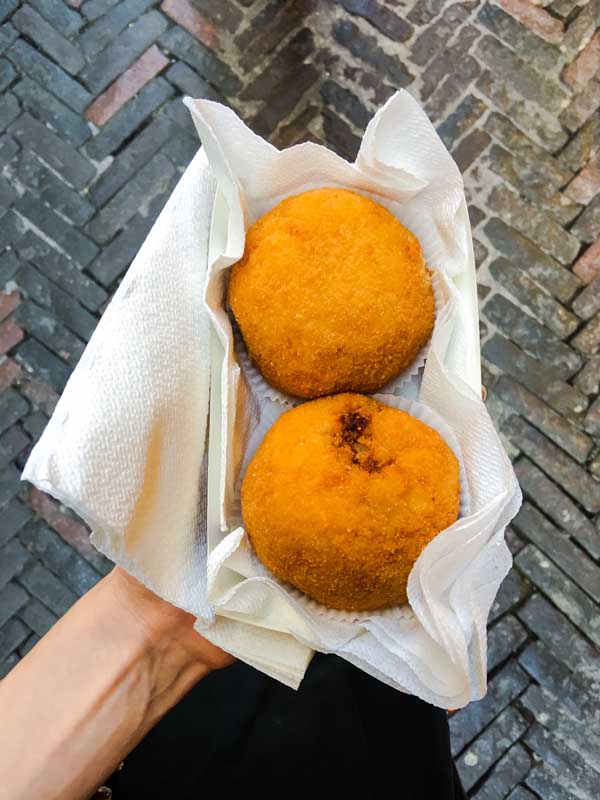 10 The people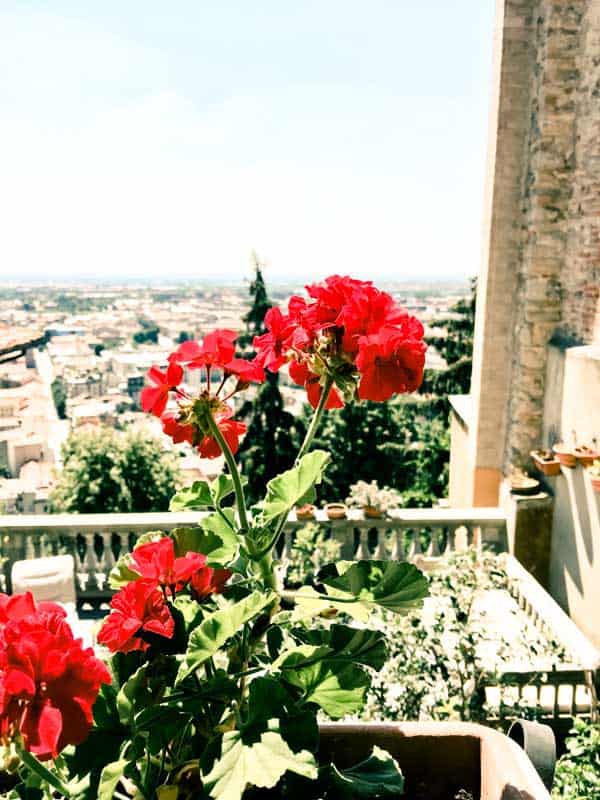 Really, this should be number one. Right? But I like to keep the best things for last.
Everyone we met, from our hosts to our parking guy (yep, we have a parking guy in Bergamo now), to the waiters and chefs, shop staff and locals we met – lovely people with so much patience to help out a couple of tourists.
They took our stay from good to great and made us feel welcome in their little town – and let me tell you, I've done a lot of travelling around Europe and this is definitely not something you can always count on.
Having worked in gastronomy and tourism ourselves, we know just how hard it is to meet the needs of, well, needy foreigners. Thank you for putting up with us, taking our pictures and answering all our questions. We will definitely come back and bug you a little more – and so should YOU! ♡