In honor of recent considerations on self confidence and doing your own thing in an overcrowded online world, I'm bringing a few things back to this blog with this yogurt raspberry cake.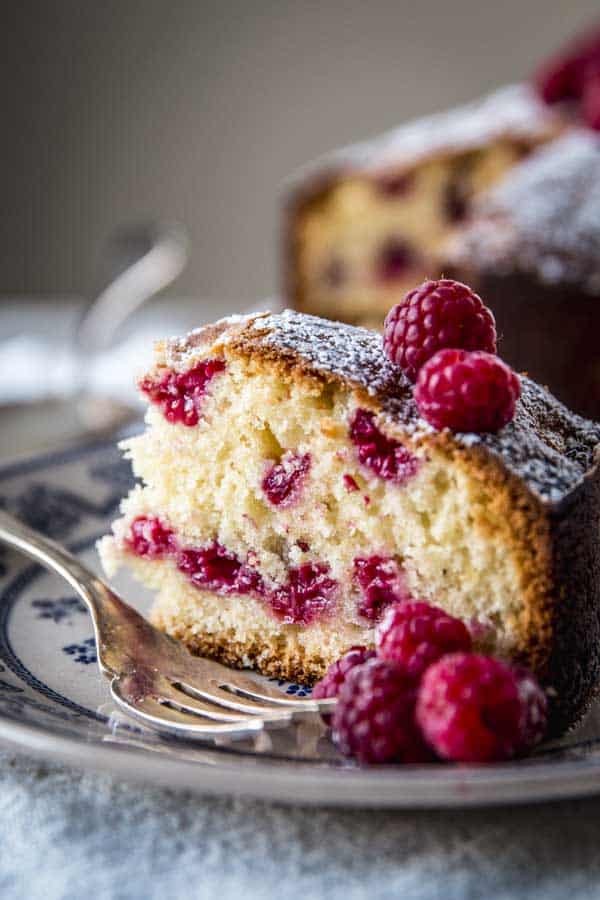 Fine, one thing. It's one thing I'm bringing back.
Say hello (again) to #SweetSaturday.
When we first called this blog into life, I mean after thinking about the perfect name for three weeks, I thought it would be pretty cool to have a weekly series of posts.
And since I was very pregnant and always hungry for dessert I made up Sweet Saturday. My first post was granola – not exactly a dessert, but I had probably taken pictures of a dessert for five hours and decided I hated them.
So I was stuck with posting granola. I tried once or twice more, with semolina pudding and I believe a very decadent and over-the-top amaretti peach pie – then I gave up, because in my own humble words, "nobody cares about this Sweet Saturday stuff".
But since I still like the idea of it three years later, I'm bringing regular desserts back (or at all) to Savory Nothings. Think of it as your weekend project delivered to you in timely manner.
---
Shhhh… Shameless plug: If you want the recipe actually delivered (yes, usually the full recipe, not an excerpt, so you can read it anywhere without ads – yes to that), you can sign up to receive new recipes and posts by eMail here:
---
Diana Henry's cake is a revelation. It is a perfect marriage of sweet summer fruit and the soul-soothing feeling of baking a homemade cake.
Just enough sugar to make it sweet but not overbearingly so, with the tart rasperries balancing the crumbly softness of the cake.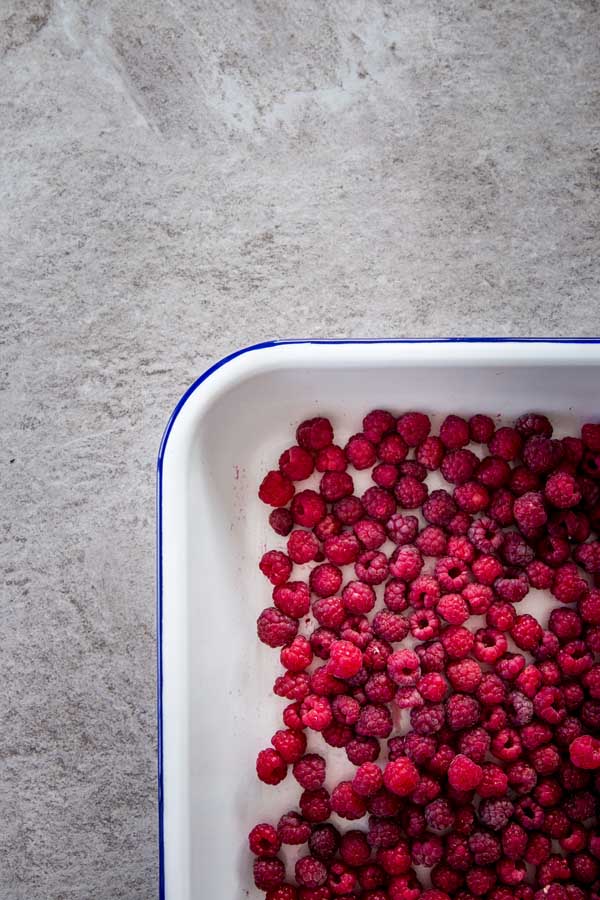 It's a simple cake, but it's not a cake to hastily throw together.
The butter and sugar need to be beaten long enough until fluffy, until you can feel the sugar starting to dissolve if you pinch a little of the mass between thumb and index finger.
Henry suggests beating the eggs beforehand, then adding them little by little, but I was lazy and simply added one egg at a time, beating until it was incorporated well into the batter before adding the second one.
The same goes for the flour and yogurt, alternating by the tablespoon, until everything is incorporated.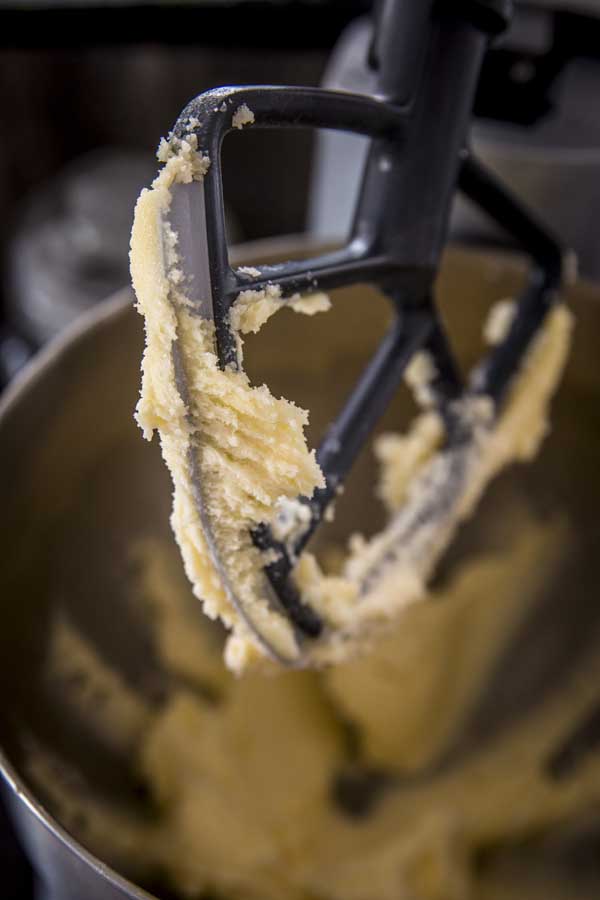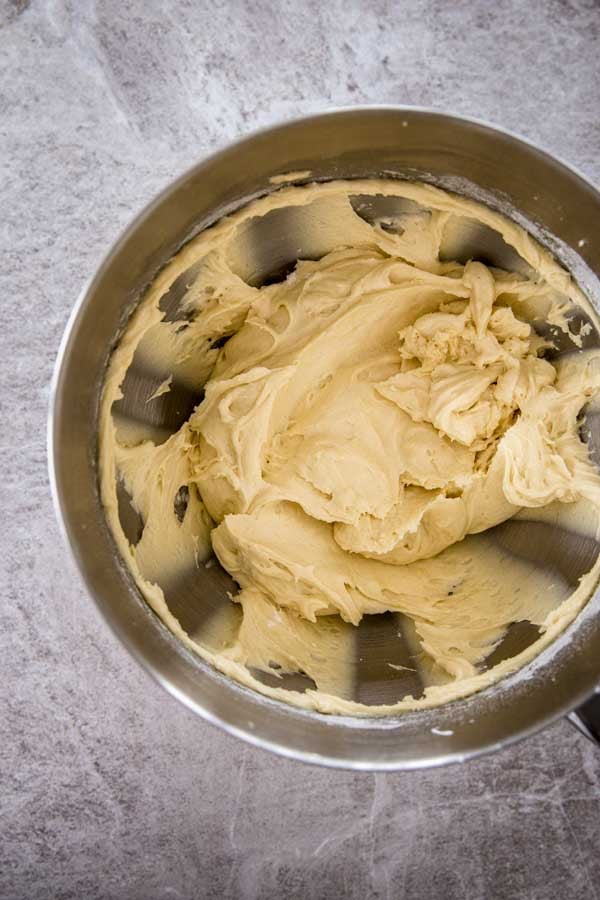 Unlike consciously choosing to let the berries sink into custardy pockets as I suggest in my Blueberry Muffins, it is crucial to toss your raspberries with a bit of flour here.
While the batter is quite sturdy and heavy enough to support the berries, they still seep too much moisture into the cake while baking.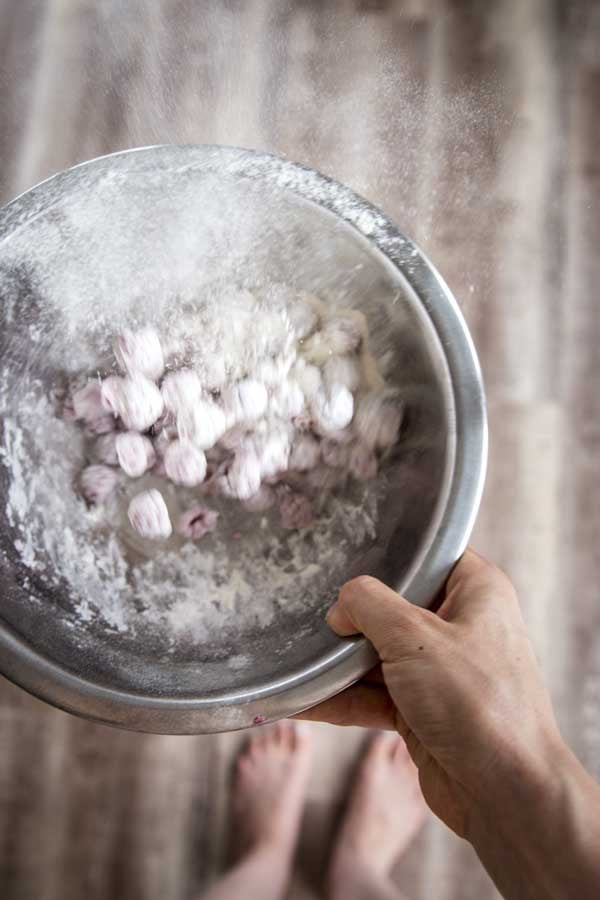 What I found pretty astounding in Diana Henry's recipe is the idea of layering batter and berries in the cake tin, instead of folding them into the same.
It is a stroke of pure genius, though one could argue I'm the only person in the world this hasn't occurred to yet. Whatever the case might be, I'm fan-girling hard over here.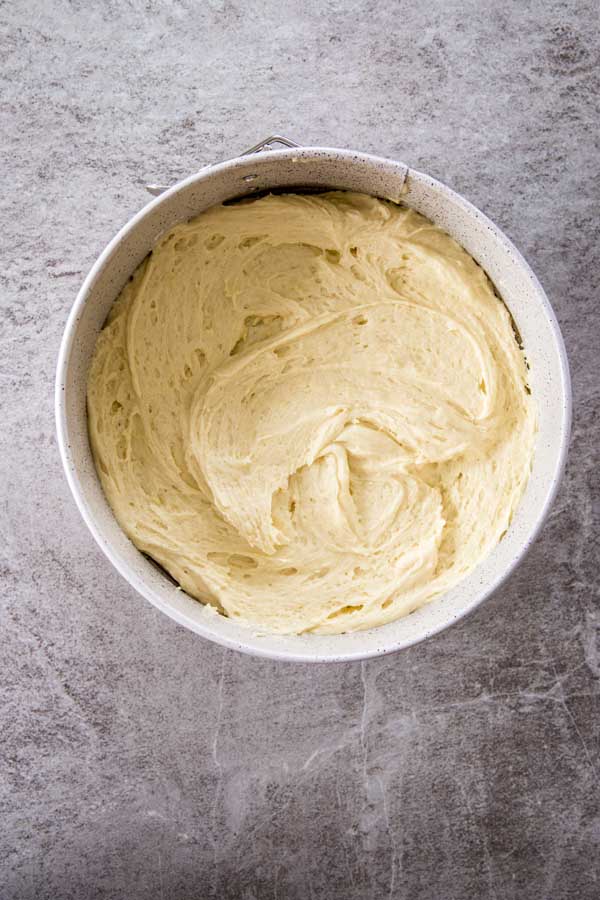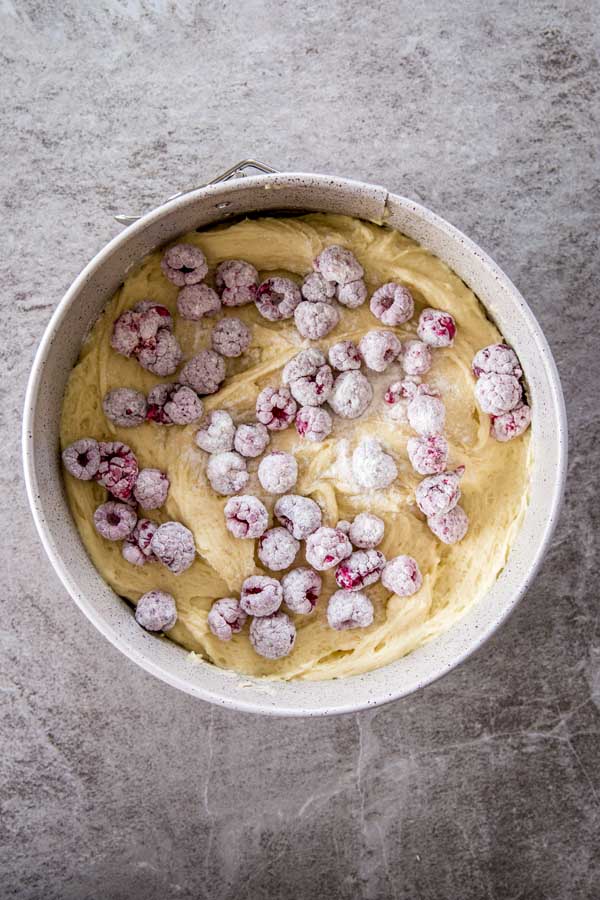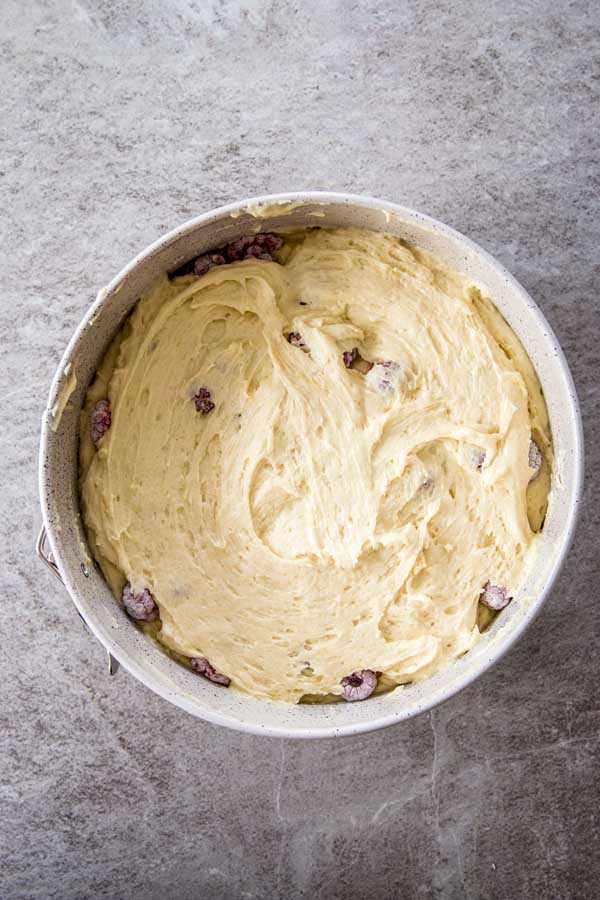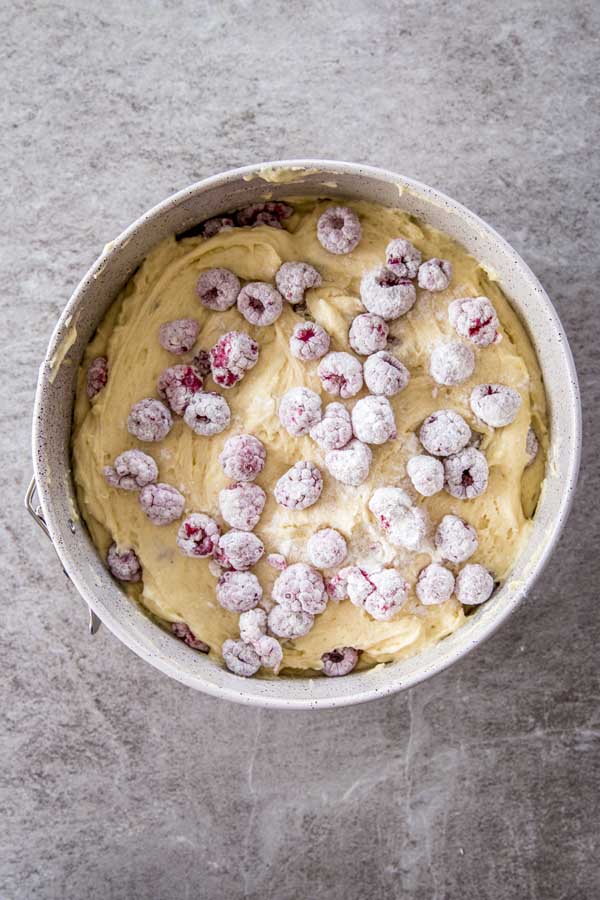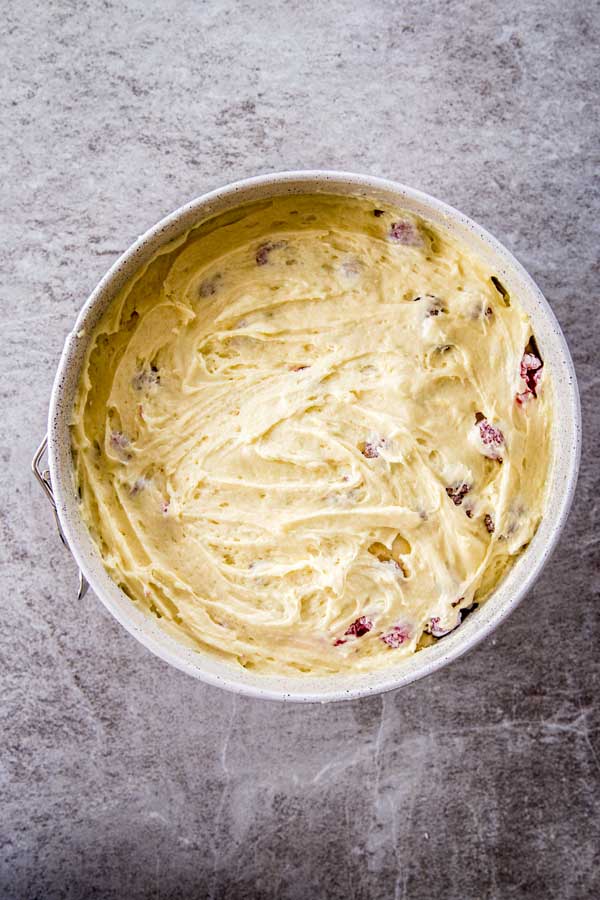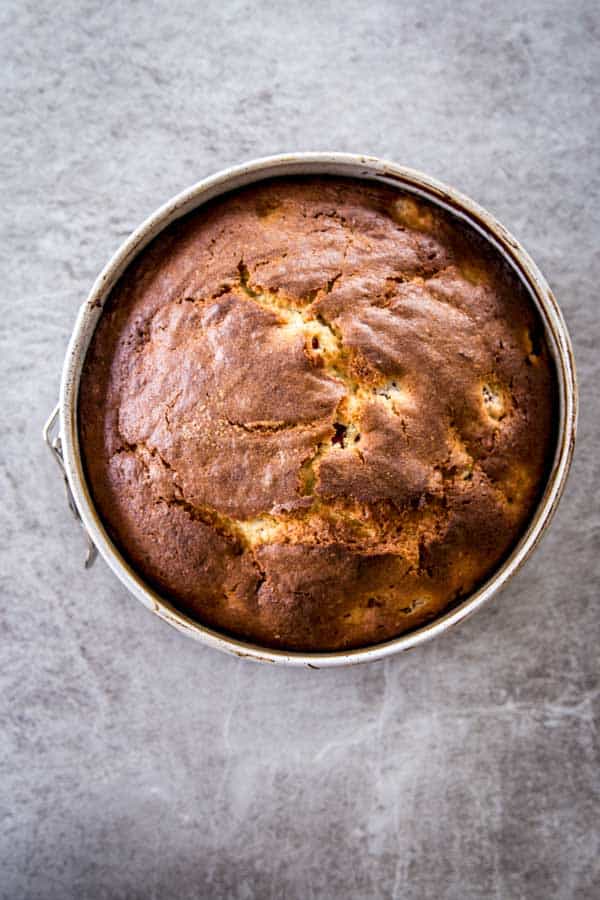 I chose to forgo the icing suggested in the recipe and simply dust my cake with a little icing sugar.
Not only do I like to eat a pretty unadulterated cake, but it is also a practical way of doing things when you lack teenage boys around the house.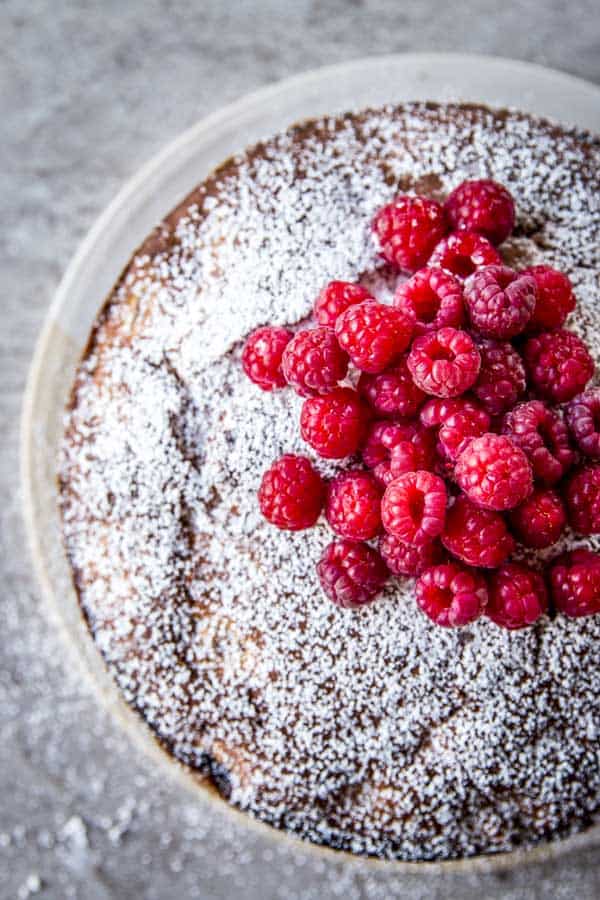 By this I mean it takes us at least three days to eat an entire cake, more likely four, so it would be wasteful to use an icing on top that's going to spoil before we can polish off the last few crumbs.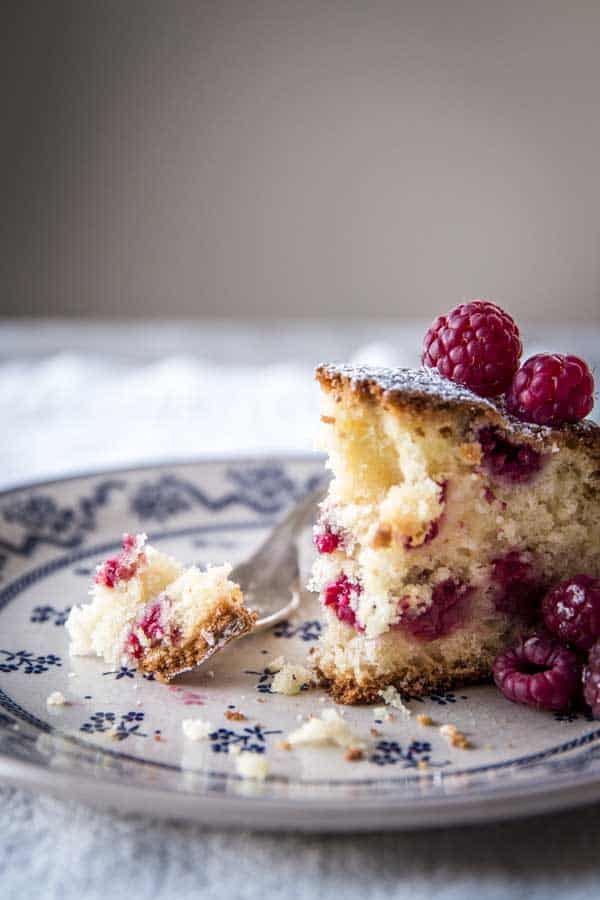 In a final sentence, I want to acknowledge the dainty blue-flowered plates in these pictures.
I found them at a thrift store a couple years ago and pretty much raided the shelf, as my grandmother owns this very set and it is hard to come by these days.
It also happens to be gran's birthday today, so I consider this an ode to my formidable grandmother who (much to her family's avail) has a hard time bowing down to anything. What a power woman.
Printable Recipe Card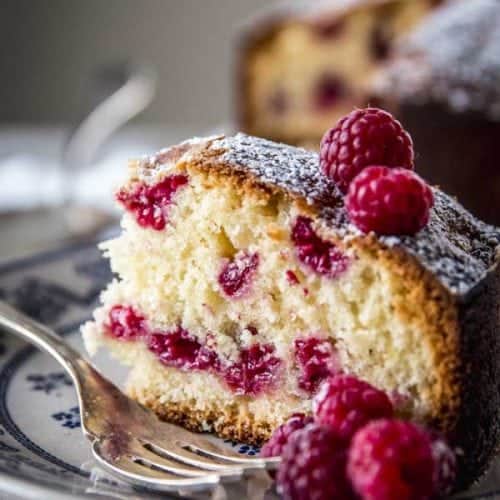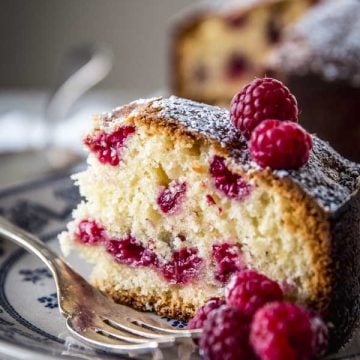 Yogurt Raspberry Cake
Make Diana Henry's yogurt raspberry cake to share with your loved ones – it is simple yet delicious with just a hint of lemon.
made it? tap the stars to add your rating!
Ingredients
1

stick

butter (plus extra for the cake tin)

real butter, not buttery spread

1

cup

sugar

1

lemon

zest only

1

tsp

vanilla extract

2

large eggs

at room temperature

2 ½

cups

all-purpose flour

2

teaspoons

baking powder

½

cup

plain yogurt

not Greek

7

oz

fresh raspberries

not frozen
Instructions
Heat the oven to 360°F/180°C. Grease an 8 inch round springform pan and line the bottom with baking parchment.

Beat the butter and the sugar until they're light in color, fluffy and you can feel the sugar is starting to dissolve. Beat in the lemon zest and vanilla.

Beat in one egg at a time, making sure each is incorporated well before proceeding.

Toss the raspberries in a separate bowl with two tablespoons of the flour. Mix the remaining flour in another bowl with the baking powder.

Add the flour mix to the egg batter, a few tablespoons at a time, alternating with the yogurt, until everything is incorporated and you have a smooth but thick batter.

Spread one third of the batter in the prepared cake tin. Evenly scatter half of the raspberries on top. Repeat with another third of batter and the remaining raspberries. Finish by topping with the remaining third of the batter, shaking the tin ever so slightly and tapping it onto your work surface a few times, to get the batter in between the raspberries.

Bake the cake for 50-55 minutes, or until a toothpick inserted into the middle comes out just clean.

Cool in the tin for 10 minutes, then remove on a wire rack to cool completely.

You can use your favorite lemon icing recipe to top this cake with, but I prefer a dusting of icing sugar and a few fresh raspberries from the garden.
Want to save this recipe?
Create an account for free to start your personal recipe box. Save any recipe by tapping the heart in the bottom right corner.
Join Now
Notes
Adapted (barely) from Diana Henry.
Nutrition is an estimate.
More recipe information