If you're a chocolate lover, you'll adore this easy chocolate frosting – made the cheat's way!
Rich, creamy and decadent-tasting, this is absolutely FOOLPROOF and made with just 2 ingredients: Cream and chocolate. The ultimate emergency frosting recipe!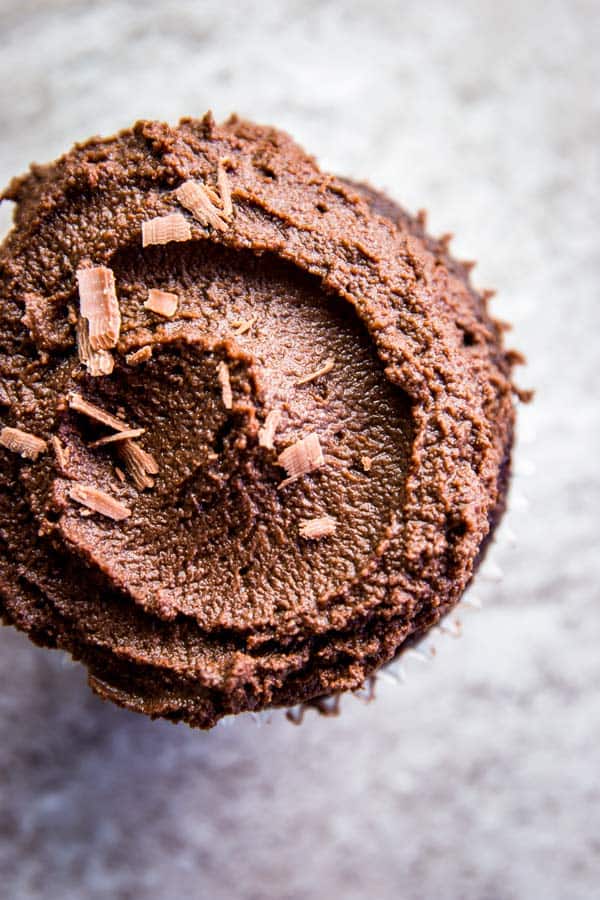 This is a recipe born out of sheer desperation. When my nephew turned 12 last fall, I promised to make a cake.
I made one. The morning of his party, because there's no rest for the wicked (or for the parents with bad sleepers – same thing, really). It was a really light and fluffy yellow sheet cake, but it looked so naked and lonely.
Only problem was… I had NO butter. NO powdered sugar. NO cocoa powder. Which is what usually goes into a chocolate buttercream frosting… And I couldn't let the poor boy have a naked sheet cake for his birthday, could I?
So I took a chance and grabbed the cream and all the scraps from leftover chocolate bars (ahem, not leftover from stuffing my face with it… I use them to make chocolate chunks for oatmeal cookies!!).
And, amazingly, my 2 ingredient cheat's chocolate frosting turned out an absolute shortcut miracle!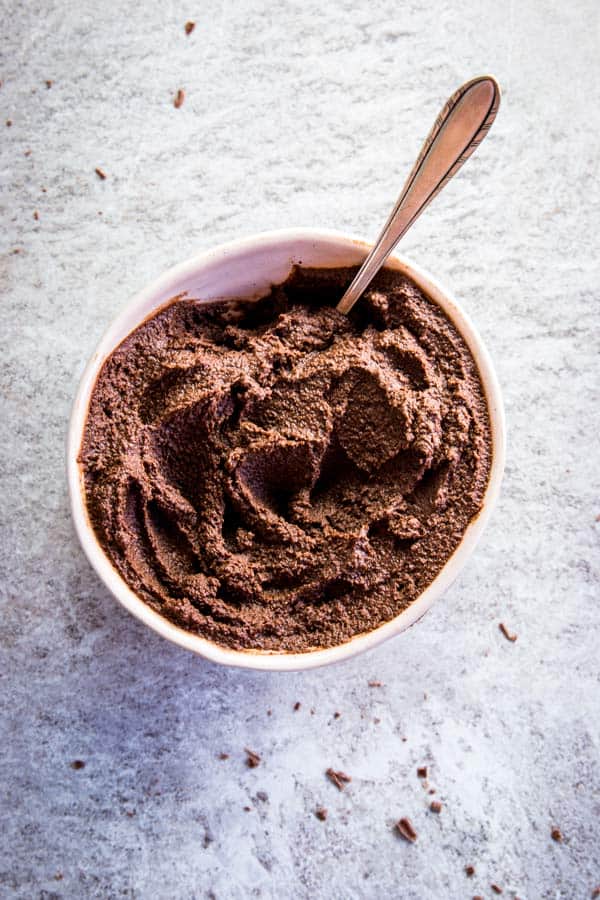 I'll have to make a confession right here: Yes, I love eating good food.
But, uh, I'm also an ultra lazy person, and if there's an easier way to make something delicious… I'll take it.
No other chocolate frosting has passed my lips ever since discovering this 2-ingredient revelation.
Some people claim they've seen me eat this with a spoon, passing it off as chocolate mousse… But I'm refusing an official statement.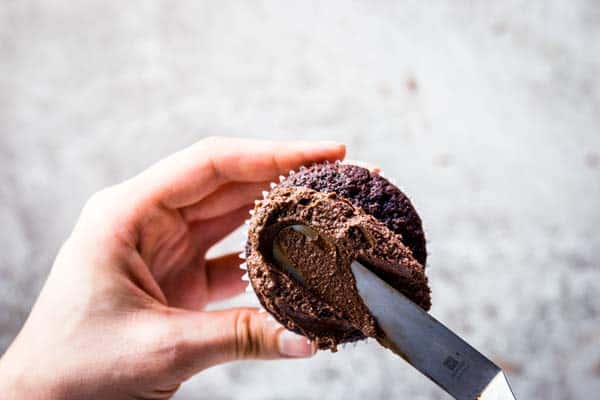 Now as for how to actually make it? Couldn't be easier:
How to make easy chocolate frosting:
Bring the cream just before boiling point, then take it off the heat
Whisk in chopped chocolate (ANY chocolate works!) until it's completely melted
Chill
Beat with a handheld mixer until thickened (this takes literally 10 seconds)
Leave to stand at room temperature for 10 minutes to make it more spreadable
Decorate your cake or whatever
Lick the bowl (mandatory)
THAT'S IT.
And the best part? This is one recipe on the internet that keeps its promises: It is actually made with two ingredients.
I mean, unless you count every single ingredient in the chocolate… In which case, I take back my previous statement. But really – would you make your own chocolate bar?? My point exactly.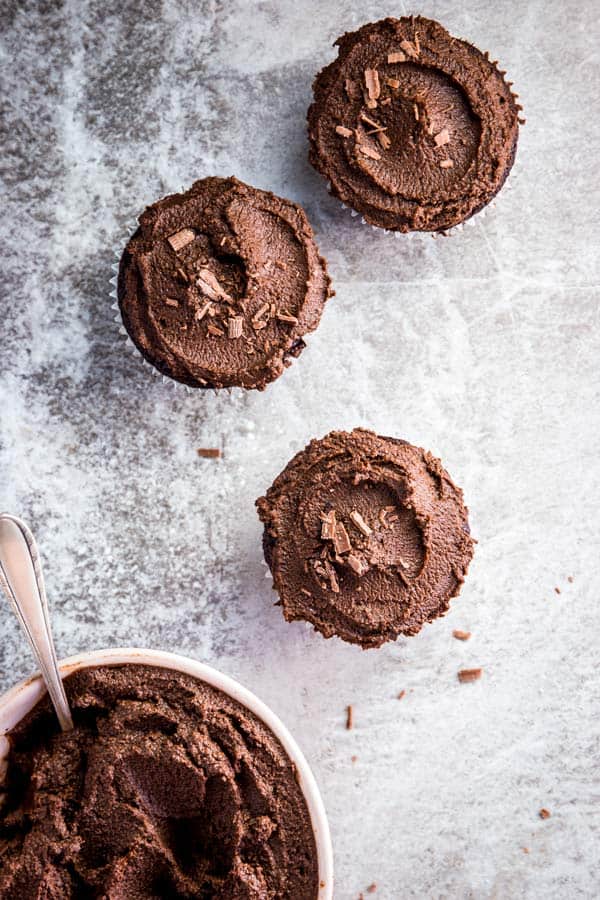 There are times I resent desperation… And there are times I welcome it with open arms. The desperation over a 12-year-old's birthday cake seems to fall into the latter of said categories.
Now if every moment of desperation could end in a pile of fluffy chocolate frosting… The world would be a better place ?
– Nora x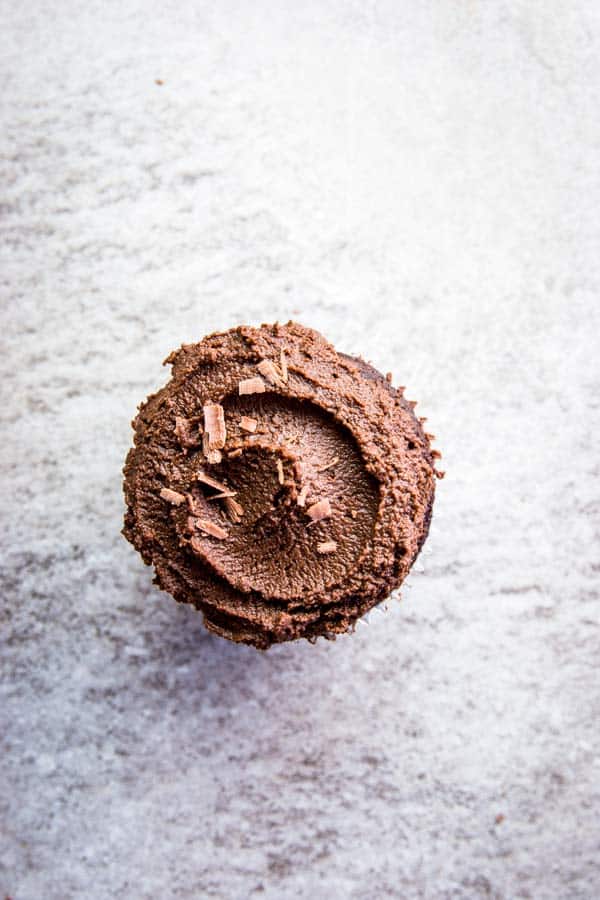 Watch how to make it:
Get the printable recipe for this easy chocolate frosting:
Printable Recipe Card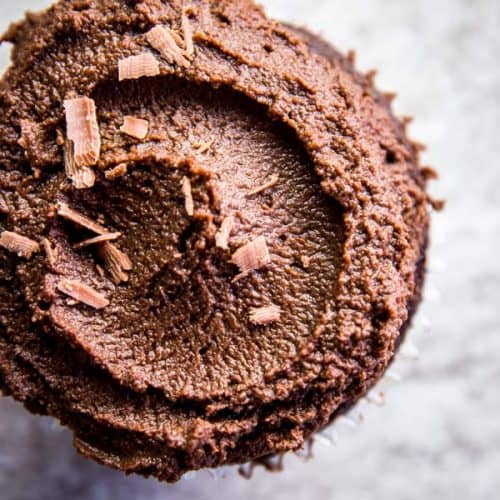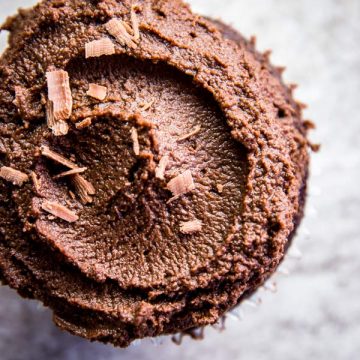 Easy Chocolate Frosting
If you're a chocolate lover, you'll adore this easy chocolate frosting - made the cheat's way!
made it? tap the stars to add your rating!
Ingredients
1 ¼

cups

heavy whipping cream

7

ounces

semi-sweet chocolate

broken into pieces (if not using melting chocolate chips) (see note 1)
Instructions
Heat the cream: Pour the heavy whipping cream into a medium saucepan and heat it over medium-high heat just before it reaches boiling point. Take off the heat.

Melt in the chocolate: Add the chocolate to the hot cream and whisk until it has melted and is fully incorporated. Make sure there's no chocolate sticking to the bottom of the saucepan!

Chill: Chill the mix until it reaches fridge temperature. (see note 2)

Whip: Once the mix is chilled, beat it with a handheld mixer until it's thick and fluffy - this will only take about 10 seconds! Then use it to decorate your cakes or cupcakes. (see note 3)
Want to save this recipe?
Create an account for free to start your personal recipe box. Save any recipe by tapping the heart in the bottom right corner.
Join Now
Notes
1: Any kind of chocolate works for this recipe - I usually do dark chocolate, but I've also made it with milk chocolate or a mix and it's always delicious! You can either chop up a bar or use chocolate chips. Just make sure it's chocolate that melts well, not the kind that's supposed to keep its shape for chocolate chip muffins etc.
2: This is best done outside during fall/winter. If it's hot outside, allow it to get to room temperature before placing it in the fridge!! This works out a lot quicker if you transfer it to a chilled bowl.
3: This makes enough frosting for 1 8-inch cake, 1 sheet cake or about 16 cupcakes (unless you want a large pile of frosting on each cupcake). The frosting is easier to spread if you let it sit at room temperature for 5-10 minutes once it's whipped. Don't leave decorated cakes out in the warmth, the frosting will get soft. If you need it to hold up for a longer time, you can add some whipped cream stabiliser to the frosting.
Nutrition
Calories:
135
kcal
Carbohydrates:
7
g
Protein:
1
g
Fat:
11
g
Saturated Fat:
7
g
Cholesterol:
26
mg
Sodium:
8
mg
Potassium:
84
mg
Sugar:
4
g
Vitamin A:
280
IU
Vitamin C:
0.1
mg
Calcium:
20
mg
Iron:
0.8
mg
Nutrition is an estimate.
More recipe information
Gogogo, make it! And then come back and let me know what you think in the comments – P.S: Adding a star rating is just one extra click ?