Find out how to make oven fried chicken – the BEST way! All the secrets for truly crispy, amazing baked chicken finally revealed!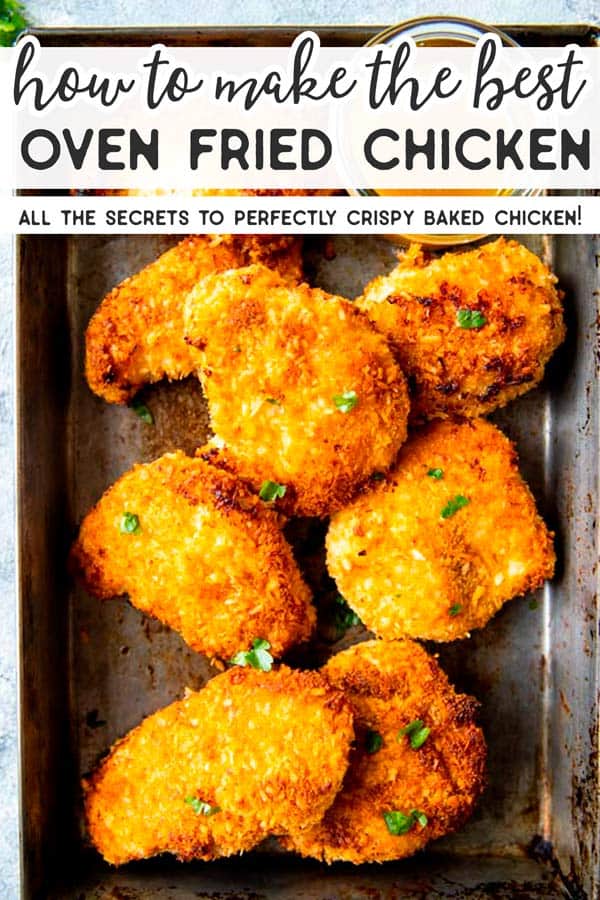 I hate to brag, but with 2 kids who think chicken nuggets are just the best thing ever, I've become a real expert at how to cook oven fried chicken – the truly crispy way.
To be fair, I love crispy baked chicken quite a lot myself, too ?
Because I have quite a few recipes for oven fried chicken variation here on the blog, I thought I should finally take the time to gather all my best tips and secrets for perfectly crispy breaded chicken in one place.
---
The Best Oven Fried Chicken Recipe:
Before we dive into my 11 secrets, here's my best ever basic oven fried chicken recipe you're going to want to use:
(Scroll to the bottom of the post for all my recipes for oven fried chicken!)
---
How to Oven Fry Chicken (so it's Actually Crispy):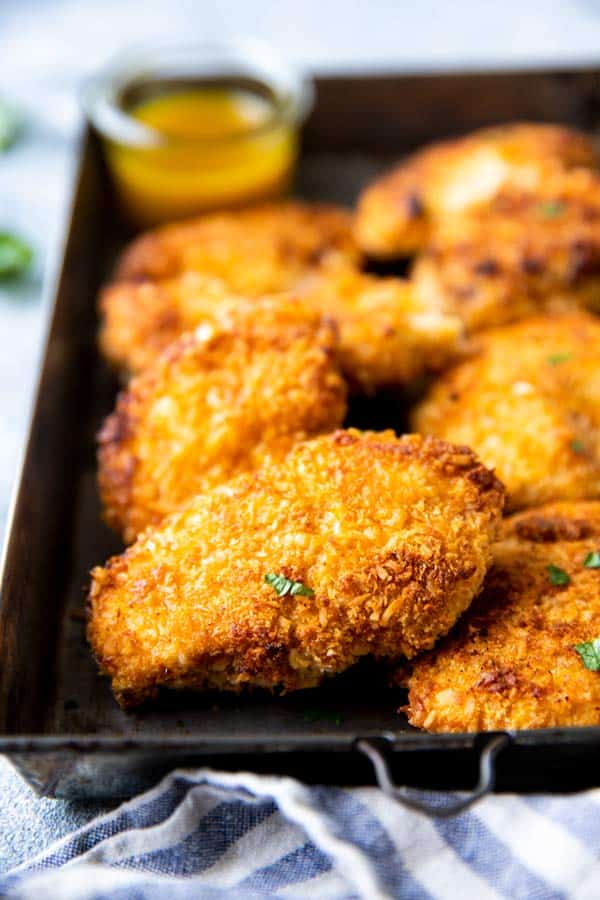 1 – Make sure you're breading the chicken the right way. First a thin coating of flour and breadcrumbs, then into an egg wash, then thickly pack on the flour/breadcrumb mixture.
2 – Push the breading on the chicken – just use an offset spatula and push down on the breaded chicken pieces. They will flatten a little, but that's the only way to get the breading to really stick together.
3 – Don't be skimpy with the seasoning. Oven fried chicken you get from the fast food places is heavily seasoned, and you're going to miss that if you only add a pinch of this and a dash of that to your homemade one.
4 – Use the right pan: A black one! Do not be tempted to make oven fried chicken on a light pan, or even on a white enamel one. A black one best reflects the heat for truly crispy chicken.
---
If you don't have a dark roasting pan yet, you can find one here on Amazon. (In full disclosure, this is an affiliate link and I make a commission for purchases made after clicking through.)
---
5 – Do not line the pan. I know it sounds like a painful mess to clean, but I promise it's not THAT awful. What IS awful is using parchment paper or silicone mats to line the pan when making crispy baked anything – all that's gong to get you is soggy chicken.
6 – Do preheat the pan. This is probably THE most important secret! Heat up that pan. Just put it into the oven while it preheats and it will be sizzling by the time you put the chicken on it.
7 – Do not skimp on the butter. This is oven fried, but as I always say… It's still not a low fat recipe. It's a regular fat recipe ? If you're not going to listen and still want to make it low fat, a) your chicken is not going to get as crispy as you want it to be and b) the breading is going to stick to the pan. You've been warned.
8 – Do not overcrowd the pan. I usually bake the chicken in two batches, and we sit down to eat the first batch while the second batch is in the oven. Overcrowding the pan will not give the chicken enough room to crisp up, and everything will turn into a soggy mess.
9 – Be careful when you're flipping the chicken and don't just rip it off the pan! You're going to flip halfway through the baking time, and if the chicken is sticking (didn't you use enough butter? tut tut) and you're just going to forcefully rip it off, you'll end with… Plain baked chicken with no breading on it. Use a blunt knife or an offset spatula to carefully slide underneath the chicken and loosen it before flipping.
10 – The broiler is a good idea to finish off the chicken for 2-3 minutes if you want it extra crispy. Just watch it so it doesn't burn!
11 – Let the chicken rest for 3-5 minutes after baking, but then serve it right away. This way the breading can firm up after baking. Don't let it sit for longer though, because it gets soggy after a while just like regular fried chicken does!
---
Bonus Tip: How to Reheat Fried Chicken!
In case you have leftovers you want to reheat, do it the right way to bring back some of that initial crispiness! Read how to do this here:
---
The Best Recipe Variations for Crispy Oven Fried Chicken:
---
So here it is: Every tip and secret I keep up my sleeve to make one of my family's favorite meals on earth.
Now that you know all my secrets for the best crispy baked chicken – do you have any of your own? Do you add a special seasoning? Or marinate it under the full moon? ?
Add a comment on this post and spill the beans!