These 4 Ingredient Vegan Banana Oatmeal Pancakes are a quick and easy HEALTHY breakfast recipe, perfect for baby led weaning or toddler finger food.
They're eggless, dairy free, full of fibre from the oatmeal and pack a nutritional punch with chia seeds. Perfect for families who want to practice clean eating and start their mornings with a balanced meal.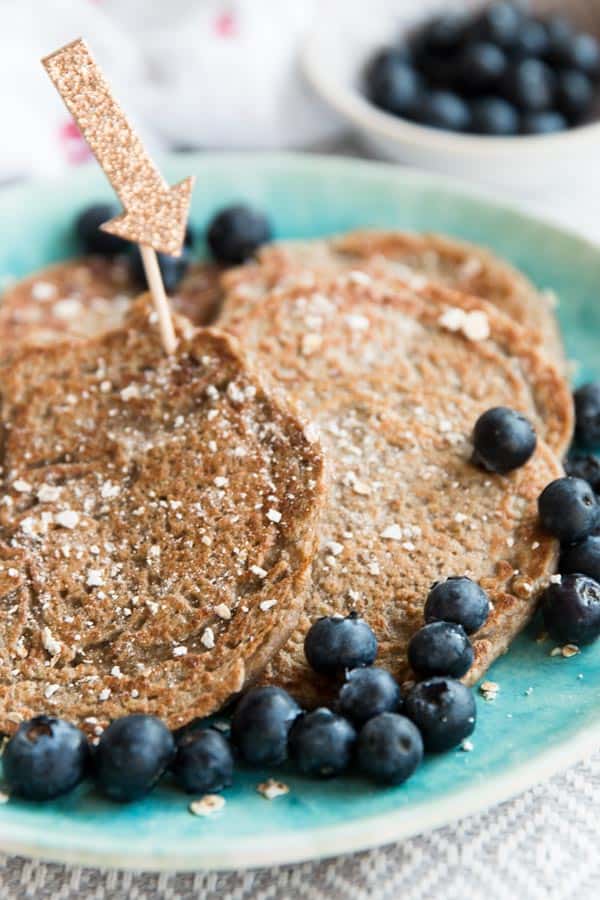 Breakfast with multiple little kids in the house can be hard, right?
Especially if you have the sort of kids who get up way before your alarm clock ever stood a chance and are incredibly moody when they're hungry.
Low blood sugar in both parents and kids, ASAP needed diaper changes and general morning blah-ness – we all know it. More often than not it leads to loud tantrums (I don't want to wear this shiiiiirt!!), hangry fights and eventually a breakfast we didn't really want to start the day with.
Sadly, most mainstream quick and easy breakfast options for kids are high in sugar, low in fibre and protein and just generally lack well-balanced nutrients:
cereal, often served with low-fat cow's milk
toaster waffles
toast with jelly
…
The issues with these is that they'll send your kids' (and yours, as you're presumably eating the same) blood sugar soaring up high, then crashing down soon after.
It leads to terrible mood swings. In already toddler-y toddlers, this can make their toddler-iness even worse.
And seriously, who needs that?!
In addition to this, they'll be hungry again an hour after breakfast, because their little bodies didn't get many nutrients along with the calories they ate.
In my experience (this is anecdotal, I don't have any actual studies to proof this, just myself and my family), bodies don't count calories. They count nutrients.
Lucky for us parents, there are better options out there, so we can support our babies and their growing bodies.
Plus we can avoid the dreadful 10am sugar cravings ourselves!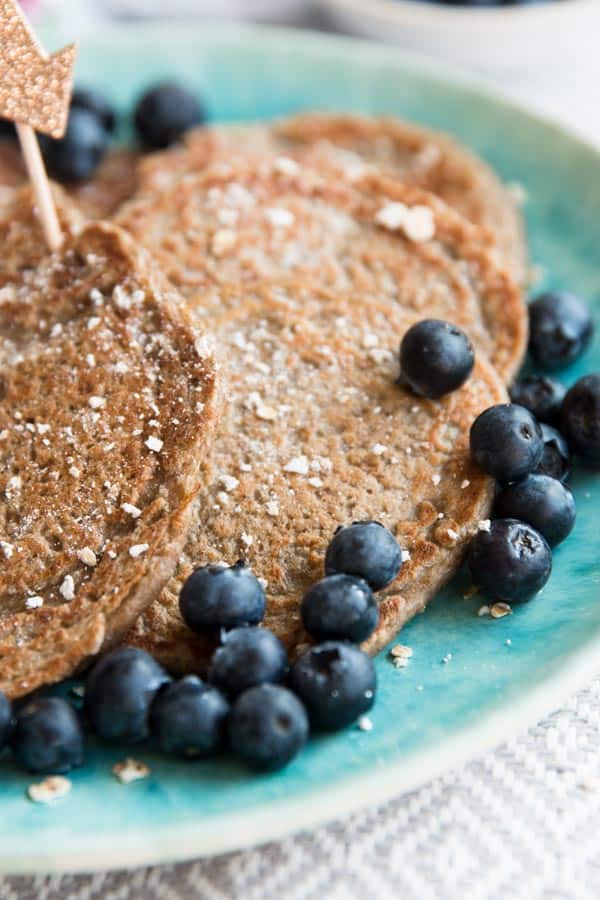 I will say that a healthy balanced breakfast will ALWAYS take more time to prepare and cause more dishes to wash vs throwing cereal in a bowl. But if you're serious about balancing your kids' mood and energy levels, your own mood and energy levels and just generally become a happy, thriving family – don't look at it as an annoying chore.
Look at it as part of your job description, and a part that will make your life so much better.
If you agree to spend just 10 minutes of your morning in the kitchen, you can whip up these 4 Ingredient Vegan Banana Oatmeal Pancakes.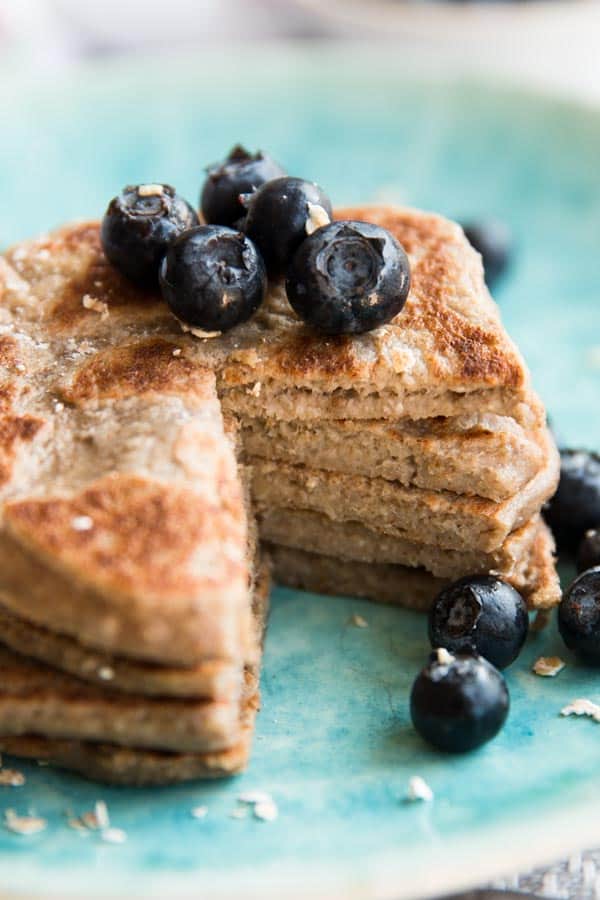 They are a great breakfast option, because they are full of fibre from the oats. They have additional fibre, nutrients and vitamins from the banana and the chia adds another nutritional power punch with fat and protein.
To turn them into a well-rounded breakfast, I serve them with blueberries and a generous helping of all-natural almond butter (which is a GREAT source of calcium and magnesium, in case you're missing the dairy here). P.S: I always, always mash fresh berries before I give them to the baby, since they are a choking hazard.
Speaking of dairy, if you're wondering what my kids drink for breakfast, it's actually just water. When it's cold I might make tea for them and a turmeric latte for myself, but during summer they drink just water.
I know you could just make oatmeal with the same ingredients, but my kids love pancakes AND one of them is an 8 month old baby who is determined to feed herself.
Seriously. Try feeding her and she will spit out every last bit.
So if you're looking for some great baby led weaning or toddler finger food breakfast ideas – give these Vegan Banana Oatmeal Pancakes a go. All it takes is a blender, a skillet and four ingredients – and you'll be rewarded with happy kiddos and a happy belly.
Watch the recipe video
Printable recipe
Printable Recipe Card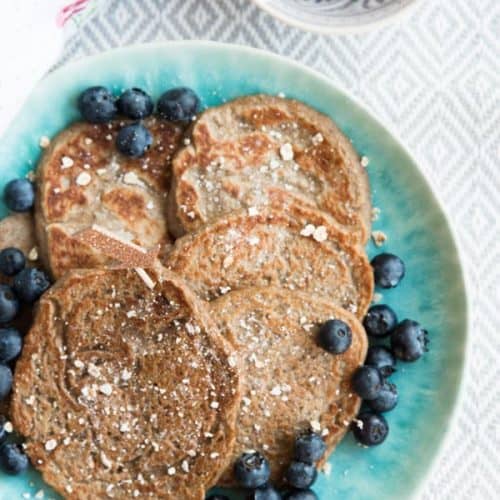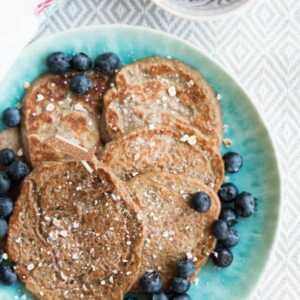 Pin Recipe
4 Ingredient Vegan Banana Oatmeal Pancakes
These 4 Ingredient Vegan Banana Oatmeal Pancakes are a quick and easy HEALTHY breakfast recipe, perfect for baby led weaning or toddler finger food.
made it? tap the stars to add your rating!
Ingredients
2

bananas

1

cup

oats

⅔

cup

coconut milk

or any milk you like

1

heaping tablespoon

chia seeds

coconut oil

for cooking
Instructions
Add all ingredients to a blender and blend until smooth. If you don't have a strong blender, you might want to break up the banana first.

Heat a skillet over medium high heat and melt a little coconut oil inside. Add about 3 tablespoons of batter per pancake and slightly spread it with a spatula. Flip when the sides are starting to look cooked.

Serve with fresh fruit and nut butter.
Want to save this recipe?
Create an account for free and start your personal Savory Nothings recipe box. Save any recipe by tapping the heart in the bottom right corner.
Join Now
Notes
I didn't add any salt or spices because I do have an 8 month old, but you can easily add a pinch of salt and some cinnamon, nutmeg or even apple pie or pumpkin pie spice to these.
Nutrition
Serving:
1
pancake
Calories:
102
kcal
Carbohydrates:
14
g
Protein:
2
g
Fat:
5
g
Saturated Fat:
4
g
Sodium:
3
mg
Potassium:
184
mg
Fiber:
2
g
Sugar:
4
g
Vitamin A:
19
IU
Vitamin C:
3
mg
Calcium:
10
mg
Iron:
1
mg
Nutrition is an estimate.
More recipe information