If you're looking for an easy chicken recipe for dinner, try this Balsamic Glazed Chicken Sheet Pan Dinner! It's simple to make, healthy and will be a hit with the whole family.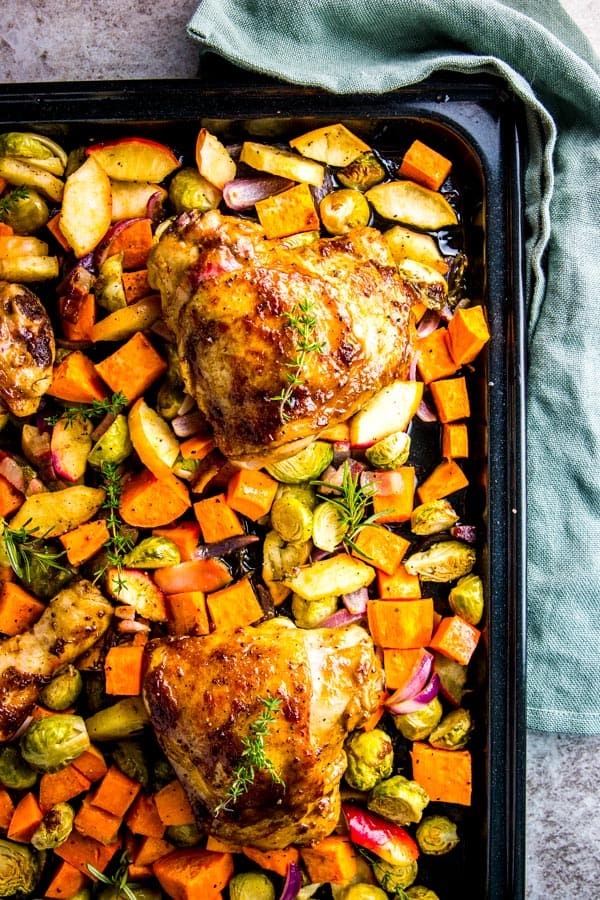 The other day I opened the fridge… And closed it again. About fifteen times. The cold air kept blowing into my face with every close, which didn't really make my situation any better: I had roughly zero clues about what to make for dinner that night.
Shocking, I know.
But the truth is… When you have a teething one year old who will. not. leave. your hips AND a three year old who, in her own words, is doing things "Mama finds not so nice", you occasionally lose touch with reality.
Sure, I COULD have ordered pizza. Or thrown a block of cheese their way and called it a night (full disclosure: they would be all over that). But truthfully, when I'm most stressed/tired/exhausted I need nutritious food more than ever.
What we then need is a) a certain amount of self-butt-kickeritis (it's a thing and I bet you know just how much effort it takes) and b) easy, healthy recipes everyone will eat.
Having kids has definitely taught me that kicking my own butt on an hourly basis is pretty much a necessary part of adulting, as hard as it is at times.
It has also taught me that a dinner I can throw on a sheet pan and into the oven, then forget about, is pretty much golden.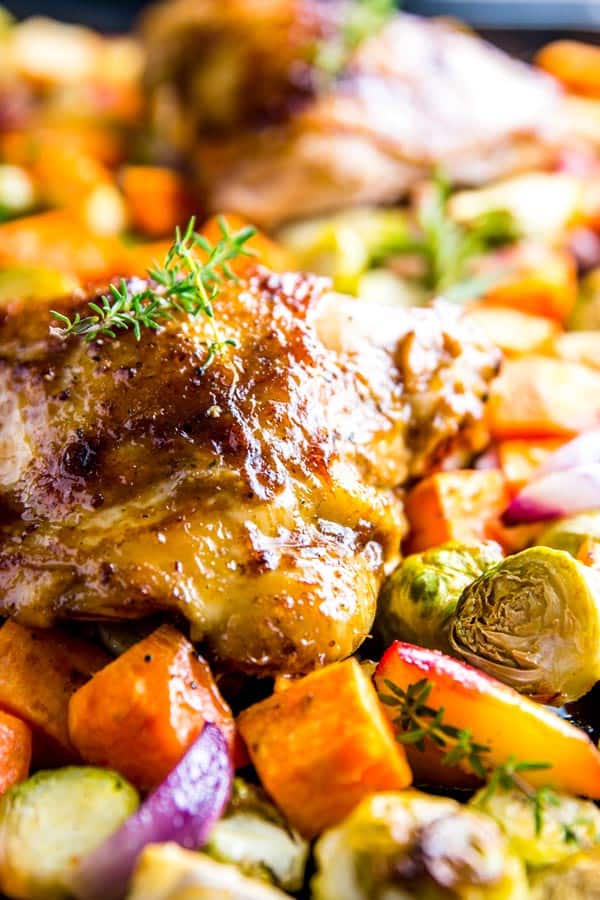 Now I have no problem coming up with creative ways to use vegetables during the summer. No I lied, I do have that, I'm getting better though.
But it can be downright hard to stay inspired with healthy choices during the winter months.
So I decided to leave out the usual winter suspects of carrots and potatoes (I have potatoes in my Greek Lemon Chicken Sheet Pan Dinner if you prefer that) here and instead went for Brussels sprouts, sweet potatoes, red onions and some sliced apples.
A few words of semi-warning (which is more serious than advice but less so than a full blown warning):
My tips to make this balsamic glazed chicken sheet pan dinner foolproof: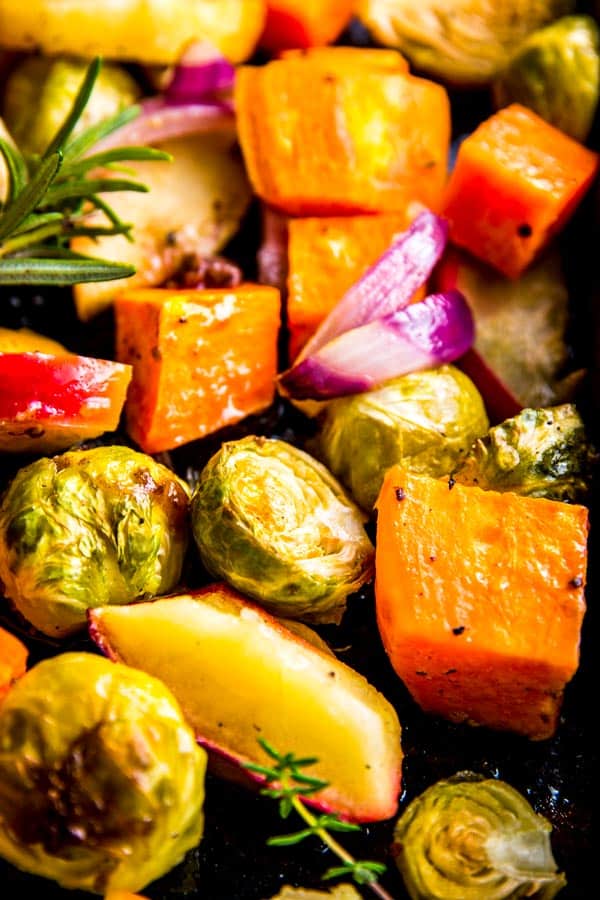 Make sure to cut the vegetables in correlation to their respective cooking time.
I mean, cut them so they'll cook evenly:
You can leave the sweet potatoes on the chunkier side, as they cook quite fast when cut.
The sprouts need to be cut into at least halves, large ones quartered.
The apple and onion slices can and should be generous; they cook the fastest.
Do not peel the apples. The chances of them ruining your dinner by turning into a pile of mushy sadness are too big.
Season the raw veggies well, but don't overdo it. The juices from the chicken will give additional seasoning and it's always easier to add more seasoning in the end vs taking any away. Unless you count sobbing over an overly salted pan of expensive vegetables as one of your greatest hobbies (not that I'd know about anything like that…).
For the chicken you'll make a maple balsamic glaze and leave it to marinate while chopping the veg. I know you could be super organised and put it into the marinade the night before, or even have it all prepped in the freezer (gasp, you enigma you) — but honestly, I'm not that kind of girl.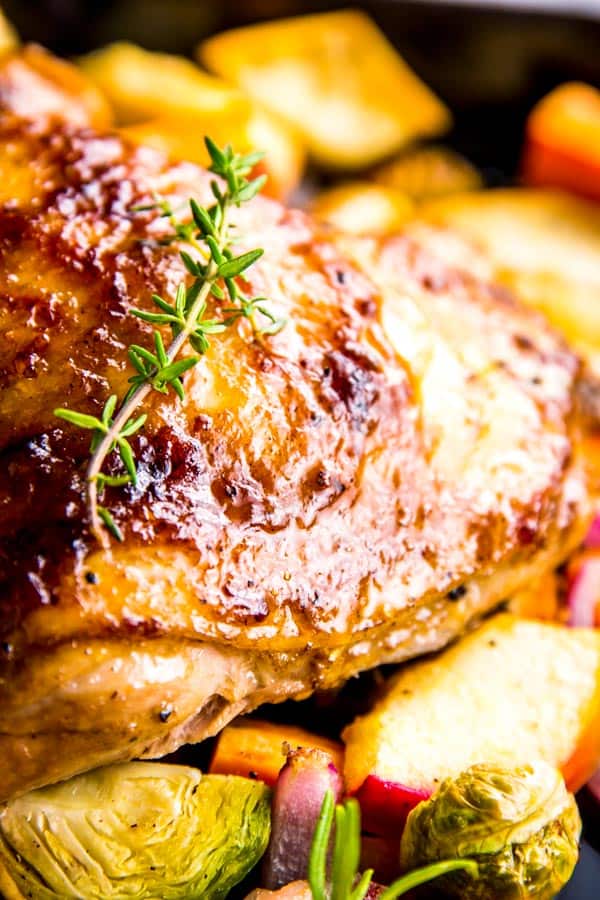 I'm generally a very habit driven person, and that does include my kitchen life. If I don't put in my hour in the kitchen every night, I start slacking.
I guess I thrive under the "what's for dinner" pressure? Either way, totally cool if you rock the meal prep train just as little as I do – that's why you and me are internet friends, after all.
However you roll, this is a filling and nutritious meal you can make without much effort – just what you need on those days you've had your face in the cold, sad air exhaled by the closing door of your fridge one time too many.
Printable recipe
Printable Recipe Card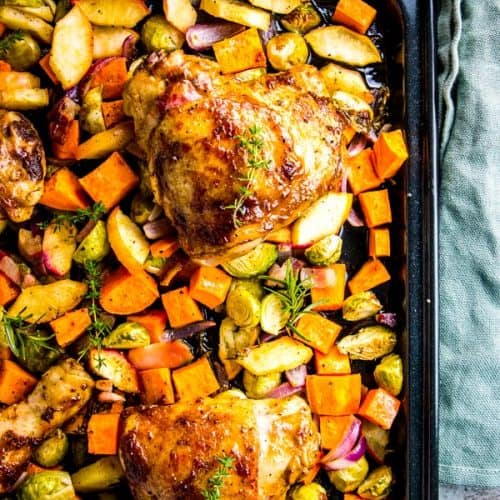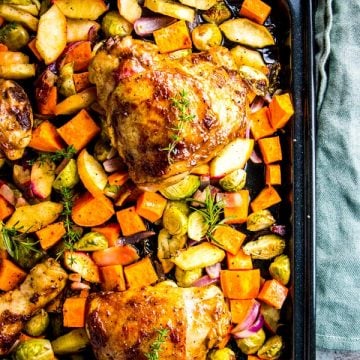 Harvest Chicken Sheet Pan Dinner
This Balsamic Glazed Chicken Sheet Pan Dinner is full of healthy vegetables. It's quick and easy to prep and the kids will love eating it. The sweet potato, apple, onion and Brussels sprouts taste delicious when roasted, and the chicken thighs turn out so juicy! You can even marinate it ahead of time for fast meal prep.
made it? tap the stars to add your rating!
Ingredients
For the chicken:
2

tablespoons

Olive Oil

1

tablespoon

Balsamic Vinegar

1

teaspoon

Pure Maple Syrup

1

teaspoon

Whole Grain Mustard

½

teaspoon

Prepared Mustard

½

teaspoon

Worcestershire Sauce

½

teaspoon

Garlic Powder

Salt and Pepper

4

Chicken Thighs

skin on
For the vegetables:
2

medium Sweet Potatoes

1

pound

Brussels Sprouts

2

medium Apples

3

Red Onions

2

tablespoons

Olive Oil

Salt and Pepper

3

sprigs

Fresh Thyme

2-3

sprigs

Fresh Rosemary
Instructions
Marinate the chicken:
Place all ingredients for the chicken except for the chicken thighs into a medium bowl. Mix well. Add the chicken thighs, making sure they're well covered with marinade all around. Cover and set aside.
Prep the veggies:
Preheat the oven to 430°F. Cut the sweet potatoes into chunks. Halve the sprouts, cutting larger ones into quarters. Core and thickly slice the apples, peel and thickly slice the red onions. Place all on a sheet pan and drizzle with oil, salt and pepper.
Bake:
Place the marinated chicken thighs on top of the pepped veggies on the sheet pan. Tuck the fresh herbs all over the pan. Bake for 25-30 minutes, or until the chicken is done all the way through and the Brussels sprouts are tender.
Want to save this recipe?
Create an account for free to start your personal recipe box. Save any recipe by tapping the heart in the bottom right corner.
Join Now
Nutrition is an estimate.
More recipe information
I first shared this recipe on FoodFanatic as Balsamic Glazed Chicken and Winter Vegetable Sheet Pan Dinner.