Make a batch of these Chocolate Chip Banana Muffins to tuck into lunch boxes or for quick breakfasts on the go! Made with healthy ingredients like whole wheat flour and Greek yogurt for a filling and nutritious snack.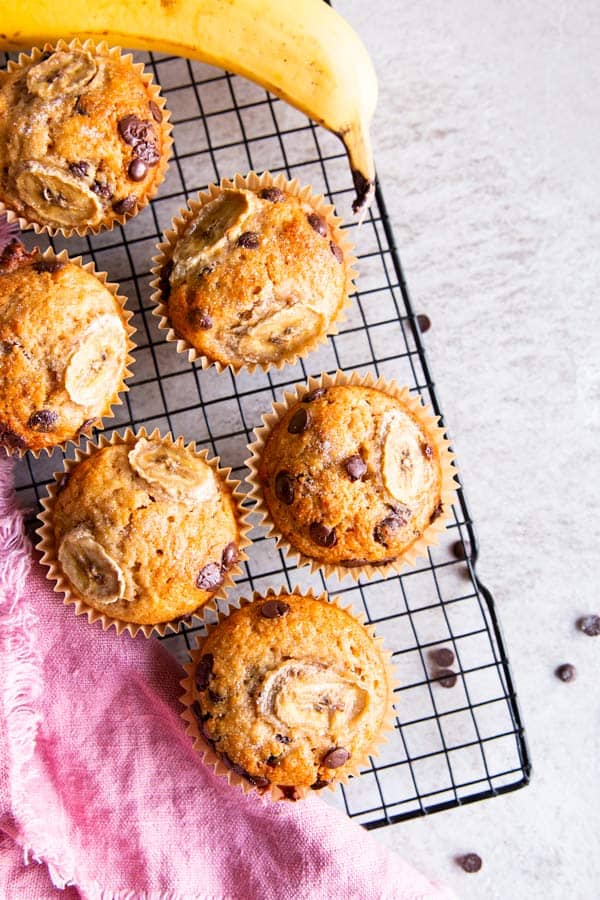 One of my favorite ingredients to use in muffins are bananas. Only trouble: My 5 year old HATES bananas with a passion. So I'm usually forced to whip up a batch of Raspberry Oatmeal Muffins at the same time, which I will happily do.
The rest of the family is a huge fan of banana muffins though (especially my 3 year old, who is basically a monkey anyways). Adding chocolate chips doesn't hurt either, ha!
This is my favorite recipe for healthier banana muffins. They are still plenty delicious, but they do have some whole wheat flour and Greek yogurt in the batter to make them more nutritious.
Jump to:
? A few tips
Moist muffins
Muffins, especially healthier ones, can quickly turn out dry.
You're combatting this in a few different ways with this recipe:
the brown sugar – it really does help keep the muffins more moist!
Greek yogurt AND some oil – yogurt is a great way to keep muffins moist, but still adding a bit of oil is even better
plenty of mashed banana – the mashed banana adds lots of moisture as well, so we're using two medium bananas here
How I mash bananas
I know there's a lot of people who swear by mashing bananas in their mixer… But I never use a mixer to make muffins. Quite frankly, all I use to make muffins are a fork and a spatula.
I use the fork to mash down the bananas. Break the banana into chunks and place it in a small mixing bowl, then mash it with the fork. I then use the fork to whisk in the remaining wet ingredients – the fork goes into the dishwasher and there's no noisy mixer waking the baby ?
Keeping the muffins from sticking to the liners
Healthier muffins tend to stick to the liners, so I prefer spraying them with cooking spray or lightly greasing the liners. Though lately I've been using liners from If You Care, and I haven't had a single muffin stick – even without greasing!
My favorite muffin liners are from If You Care – I never had a muffin stick to them! You can buy them here on Amazon (this is an affiliate link and I earn a commission for purchases made after clicking through).
They are more expensive, but a) they're better for the environment and b) they really are the best muffin liners I've ever used.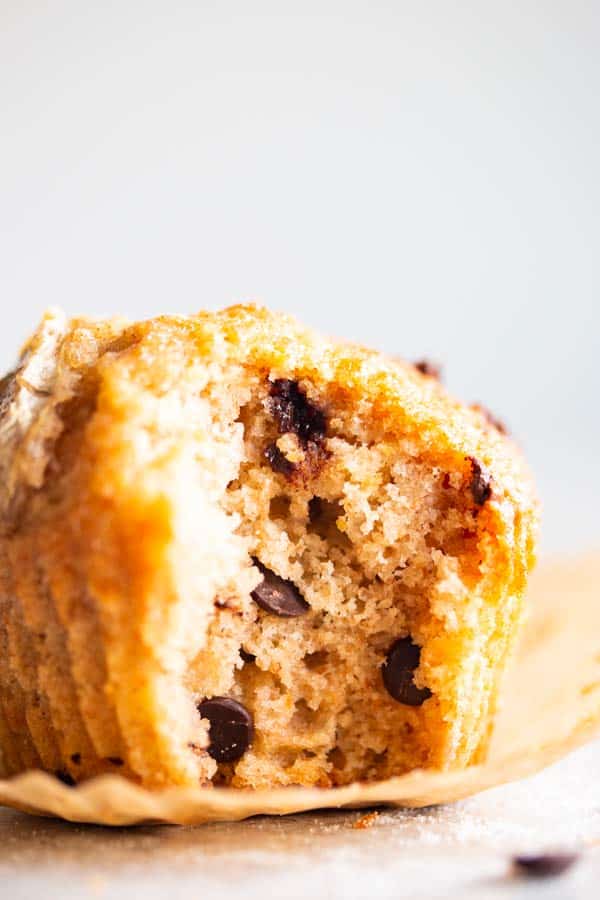 The cookie scoop trick
Use a cookie scoop to transfer the batter to the muffin cups! It's so easy, makes it a breeze to evenly portion out the batter and is pretty much mess-free. Both my older kids can do this by themselves, and it's a great way to let the kids help in the kitchen!
I have a cookie scoop similar to this one on Amazon! (This is an affiliate link and I earn a commission for purchases made after clicking through.)
❄️ Freezer instructions
Place the muffins in a freezer friendly bag or container, label with the name and use-by date (freeze for up to 3 months).
To defrost, remove the muffins from the container and place on a rack on the counter for 1-2 hours, or until no longer frozen in the middle.
You can gently warm them in the microwave or oven, if you prefer.
Printable recipe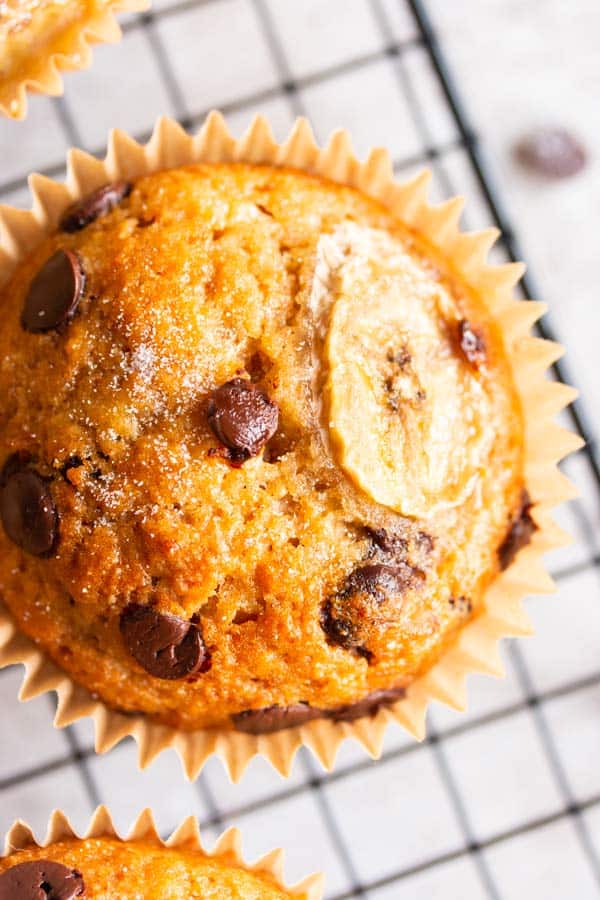 made it? tap the stars to add your rating!
Make a batch of these Chocolate Chip Banana Muffins to tuck into lunch boxes or for quick breakfasts on the go – they are super easy to make!
Ingredients
DRY INGREDIENTS
1

cup

whole wheat flour

1

cup

all-purpose flour

2

teaspoons

cinnamon

1.5

teaspoons

baking powder

¼

teaspoon

salt
WET INGREDIENTS
2

medium bananas

(mashed)

2

large eggs

¼

cup

sugar

¼

cup

brown sugar

⅓

cup

oil

½

cup

Greek yogurt
Instructions
Prep: Preheat oven to 425°Line a 12 cup muffin pan and grease the liners.

Make muffin batter: Mix dry ingredients in a large bowl. Mix wet ingredients in a separate medium bowl. Add wet to dry ingredients and mix JUST until combined – do not overmix, some lumps are OFold in the chocolate chips.

Bake: Evenly divide muffin batter between prepared muffin cups (I use a cookie scoop! so easy). Reduce oven heat to 400°F and bake the muffins for 5 minutes. WITHOUT OPENING THE OVEN, reduce oven heat to 360°F and finish baking the muffins for 10-15 minutes, or until a toothpick inserted comes out clean. Cool in the pan for 5 minutes, then remove to a rack to cool completely.
Add Your Review
Nutrition
Calories:
240
kcal
|
Carbohydrates:
33
g
|
Protein:
5
g
|
Fat:
10
g
|
Saturated Fat:
3
g
|
Cholesterol:
28
mg
|
Sodium:
66
mg
|
Potassium:
227
mg
|
Fiber:
3
g
|
Sugar:
14
g
|
Vitamin A:
60
IU
|
Vitamin C:
1.7
mg
|
Calcium:
55
mg
|
Iron:
1.6
mg
More recipe information
Join my Newsletter to Get Recipes in Your Inbox