Raspberry Oatmeal Muffins are an easy breakfast idea full of healthy oats, raspberries and Greek yogurt.
Tuck them into a lunch box or use them as a quick and fuss-free school morning breakfast – your kids are going to love these!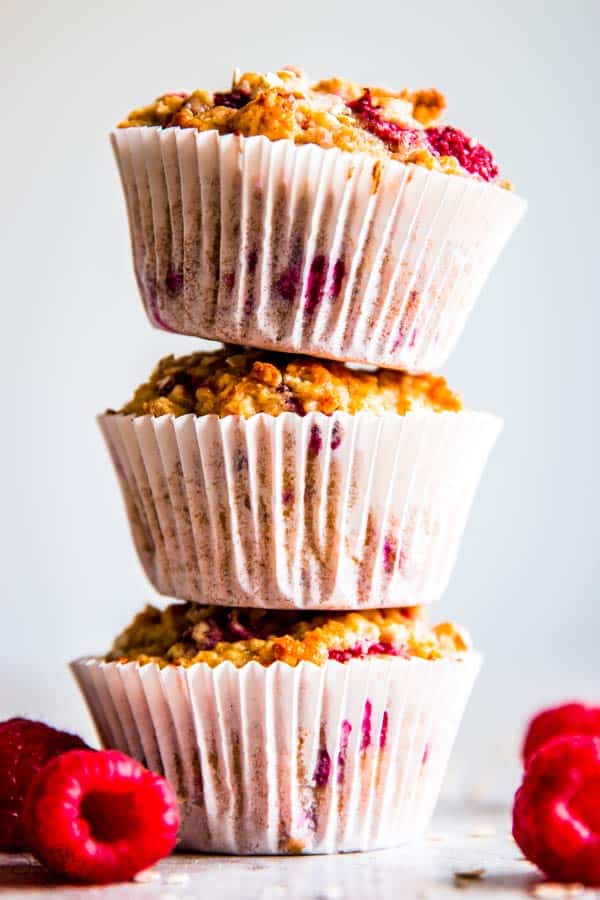 I think it's absolutely no secret how much we love muffin recipes here on Savory Nothings.
I mean there's a whole bunch to prove this: Zucchini Oatmeal Muffins, Coconut Lemon Poppy Seed Muffins, Double Chocolate Banana Muffins…
And way more than I'd ever care to admit ?

Raspberry Oatmeal Muffins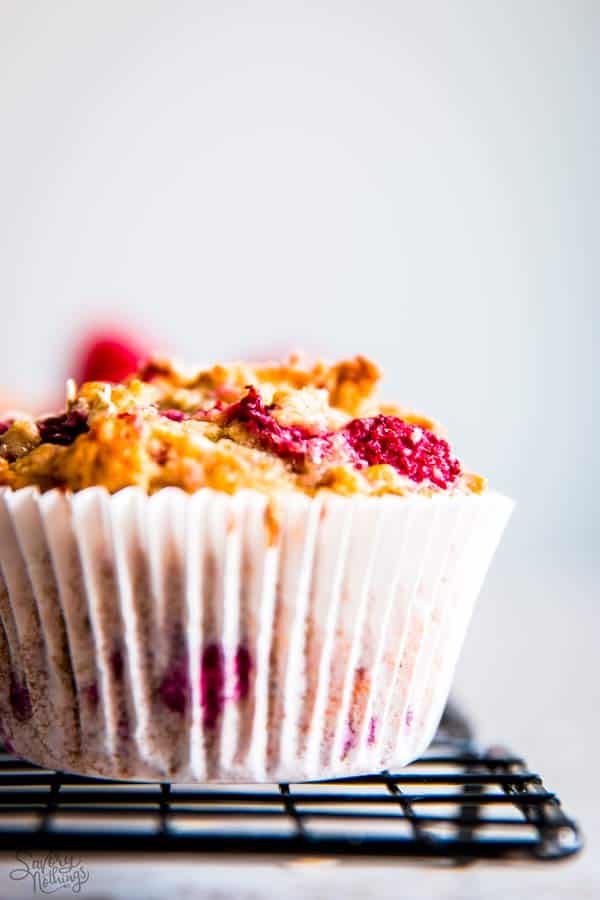 This is actually a bit of a cheat's recipe, because it's exactly the same as my Strawberry Oatmeal Muffins… With the simple swap of the berries. Ha!
My pre-schooler complained when I made the strawberry muffins: "Mom, strawberries are red! I want raspberry muffins… Because raspberries are pink, and I LOVE pink!"
I mean, how can I argue with that logic?! My hands were obviously tied, so I whipped up a batch of raspberry oatmeal muffins for all of us.
---
If you're looking for the full list of ingredients and clear instructions, that's all at the bottom of this post! Before you scroll, there's important information in the text below to make sure your recipe turns out amazing!
---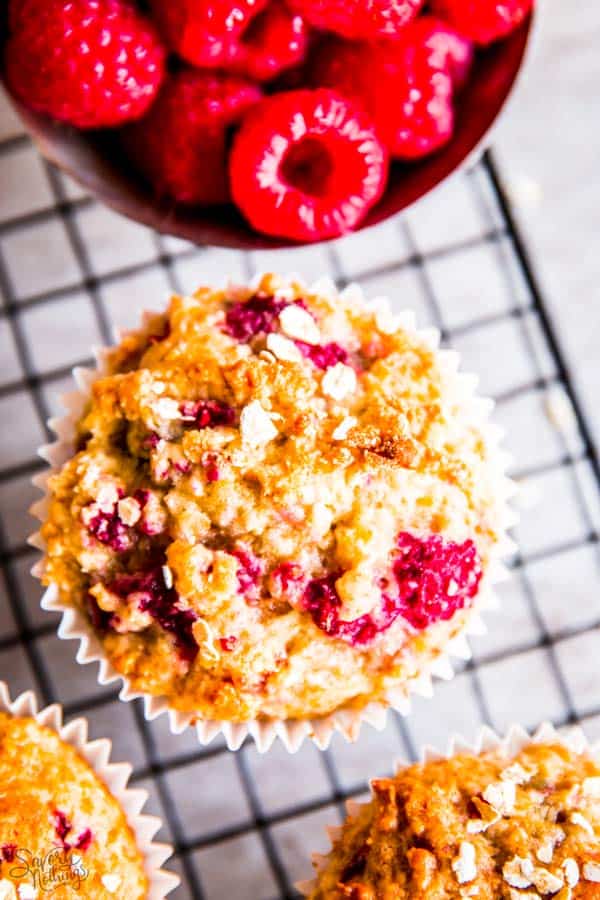 Can you really substitute oatmeal for flour in muffins?
Yes! You can. Oats add extra flavor, texture (and also fiber and nutrients!) to muffins.
As a general rule of thumb, you can substitute up to ⅓ of the flour called for in a muffin recipe with oats.
Use quick or old fashioned oats, but not instant oatmeal – the flakes are just cut too fine for baking.
But there is one very important step you have to follow:
You need to soak the oats in the recipe's liquid ingredients for 10 minutes before mixing them with the dry ingredients.
If you don't do this, the muffin batter will be WAY too thin and the muffins will bake up flat.
Other oatmeal muffin mix-ins you might want to try:
You can easily with up the mix-ins you add to this recipe! Here are a few ideas:
finely diced strawberries
blueberries
blackberries
finely diced apple
chocolate chips ?
Let me know in a comment what your favorite muffin mix-in is, and if you have tried any other variations for this recipe!
How To Make Raspberry Oatmeal Muffins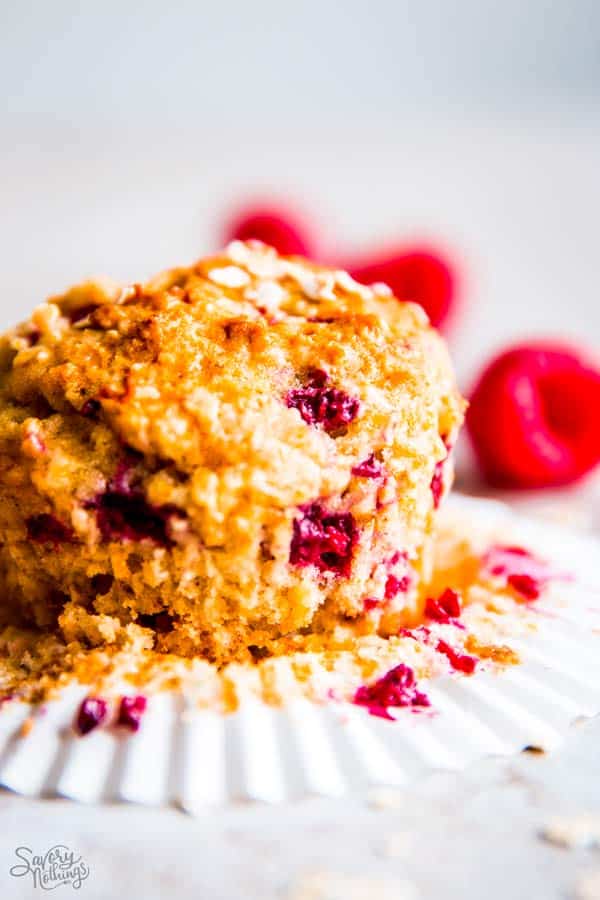 What do I need to make raspberry oatmeal muffins?
You really don't need a lot to make muffins, but there are a few essentials you cannot make muffins without.
Tools you need to make these oatmeal muffins:
FYI, the following product links are affiliate links. I make a commission for purchases made through these links.
A muffin pan and liners. I mean, OK. That one is very obvious. You can also use silicone baking cups if you prefer not to throw away all those liners. I'm still partial to my regular muffin pan, but I do make sure I purchase eco-friendlier muffin liners.
A spatula to gently fold the muffin batter. Pleeeease do not use a whisk to combine the wet and dry ingredients, because then you'll get really dense muffins.
A cookie scoop. Well, that one is kind of optional, but incredibly helpful when scooping the muffin batter. It's so mess-free and easy, I can't believe I used to fuss around with spoons.
Other than that, you just need the ingredients, which are super simple.
Ingredients for raspberry oatmeal muffins:
1 cup oats, uncooked
½ c. brown sugar, packed
1 cup Greek yogurt
⅓ cup oil
1 egg, beaten
1 cup all-purpose flour
½ teaspoon salt
1 teaspoon baking powder
½ teaspoon baking soda
1 cup raspberries, tossed in a little flour
Step By Step Instructions
Step 1
The first thing you need to do for these muffins is to combine the liquid ingredients AND the oats.
So, oats, sugar, Greek yogurt, oil and the egg go into a measuring jug, where you beat them together well.
I really don't know why sugar is always considered a liquid ingredient in muffin recipes, but I'm not one to argue with age-old kitchen wisdom, so we'll just let that one slide.
This mix of oats and "liquid" ingredients needs to sit on your counter for 5-10 minutes (5 for quick-cooking oats, 10 for old-fashioned) so the oats can soak and you'll have nice and fluffy muffins.
Step 2
The next step you can do while the oat mix is soaking.
It's a pretty simple one: Preheat the oven to 400°F and prep your muffin cups.
Step 3
Next, while the oats are still soaking, mix up the dry ingredients.
Add flour, salt, baking powder and baking soda to a large bowl and mix them very well. You want the baking soda and baking powder to be very well distributed.
Step 4
Next, pour the wet ingredients into the bowl with the dry ingredients and gently fold JUST until combined.
Use a spatula, not a whisk.
I once read a rule of thumb to not stir more than 20 times. I usually try to keep it below 10 even, because that makes the fluffiest, softest muffins.
Finally, add the raspberries and fold them in 2-3 times.
Step 5
Scoop the muffin batter into the prepared muffin cups.
This is where that cookie scoop comes in VERY handy!
Step 5
Finally, bake the muffins for around 20 minutes, or until a toothpick inserted into the middle comes out clean.
Cool in the pan for 5 minutes, then remove to a cooling rack to cool completely.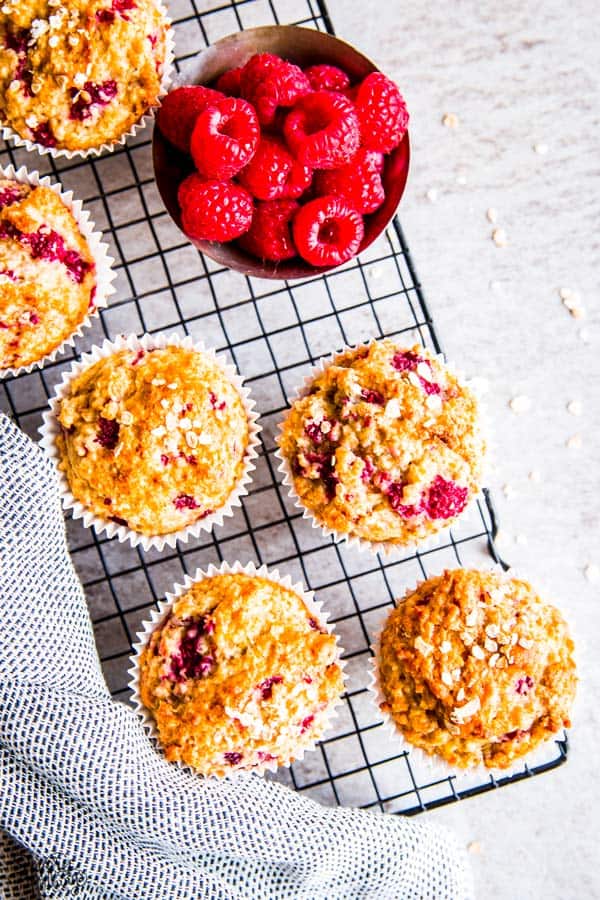 How do you freeze muffins?
These muffins freeze very well. They are actually one of the things I like most to stock up on, because they're such a handy breakfast or snack in a pinch.
While this recipe can be frozen, please remember to do the following:
Wait for the muffins to cool completely before freezing them (otherwise your freezer could heat up too much and affect the other frozen goods in there).
Use a container or bag that is suitable for freezing.
Label the bag or container with the contents, today's date AND the use-by time.
Defrost thoroughly before eating.
There is no need to reheat the muffins after defrosting them, but I do like warming them up a little sometimes – so yummy with a pat of butter ?

So… What goes good with a muffin for breakfast?
When we have these for breakfast, I like to serve something on the side to round out the meal. Muffins alone do not fuel me for the day at all, as much as I love them.
Here are a few ideas what we love to have with our raspberry oatmeal muffins in the morning:
yogurt bowls with berries and a little honey
scrambled eggs with veggies in them or an omelette (we would eat these before we eat the muffins, kind of a two course breakfast ?)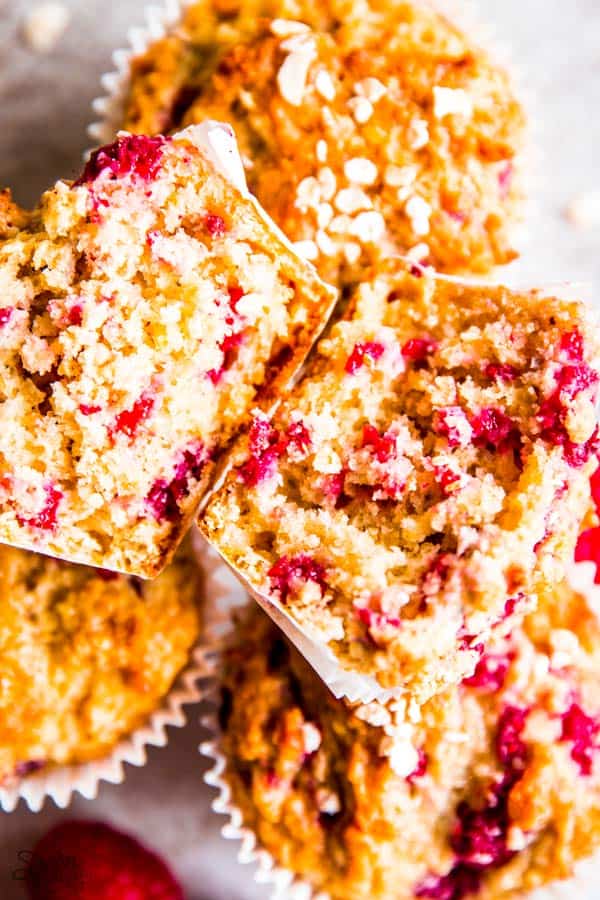 ---
Like this recipe? Why not try some more of my baking recipes?
I LOVE baking for breakfast and for snacks. And I don't only bake muffins ?
Some of my other favorites you're going to love just as much include Whole Wheat Apple Bars, Whole Wheat Cinnamon Crunch Banana Bread and Blueberry Baked Oatmeal.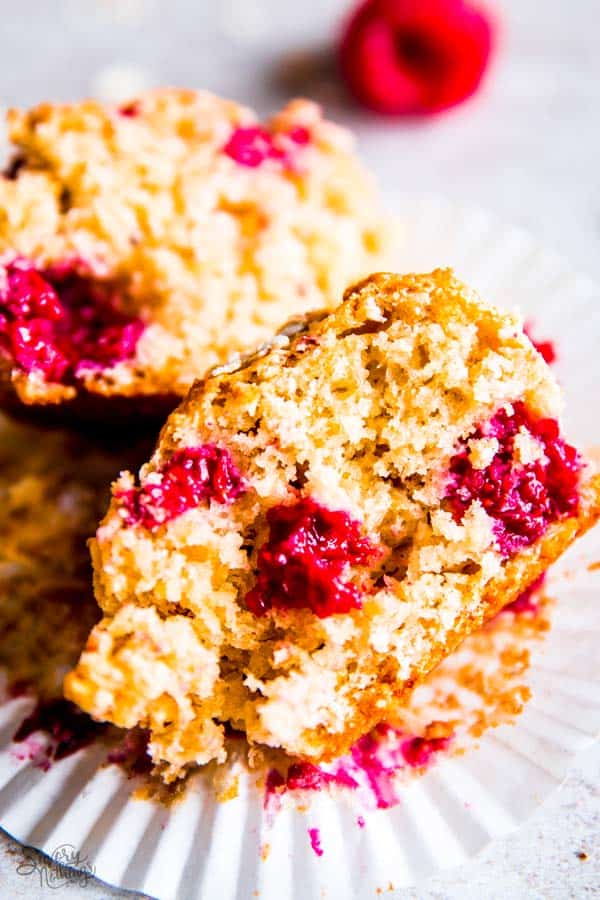 Grab the printable recipe for these raspberry oatmeal muffins here:
Printable recipe
Printable Recipe Card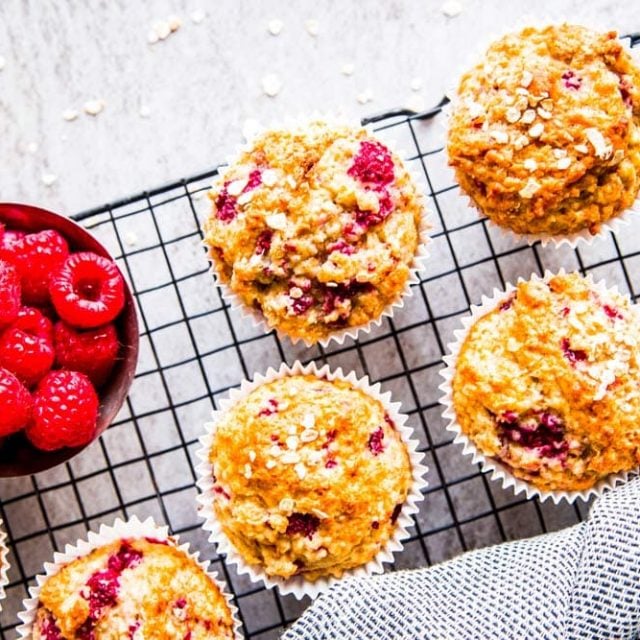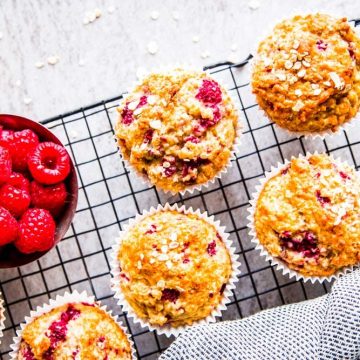 Raspberry Oatmeal Muffins
Raspberry Oatmeal Muffins are an easy breakfast idea full of healthy oats, raspberries and Greek yogurt.
made it? tap the stars to add your rating!
Ingredients
1

cup

oats

old-fashioned or quick; NOT instant, uncooked

½

cup

brown sugar

packed

1

cup

Greek yogurt

⅓

cup

oil

1

large egg

1

cup

all-purpose flour

½

teaspoon

salt

1

teaspoon

baking powder

½

teaspoon

baking soda

1

cup

raspberries

fresh or frozen both work; do not defrost if frozen; tossed in 2 tablespoons of flour
Instructions
Combine wet ingredients and oats: In a large measuring jug, combine oats, brown sugar, Greek yogurt, oil and the egg. Beat well, then set aside and let stand for 5 minutes (if using quick cooking oats) to 10 minutes (for old fashioned oats).

Prep: While the oats are soaking, preheat the oven to 400°F and line a 12 cup muffin pan with liners.

Mix dry ingredients: Add flour, salt, baking power and baking soda to a large bowl. Mix very well.

Combine wet and dry ingredients: Add the wet ingredients to the bowl with the dry ingredients and fold just until combined. Do NOT overmix!

Add the berries: Now add the berries and fold them into the batter by stirring 2-3 times. No more!

Finish and bake: Evenly divide the batter between 12 muffin cups (this is SO easy with a cookie scoop!) Bake at 400 degrees for 20 minutes. Cool in the pan for 5 minutes, then cool completely on a cooling rack.
Want to save this recipe?
Create an account for free to start your personal recipe box. Save any recipe by tapping the heart in the bottom right corner.
Join Now
Notes
Although savorynothings.com tries to provide accurate nutritional information, these figures should be considered estimates. Factors like brands, product types, natural fluctuations in fresh produce, ingredient swaps and the way ingredients are processed change the effective nutritional information in any given recipe. Under no circumstances will savorynothings.com be responsible for any loss or damage resulting for your reliance on nutritional information.
FYI, the image links below are affiliate links. I make a commission for purchases made through them.
Nutrition
Serving:
1
muffin
Calories:
165
kcal
Carbohydrates:
20.6
g
Protein:
4.3
g
Fat:
7.4
g
Saturated Fat:
1.3
g
Sodium:
163
mg
Fiber:
1.7
g
Sugar:
7.1
g
Nutrition is an estimate.
More recipe information