Okay okay okay. I know, lemon poppy seed muffins are not exactly revolutionary.
And it's not like I need another muffin recipe on this blog, ahem.
But hear me out on this one, because these are golden. Literally AND figuratively.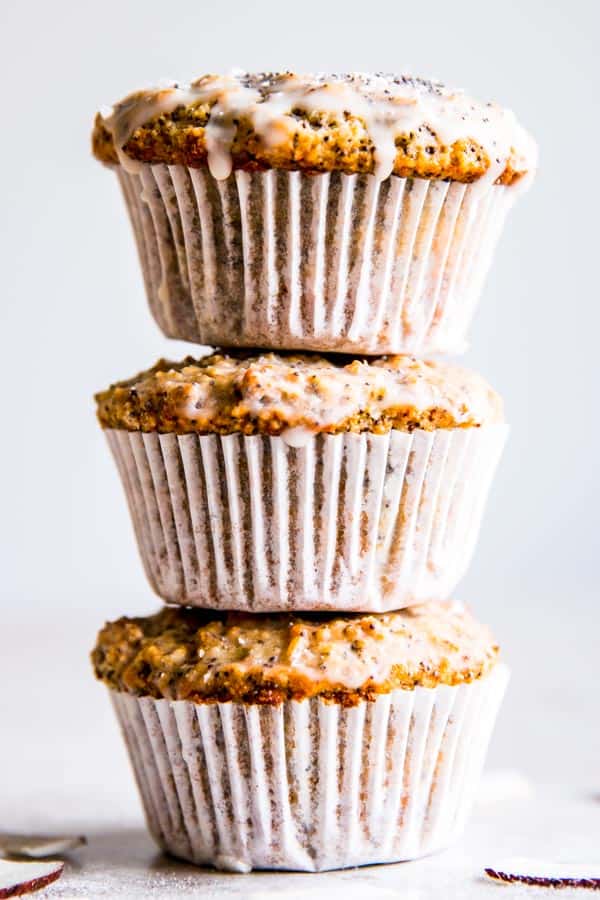 You should know that I like to meddle with the classics.
Blueberry muffins with lavender.
Italian pasta salad without meat (I know it's zero percent related, BUT it's probably my biggest twist yet, so let me have this moment).
Before I tell you about this muffin recipe, two things:
a) I'm not the biggest fan of lemon desserts, unless it's my mom's lemon drizzle loaf.
b) I'm not the biggest fan of coconut in sweets, either.
I don't know why I thought I'd like lemon muffins better if I added coconut, but that's exactly what I did and I fell in love so hard.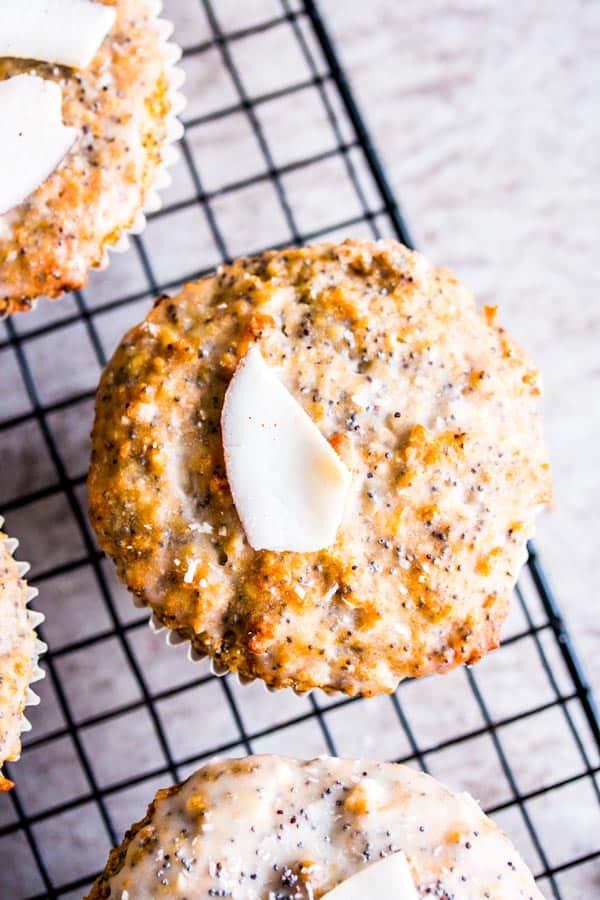 Hey, not everything in life does have to make sense, right?!
But let's chat about the little tweaks I made to take this bakery classic to new heights.
This is what's happening in these muffins:
they have a healthy dose of shredded coconut in the batter, for those tropical vibes summer just needs
they have a LEMON CURD FILLING. Say it with me: a lemon curd filling. I mean oh my millennial gosh, it is awesome.
they are part whole wheat for a little extra nuttiness, and they are also made with Greek yogurt, because there's nothing better to keep muffins cake-like without turning them into full-on dessert.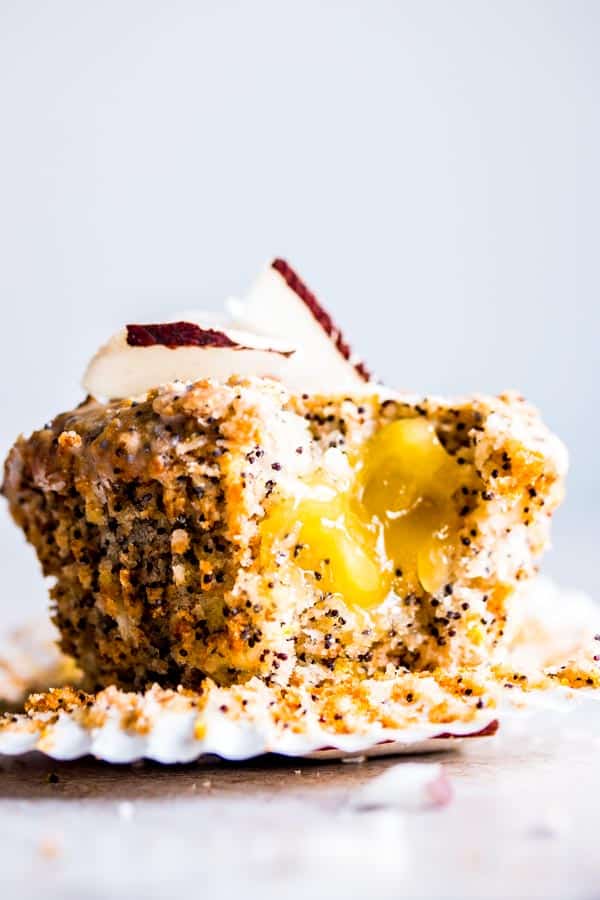 And no, I'm not one to pretend "this is like having dessert for breakfast!" because that's bullshit and if you really want dessert for breakfast, then have dessert for breakfast.
But I usually don't feel much like having dessert first thing in the morning (or when I feel snacky), so I mostly prefer my muffins on the breakfast side vs the dessert side.
I refrained from taking step by step photos for this post, because it's just a super simple, throw-together kind of muffin.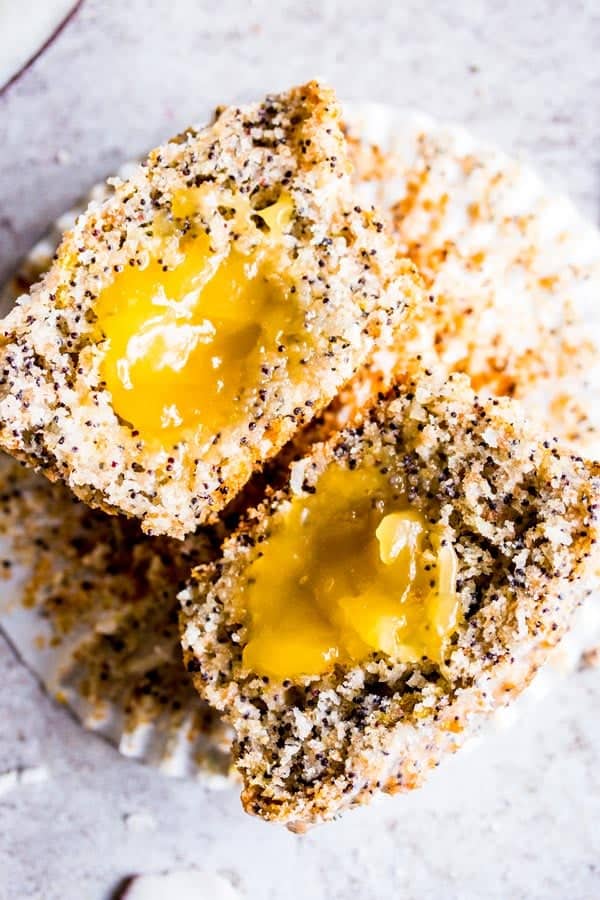 The absolute only rule you have to follow:
Is to mix the dry and wet ingredients separately, and then combine them just enough.
Don't use a whisk, use a wooden spoon.
Don't use your super heroine arm power, use a flick of your unicorn magic.
Don't mix until you have a smooth batter, mix until your batter looks like it had a rough night.
Don't fill your muffin cups half-full, fill them well or you won't get the nice bakery domes. This recipe makes 12 muffins, not one more.
And use a cookie scoop to transfer the batter to the lined cups. Trust me. You'll love me forever for this tip. FYI, I make a commission for purchases made through this link.
Do listen to me when I tell you to bake at a higher temperature initially, because you will get nicely domed muffins.
Okay wait, that was more than one rule.
Sorry.
Not.
Sorry.
I like getting to tell people what to do, which is the main reason I was a high school teacher before I had babies 🤷🏻‍♀️
Which is why I have to tell you one last thing (pinky promise, I'm done after this):
Go and make these revoluzzer lemon poppyseed muffins.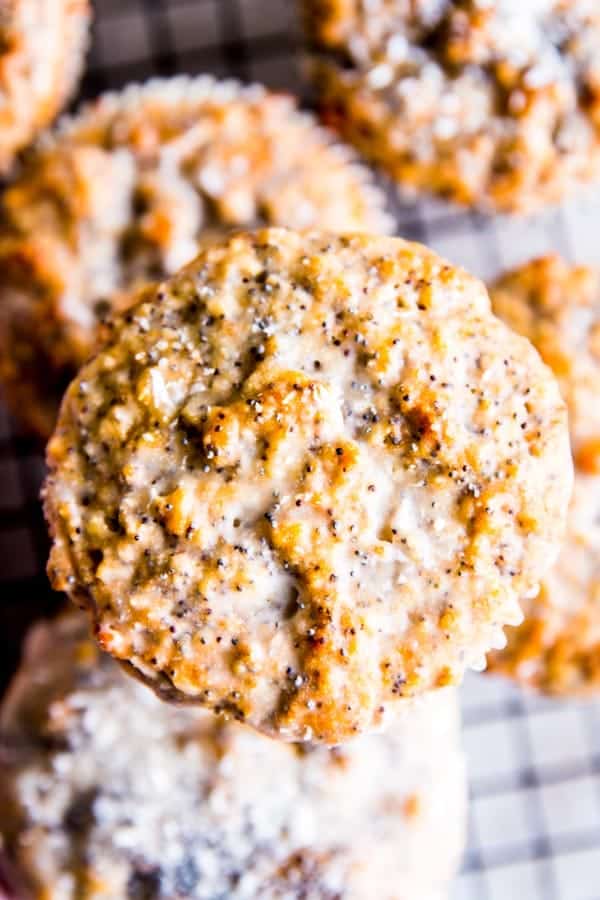 And don't let anyone talk you into believing you're not allowed to mess with the classic recipes.
It's 2018.
It's about time we mess up all the classics, don't you think?
Get the printable recipe for the Coconut Lemon Poppy Seed Muffins:
Printable Recipe Card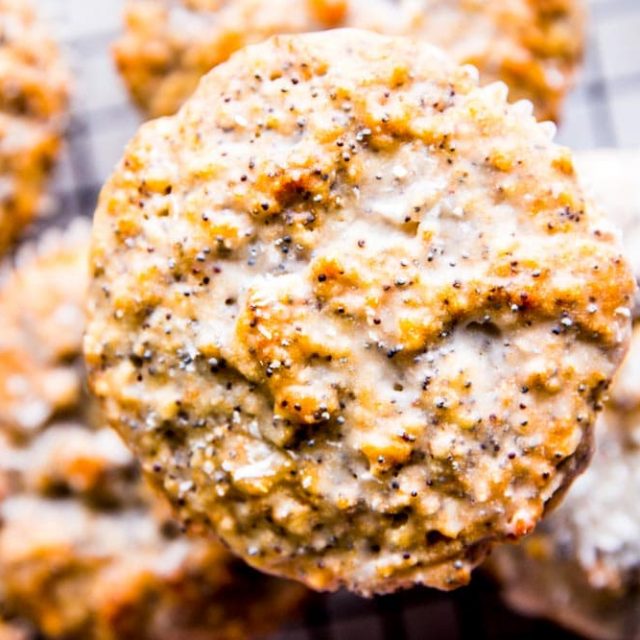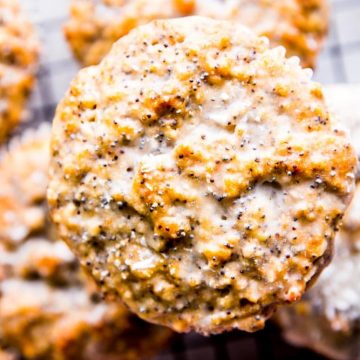 Coconut Lemon Poppyseed Muffins
Looking for an update to the classic Lemon Poppy Seed Muffin? This bakery-style recipe has added coconut and a yummy hidden lemon curd filling!
made it? tap the stars to add your rating!
Ingredients
Dry Ingredients:
1

cup

whole wheat flour

¾

cup

all purpose flour

½

cup

sugar

2

tablespoons

finely grated lemon zest

½

c.

shredded coconut

⅓

cup

poppy seeds

1

teaspoon

baking powder

¾

teaspoon

baking soda

¼

t.

salt
Wet Ingredients:
8

ounces

Greek yogurt

1

large egg

⅓

cup

oil

2

tablespoons

lemon juice

⅓

cup

lemon curd
Topping (Optional):
½ - 1

tablespoon

lemon juice

⅓

cup

powdered sugar

⅓

cup

flaked coconut
Instructions
Make Muffins:
Prep: Preheat the oven to 425F (yes, 425). Line a 12 cup muffin tin with paper liners.

Mix ingredients: Combine the dry ingredients in a large bowl. In a separate measuring jug, whisk together the wet ingredients until smooth.

Make batter: Add the wet to the dry ingredients and stir just until combined. Do not overmix!

Add to muffin cups: Spoon ⅔ of the batter into the prepared muffin cups. I like using a cookie scoop for mess-free work, but you do you, darling. Add a heaping teaspoon of lemon curd into the middle of each muffin, then divide the remaining batter on top.

Bake: Reduce the oven heat to 400F. Bake the muffins for 5 minutes. WITHOUT opening the oven, reduce the heat to 360F and finish baking the muffins for 15-20 minutes, or until a toothpick inserted comes out clean. Remember there's lemon curd in the middle, so stick it closer to the side.

Cool: Cool the muffins in the pan for 5 minutes, then remove to a cooking rack until completely cooled.
Prepare Topping:
Stir the lemon juice into the powdered sugar until smooth. Drizzle over the cooled muffins and sprinkle with shredded coconut or poppy seeds. Or both. More is more, right?
Want to save this recipe?
Create an account for free to start your personal recipe box. Save any recipe by tapping the heart in the bottom right corner.
Join Now
Notes
Nutrition is without optional topping.
Nutrition
Calories:
231
kcal
Carbohydrates:
28
g
Protein:
5
g
Fat:
11
g
Saturated Fat:
3
g
Cholesterol:
14
mg
Sodium:
111
mg
Potassium:
124
mg
Fiber:
2
g
Sugar:
13
g
Vitamin A:
30
IU
Vitamin C:
2.2
mg
Calcium:
85
mg
Iron:
1.2
mg
Nutrition is an estimate.
More recipe information