Wondering how to make a fruit smoothie? It's super easy and with these simple tricks, you'll be a healthy fruit smoothie pro in no time at all!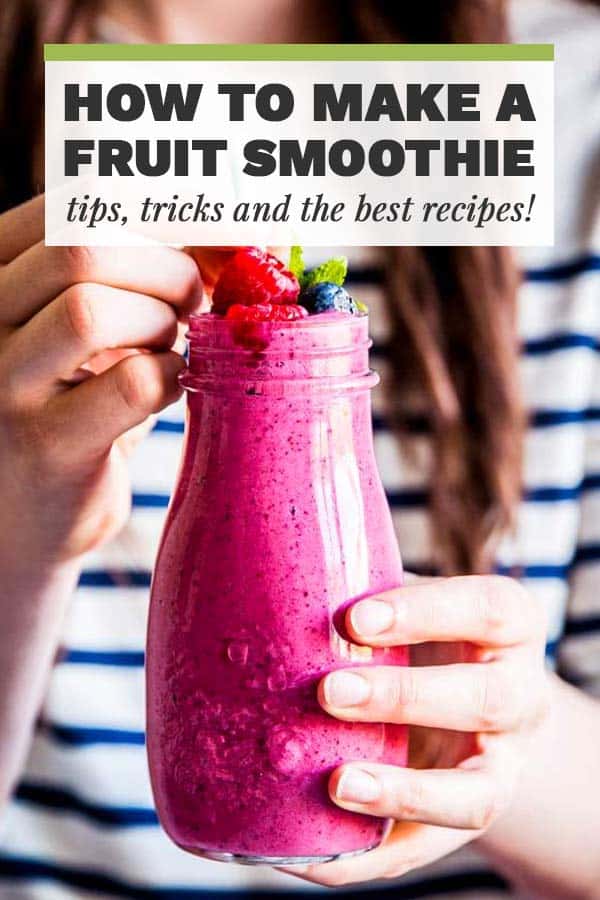 I don't think smoothies were a thing while I was growing up.
My mom went through a crunchy phase and bought a juicer when I was 12 or so, but smoothies? I'm pretty sure we didn't get to know smoothies until a few years later.
I loved them from the get-go, even though we started out making them with a stick blender.
I have this Vitamix now, just a tiny upgrade ? (FYI, that's an affiliate link and I earn a small commission if you click through and make a purchase.)
To be honest, making delicious fruit smoothies was a bit of a learning curve… But I'm ready to spill all the tips and tricks I've learned right now!
---
How to Make a Fruit Smoothie
1. Pick your ingredients
The first thing in the art of fruit smoothie making is combining the right ingredients.
The Fruit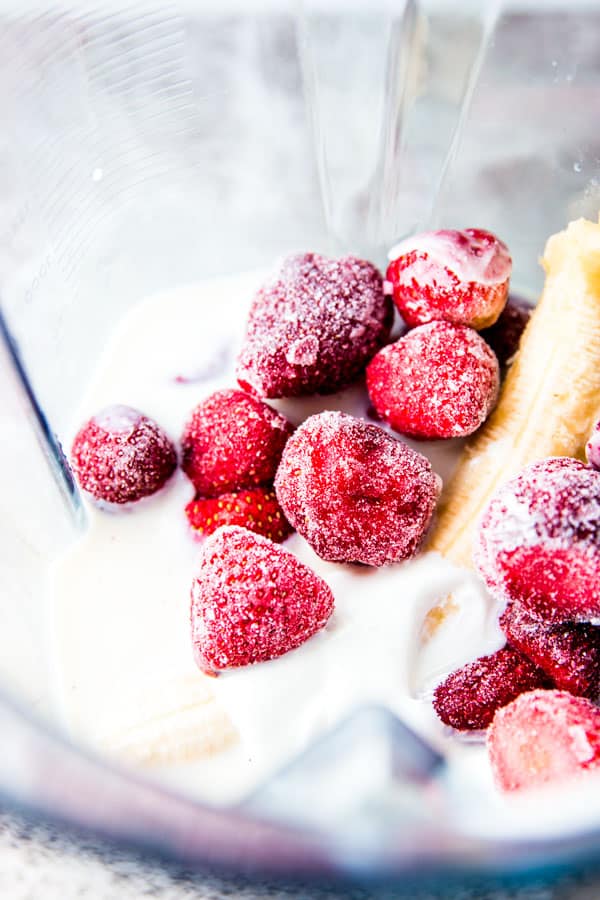 Smoothies turn out best when you're using at least two different kinds of fruit and/or berries – unless you want a total mono smoothie, of course.
I usually try to go for a sweeter fruit (like mango, banana or strawberries) and balance it out with a more tart fruit (kiwi, raspberries…). For the kids I will sometimes go full-on sweet, like banana and strawberries. So good!
Can you make smoothies with frozen fruit?
Well, yes!! I basically never make a smoothie with fresh fruit and almost always use frozen.
This way a smoothie ends up cold, thick and creamy – exactly how I like them best!
Liquid base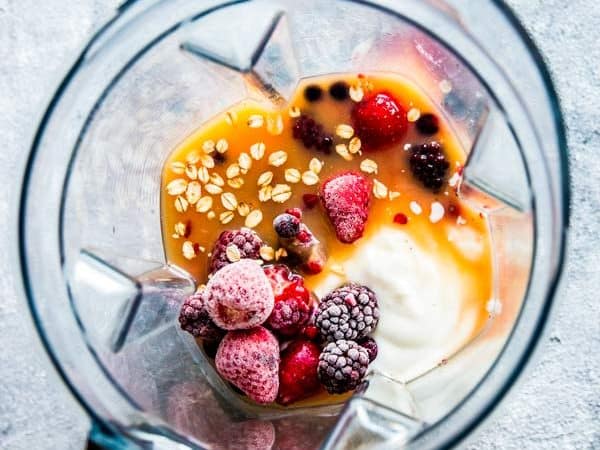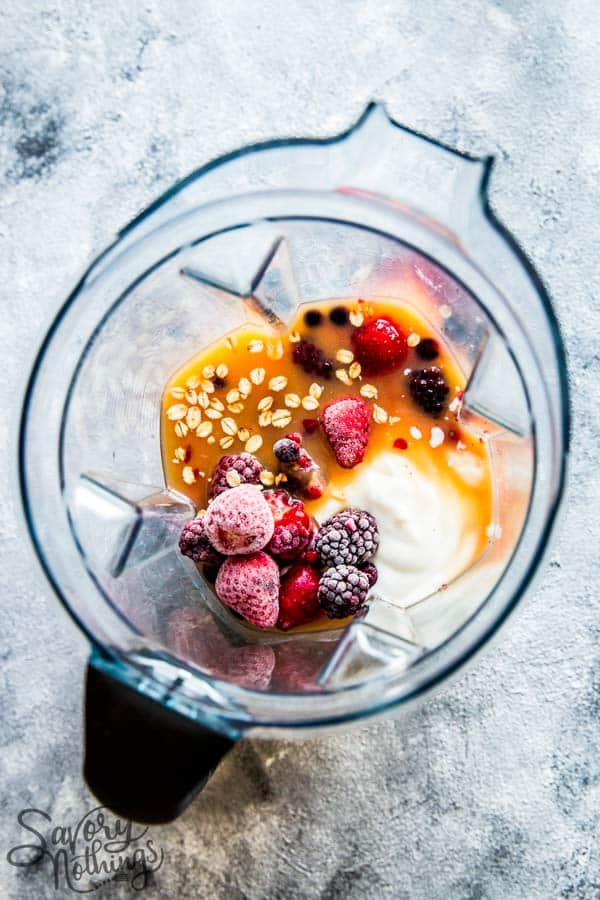 To make a smoothie blend up nicely, you'll need at least a bit of a liquid.
I usually do a 2:1 ratio of frozen fruit to liquid. For example, when I use 1 cup frozen fruit, I'll use ½ cup liquid.
One exception is if I'm making a yogurt-heavy smoothie. Then I'll use the same amount of liquid as fruit, else it's basically frozen yogurt.
My favorite liquids to use are milk, almond milk or fruit juice (I know fruit juice gets frowned upon, but I don't believe a ½ cup of orange juice is going to ruin me, so… I use it without hesitation, but you do you).
A Thickener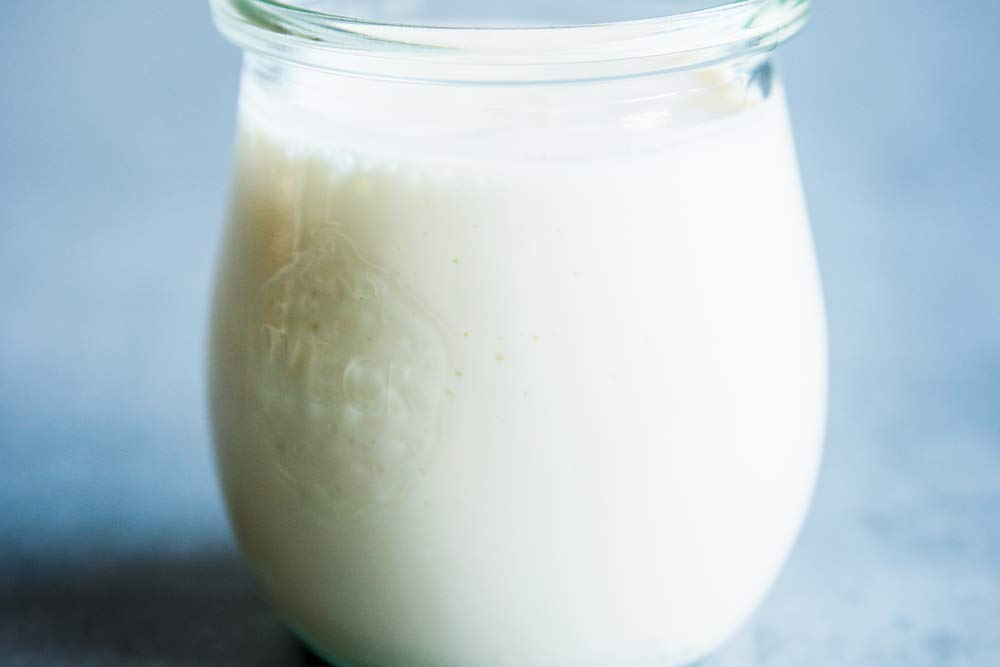 I love nothing more than thick and creamy smoothies!
While things like frozen bananas and avocado can make a smoothie super creamy, they're not my favorites (nut butter can also be an option, but I prefer it in non-fruit smoothies).
Instead, I like to use one or more of the following:
nut milk or fruit juice ice cubes (just freeze in ice cube trays – makes for a delicious, cold, creamy smoothie! I do about 4-6 ice cubes per smoothie)
quick-cooking oats (I do about 2 tablespoons per smoothie)
Greek yogurt adds a real nice creaminess AND protein (I do about ¼ – ½ cup per smoothie)
Chia seeds can also work well, just don't overdo it or you'll have jelly (I do about 1 teaspoon per smoothie)
Dates are also an option, though they do add a lot of sweetness as well – about 1-3 dates per smoothie, depending on their size
Flavors + Extras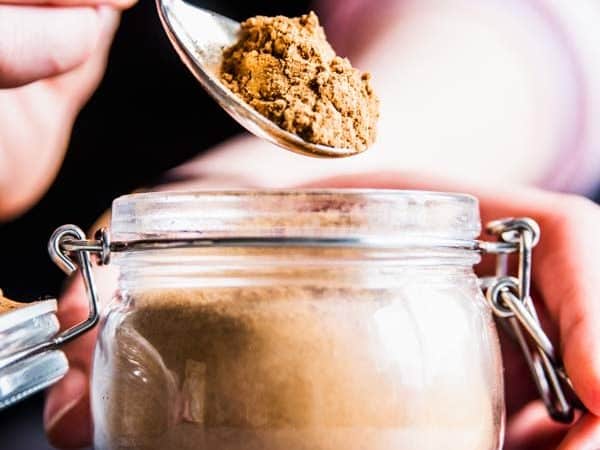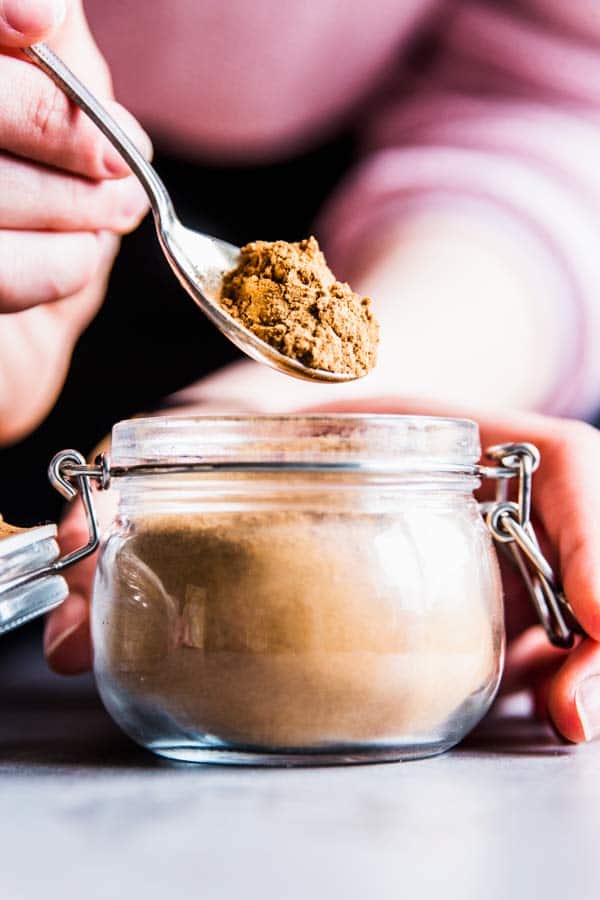 Finally, I like adding a few extras and flavorings to my smoothies.
a sweetener like honey or maple syrup – not always necessary, but can add a nice touch in moderation (about 1-3 teaspoons per smoothie, depending on the other ingredients and sweetness of the fruit)
flavor extracts, preferably non-alcoholic (or in a very small dose), like vanilla or lemon
spices like cinnamon, nutmeg ground ginger (a pinch will do!)
2. Use the right blender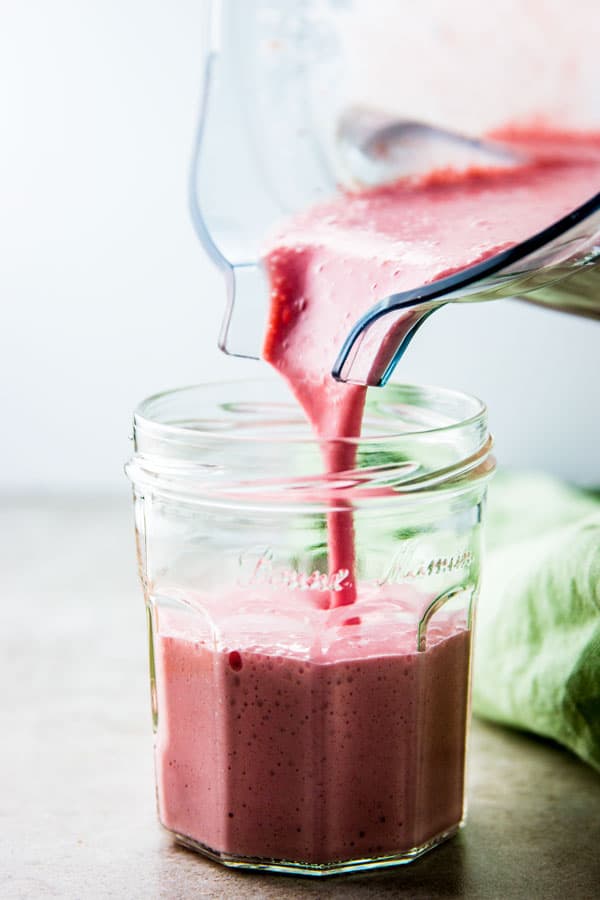 I have broken more than one blender making smoothies… Ahem.
So make sure you're using the appropriate blender for the smoothie you're making (again, the following produce links are affiliate links and I'll make a commission if you click through and make a purchase):
a smoothie with all frozen fruit, ice cubes etc needs a powerful blender like a Vitamix.
a smoothie with a higher liquid content and/or parts fresh fruit can be blended with a less powerful blender, a single-serve blender like the Nutribullet or even an immersion blender, too – though it will definitely be less creamy.
I have this quite powerful stick blender, but the Vitamix definitely makes creamier smoothies.
If you don't have a powerful blender but still want to make a smoothie with lots of frozen things, it helps to first blend the non-frozen ingredients and then add the frozen ones little by little!
---
Make ahead smoothies
You can easily prep smoothies ahead of time by freezing the ingredients EXCEPT for the liquid or other liquid ingredients (like yogurt or honey) together in a jar, container or bag.
When you're ready to make the smoothie, just add the remaining liquid ingredients with the frozen ingredients to your blender and blend until smooth.
---
Smoothie Don'ts
There are some things you shouldn't do to your smoothie.
The main one: Don't use dairy with certain kinds of fruit!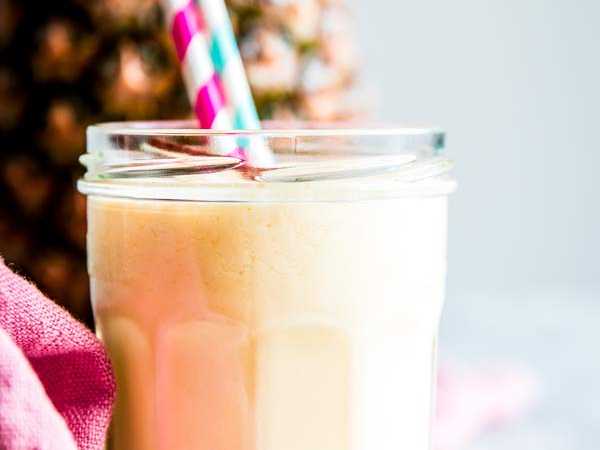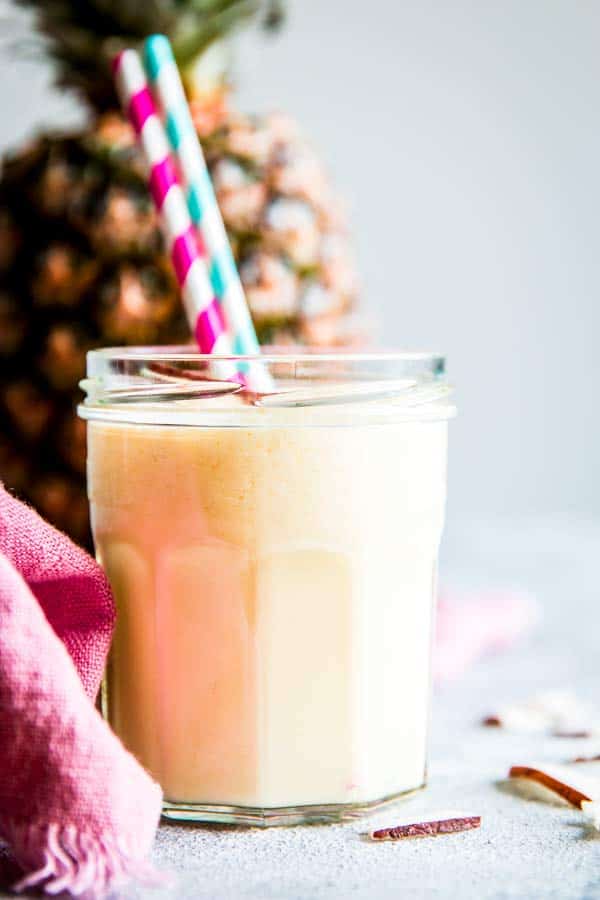 Some fresh fruits have enzymes in them that break up dairy and make it taste bitter, metallic and gross.
The biggest offenders are kiwi, papaya and pineapple. Blending these with dairy will absolutely, positively ruin your smoothie.
And: Don't load your blender the wrong way
No matter how powerful your blender, do not add all the chunky/frozen stuff first.
Always start by adding the liquid base and add-ons to your blender, then add the frozen fruit on top.
---
Favorite fruit smoothie recipes
Now that you know all my tricks to the perfect smoothie, I'll give you some of my favorite recipes!
---