Hearty Lentil Walnut Stuffed Sweet Potatoes are a great plant-based/vegan and gluten free holiday dish. Try them for a healthy main!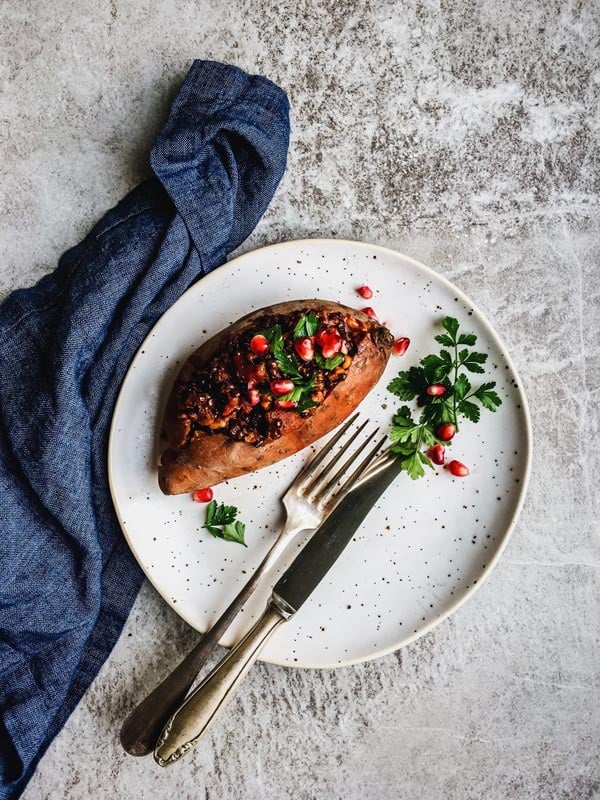 It's really, really hard to find plant-based main dishes for the holiday season. I mean, dishes that actually taste nice and don't try to imitate turkey. But if you have relatives coming over on a plant-based diet, or just want to serve something a little different? Those recipes can be hard to come by.
But I'm very happy to report that this one totally fits the bill. I might be biased but you won't know unless you give it a try. You can even make the lentils as a standalone main if you want them in a grain bowl or something like that, instead of stuffing a potato with them.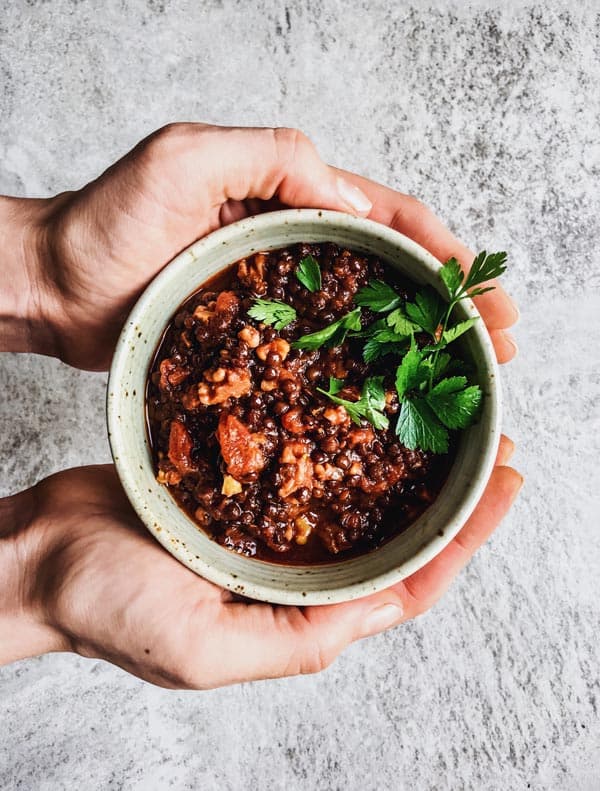 I make them all the time (I mean, when I'm not making curry) because they're fast (yay for pressure cookers! – but no worries if you don't have one, they also work great on the stove), easy and absolutely delicious.
The magic ingredient in there? Walnuts! And spices. Lots and lots of spices.
If you don't have Ras el Hanout, I have added spices you can use instead.
But about those walnuts… They just add so much hearty texture to the lentils. It's something so simple to do, but it turns a pot of lentils into something totally different and new-agey.
They turn softish but not mushy. I also love how they add this toasty, oaky, deep flavour.
I decided to steam the potatoes vs baking them, because they just turn out the plumpest and are really robust for filling.
Don't forget to start steaming the potatoes right away when you get into the kitchen, because they do take about 40 minutes to be done.
The only exception to this rule is if you don't have a pressure cooker and do the lentils on the stove instead: Then you need to get started on the lentils first, as they'll take about 30 minutes in a regular pot. While the nuts are toasting, you'll need to make sure you get the potatoes into that steamer. Then you'll have everything ready at the same time.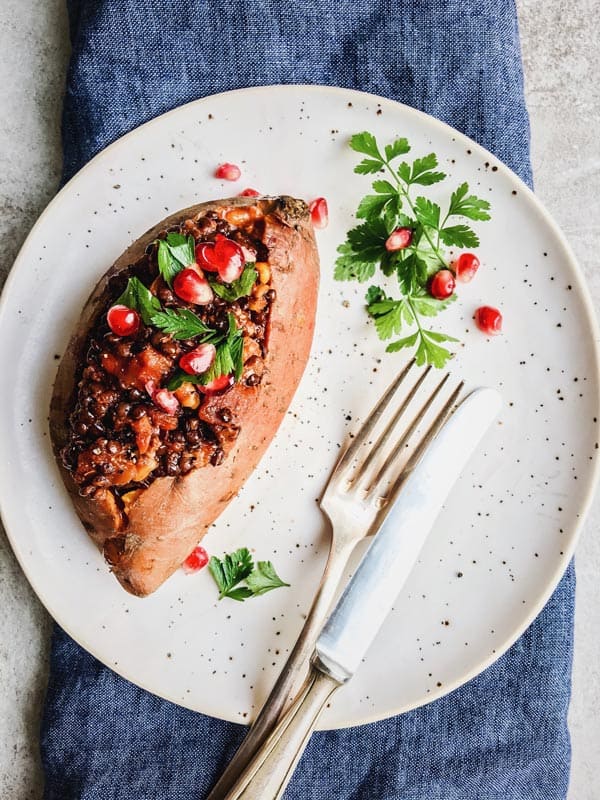 Printable recipe
Printable Recipe Card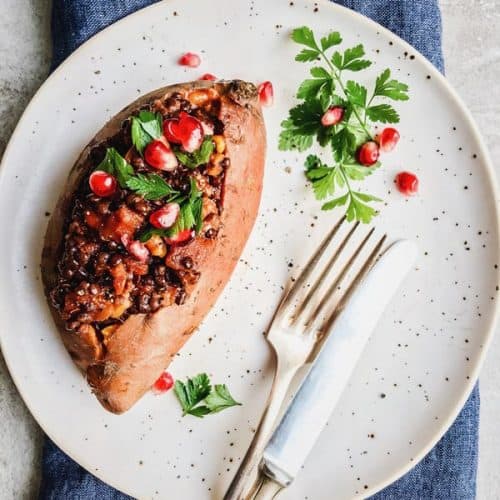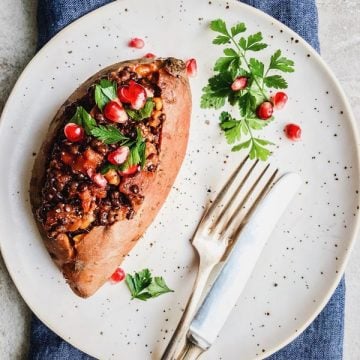 Hearty Lentil Walnut Stuffed Sweet Potatoes
Hearty Lentil Walnut Stuffed Sweet Potatoes are a great vegan and gluten free holiday dish. Try them for a healthy main!
made it? tap the stars to add your rating!
Ingredients
4

medium-large sweet potatoes

2

tablespoons

olive oil

2

large yellow onions

finely chopped

4

cloves

garlic

finely minced

1

cup

roughly chopped walnuts

2

tablespoons

ras el hanout

or use a mix of paprika, cumin and turmeric

1

cup

beluga lentils

that's the black ones – so substitutions!

2

tablespoons

tomato paste

2

cups

water

1-2

teaspoons

fine sea salt

1

cup

tomato sauce

Harissa

to taste (optional)

Cilantro and pomegranate

to serve
Instructions
Make the potatoes: Steam the sweet potatoes for about 40 minutes or until soft.

Sauté the ingredients: In the meantime, heat the olive oil in a pressure cooker. Sauté the onion and garlic until softened. Stir in the walnuts and toast until starting to brown. Stir in the spice mix, lentils and tomato paste and sauté until fragrant.

Cook the lentils: Pour the water into the pressure cooker and stir well. Season with salt and cook on high pressure for 8 minutes for a stovetop pressure cooker, 10 minutes for an electric pressure cooker (such as the Instant Pot).

Finish the filling: Quick-release the pressure. Stir in the tomato sauce and harissa if using (start with ½ teaspoon, then adjust to how spicy you like it) and simmer gently without the lid until the lentils are completely done and the sauce has thickened, about 5 minutes.

Stuff the potatoes: Pierce the potatoes with a pointy knife to check for doneness. When they're done, remove them from the steamer and set them on plates. Make space for the filling (I like to cut out a slice of the potato lengthwise), then spoon the lentil filling inside. It's OK if a little spills over – the more, the better! Top with cilantro and pomegranate to serve.
Want to save this recipe?
Create an account for free to start your personal recipe box. Save any recipe by tapping the heart in the bottom right corner.
Join Now
Notes
If you don't have a pressure cooker, you can cook the lentils on the stove in a Dutch oven: Start sautéing the ingredients before you steam the potatoes. As soon as the walnuts are getting toasty, get those potatoes into the steamer. Follow the recipe for the lentils as written, but simmer them for 25 minutes with the lid on before adding the tomato sauce.
Nutrition is an estimate.
More recipe information