Welcome to our first ever round of The Savory Supper Challenge (and giveaway – yay)!
Quick Links:
I decided to start this challenge as a way to help you get out of a dinner rut, or to simply dare to try something new in the kitchen. I actually wanted to start this a year ago… But a pretty complicated pregnancy made me postpone until today, but here we are now, better late than never ☺️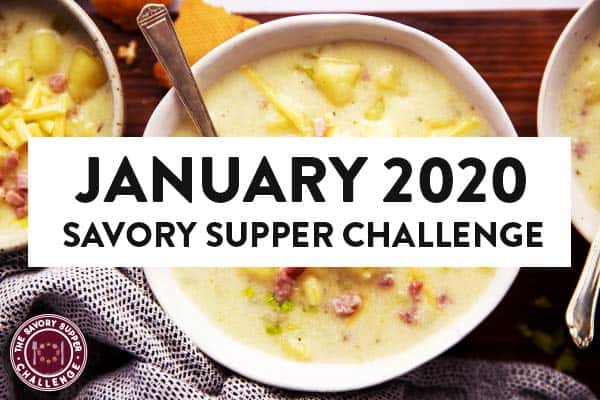 Even though I make and share recipes for a living, I often find myself in a rut when it comes to our regular family meals (how ironic, but it's true!), and I've heard the same is true for many readers I asked about this in anticipation of this challenge. I hope this will help encourage you to step out of your usually dinner rotation and discover some new family favorites along the way!
January Supper Challenge:
This month's challenge is a super easy Instant Pot Potato Soup.
According to the reviews on Pinterest, it's rather fabulous. If you don't have an Instant Pot, you can just make it in a large pot and simmer it on the stove for 30 minutes instead of pressure cooking.
There will also be a YouTube video of me making the recipe for each challenge, and I posted that extra-early in anticipation of kicking things off today.
Recipe Video:
Giveaway:
Everyone who participates in the Savory Supper Challenge: January 2020 is taking part in a fun giveaway!
How to enter the challenge and the giveaway:
Get the recipe: I share the new challenge recipe on the first Monday of the month. If you're on my eMail list, you'll actually get to know the recipe with your monthly meal plan I send out to my list on the weekend before a new month starts!

If you're not on my eMail list, click here to sign up!

Make the recipe: Make the recipe and share your photo before the end of the giveaway (stated in each monthly challenge post – January 30th 2020 at 11.59pm EST for this one.

Share your photo: Snap a pic of your version of the challenge recipe and share your photo in the challenge thread in my (teeny-tiny ?) Facebook group. If you don't have a Facebook account, you can eMail it to me instead. Sharing the photo in one of these ways enters you in the giveaway.
The winner will be selected within 48h of the giveaway closing, and has 48 hours to reply to accept the price. This giveaway is open worldwide. Giveaway ends on January 30th 2020 at 11.59pm EST.
1 winner will receive: 100$ Amazon gift card (if you choose an Amazon store outside the US, I will use the exchange rate on the day you accept the price to determine your gift card value in your chosen currency). The winner will be selected at random and shared when the Savory Supper Challenge: February 2020 goes live on February 3rd 2020.