Printable recipe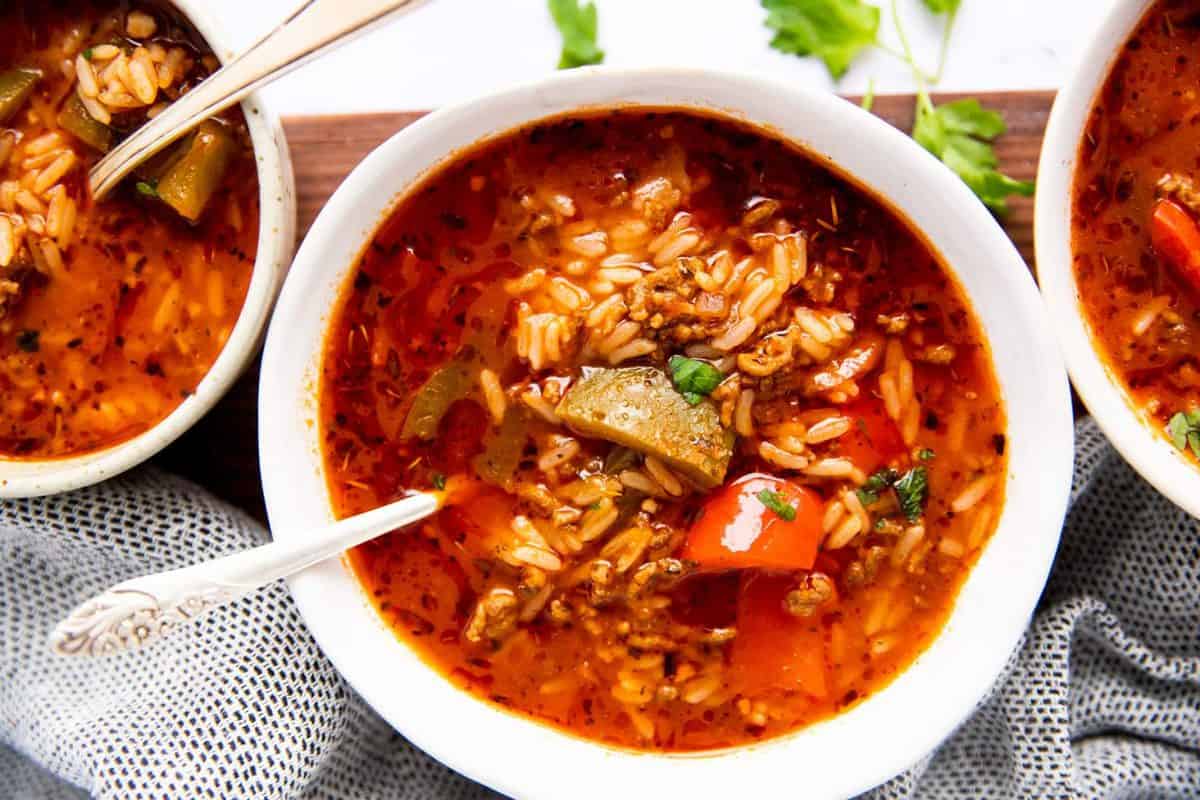 made it? tap the stars to add your rating!
Yield:
4
generous servings
Ready In:
1

hour
10

minutes
Stuffed peppers are one of my favorite meals on earth (my mother in law makes the best!), but with three kids on the loose I really don't have the patience to make them regularly enough in this season of life.
Enter: Stuffed pepper soup! It's so easy, so good and so soul-warming – the perfect way to enjoy those classic flavors without having to actually stuff peppers. I personally love the flavor of green peppers and enjoy them immensely in this soup, but feel free to use all red/yellow if you're not a fan.
Ingredients
1

tablespoon

olive oil

1

lb

ground beef

1

medium yellow onion

(chopped)

1

tablespoon

Italian seasoning

1

teaspoon

granulated garlic

salt & pepper

(to taste)

2

tablespoons

tomato paste

1

teaspoon

Worcestershire sauce

1

(15-oz) can

tomato sauce

1

(32-oz) bottle

tomato juice

1

(32-oz) container

beef broth

1

large green pepper

(cored and diced)

1

large red pepper

(cored and diced (or use another green one; we appreciate the variety))

1

cup

quick-cooking rice

(uncooked)

Garnish: grated Parmesan cheese
Instructions
Brown beef: In a large pot over medium heat (I used my Dutch oven), cook beef until browned. Drain, then add the onion and garlic and cook for 5 more minutes. Stir in the seasoning, tomato paste and Worcestershire sauce.

Cook soup: Stir in beef broth, then stir in tomato sauce, tomato juice and peppers. Bring to a boil; reduce heat to low, cover partly with a lid (see step photos below for reference) and simmer for at least 30 minutes, stirring from time to time.

Add rice and finish: Add uncooked rice to soup and continue simmering for 15-20 minutes, or until rice is done. Serve immediately with grated parmesan.
Add Your Review
Nora's Tips
Step by Step Photos: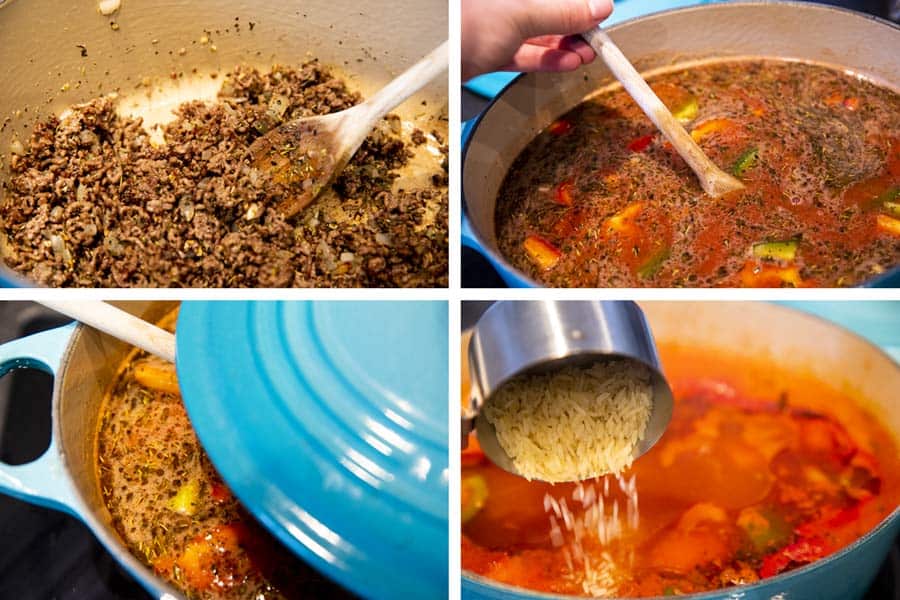 Ingredient Notes:
Beef: I suppose you could also make this with ground turkey if you're concerned about making the soup lower in fat/not with red meat. It's also delicious to make with Italian sausage in place of the ground beef, but let's be honest here, if I make soup with sausage it's probably going to be my Sausage Tortellini Soup ?
I hear people make this with Morningstar beef crumbles and veggie broth to make it vegetarian/vegan, and it seems to work out perfectly.
Rice: If you don't have quick-cooking rice, add the rice right with the broth and simmer the entire soup for around 40-45 minutes.
If you want to use brown rice, I recommend cooking it separately, but only use ½ the container of beef broth in the soup.
Tomato juice: If you don't have tomato juice, just use diced tomatoes, more tomato sauce OR 1 cup tomato paste with 3 cups water.
Worcestershire sauce: I love it in the soup, but feel free to leave it out if you don't have any on hand.
Cooking Tips:
Browning the beef: A lot of flavor comes from properly browning the beef, so don't worry about getting some good color on it (don't just cook it until it's no longer pink, cook it until it's browned and has some caramelization on it; eg looks slightly crispy). Then scratch any browned bits off the bottom of the pot once you stir in the broth.
Thicker soup: If you like a thicker/chunkier soup vs a brothier one, only use half the container of beef broth and then check on the soup as it cooks with the rice to add a bit more if needed.
Nutrition
Calories:
388
kcal
|
Carbohydrates:
42
g
|
Protein:
33
g
|
Fat:
10
g
|
Saturated Fat:
3
g
|
Cholesterol:
70
mg
|
Sodium:
1582
mg
|
Potassium:
1659
mg
|
Fiber:
5
g
|
Sugar:
17
g
|
Vitamin A:
2666
IU
|
Vitamin C:
115
mg
|
Calcium:
97
mg
|
Iron:
8
mg
More recipe information
Join my Newsletter to Get Recipes in Your Inbox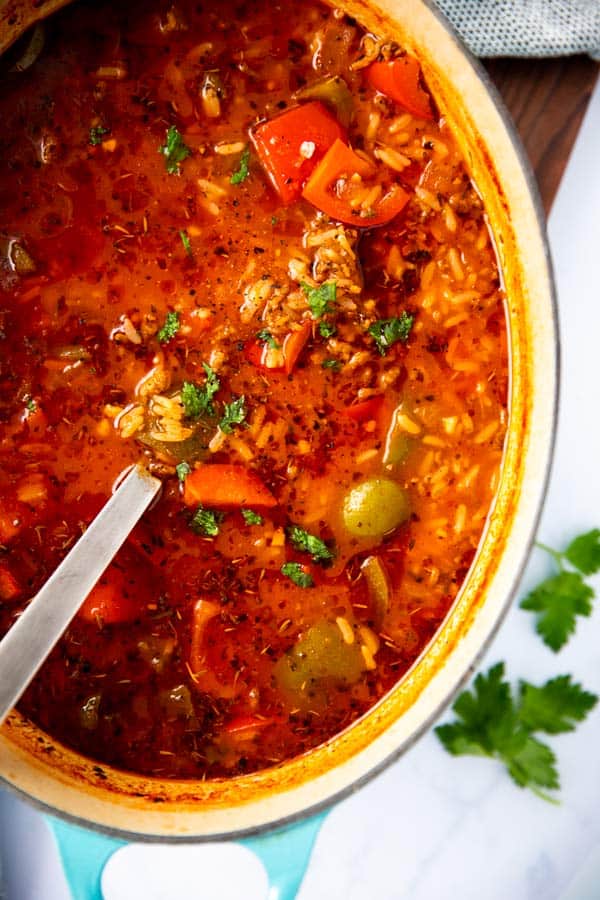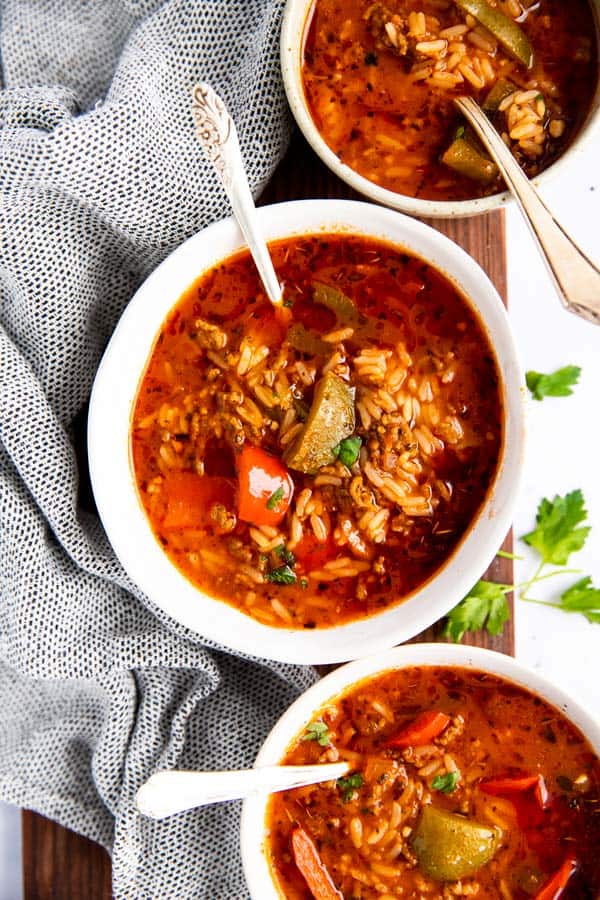 PS do yourself a favor and serve this soup with a big hunk of my no knead bread – such a great addition to the meal! Or go traditional with Homemade Dinner Rolls. I don't really care either way, just add some bread on the side ?
More Recipes You'll Love: