This easy Crockpot Stuffed Peppers recipe is going to be your new family-favorite dinner! You only need a few minutes to prep this – quick to assemble, and then it cooks all day for you to enjoy in the evening.
This is the perfect meal for busy families – you'll love it!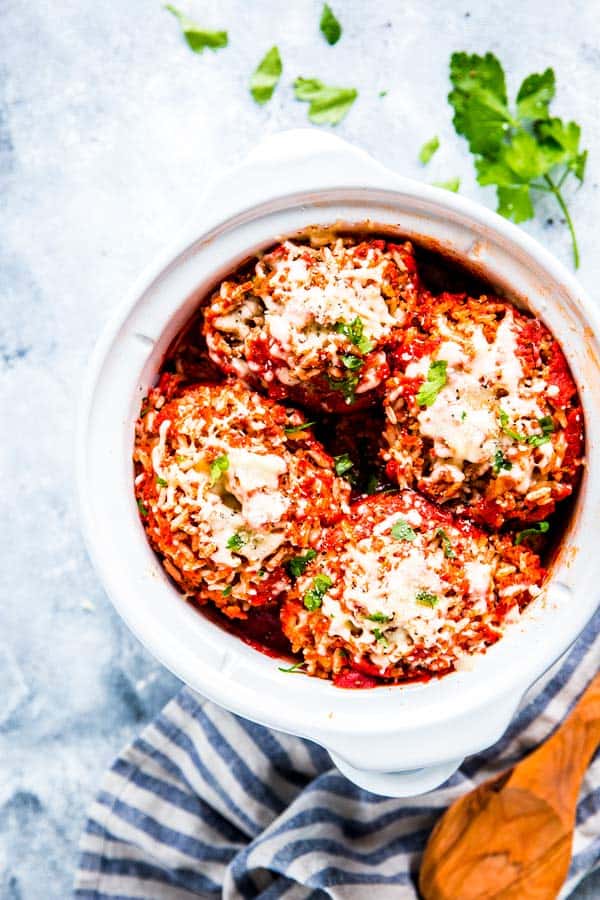 Stuffed peppers are a total comfort food for my husband. His grandma and his mom used to make them when he was little, so he is picky about the way they are prepared ?
He isn't always a huge fan of my slow cooker (I know, why!), but he does enjoy most of my fall and winter themed hearty meals I make with it. Things like my Slow Cooker Tuscan White Bean Soup with Sausage or my Healthy Slow Cooker Chili.
I knew for a long time that I wanted to start making our favorite stuffed peppers in the crockpot – it's just so much more convenient for homeschool days or when I'm out working in garden with the kids all afternoon.
But also, I was pretty sure my husband would revolt if I started making his treasured family recipe in a slow cooker. Luckily, he didn't even notice the first couple of times I served him these, and when I eventually confessed he didn't mind, because they are SO good.
My favorite part about these is that they literally take 10 minutes to put together in the morning, and then you'll have a satisfying and warming meal waiting for you once dinner time rolls around.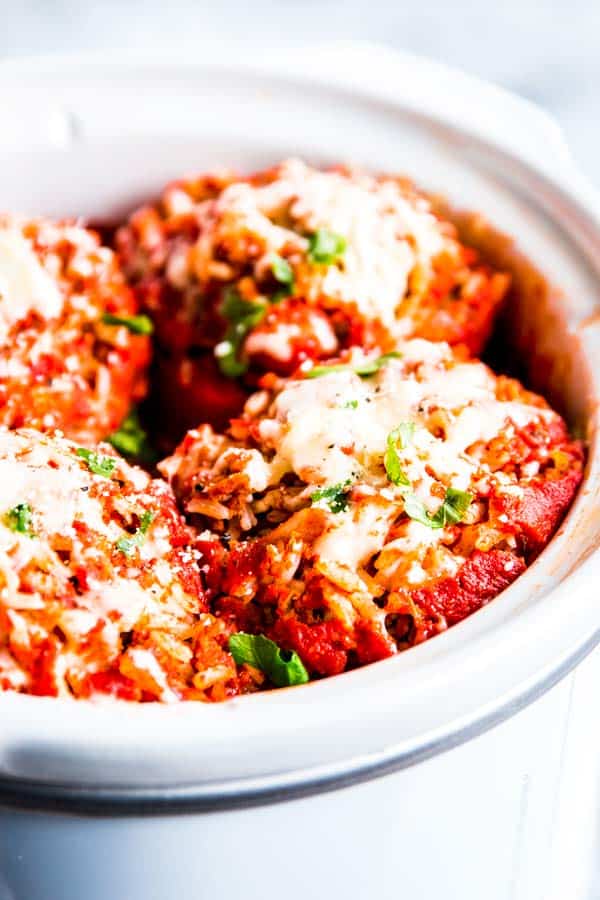 How do you make the best crockpot stuffed peppery? My Tips to Make them EASY and perfect!
I've been making stuffed peppers in the crockpot for a while now, and I figured out a few tips to share with you. These will help you make this recipe absolutely foolproof!
1 – Make sure there is some sauce underneath the peppers
The first time I made these, I made the mistake of not adding any sauce to the bottom of the crockpot. The result: Two of the peppers totally burned and stuck to the bottom of the crock.
The simple solution is to ladle a little bit of sauce into the crockpot before you add the peppers – this will help prevent the burning from happening. If your crock is new and runs very hot, you might still experience a little blackening – but that happens in the oven too and isn't too dramatic.
2 – To make this even easier:
The recipe gives instructions to make this with unseasoned tomato puree.
I usually have some home-cooked, seasoned pizza sauce in the freezer, so I'll often use this to make my stuffed peppers easier.
If you want to use a pizza sauce to make prep extra quick, go ahead. Just skip the extra seasoning indicated in the recipe.
If you can't find tomato puree in your local grocery store, you can also use tomato sauce. It will just be a little thinner!
3 – Stuff the peppers as much as you can
To me, the secret to juicy, comforting stuffed peppers is to absolutely stuff them with the filling.
While you don't want it overflowing (since the rice will expand as it cooks), you want to make sure the filling is packed without any air holes or gaps in between.
4 – If you don't want to use raw meat:
If you feel uncomfortable about adding raw ground beef to your crockpot, you can just brown the beef in a skillet on the stove before combining it with the remaining ingredients for the filling.
It will make the filling a little less juicy and it won't hold up as well, but it's still super delicious.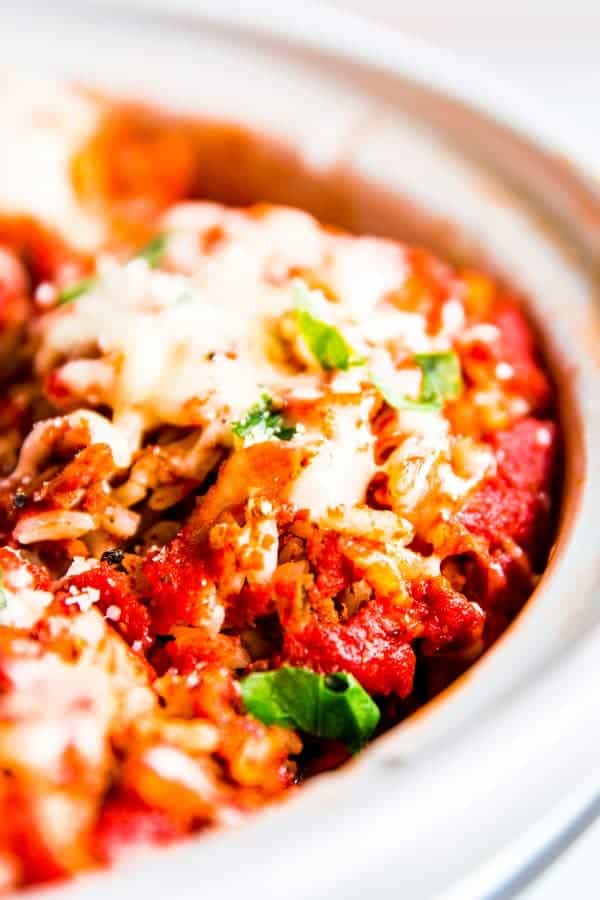 Now on to some FAQs about stuffed peppers:
Can stuffed peppers be made ahead and frozen?
It's so convenient to freeze stuffed peppers for easy meals throughout the week!
When I want to freeze these, I use a large crockpot and make a big batch, so we have at least 8 stuffed peppers for the freezer.
How to freeze stuffed peppers:
Make sure the peppers are cooked all the way through.
Wait for the peppers to cool completely before freezing them (otherwise your freezer could heat up too much and affect the other frozen goods in there).
Use a container that is suitable for freezing.
Label the bag or container with the contents, today's date AND the use-by time (the peppers are best eaten within 3 months).
Make sure your container is fully sealed, or you'll get freezer burn on those peppers.
To reheat, bake the peppers at 350°F for 25-30 minutes, making sure the peppers are piping hot and steaming all the way through.
What to serve with stuffed peppers?
While stuffed peppers are a pretty wholesome meal already, we do like to round out our dinners with them a little, to make them even more satisfying.
Some of our favorites side dishes for these crockpot stuffed peppers:
A nice big, green, fresh salad and some crusty, homemade bread (recipe coming soon!!)
Pumpkin Cornbread and coleslaw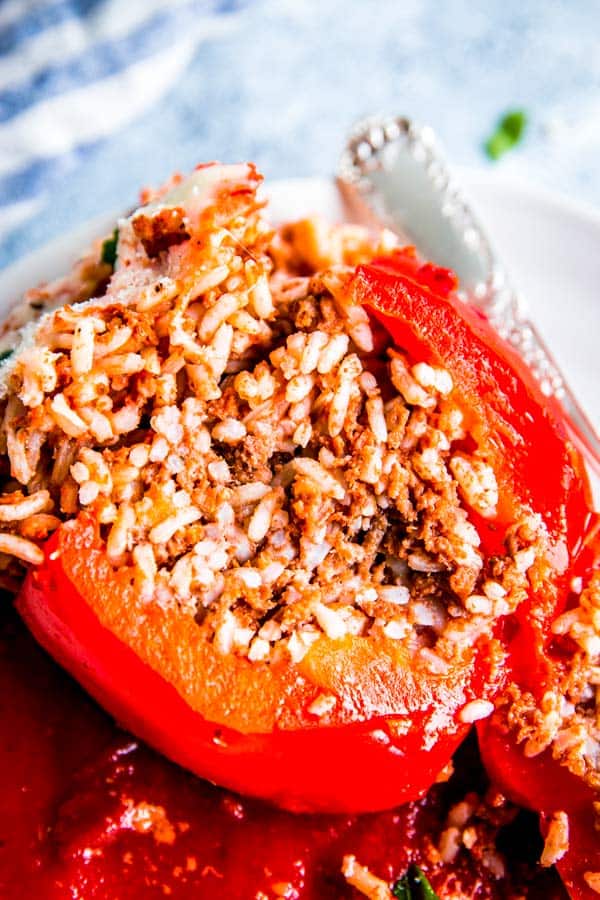 I hope you'll give this recipe a try – even if you have a husband who's picky about stuffed peppers. Or the crockpot. Or both ?
Grab the printable recipe here:
Printable recipe
Printable Recipe Card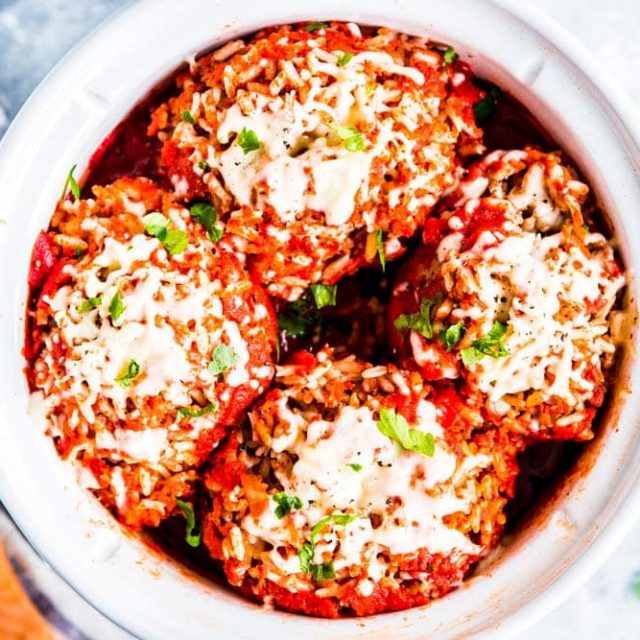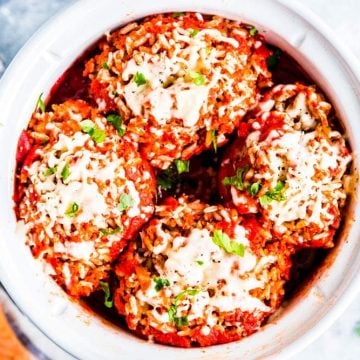 The Easiest Crockpot Stuffed Peppers
This easy Crockpot Stuffed Peppers recipe is going to be your new family-favorite dinner!
made it? tap the stars to add your rating!
Ingredients
For the stuffed peppers:
⅓

of a 28oz can tomato puree

1

pound

ground beef

1

medium onion

finely chopped

2

cloves

garlic

minced

1

teaspoon

Italian seasoning

½

teaspoon

salt

1

cup

instant rice

uncooked

4

medium-large peppers

tops sliced off and cores removed
For the sauce:
⅔

of a 28oz can tomato puree

1

teaspoon

Italian seasoning

½

teaspoon

salt

¼

teaspoon

dried garlic powder

¼

teaspoon

dried onion powder
To top:
Shredded mozzarella

optional
Instructions
Mix all ingredients for the stuffed peppers (EXCEPT for the peppers themselves) in a large bowl

Mix all ingredients for the sauce in a medium bowl

Ladle a little of the sauce in the bottom of a 5 quart crockpot. Place the peppers on top, making sure there standing up. Evenly divide the filling between the peppers.

Cover the crock and cook on LOW for 5-6 hours, or on HIGH for 2-3 hours. Check the peppers to make sure the filling has cooked all the way through, and top with shredded cheese if you like.
Want to save this recipe?
Create an account for free to start your personal recipe box. Save any recipe by tapping the heart in the bottom right corner.
Join Now
Nutrition
Calories:
497.76
kcal
Carbohydrates:
66.29
g
Protein:
35.84
g
Fat:
10.14
g
Saturated Fat:
4.7
g
Cholesterol:
81.99
mg
Sodium:
813.37
mg
Potassium:
1619.2
mg
Fiber:
7.76
g
Sugar:
16.02
g
Vitamin A:
4837.93
IU
Vitamin C:
175.5
mg
Calcium:
166.89
mg
Iron:
7.61
mg
Nutrition is an estimate.
More recipe information