Printable recipe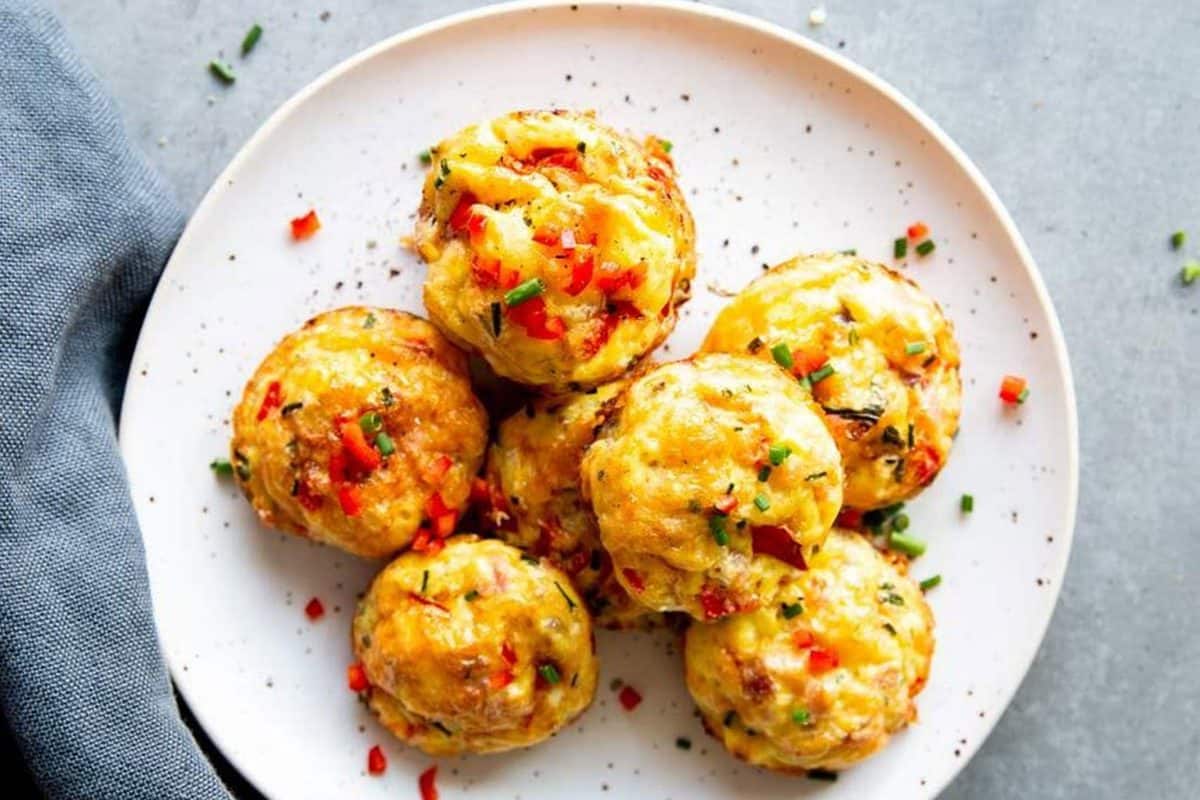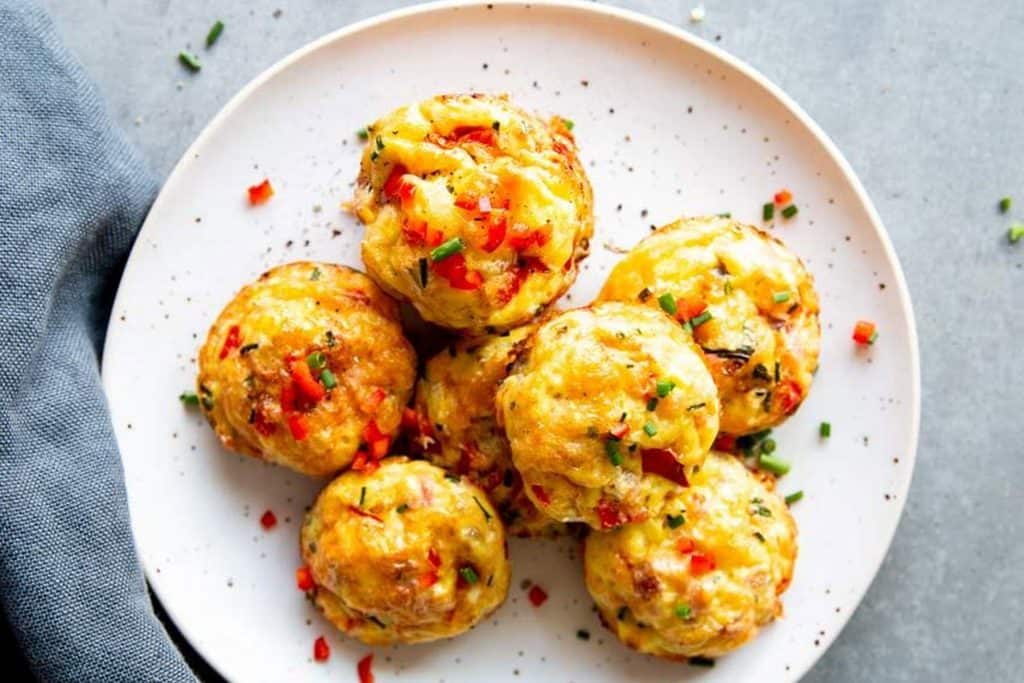 made it? tap the stars to add your rating!
I'm not the most creative person when it comes to savory breakfasts, to be honest. And especially not with make ahead options. But egg cups? Egg muffins? Crustless quiche? Whatever you call them. So easy to make and absolutely delicious!
I make them ahead in bigger batches and freeze them for easy meal prep, such a life saver on those busy mornings with the kids!
Ingredients
8

large eggs

(beaten)

1

red pepper

(deseeded and diced)

1

small onion

(chopped)

¼

cup

chopped chives

⅓

cup

chopped turkey bacon

(OR regular bacon)

⅓

cup

shredded cheddar cheese

salt & pepper

(to taste)
Instructions
Preheat the oven to 375°F and grease a 12 cup muffin pan well (OR use 12 silicone muffin cups).

Mix all ingredients for the egg muffins together in a medium bowl. Evenly divide between the prepared muffin cups.

Bake for 15-20 minutes, or until the egg muffins are firm to the touch and cooked through.
Add Your Review
Step by Step Recipe Video
Nora's Tips
Freezer Instructions:
cool down, then place on a lined baking sheet in a single layer. freeze for 1-2 hours or until firm before placing into bags or containers to freeze
use bags or containers suitable for freezing and label with the name and use-by date (freeze for up to 3 months)
To defrost, heat in the oven (or in the microwave if you're not a weirdo like I am) until piping hot all the way through before eating
Cooking Tips:
Grease the muffin cups: Seriously, oil the cups. Or you'll resent yourself.
You can technically bake these in nonstick silicone liners, but I really don't want to bake in silicone because I'm special like that.
Chop well: Chopping everything evenly and small enough does three things:
it helps distribute all the mix-ins evenly
it makes the egg cups easier to eat if everything is bite-sized
everything cooks evenly
Baking time: These dry out terribly if overbaked, so make sure you bake them until they're just set. The exact baking time really depends on the exact size of your muffin cups and how hot your oven runs.
Generally, these take 15-20 minutes to bake.
Nutrition
Calories:
70
kcal
|
Carbohydrates:
1
g
|
Protein:
5
g
|
Fat:
4
g
|
Saturated Fat:
1
g
|
Cholesterol:
114
mg
|
Sodium:
113
mg
|
Potassium:
86
mg
|
Vitamin A:
535
IU
|
Vitamin C:
13.9
mg
|
Calcium:
41
mg
|
Iron:
0.6
mg
More recipe information
Join my Newsletter to Get Recipes in Your Inbox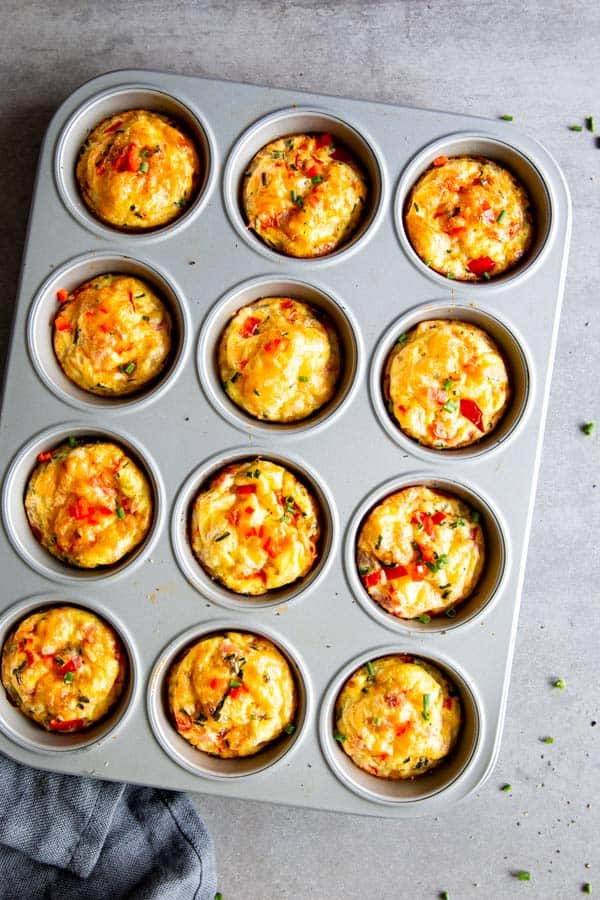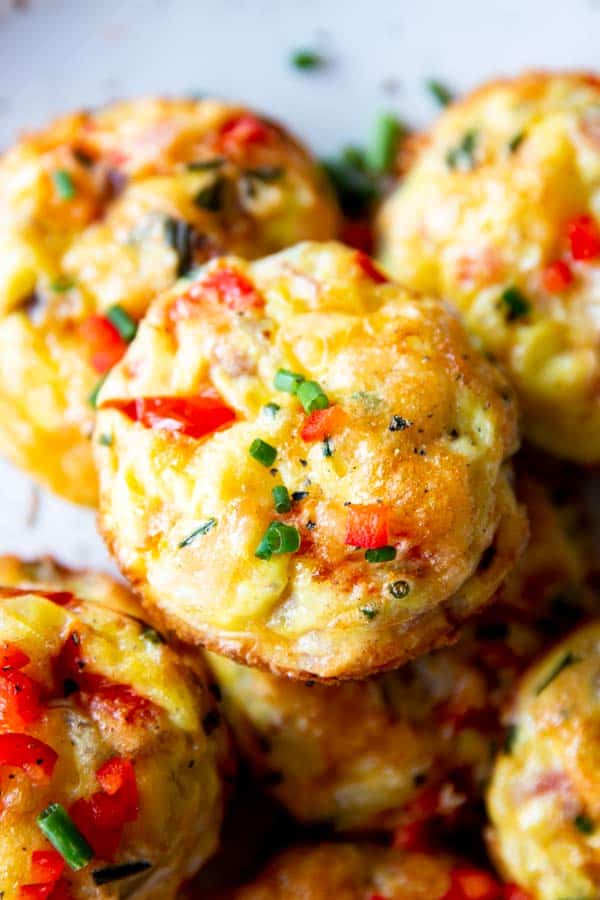 WHAT TO HAVE WITH BAKED EGG CUPS FOR BREAKFAST:
These are really versatile! You can make a fully balanced meal, or go low carb/keto with your sides (why though, sadness).
Here are some of our favorite sides:
some fruit and toast/bread/bagel
a breakfast salad! no really, a chopped salad of cucumber/tomatoes/peppers is so delicious, but I have this more during the summer
nuts and cheese, if you need some no-reheat ideas for a to-go breakfast
avocado is one of my favorite sides with all things eggs – which is also why I put them together in my Avocado Egg Salad
More make ahead breakfasts you'll like: