This Creamy Crockpot Chicken Noodle Soup is one of our favorite weeknight dinners! It cooks in your slow cooker all day to turn into a hearty, flavorful meal.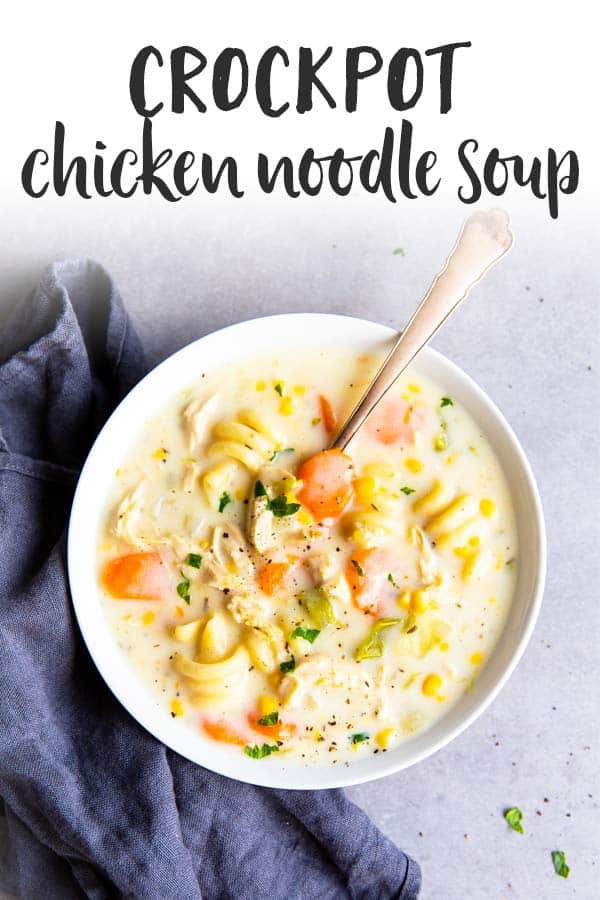 Can you believe it's almost CHRISTMAS?!?!
Which means it's almost the end of the year. And almost January. What.
I actually love January. It's that sweet spot for me – the busy holiday season is over, everything is actually calm and bright, snow and cold weather are still fun…
What I don't love about January? Challenges to cut out sugar. Promises to get you shredded. Diets. If you've been reading for a while, I think it's no secret that I don't believe in diets.
I believe in eating intuitively, which to me is 80% from-scratch meals made from wholesome ingredients, because that's just what I usually feel like.
Things like Slow Cooker Tuscan White Bean Soup with Sausage, Hearty Pasta Fagioli Soup and Instant Pot Chicken Gnocchi Soup.
But it's also 20% frozen fish sticks, tubs of ice cream, Reese's and the works. Sometimes it's lots of chocolate while the kids have their quiet time after lunch. Guilt-free.
You know. Balance.
But truthfully, I still feel 100% better and more energetic when we have a wholesome dinner – I should know, I just spent 16 weeks with the worst morning all-day sickness, and the endless stream of cheese and cracker dinners just made it worse.
Now with being pregnant/at home with 2 small kids/BUSY – I really appreciate a meal I can prep ahead. And there's not much that's easier to prep ahead than a crockpot soup!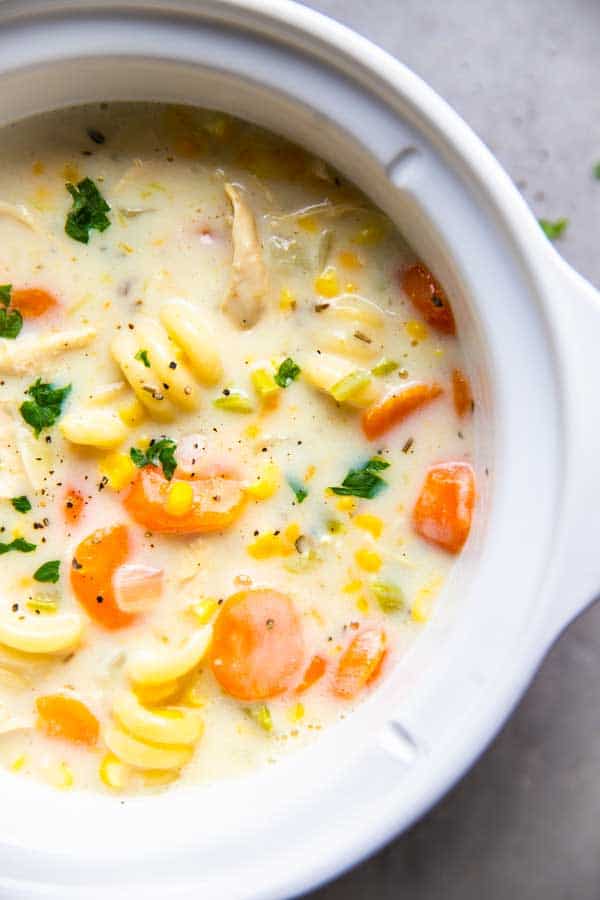 How To Make Creamy Crockpot Chicken Noodle Soup:
This is pretty much a "dump and go" slow cooker meal.
The chicken, veggies and seasoning cook in the slow cooker all day in chicken stock – no pre-cooking or browning needed!
About 20 minutes before cooking time is up, you'll add the egg noodles along with some milk and flour whisked together.
This will make a light and creamy soup without breaking the bank by having to add cups and cups of cream. Sometimes I'll add a touch of cream, too, to make it more indulgent. But it's an extra, not a necessity.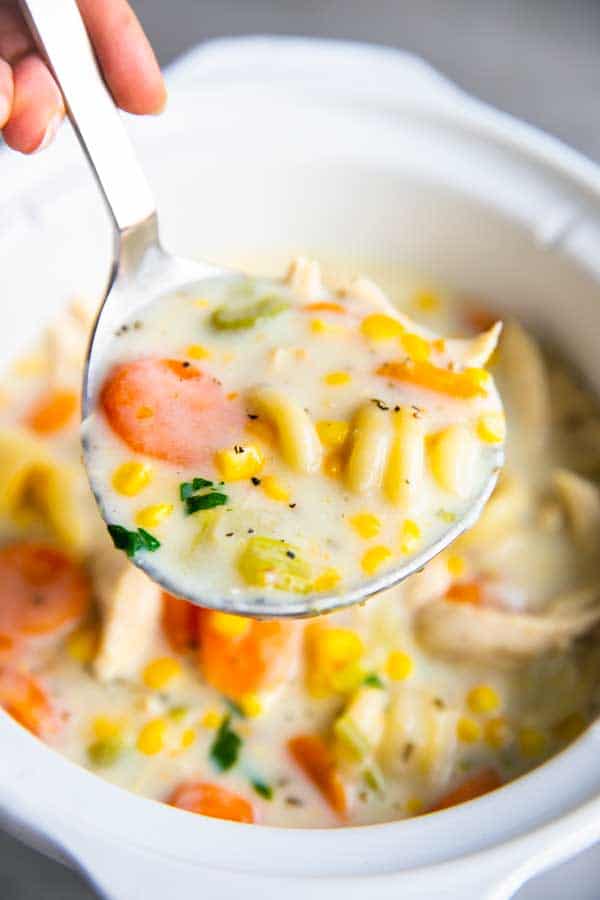 Tips to make the best chicken noodle soup:
Know your crockpot:
Some slow cookers run hotter than others, so it's worth knowing if your soup needs a little extra time.
I recommend using a 4-5 quart crockpot for this recipe. (The one I took the photos with is actually a smaller size, but I love it for pictures because it's white.)
Be careful with the pasta:
Once you add the pasta, be sure to pay attention to the clock, or it will be overcooked.
If you want to make 100% sure your pasta is just al-dente (or you're planning on leftovers for the next day), reduce the milk by 1 cup and cook the pasta separately, then add it to each individual bowl vs mixing it all with the soup.
Careful when you're adding the milk:
Before you add the milk, mix it with a ladle of hot soup liquid. This is called tempering and helps keep the milk from curdling.
We usually have 1% milk at home (ahem, because it makes a nicer foam for cappuccino – snobby much? ?) and that's what I use for this soup. With the little tempering trick, the milk has never curdled for me.
What spices are good in chicken noodle soup?
You can totally customize this according to your taste.
We love thyme, rosemary and a bay leaf or two.
If you want to make it super easy, just use a herb blend – Italian or Provence would be delicious.
What vegetables can you put in chicken soup?
If you want to bulk this up, or just want to switch up the veggies, here are some others that are delicious in here:
green peppers
peas
green beans (cut into bite-sized pieces)
mushrooms
cauliflower
spinach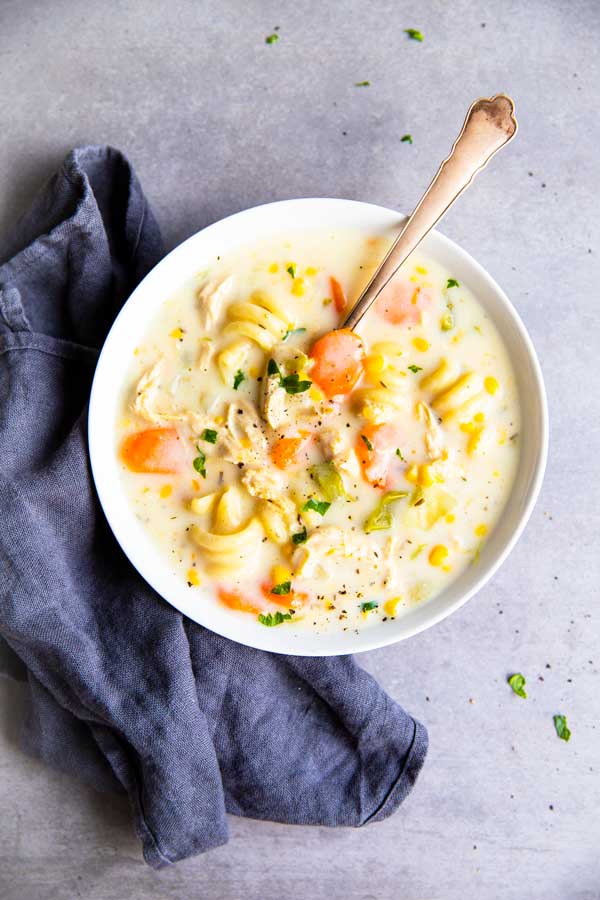 How to prep this ahead:
I know some people will tell you it's fine to mix everything in the crockpot and keep it in the fridge overnight. But did you know the FDA doesn't actually consider this safe?
You can find their slow cooker guidelines on their website here.
When I need to prep this soup the night before, here's what I do:
I prep all the veggies and refrigerate them in a container
I put the chicken in the fridge to defrost overnight
Then I add everything to the crockpot in the morning and cook as directed in the recipe
You can also measure out the flour and pasta already and set aside on the counter if you'll be pressed for time just before dinner.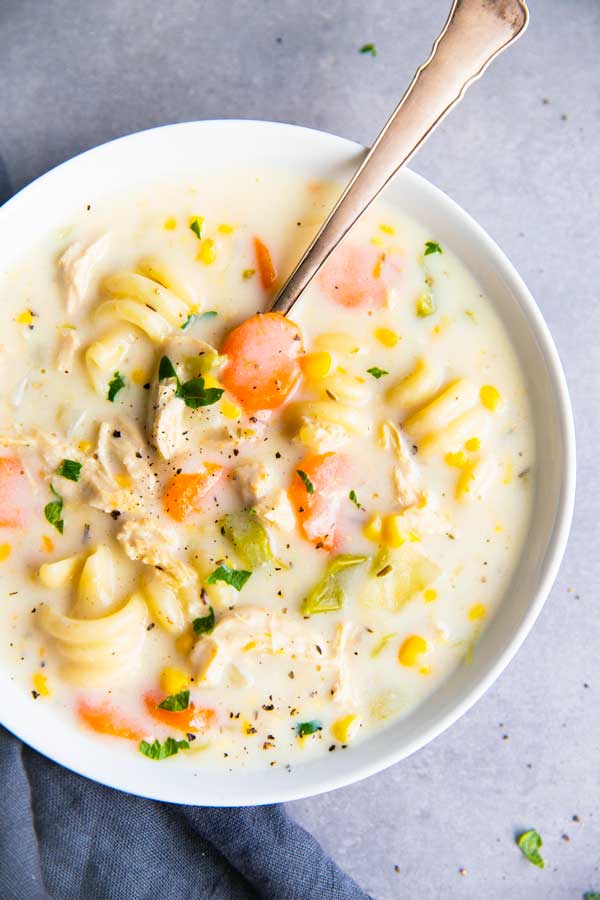 What goes with homemade chicken noodle soup for dinner?
I'll be honest – we often have the soup just by itself. If you have teen boys at home, however… Make something to go with it.
Trust me. I grew up with 3 brothers. My mom made 3 boxes of pasta for dinner and it wasn't enough, ha!
Here are a few ideas for yummy sides:
Grilled cheese with apple slices
A winter salad – shredded cabbage, fennel, carrots, sliced celery and some chopped walnuts in a creamy dressing? Yes please!
Looking for more easy crockpot meals?
Get the printable recipe here:
Printable recipe
Printable Recipe Card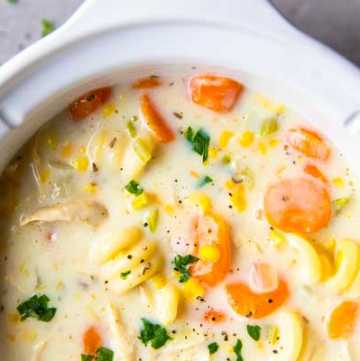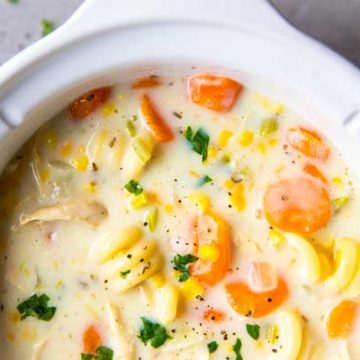 Creamy Crockpot Chicken Noodle Soup
This Creamy Crockpot Chicken Noodle Soup is one of our favorite weeknight dinners! It cooks in your slow cooker all day to turn into a hearty, flavorful meal.
made it? tap the stars to add your rating!
Ingredients
1

large onion

diced

3

large carrots

sliced

3

large celery stalks

sliced

1

cup

frozen corn

1

pound

chicken breast

5

cups

chicken stock

1

teaspoon

dried parsley

¼

teaspoon

dried thyme

¼

teaspoon

dried rosemary

Black pepper

to taste

¼

cup

flour

3-4

cups

milk

4

oz

dried egg noodles

uncooked

1

tablespoon

butter
Instructions
Place the vegetables, chicken, stock and seasoning in the inner pot of your crockpot (don't put the chicken all the way at the bottom or it might burn). Cover and cook on LOW for 6-8 hours.

Remove chicken and shred with two forks. Whisk flour into milk, then whisk in a ladle of hot broth from the crockpot. Pour this mix into the soup and stir well. Add the chicken back into the soup along with the noodles and stir. Cover and cook for 20-30 minutes, or until noodles are al-dente.

Stir in butter and check for seasoning. Add some salt and pepper if necessary and serve immediately.
Want to save this recipe?
Create an account for free to start your personal recipe box. Save any recipe by tapping the heart in the bottom right corner.
Join Now
Nutrition
Calories:
366
kcal
Carbohydrates:
42
g
Protein:
29
g
Fat:
8
g
Saturated Fat:
3
g
Cholesterol:
81
mg
Sodium:
485
mg
Potassium:
970
mg
Fiber:
3
g
Sugar:
12
g
Vitamin A:
5510
IU
Vitamin C:
7.1
mg
Calcium:
186
mg
Iron:
1.7
mg
Nutrition is an estimate.
More recipe information
P.S: For more easy chicken dinners, check out our collection here: Easy Chicken Recipes