Stop, wait, hold it. Take a deeep breath. Can you smell it? The comforting, warming smells of a steaming pot of pasta fagioli soup… Tomato-y, hearty, herby… Ah. Perfect. Now we can start.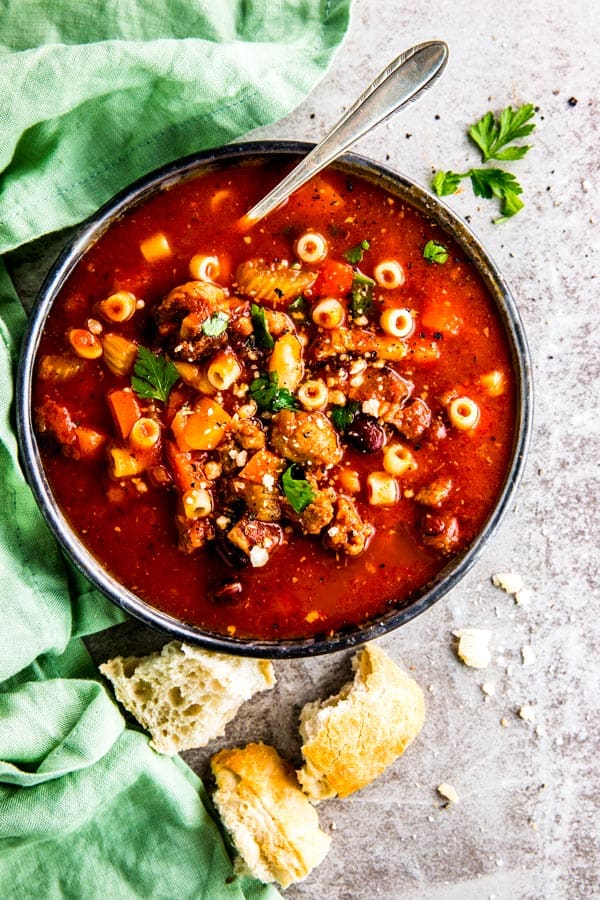 About 4 years ago, I made pasta fagioli for the first time in my life. And ever since? I've been hooked.
I actually shared my original recipe (err, my great-grandmother-in-law's recipe) on the blog before, but I thought it would be time to come rightatcha with a different one.
The weather has finally, FINALLY, cooled down around here and I've been enjoying it all: Cuddling up into my furry blanket in PJs before starting the day. Wearing fuzzy socks with no shame at all (OK, maybe a little).
Watching Brani scratch the ice off the car in the morning while I'm standing in the warm kitchen (I know, I win the Best Wife Ever award).
But most of all, I enjoy making all the cozy comfort foods. Pressure Cooker Lentil Soup. Tuscan White Bean Soup. Thai Spiced Carrot Soup.
What can I say? Soup is the best.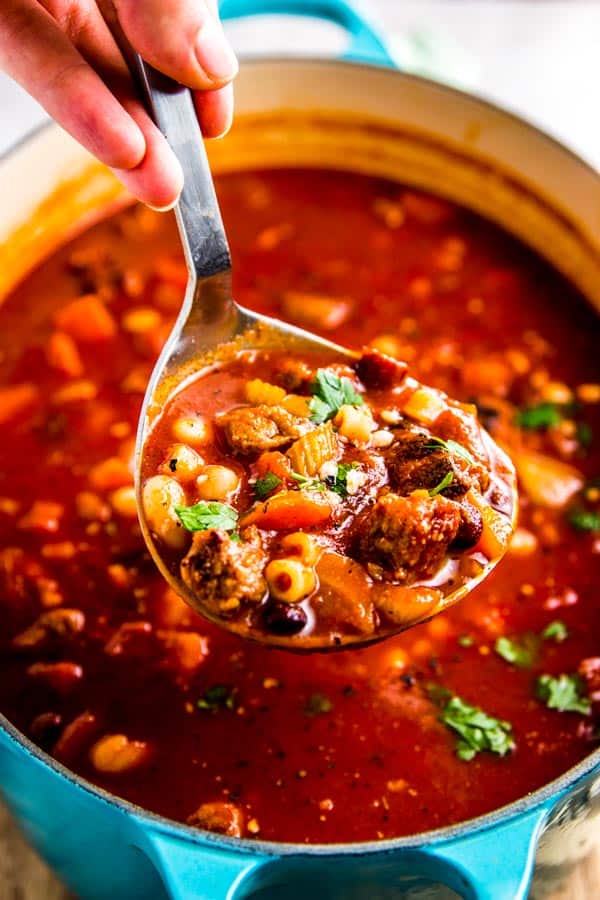 The wonderful thing about Pasta Fagioli is that it's truly a full meal:
it has beans for plant-based protein
there's starchy pasta
plenty of vegetables for fiber and nutrients
sausage and bacon are optional (just double up on the beans if you want to keep things vegetarian), but absolutely add some wonderful depth of flavor
I know the ingredient list for this soup looks insane and you can probably (definitely) find easier ones, but I always say soup might be simple to cook – but it's not the quickest of tasks to make an actually tasty one.
It takes a lot of veggie chopping, spice measuring (or… eyeballing) and plenty of love to make a truly good pot of soup.
It is always my kitchen philosophy to nourish every part of your gorgeous self – and sometimes you just have to put in a little elbow grease if you want to eat something that doesn't just satisfy your caloric needs, but your mind, body AND soul.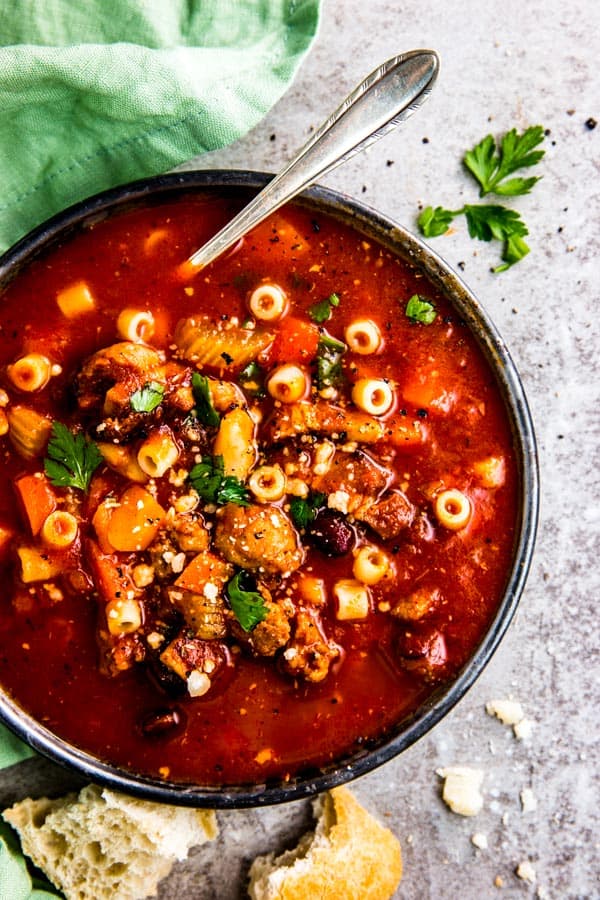 I used regular pasta here because I really wanted to do the Ditalini, but I couldn't find a whole grain version. When I make it just for us (without snapping pretty pictures for the blog), I usually add whole wheat Farfalle which work just as well.
Don't stir the cooked pasta into the soup if you want to freeze it – it would turn out super mushy once defrosted. Instead, add a little bit of pasta to each serving bowl.
I hope you'll give it a try despite the many ingredients – your soul will thank you for it times infinity ♡
Printable Recipe Card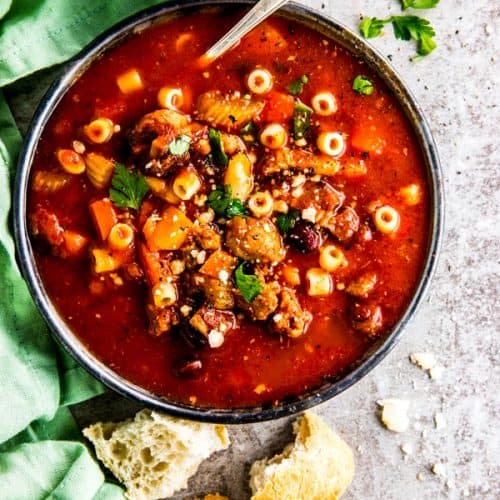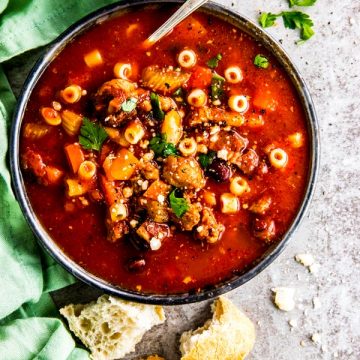 Hearty Pasta Fagioli Soup
Make a large pot of this Hearty Pasta Fagioli Soup for a warming and comforting meal. Freezer friendly and full of flavor – a dinner the family will love!

made it? tap the stars to add your rating!
Ingredients
2

tablespoons

olive oil

1.5

ounces

thick bacon

diced

1

pound

Italian sausage

casings removed and crumbled

3

medium carrots

peeled and diced

5

medium celery stalks

sliced

2

yellow onions

peeled and diced

4

cloves

garlic

peeled and minced

2

tablespoons

tomato paste

1

tablespoon

Italian herb blend

½

cup

red wine

OR water

1

24-oz can tomato sauce

1

15-oz can diced fire-roasted tomatoes

4

cups

chicken broth OR water

Salt and black pepper

to taste

¾

cup

dry ditalini pasta

1

15-oz can red kidney beans

rinsed and drained

1

15-oz can white cannelini

or kidney beans, rinsed and drained

Grated parmesan

to serve
Instructions
Brown the meats: Heat the olive oil in a large Dutch oven over medium-high heat. Add the bacon and cook until browned, about 4 minutes. Add the sausage and continue cooking until browned as well, about 4-5 minutes.

Sauté the vegetables: Add the carrots to the meats in the pot and cook until starting to soften, about 4 minutes. Add the celery, onions and garlic and keep cooking for another 2-3 minutes.

Season and deglaze: Stir the tomato paste, Italian seasoning and garlic powder into the pot until evenly distributed. Pour the red wine OR water into the pot and cook, scratching the browned bits off the bottom of the pot.

Cook the soup: Add the tomato sauce, diced tomatoes, chicken broth, salt and pepper to the pot. Stir well and bring to a boil. Reduce the heat to a low simmer and cover the pot. Cook for about 20-30 minutes, or until the vegetables are tender.

Finish the soup: While the soup is cooking, prepare the ditalini according to package directions. Once the soup is done cooking, stir in both beans and cook for 1-2 minutes or until heated through. Stir in the ditalini and serve with grated parmesan.
Want to save this recipe?
Create an account for free to start your personal recipe box. Save any recipe by tapping the heart in the bottom right corner.
Join Now
Notes
To freeze the soup, leave out the pasta. Pack in airtight containers and label so you'll know what's in your random containers in two months. To reheat, defrost in the fridge overnight. Heat until boiling and piping hot everywhere. Keeps for 3 months in the freezer.
Nutrition is an estimate.
More recipe information