Cozy up with a big bowl of pressure cooker lentil soup when the weather is cold outside. It's so easy to make and ready in no time!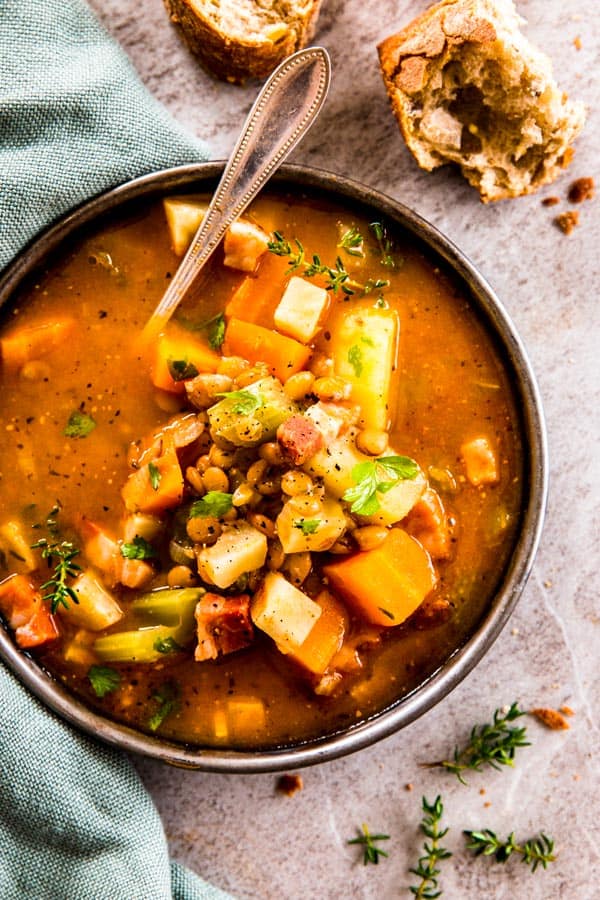 I'm the biggest supporter of soup. It's cozy, comforting, freezer friendly and once you're done with prep? It basically cooks itself.
We frequently make Crockpot soup with beans and sausages – and we adore any kind of lentil soup!
When I set a plate of this lentil soup in front of my 3 year old, her eyes lit up and she exclaimed "Mommy, did you make soup for me?!"
Yeah, I was pretty proud right then and right there 😉
The truth is that cooking lentil soup usually takes time. A lot of time.
But fall and winter is definitely the time for your instant pot to shine – so you can make this lentil soup in just a little over 30 minutes! Maybe 45 if your chopping skills have gotten a little rusty, and/or you frequently need to tend to booboos and toy fights while you're in the kitchen.
Recipe tips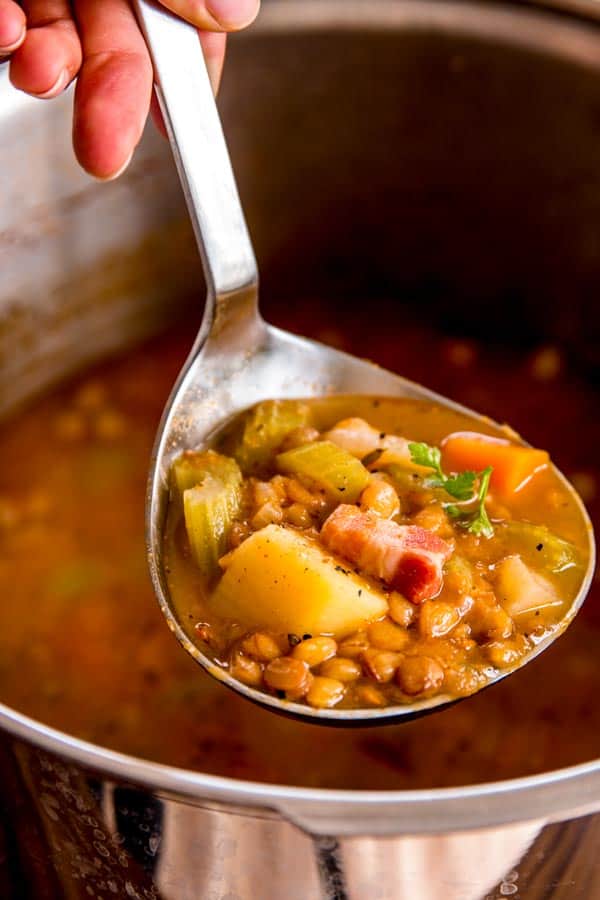 Don't let the long ingredient list scare you off!
Any good soup or stew needs a bit of prep, and this one is no different.
There are seven ingredients that need to be cut up and one of them is bacon, so you could buy that pre-diced if you wanted to.
The other ingredients just need to be measured out, no chopping involved – so it will only take you a couple minutes to get this soup cooking once you're done with all the chopping.
Make it vegetarian
Leave out the bacon and use either water or vegetable stock in place of the chicken stock – and you have yourself a wonderful vegetarian lunch!
Freeze it
Cook the soup as directed in the recipe. Let it cool completely.
Pack in portions, label the containers and freeze.
To reheat, defrost in the fridge overnight. Heat gently on the stove until boiling and piping hot all the way through. Add a little water if necessary.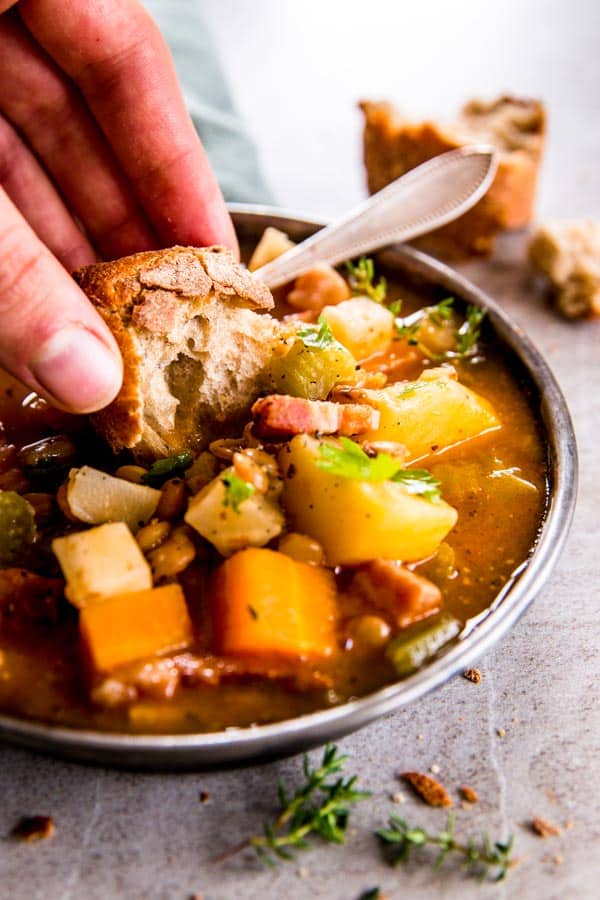 Printable Recipe Card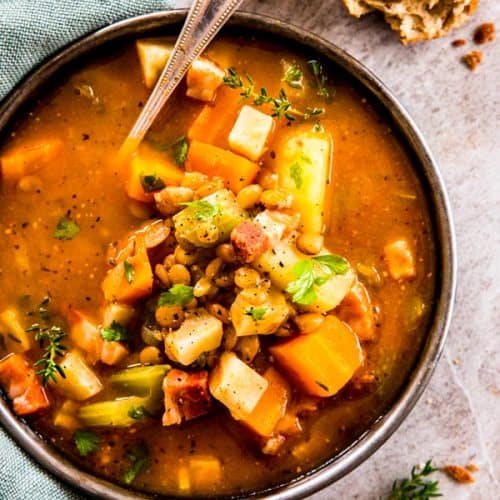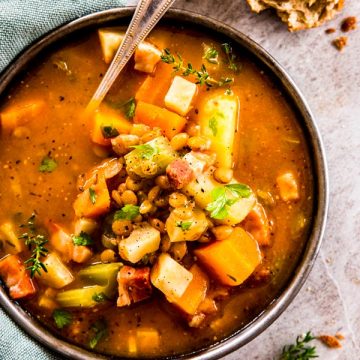 Pressure Cooker Lentil Soup
Cozy up with a big bowl of pressure cooker lentil soup when the weather is cold outside. It's so easy to make and ready in no time!
made it? tap the stars to add your rating!
Ingredients
2

tablespoons

olive oil

2

yellow onions

chopped

3

cloves

garlic

sliced

5

ounces

thick bacon OR ham

diced

5

medium carrots

diced

½

small celery root

diced (or use additional potatoes)

4

celery stalks

sliced

4

medium potatoes

diced

2

tablespoons

tomato paste

2

teaspoons

Italian seasoning

1

teaspoon

ground paprika

½

teaspoon

ground cumin

¼

tsp

ground black pepper

2

cups

brown lentils

10

cups

chicken broth OR water

if using water, add 1-2 teaspoons salt

optional herbs:

4 sprigs thyme, 1 sprig rosemary, 2 bay leaves, 3 juniper berries
Instructions
Cook the vegetables: Heat the oil in a stovetop pressure cooker over medium high heat (or in an electric pressure cooker on the sauté setting). Cook the onion, garlic and pork belly for 2 minutes, stirring often. Add the remaining vegetables and cook for 1 minute. Stir in the tomato paste, Italian seasoning, paprika, cumin and black pepper and cook for 1 minute again.

Pressure-cook the soup: Add all remaining ingredients to the pressure cooker. Close the lid and let the cooker to come to high pressure. Cook the soup for 10 minutes (12 minutes in an electric pressure cooker).

Blend part of the soup: Quick release the pressure and allow the soup to cool for 5 minutes. Remove about 1 cup of liquid and 1 cup of lentils/veggies and blend until smooth. Stir back into the soup.

Check for seasoning: Check the soup for seasoning and add a little salt and/or a dash of lemon juice if you feel like it needs a lift.
Want to save this recipe?
Create an account for free to start your personal recipe box. Save any recipe by tapping the heart in the bottom right corner.
Join Now
Nutrition is an estimate.
More recipe information