This 30 Minute Pineapple Shrimp Fried Rice is an easy weeknight dinner recipe you can put on the table in just half an hour! If you have cooked rice on hand it's ready even faster.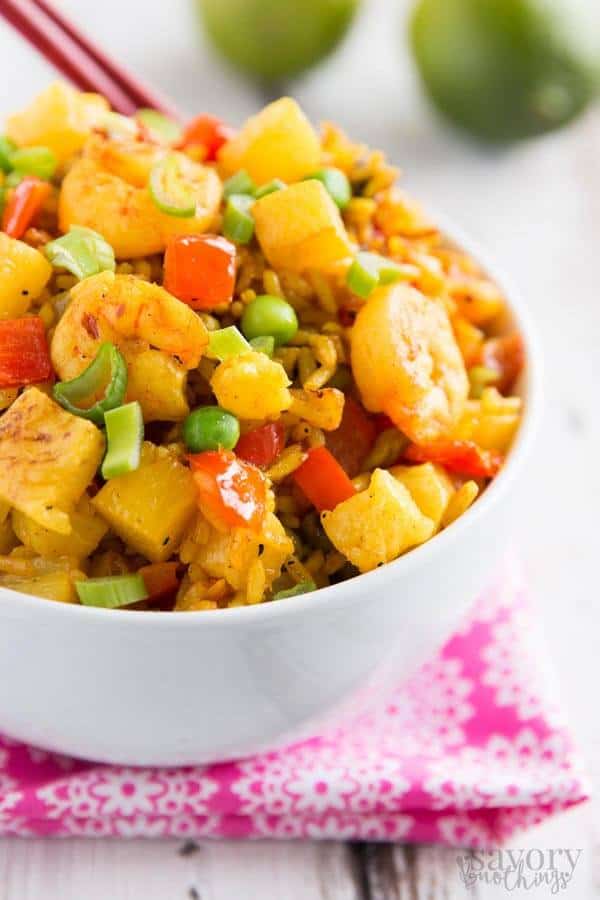 I get very emotional about this recipe, because it's something I've been making for years and years. Back in the day when I barely knew how to cook fried rice, let alone something elaborate like shrimp, I knew I had to learn feeding myself at some point.
At first I started off just cooking the rice and then making a stir-fry with a bag of frozen Asian vegetables and soy sauce. But soon I got better at cooking, more creative and more daring. And thus pineapple shrimp fried rice was born!
Recipe tips and tricks
Skillet
The most important thing here is to use a very large skillet. And by "very large" I mean huge. This is a high-volume recipe to begin with (the ingredients will cook down a bit), and you will just end up frustrated and with a big mess in the kitchen if your skillet is too small.
I've made this mistake many times before, and I ended up getting mad at myself every time.
Ingredients
I try to keep all my dinner recipes budget-, pantry- and normal-grocery-store friendly. This means that I usually don't buy and use many specialty ingredients. This easy shrimp fried rice recipe for example uses standard long-grain rice you probably have in your pantry already.
For the fresh ingredients you're free to use fresh or frozen shrimp, just make sure to thaw first if you choose to use frozen.
The pineapple can either be fresh or canned, I like either. Peas I always keep in my freezer, but feel free to use canned if that's what you have!
Cooking temperatures
This is one thing that lead to many not-so-sucesful stir fried rice experiences for me.
The key with this particular recipe for shrimp fired rice is to get the skillet really, really hot for frying the shrimp, pineapple and veggies. Otherwise you will have lots of water coming out and everything will cook into a mush instead of fry.
Once you get to toasting the curry powder and frying the rice, you want your skillet to be medium hot, else the spices will burn and the rice will awkwardly pop in your pan!
Prepping ahead
If you don't have cooked rice on hand, do make sure to prep all the other ingredients before heating your pan.
It's incredibly stressful to pay attention to your shrimp not burning while also trying to chop up peppers and a pineapple at the same time.
In the beginning it seems like it will take more time, but trust me. It won't.
And it's not worth it to lose your mind over pineapple 😉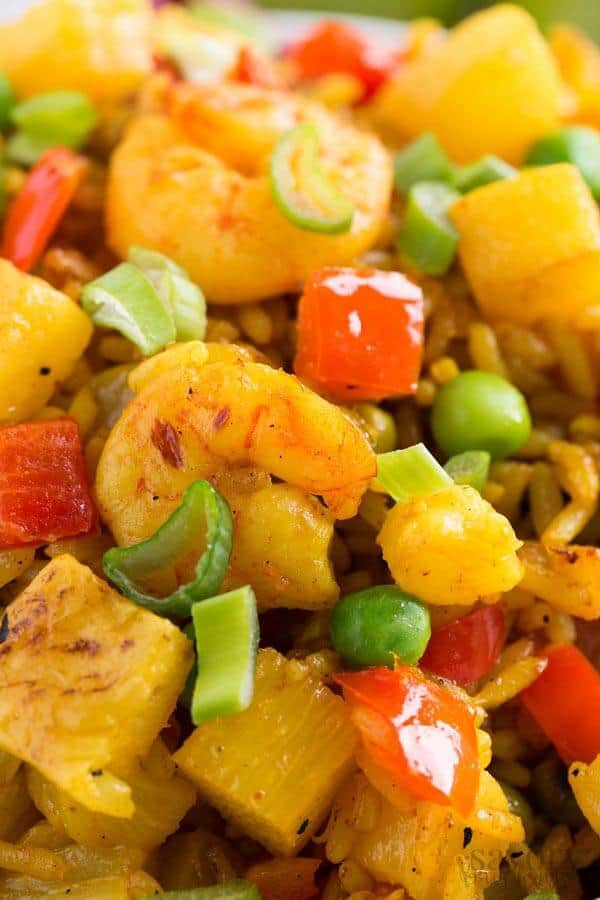 More takeout at home recipes
PS If you try this recipe, please leave a review in the comment section and add a star rating in the recipe card – I appreciate your feedback! Follow along on Pinterest, Facebook or Instagram.
Printable recipe
Printable Recipe Card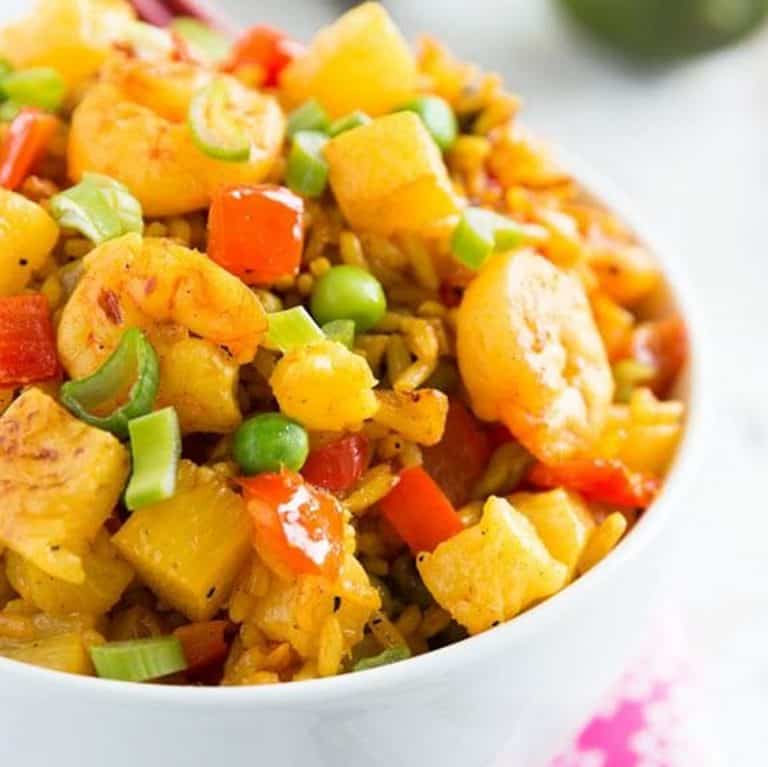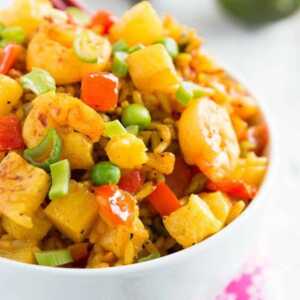 Pin Recipe
30 Minute Pineapple Shrimp Fried Rice
This 30 Minute Pineapple Shrimp Fried Rice is an easy weeknight dinner recipe you can put on the table in just half an hour! If you have cooked rice on hand it's ready even faster.
made it? tap the stars to add your rating!
Ingredients
4

cups

cooked rice

about 1 ½ cups uncooked

3

tablespoons

oil

2

cloves

garlic

peeled and crushed

1

pound

shrimp

fresh or defrosted from frozen

3

large red peppers

chopped

1

pound

fresh or canned pineapple

cubed

1 ½

cups

frozen peas

no need to defrost

3

teaspoons

mild curry powder

3

limes

salt & pepper to taste
Instructions
If you're staring with uncooked rice, prepare it according to what the instructions on the package say. Once it's cooked, drain it well and rinse it under cold water for a few minutes.

While the rice is cooking, prepare all your vegetables. Once everything is cut, heat a very large skillet over high heat. Add one tablespoon of oil and fry the garlic and the shrimp until it's starting to brown, about 4-5 minutes. Add the peppers, pineapple and peas and continue frying, stirring often, until the peas are heated through and the pepper pieces are cooked. Remove everything from the pan and wipe it clean.

Set the pan back over medium heat and add the remaining 2 tablespoons oil. Sprinkle in the curry powder and post it until you can start to smell it. Add the drained rice to the pan and stir-fry it for 4-5 minutes. Add the shrimp mixture back into the pan, increase the heat to high and heat everything through. Once the pan is sizzling hot, squeeze the juice of 2 limes over the pan. Toss, check for seasoning, and serve immediately with the remaining lime.
Want to save this recipe?
Create an account for free and start your personal Savory Nothings recipe box. Save any recipe by tapping the heart in the bottom right corner.
Join Now
Nutrition
Nutrition is an estimate.
More recipe information
I first published this recipe on Savory Nothings on 07/01/2014 (my first recipe post!). I updated the recipe, the photos and the text on 01/07/2016.