Printable recipe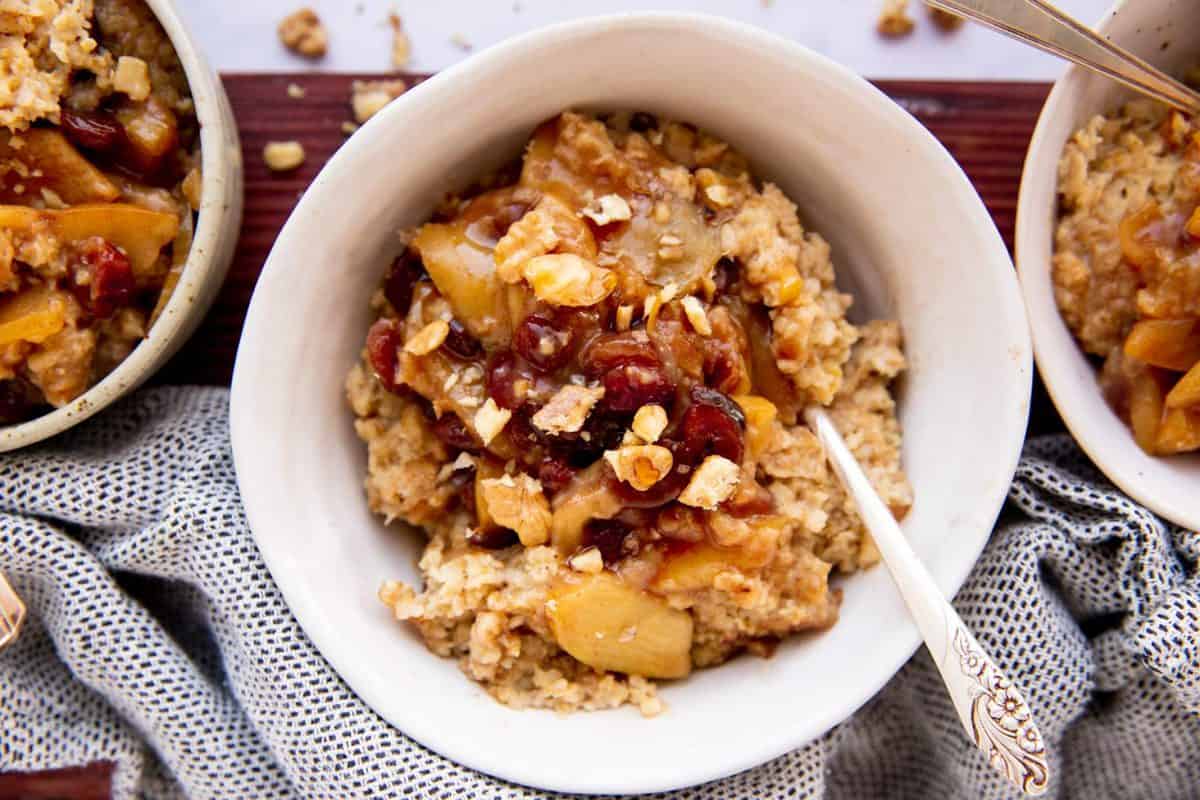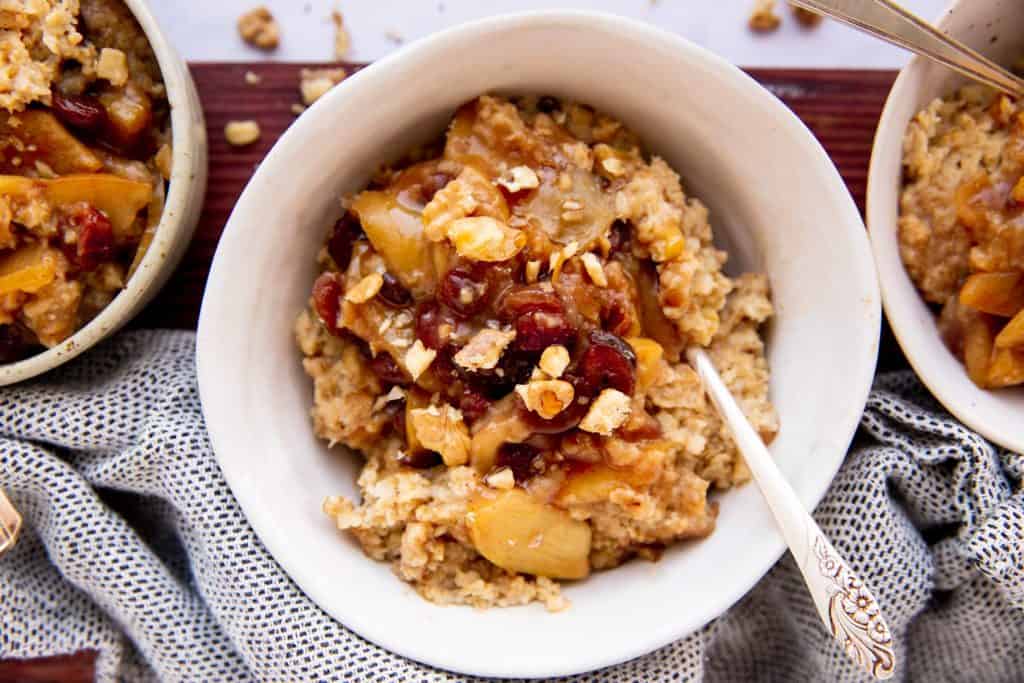 made it? tap the stars to add your rating!
Ready In:
8

hours
10

minutes
I searched high and low for a slow cooked oatmeal recipe that wasn't bland, and I finally figured out the perfect formula! I cook the oats on top of a bed of apples and dried cranberries (or raisins), and serve that on top of the oats in the morning. You can also stir it all up if you prefer! Eat as-is or with a splash of milk… So good!
Ingredients
For the Fruit Mix:
2

tablespoons

brown sugar

(or more to taste)

1.5

teaspoons

ground cinnamon

¼

teaspoon

ground nutmeg

3

medium apples

(cored and sliced into bite-sized pieces (peel if you want to, but I never do))

1

cup

sweetened dried cranberries

(OR raisins OR craisins)

¼

cup

butter

(sliced)
For the Oats:
2

cups

old-fashioned oats

(uncooked)

2

cups

water

2

cups

apple juice

¼

teaspoon

salt
Instructions
Prepare fruit: Mix brown sugar, cinnamon and nutmeg in a medium mixing bowl. Add apples and cranberries and toss well to coat. Spray a 3-4 quart slow cooker well with cooking spray (important!), then transfer the fruit mix to the crock. Evenly dot with the butter.

Prepare oats: Add oats, water, apple juice and salt to the mixing bowl and stir very well, then pour over the fruit mixture in the slow cooker. Do not stir!

Slow cook: Cover and cook on LOW for 6-8 hours. Either stir before serving, or spoon to oatmeal into bowls and top with the fruit mixture. Serve with a splash of milk, if you like.
Add Your Review
Nora's Tips
Cooking Tips:
Slow cooker size: Do stick to a 3-4 quart crock, or the oatmeal could burn overnight.
Doubling the recipe: Use a 5-6 quart slow cooker if you want to double the recipe. Cooking time stays the same. Make sure to double all the liquids so your oats don't burn!
No stirring, no peeking: Do not stir once the oats are in the crock, and definitely don't open it to stir during cooking.
Slow cooker liner: This recipe can be made with a slow cooker liner to further reduce the chance of the oatmeal sticking/burning to the sides (this depends a lot on how hot your slow cooker runs, if you know yours runs hot, make sure to test the recipe while you're awake before making it overnight, or make sure to be awake after 6 hours to check on the oats).
Ingredient Notes:
Oats: Definitely use old fashioned and not quick-cooking. Steel cut oats can be used, but you need to increase the liquid by 2 cups (eg use 3 cups apple juice and 3 cups water).
Liquid: If you prefer to use all water, go ahead, but the oatmeal will be a lot less sweet and a lot more bland. Please don't use cow's milk for the liquid, it doesn't always hold up well with the fruit for 8 hours in the crock.
Apples: Feel free to use a different fruit – firm pears, peaches or cherries would all be delicious.
Cranberries/raisins: Can be skipped, but the apple topping will be less sweet, so consider adding a touch more sugar.
Butter: If you want to make this dairy free, I hear coconut oil is a good substitute.
Tips for leftovers:
Pack leftovers into a bowl and cover, then chill in the fridge for up to 3 days.
Gently reheat on the stove over medium heat with milk, water or juice added to make the consistency creamy again.
Nutrition
Calories:
335
kcal
|
Carbohydrates:
61
g
|
Protein:
4
g
|
Fat:
10
g
|
Saturated Fat:
5
g
|
Cholesterol:
20
mg
|
Sodium:
79
mg
|
Potassium:
287
mg
|
Fiber:
6
g
|
Sugar:
35
g
|
Vitamin A:
286
IU
|
Vitamin C:
5
mg
|
Calcium:
41
mg
|
Iron:
2
mg
More recipe information
Join my Newsletter to Get Recipes in Your Inbox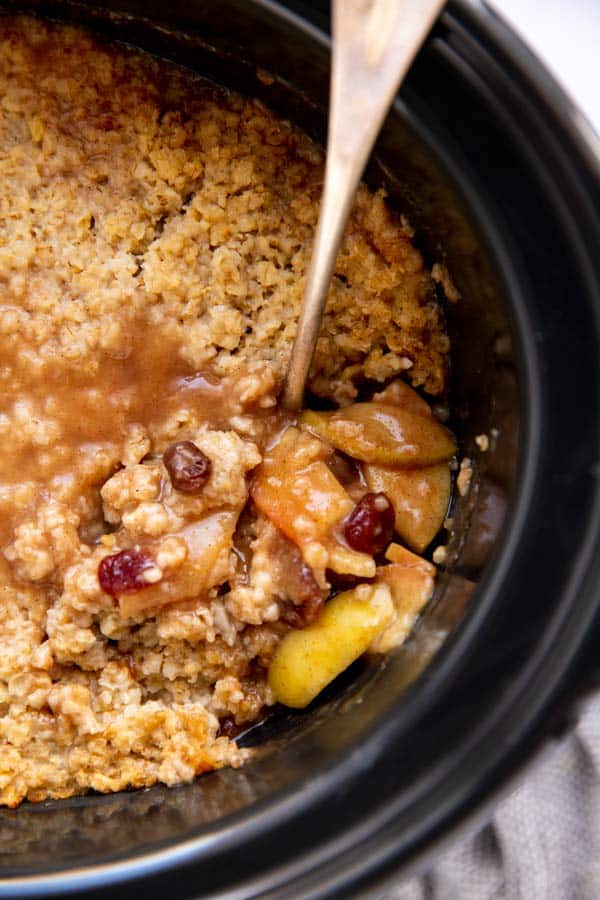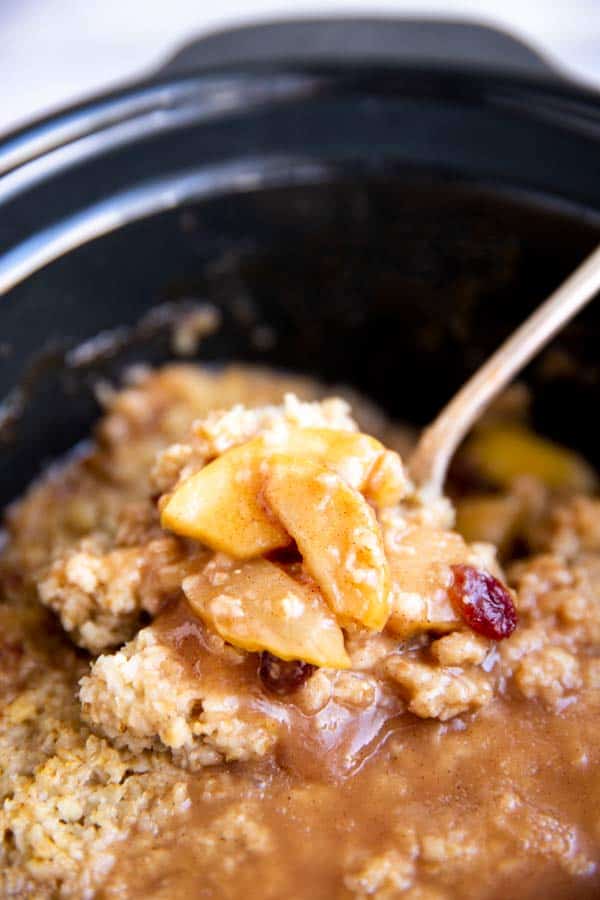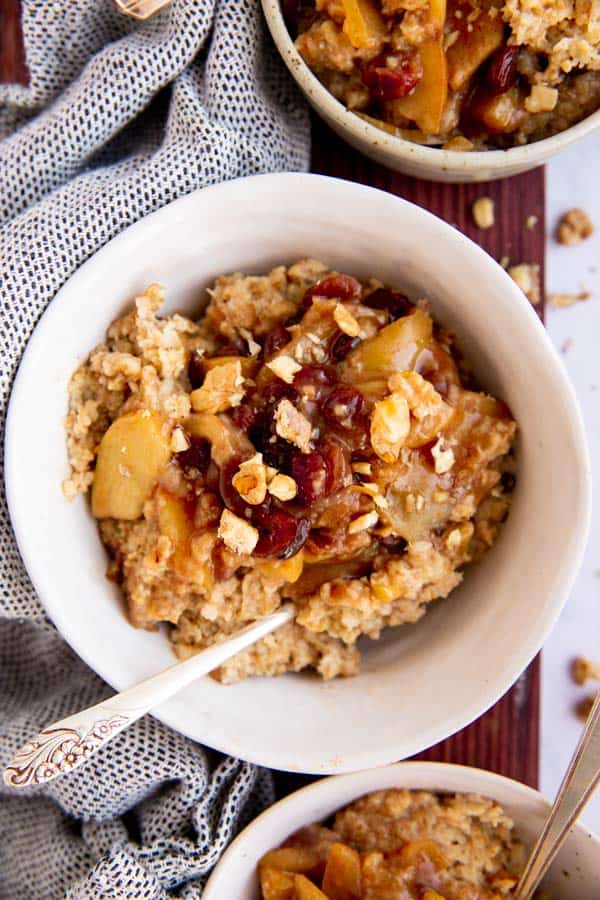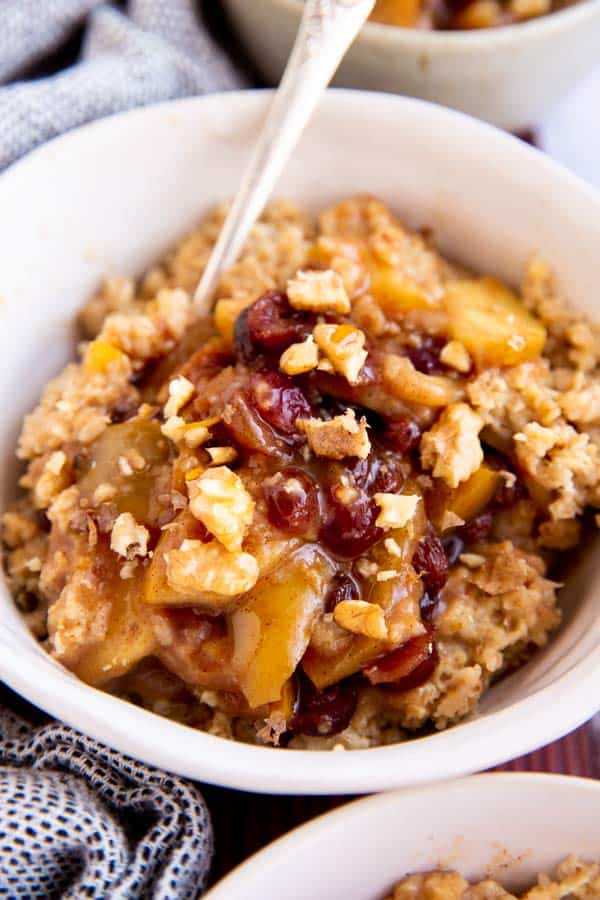 More Recipes You'll Love: