Printable recipe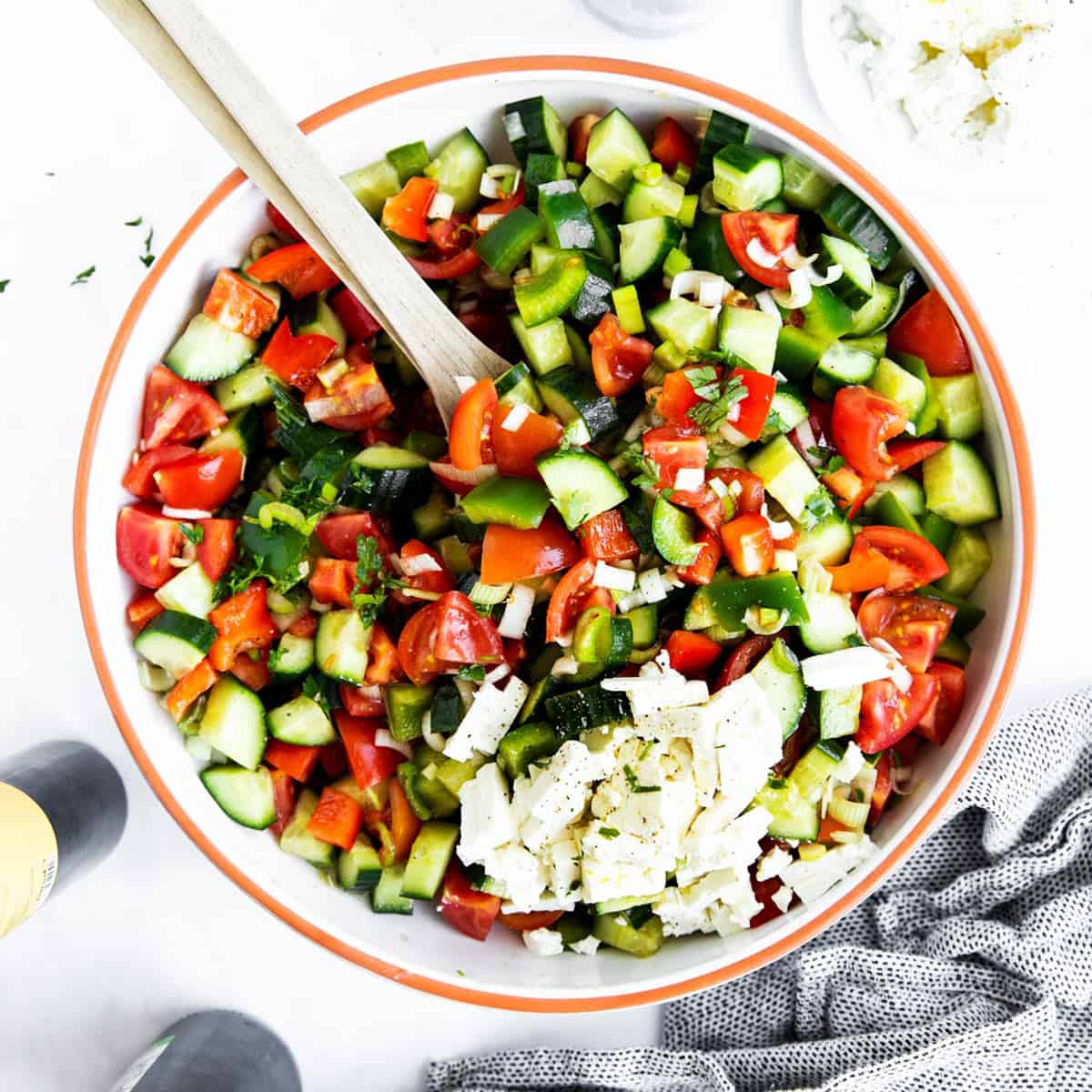 made it? tap the stars to add your rating!
This is a classic summer side dish from the Balkan region, and it's SO easy to make – perfect for a backyard BBQ.
Jump to:
Ingredients
Vegetables:
8

smaller tomatoes

diced

2

cucumbers

diced

1

large green pepper

de-seeded and diced

1

large red pepper

de-seeded and diced

6

green onions

chopped
Dressing:
⅓

cup

oil

olive or sunflower preferred

2-3

tablespoons

vinegar

red wine or apple cider vinegar are best

2

tablespoons

fresh parsley

chopped

½

teaspoon

salt

or more to taste

black pepper

to taste

150

g

cheese

either Bulgarian or Feta cheese
Instructions
Place all prepared vegetables in a salad bowl. Toss, then cover and chill well.

Right before serving, remove salad from fridge and add dressing ingredients. Mix well. Serve salad with cheese for topping.
NOTES
Tips
I use smaller tomatoes so there are less seeds (mine are just a bit bigger than a golf ball – they should yield about 1.5 pounds). If you only have large tomatoes, make sure to de-seed them or the salad will be watery.
The same goes for the cucumbers. I use pretty slim cucumbers without many seeds, again, around 1.5 pounds worth in total. If your cucumbers are quite watery/seed-y, definitely de-seed them to keep the salad from getting soggy.
By the way, there's no need to combine the dressing ingredients separately before adding it to the salad (you can absolutely though if you're bringing the salad with you to a BBQ – the dressing should be added right before serving). My husband comes from the Balkan region, and it's completely normal to just throw oil, vinegar, salt and pepper on salad ingredients without making an actual dressing first ?
Ingredient notes
green pepper: if you're not a fan, feel free to use a second red pepper
green onion: these really make the salad, but they can be pretty spicy if children are eating with you. I always serve them on the side when I make this salad for your family, and then the adults serve themselves chopped onion while the kids try to only eat cheese and call it a salad, sigh ?
cheese: it can be pretty difficult to come across the classic Bulgarian cheese (or other Balkan cheese) traditionally used in this salad. Feta is a great substitute though! So don't worry too much about finding an authentic cheese.
oil: some regions make this with sunflower seed oil, and others with olive oil. I always use olive oil because that's what's traditionally being used in my husband's home town. Both are completely fine here!
Nutrition
Calories:
169
kcal
Carbohydrates:
8
g
Protein:
4
g
Fat:
14
g
Saturated Fat:
4
g
Cholesterol:
17
mg
Sodium:
364
mg
Potassium:
417
mg
Fiber:
2
g
Sugar:
5
g
Vitamin A:
1544
IU
Vitamin C:
48
mg
Calcium:
122
mg
Iron:
1
mg
This is one of those incredibly simple recipes I feel embarrassed to even call a recipe. But it's SO good, everyone should know about it!
I was first introduced to this salad in a sketchy roadside shack the first time we visited my husband's parents. There were noodles and Goulash and salad… The noodles and Goulash were so sketchy I never bothered to touch them, ha! But the salad? SO good! We now make it for every summer BBQ we have, and it always vanishes fast.
I hope you'll enjoy it as much as we do! And don't worry, no sketchiness required when you make it at home ?