Chilly fall nights call for healthy slow cooker stew recipes! Get your crock pots ready, because these 18 easy and healthy options got you covered.
From skinny chicken recipes to hearty Irish beef stew, these slimming crockpot meals are filed with meat and vegetables.
Simple and quick to put together, slow cooker stews are must-have staple recipes for every busy family.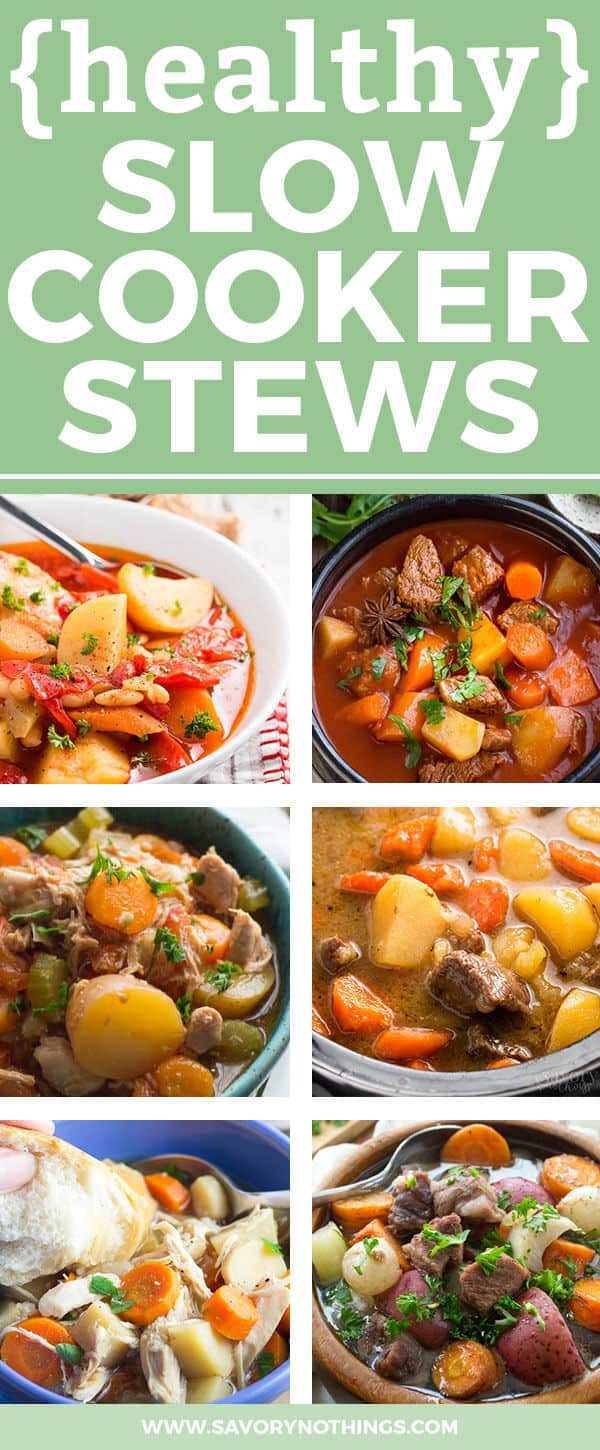 I absolutely adore my slow cooker! I ordered mine from Amazon – it's similar to this one!*!
As a mom I really appreciate the fact that I can throw together a few ingredients before the day gets busy (and loud… 🙂 ) and have a delicious dinner ready on time.
No matter how many tantrums I have to calm down.
One of the meals I cook most often in the crockpot once the weather starts getting chilly is stew.
For one, Em absolutely loves stew. And it's really one of the most simple dishes to quickly put together.
Also, stews benefit so much from the long cooking time of the crockpot.
I would never leave a pot of stew simmering on my stove top and leave the house. But the slow cooker can happily run all day while I'm running errands (or cleaning the kitchen after one of my baking adventures…).
If you want to do the same, I've collected 18 delicious and healthy slow cooker stew recipes to make your busy fall nights a little easier as well!
Healthy slow cooker recipes
1. Easy Crockpot Chili from Savory Nothings
2. Slow Cooker Homemade Beef Stew from Life Made Sweeter
3. Slow Cooker Tuscan Chicken Stew from Sweet Peas and Saffron
4. Slow Cooker Maple Chicken Stew from Kristine's Kitchen
5. Slow Cooker Harvest Beef Stew from Whole and Heavenly Oven
6. Slow Cooker Irish Beef Stew from Savory Nothings
7. Slow Cooker Fall Vegetable Chicken Stew from Jeanette's Healthy Living
8. Clean Eating Tortilla Chicken Stew from The Gracious Pantry
9. Slow Cooker Cuban Style Chicken Stew from Everyday Dishes
10. Slow Cooker Healthy Chicken Pot Pie Stew from Center Cut Cook
11. Crockpot Chicken Stew from Salt and Lavender
12. Slow Cooked Hungarian Beef Goulash from Kitchen Sanctuary
13. Crockpot Sweet Potato Stew from Chelsea's Messy Apron
14. Slow Cooker Beef Bourguignon from The View From Great Island
15. Healthier Slow Cooker Beef Stew from Primavera Kitchen
16. Slow Cooker Chunky Beef and Potato Stew from Skinny Ms.
17. Slow Cooker Root Vegetable Stew from Gimme Some Oven
18. Slow Cooker Beef and Kabocha Squash Stew from Skinnytaste
19. Crock Pot Beef Stew from Savory Nothings