Healthy Blueberry Lemon Muffins – a super easy recipe! Minimal amounts of coconut oil, no white sugar plus all the BEST parts of whole wheat & buttermilk.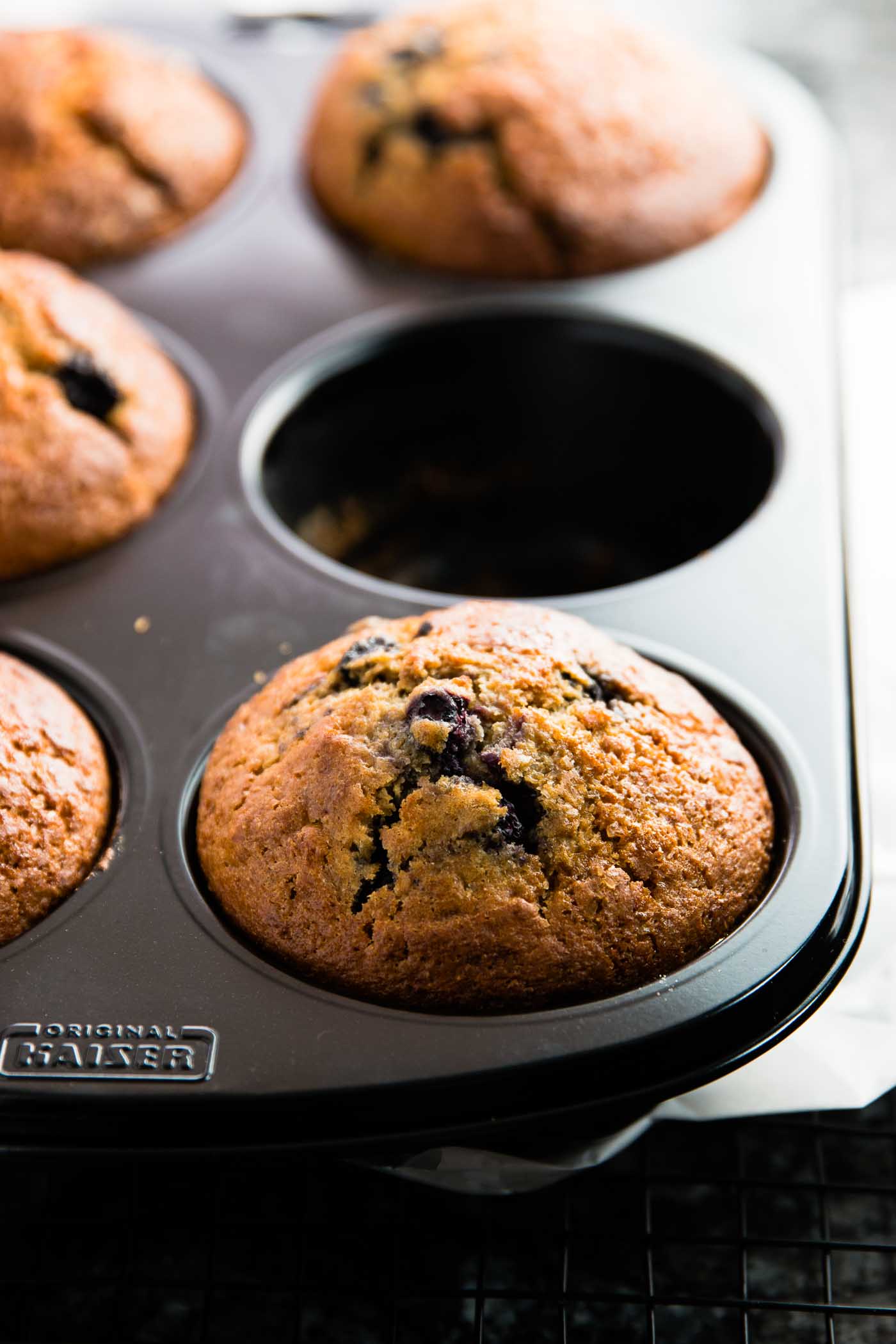 Oh hello there, healthy blueberry lemon muffins. Nice to see ya!
Iknowiknowiknow… A healthy muffin recipe AGAIN?! What can I say, I'm a total muffin person and I kind of need to make up for basically having cake for breakfast by at least healthifying them a bit.
Mmmmh, let's take a moment to adore this golden-beautiful puddle of goodness: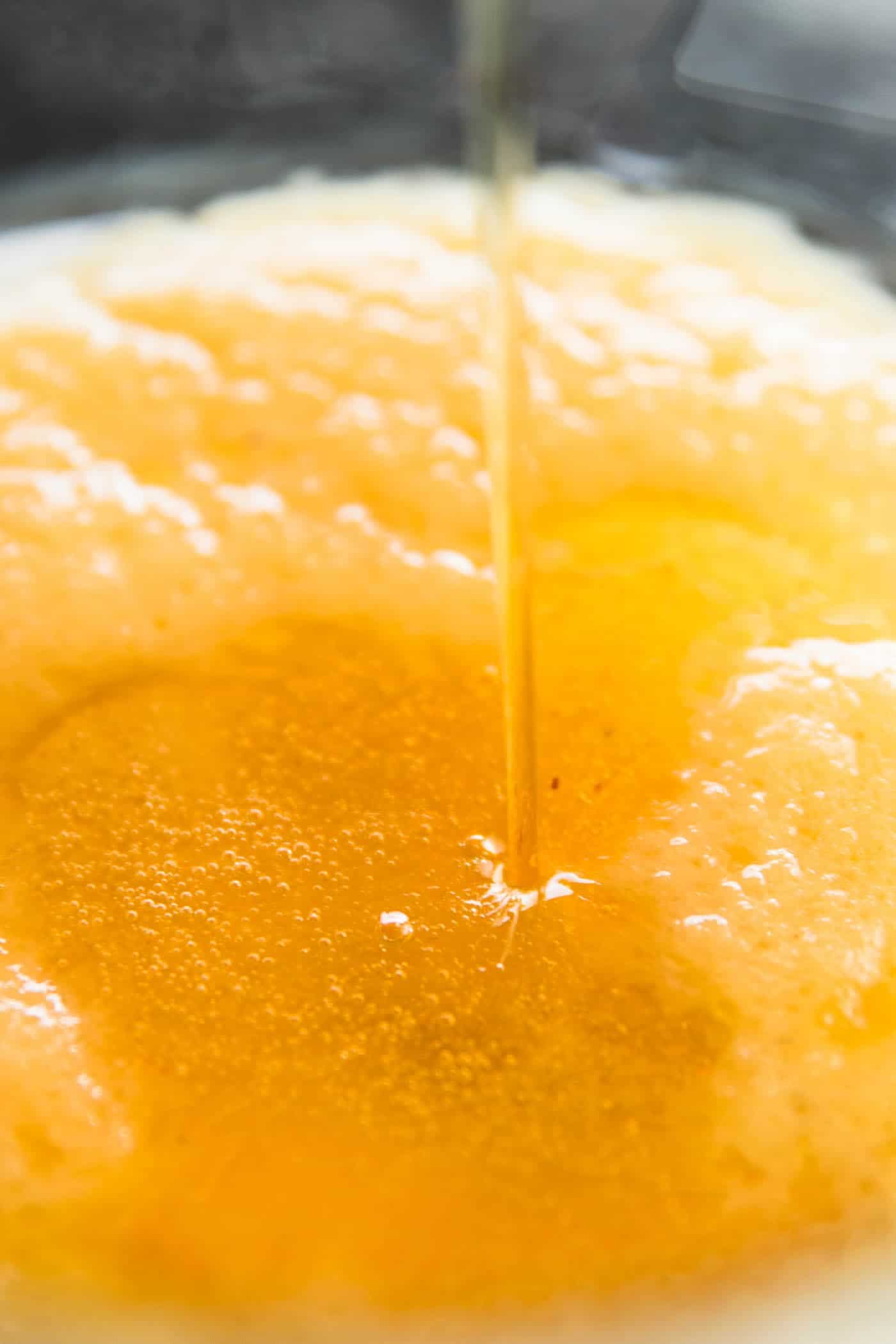 OK, snap out of the foodie bliss state and continue already Nora!
Yesterday we went to the First Communion of my nephew.
Uhm hi catholic talk, no biggie.
Anyhow, my sister in law and I spent almost the entire mass outside the church because a) our babies were hungry and b) our babies were kind of loud.
But in the end I still got to see my nephew in his robe which he TOTALLY hated ("mom, please, can I take it off already?") until he found out he could use his belt as a lasso.
Boys will be boys (yeeees, I totally cliché went there).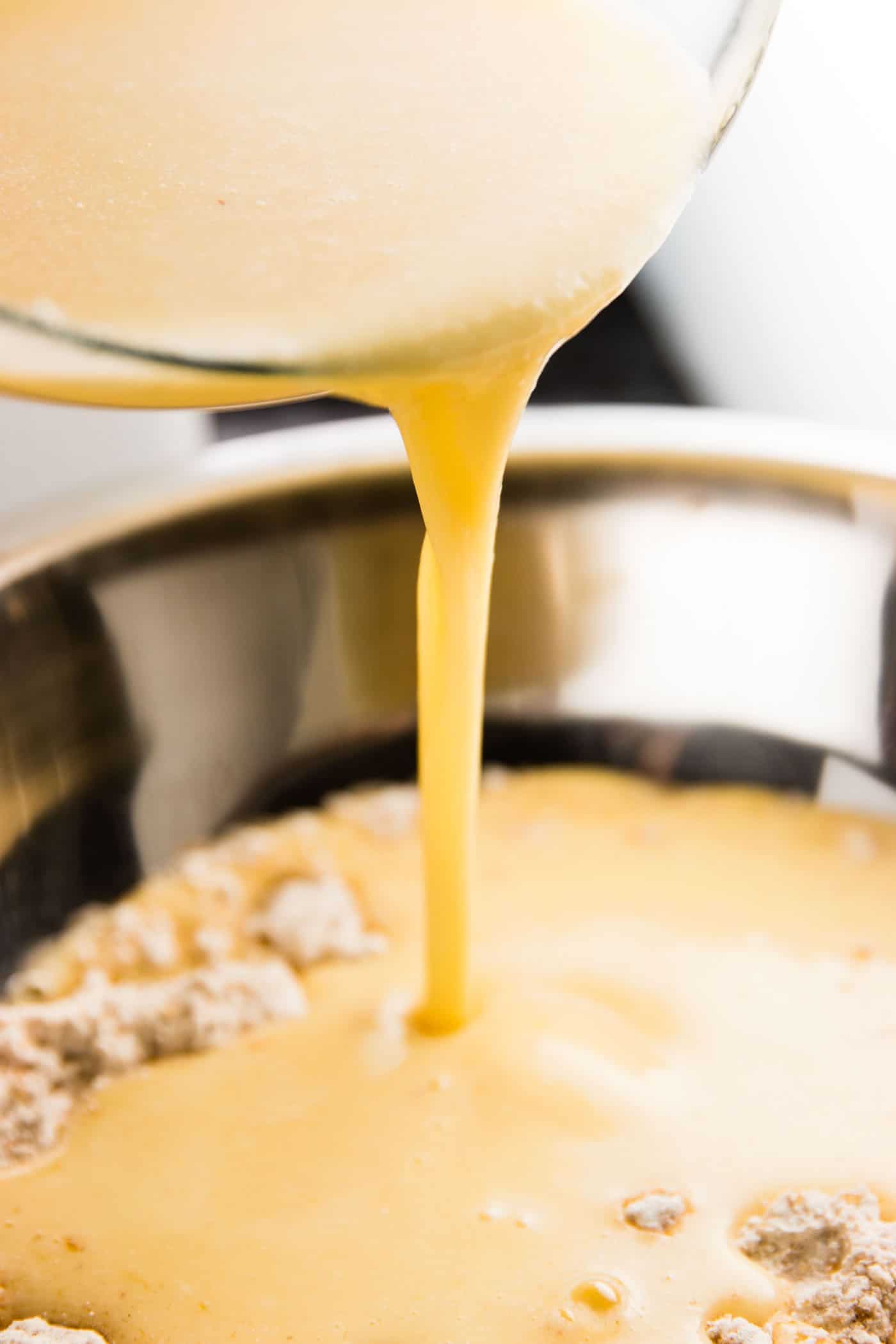 Because we're always kind-of-sort-of-a-little-bit late (tiny understatement) for everything, I made these healthy blueberry lemon muffins on Saturday so we'd have a quick grab-n-go breakfast waiting for us.
I adapted them from my healthy triple ginger gingerbread muffin recipe but since that's not so much the season right now I changed it up into something fresh and fruity.
I'm allowed to do it once more, right? Because those blueberries in that batter with all their purpley, swirly berry beauty – you can't look at that and not feel like you're staring tasty in the eye.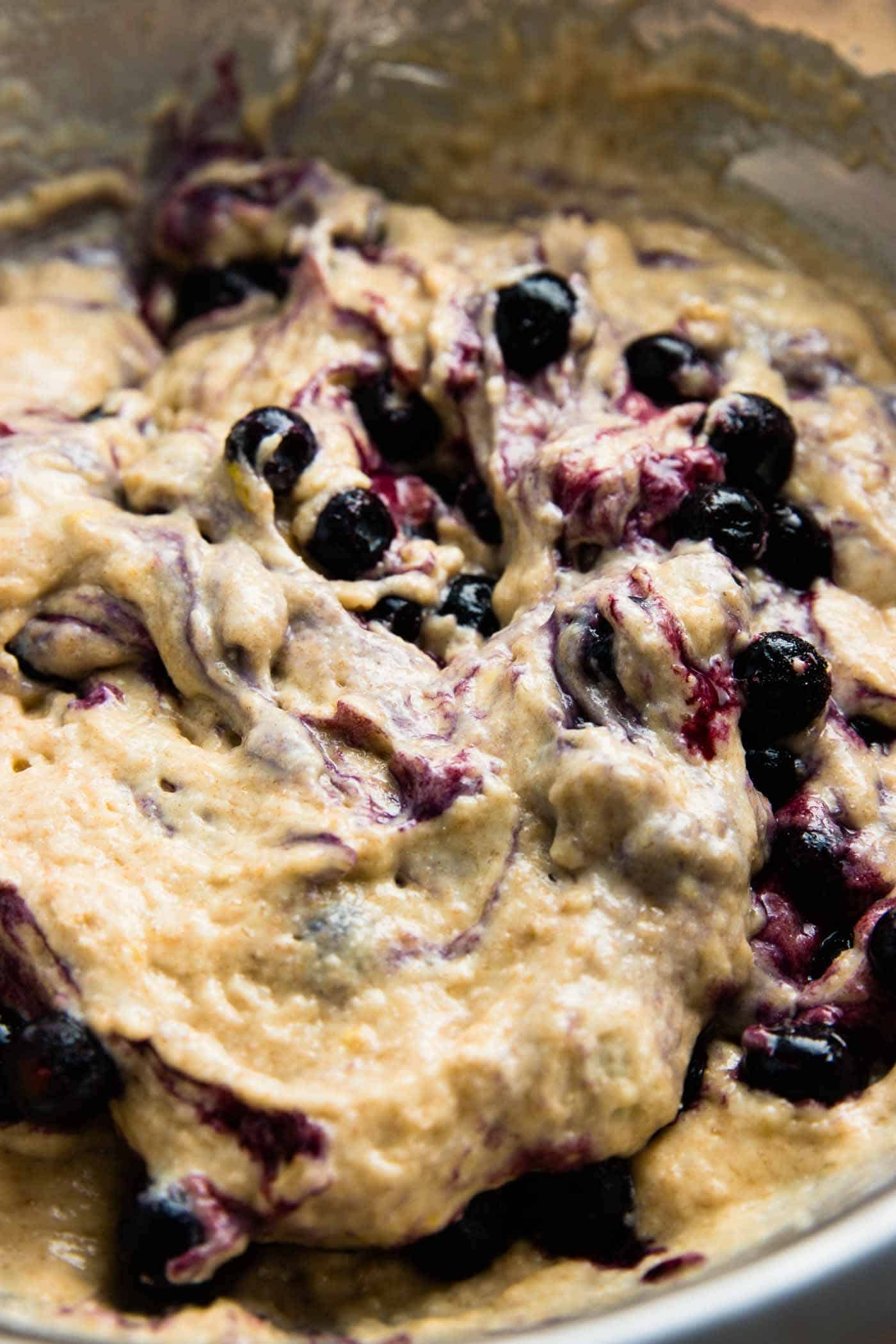 Where were we (www, totally accidental!)? Ah yes, being late. Of COURSE we were late again, despite all my efforts to keep us on time. Eh, what can I say – babies always have last minute needs.
Good one, Nora. Blame it on the little one.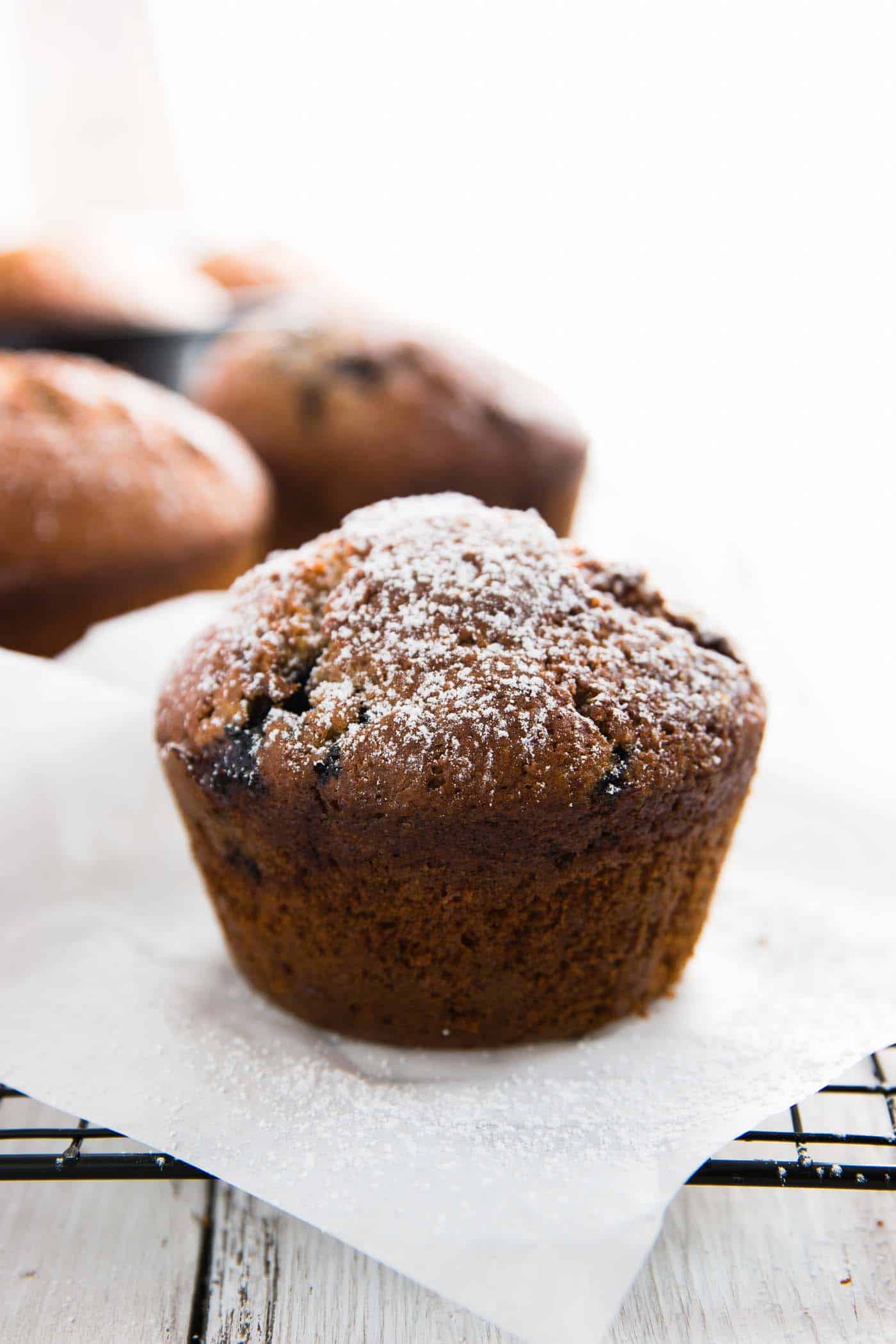 But back to those gorgeous blueberry babies.
I make them in my jumbo muffin tin because they come out all dome topped and absolutely bakery-style while boasting about 150 less calories and 50% less fat than your average huge blueberry muffin.
I also never use muffin liners because I simply hate how that paper clings on to my breakfast treat.
But feel free to make them however you like – you can even bake the batter in a small loaf pan to make a healthy blueberry lemon bread.
The only thing I have to insist on is that you actually do make them – they're too good to pass up.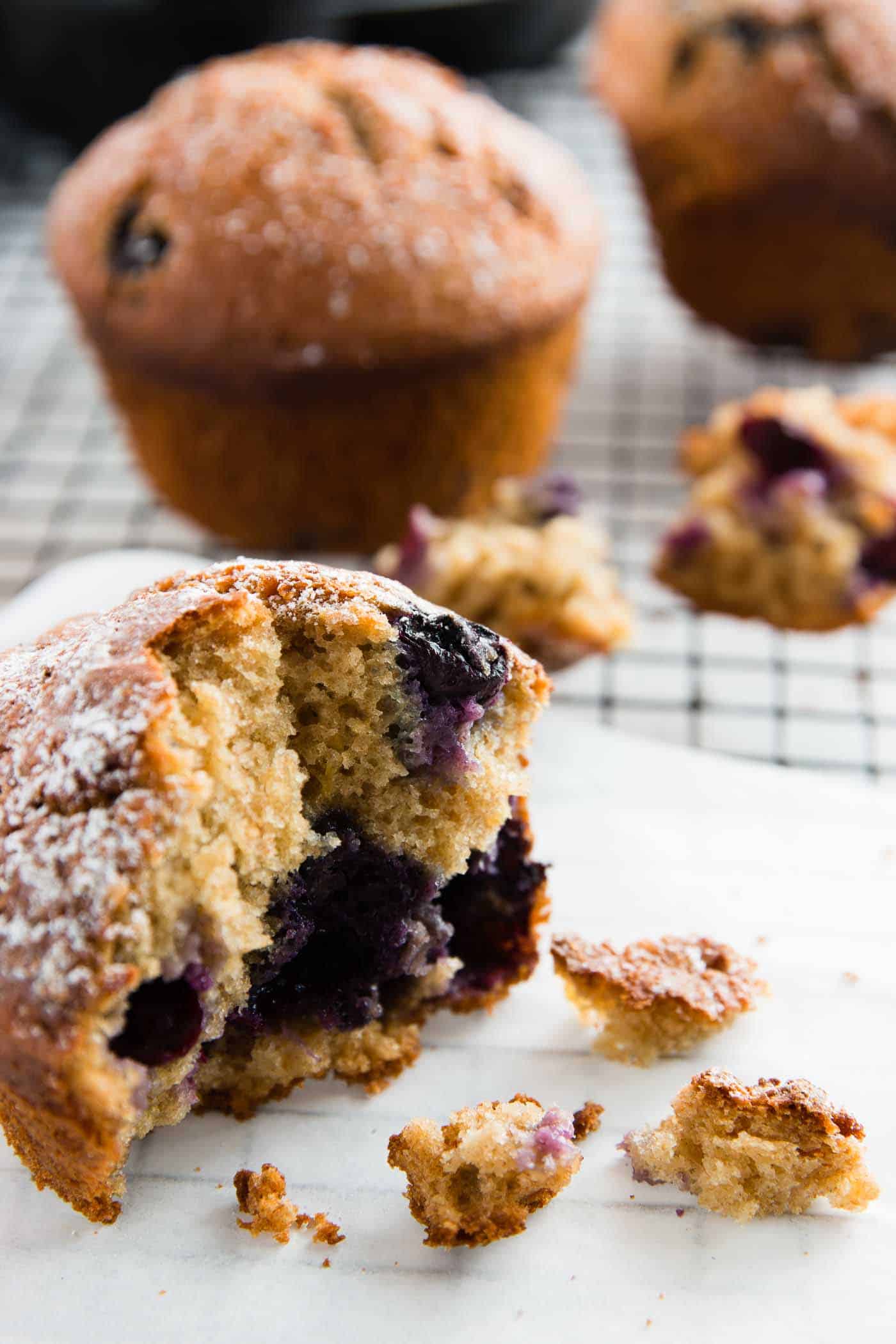 Printable recipe
Printable Recipe Card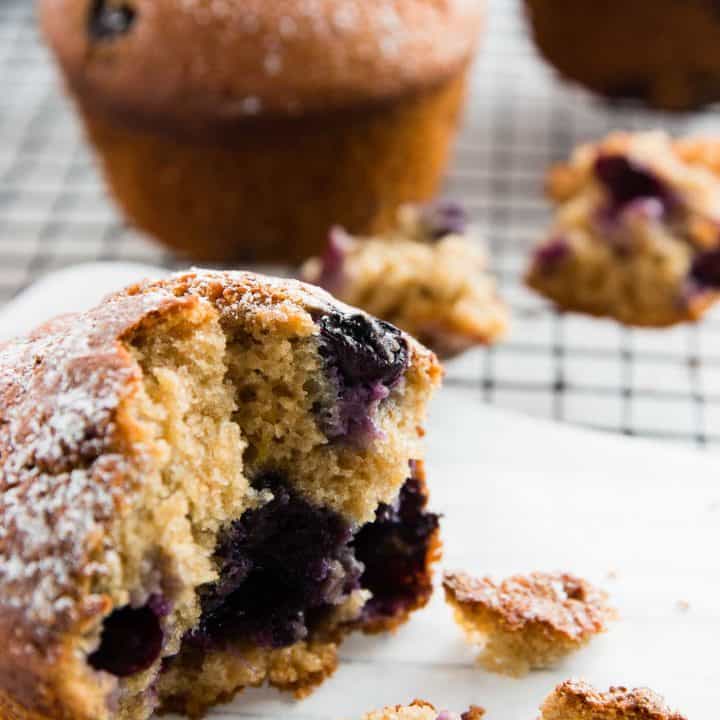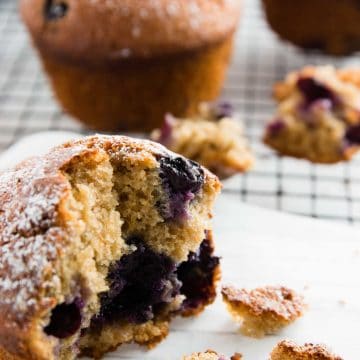 Healthy Blueberry Lemon Muffins
Healthy Blueberry Lemon Muffins – a super easy recipe! Minimal amounts of coconut oil, no white sugar plus all the BEST parts of whole wheat & buttermilk.
made it? tap the stars to add your rating!
Ingredients
Wet Ingredients
2

tablespoons

coconut oil

melted

¼

cup

unsweetened applesauce

⅓

cup

honey

OR agave nectar

2

large eggs

½

cup

low fat buttermilk

½

cup

low fat yogurt
Dry Ingredients
1 ¼

cups

whole wheat flour

1

cup

all purpose flour

¼

cup

light brown sugar

1

teaspoon

baking powder

½

teaspoon

baking soda

2

lemons

finely grated zest only

1

cup

frozen blueberries

brown sugar

for sprinkling (optional)
Instructions
Preheat the oven to 425°F (220°C). Lightly grease a 6 cup jumbo muffin tin.

Whisk together the coconut oil, applesauce and honey OR agave in a medium sized bowl. Beat in the eggs and whisk until fully combined. Whisk in the buttermilk and yogurt and set aside.

In a large separate bowl, stir together all dry ingredients except for the blueberries. Pour the wet ingredients into the dry ingredients and stir until just combined. Don't overmix, a few lumps are OK!

Gently fold the blueberries through the batter with a spatula. You only want to give this 3-5 stirs because else you'll end up with an overmixed batter and grey muffins.

Evenly divide the batter between the six jumbo muffin cups. If you want to you can now sprinkle the tops of the muffins with a bit of brown sugar to make the tops extra golden and crispy.

Reduce the oven temperature to 400°F (205°C) and bake for 20 minutes. Reduce the temperature to 350°F (180°C) and finish baking for 15 minutes. The muffins should be nicely dome-shaped now with golden brown tops and baked through the center.

Remove the muffins from the oven and allow to cool in the pan for 10 minutes before removing them from the pan and completely cooling on a wire rack.
Want to save this recipe?
Create an account for free to start your personal recipe box. Save any recipe by tapping the heart in the bottom right corner.
Join Now
Notes
You can rinse your frozen blueberries before adding them to the batter. This can reduce the chance of getting grey muffins but I'm usually too lazy to do so.
If you want to bake small muffins, divide the batter between 12 regular-sized muffin tins and bake for 15 minutes at 400°F, then 10 minutes at 350°F.
Nutrition
Serving:
1
jumbo muffin
Calories:
351
kcal
Nutrition is an estimate.
More recipe information