Homemade Pineapple Upside Down Cupcakes all from scratch with an easy cupcake base! The perfect sweet and simple way to celebrate a special occasion.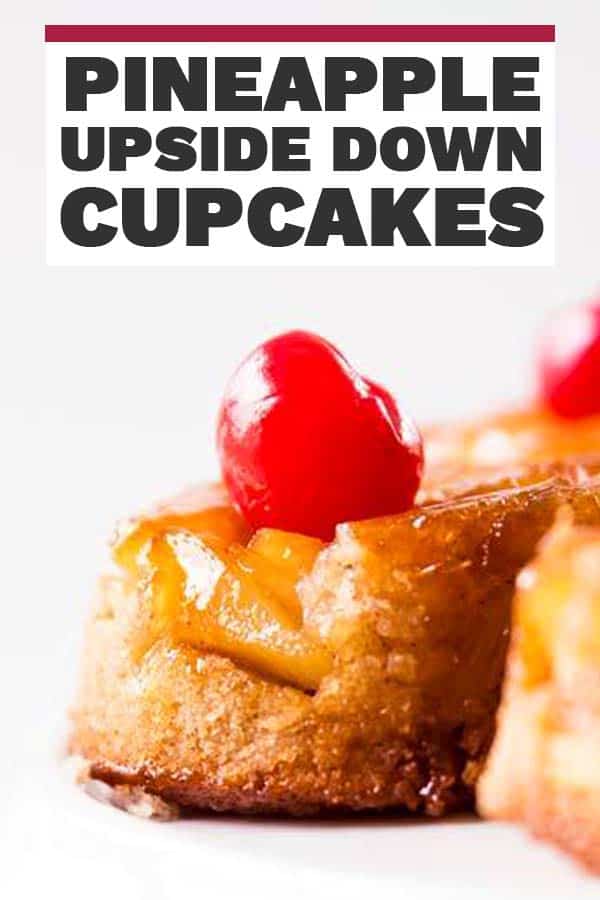 I mean, how cute are they?!
I love this mini twist on an old retro favorite. I remember my mom having a recipe book with retro recipes, and Pineapple Upside Down Cake was one of them.
It always intrigued me as a kid, because it's just such an exciting moment when you invert the pan and finally get to see the glossy pineapple surface!
Pineapple Upside Down Cupcake Tutorial:
Pineapple Upside Down Cupcake Recipe
I know a lot of Pineapple Upside Down Cakes are made with boxed cake mix. And there's nothing wrong with that!
Hey, I use it from time to time when I need to make a last minute Lemon Blueberry Sour Cream Coffee Cake!
But baking has always been a way for me to relax and blow off some steam, and these are such a special treat for my girls – so I do like putting in the extra 7 minutes of effort it takes to whip up the cupcake base from scratch here.
P.S: This is the cake recipe my little girl managed to grab and eat AT SEVEN MONTHS OLD when I wasn't 100% alert. Sigh.
Though if you crawl and stand up and go up the stairs at 7 months old, apparently you're allowed to get yourself a slice of cake – and if that isn't testimony to how good these are, then I don't know what is ?
How to Make Pineapple Upside Down Cupcakes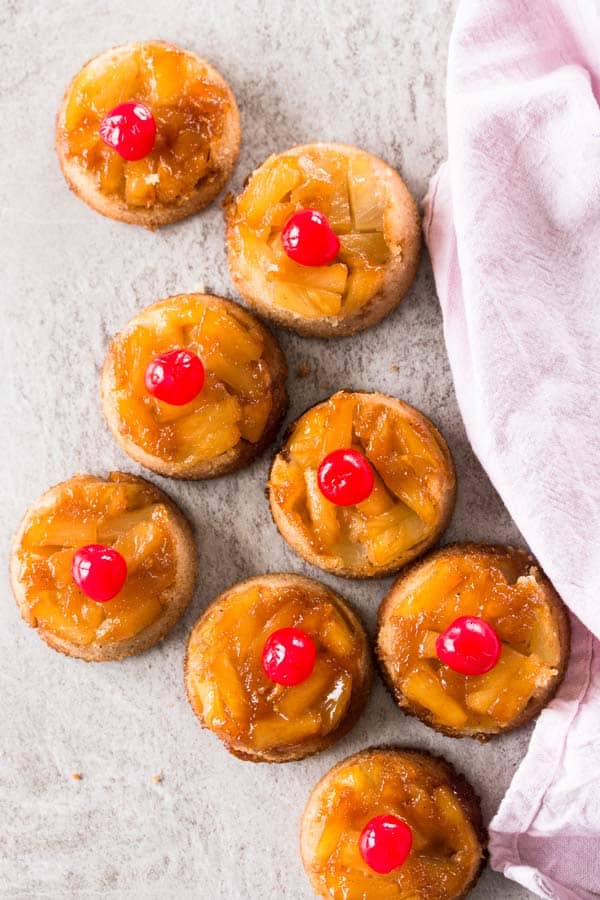 How do you add flavor to pineapple upside down cake cupcakes?
I have made way too many bland pineapple upside down cakes in my life. So I set out to avoid the blandness factor here.
The problem was… Ever see recipes that claim to be SO easy, but then there's ten spices to be measured out? Yeah, I don't do that anymore with two active kids around.
But I REALLY wanted a little more depth in these cupcakes, so I tried…
PUMPKIN SPICE.
Try it, even if it sounds strange to bust out the pumpkin spice in the middle of spring, it's worth it. The flavors go really well with the rest of this recipe, it's like a magic sprinkle of fairy dust.
How to evenly divider the batter without making a mess:
Messy recipes are definitely not what I'd consider easy! So here's a quick tip to neatly scoop the batter into the muffin cups over the pineapple topping:
Use a cookie scoop! It's so simple, yet so effective.
If you don't have one, this one is similar to the one I have. (Affiliate link – I make a commission if you click through and make a purchase.)
How do you keep pineapple upside down cake from sticking?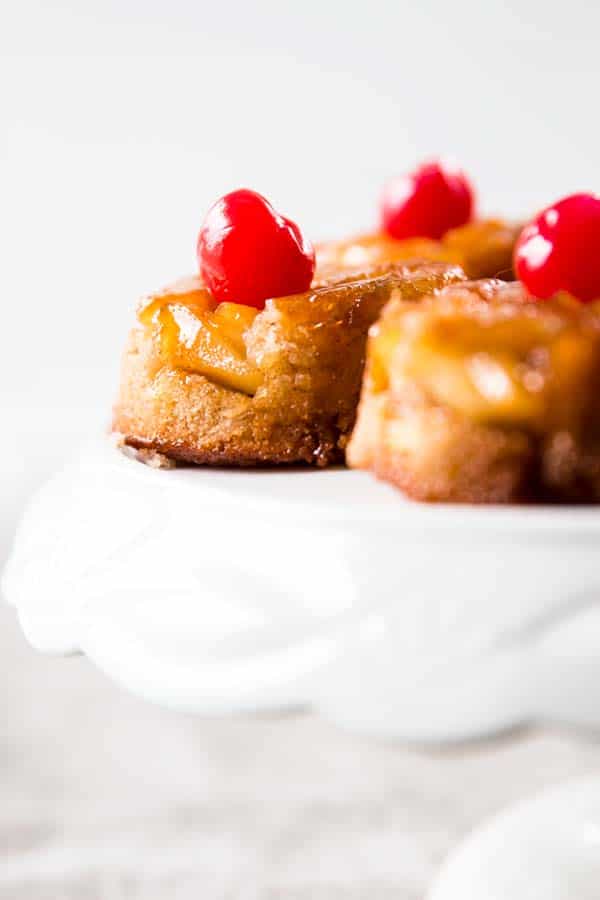 In all traditional recipes that I know, the butter and brown sugar for the topping gets melted together.
But really, the sticky mess just annoys me so much, and I find they tend to stick.
So I tried to only melt the butter and just sprinkle the dry sugar into the muffin pan – and it works like a charm! Less issues with sticking, no messing around with melted sugar.
But the next part is important when it comes to stickiness, too:
How long should you wait before flipping the cupcakes?
It can be tricky to get pineapple upside down cakes (or in this case cupcakes) to flip out beautifully.
One of they keys is to let it cool a little after baking (so the sugar and butter in the topping can set), but not for too long (or it will set too much and stick to the pan).
I find the sweet spot is to wait for about 5 minutes before flipping them.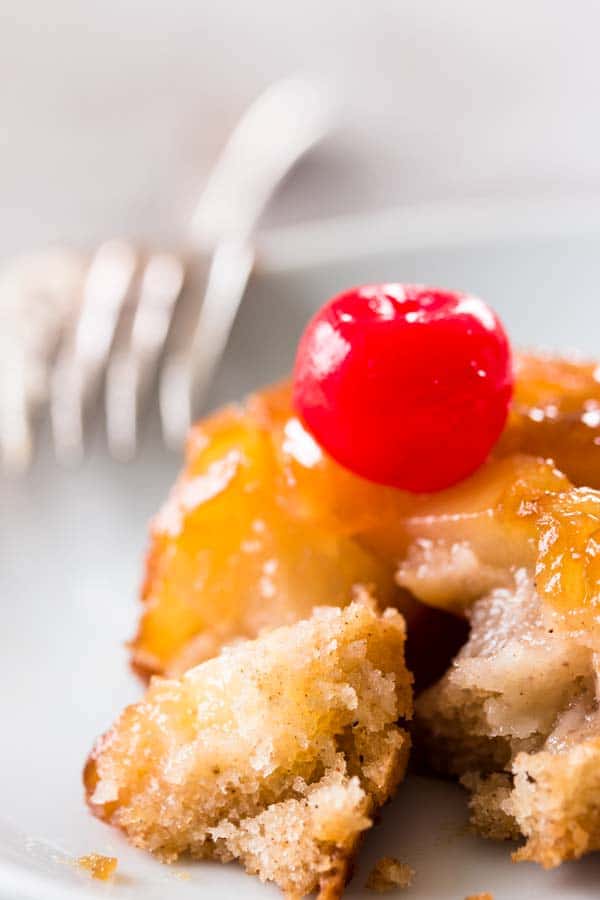 Do you need to refrigerate a pineapple upside down cake?
Yes, I recommend covering the cupcakes with cling film and refrigerating them for up to 3 days.
More easy baking recipes:
Printable recipe
Printable Recipe Card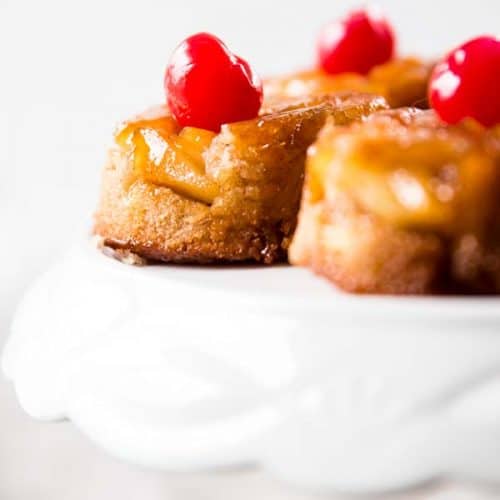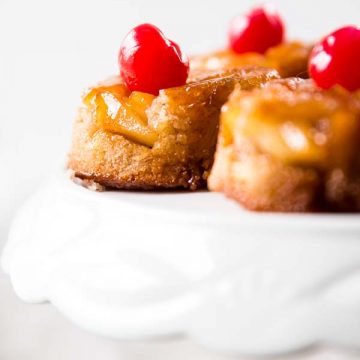 Homemade Pineapple Upside Down Cupcakes
Homemade Pineapple Upside Down Cupcakes all from scratch with an easy cupcake base! The perfect sweet and simple way to celebrate a special occasion.
made it? tap the stars to add your rating!
Ingredients
For the Topping:
¼

cup

melted butter

¼

cup

brown sugar

1

can

(20oz) pineapple tidbits in juice,

drained and ½ cup juice reserved
For the Cake
¼

cup

butter

⅔

cup

sugar

1

large egg

1

cup

all-purpose flour

1.5

teaspoons

pumpkin spice

½

teaspoon

baking powder

1

tablespoon

vanilla
Maraschino cherries, to garnish
Instructions
Heat the oven to 360°F. Divide the melted butter between 12 muffin cups. Sprinkle about 1 teaspoon brown sugar in each cup and then divide the drained pineapple tidbits on top.

Blend the butter and sugar in a medium bowl with a hand mixer until soft. Add the egg and blend until light and fluffy. Add the remaining cake ingredients and reserved pineapple juice, mix until well combined.

Divide the batter between the prepared muffin cups and bake for 25-30 minutes, or until a toothpick inserted comes out clean.

Cool in the pan for 5 minutes, then invert on a rack and cool completely. Garnish with maraschino cherries.
Want to save this recipe?
Create an account for free to start your personal recipe box. Save any recipe by tapping the heart in the bottom right corner.
Join Now
Nutrition
Calories:
211
kcal
Carbohydrates:
31
g
Protein:
1
g
Fat:
9
g
Saturated Fat:
2
g
Cholesterol:
23
mg
Sodium:
41
mg
Potassium:
97
mg
Sugar:
22
g
Vitamin A:
160
IU
Vitamin C:
4.5
mg
Calcium:
25
mg
Iron:
0.8
mg
Nutrition is an estimate.
More recipe information