Your family will go crazy for this tasty Mozzarella Stuffed Meatloaf. Just wait until you see their faces tonight as you slice into it and the gooey cheese starts oozing out! – so good!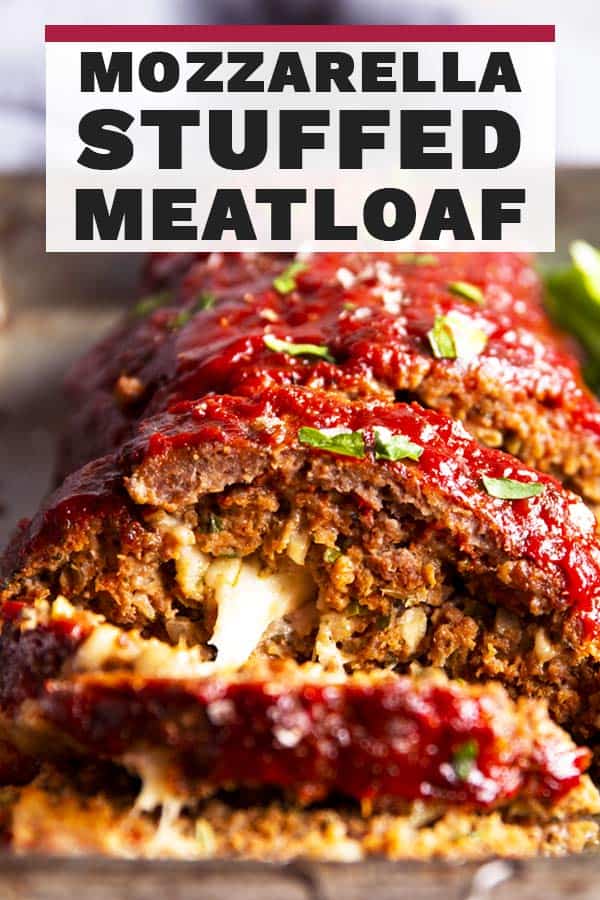 I think by now I deserve the title for Meatloaf Queen.
It started when I shared my original Mozzarella Stuffed, Bacon Wrapped Meatloaf alllll the way back in time when I was still young. And had a lot less wrinkles, ha!
To be honest, it took me a long time to embrace my title… But once I came to terms with it, there was no stopping me.
Which is why I have a new recipe for you today:
Stuffed Mozzarella Meatloaf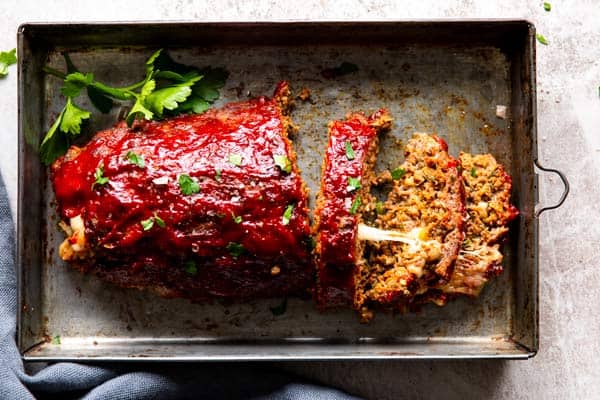 So, what's it made of?
a flavorful meatloaf mix
an ooey-gooey mozzarella center
a delicious homemade meatloaf sauce – but ketchup or BBQ sauce are 100% allowed, too ?
It's a delicious, comforting dinner recipe for those nights you want to show off a little… Without slaving away in the kitchen for hours.
How To Make Mozzarella Stuffed Meatloaf:
As impressive as it looks when you slice into it, making a cheese stuffed meatloaf is actually super easy!
There are a few tricks to making the perfect cheesy meatloaf: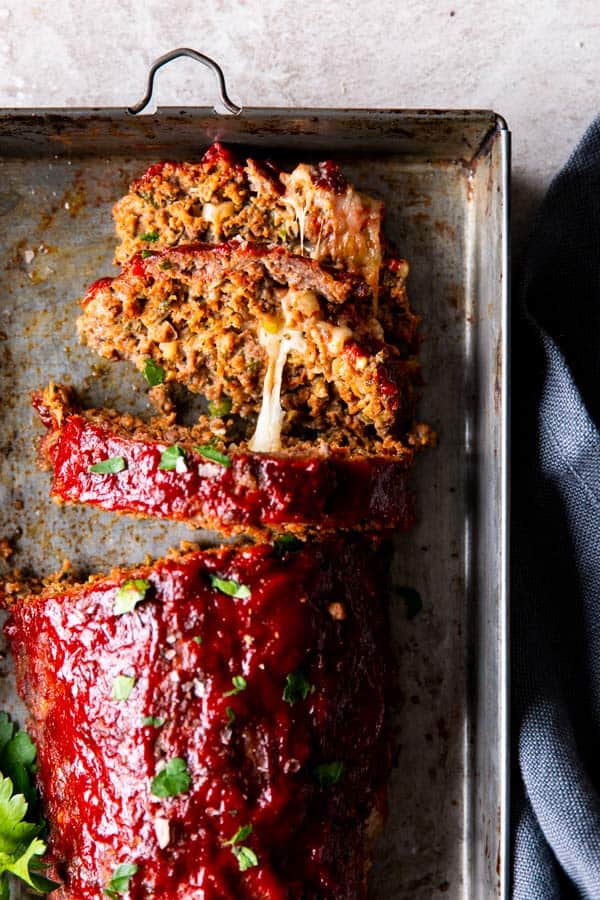 What binds meatloaf together?
To keep the meatloaf from falling apart, I add breadcrumbs and eggs as binding ingredients.
This is especially important with stuffed meatloaf, because the filling tends to expand and try to break free.
I also use a hand mixer with the dough hook attachments to combine the ground beef and other ingredients.
This helps to make sure everything is mixed well enough so the loaf will hold its shape.
Does meatloaf need to be covered?
No, you don't need to cover meatloaf to bake it in the oven!
To keep it from drying out on the outside, I spread the entire meatloaf with sauce or ketchup three times: Once before baking, once during baking, and once right after baking.
How can you tell if meatloaf is done?
The only thing I rely on when it comes to checking meat and fish (and cakes, for that mater!!) is my instant read thermometer.
You want the internal temperature of your meatloaf at 160°F – be careful NOT to measure in the cheese center but in the meat!
I recommend getting a simple thermometer probe for cooking – like this one for example. (FYI, this is an affiliate link and I make a commission for purchases made after clicking through). Makes cooking meat so much easier.
Do you drain meatloaf?
This is a free-form meatloaf, so the fat will just come out of the meatloaf as it cooks. Which is why you want this on a rimmed pan!
I actually like meatloaf best with lean ground beef, even though a lot of people swear a fattier ground beef will add more flavor.
I just don't like the greasy taste it gets. But feel free to use whatever ground beef you have on hand!
Can you make meatloaf ahead?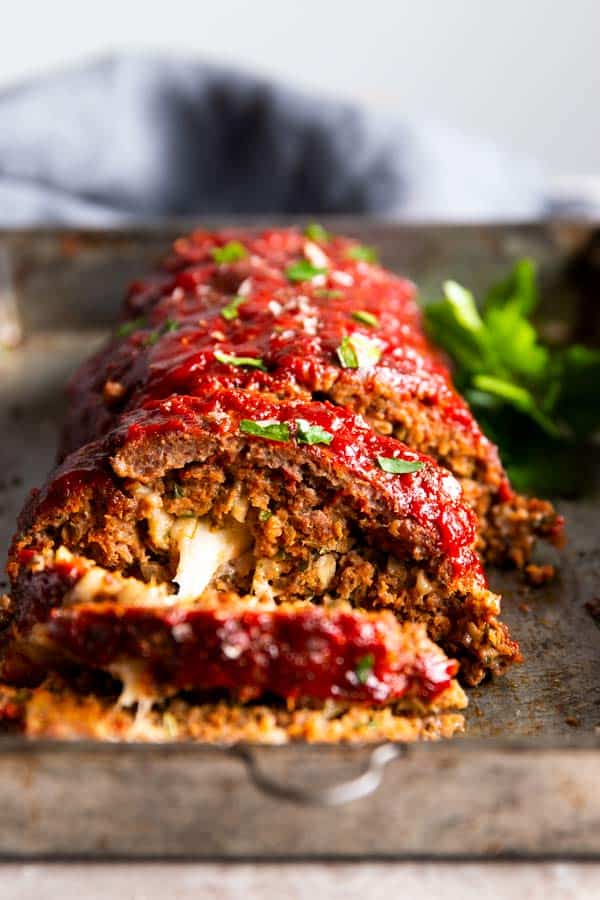 You can!
You can freeze meatloaf:
Either cooked or uncooked, meatloaf freezes well.
Wrap it securely in foil and then aluminum foil, label and freeze for up to 3 months.
Before heating (or reheating), defrost in the fridge overnight.
You can also keep the assembled, uncooked meatloaf in your fridge for up to a day:
As long as you wrap it well in foil and place it in its own, closed container (so you don't spoil other food in your fridge with raw meat!), you can make meatloaf a day ahead.
How do you reheat meatloaf without drying it out?
If you have leftovers, the easiest way is to slice the meatloaf and reheat the slices in a little oil in a frying pan!
If you prefer reheating it in the oven, place it in a shallow baking dish and cover with aluminum foil to keep it from drying out. Reheat at 220°F until piping hot.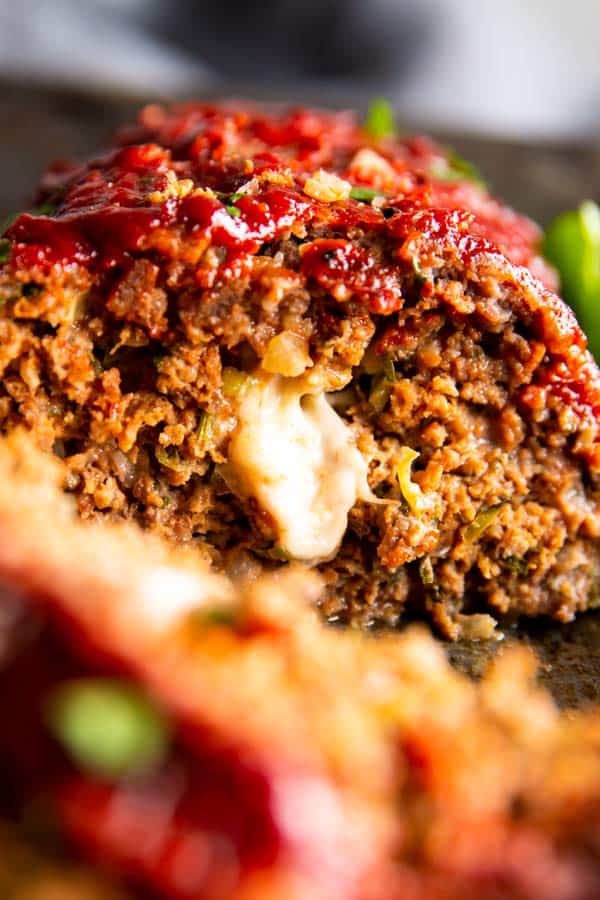 ---
More meatloaf recipes you'll love:
Instant Pot Meatloaf and Mashed Potatoes Dinner
Greek Turkey Zucchini Meatloaf
---
Printable recipe
Printable Recipe Card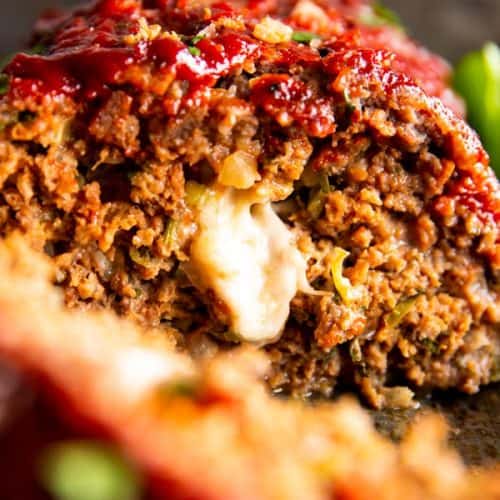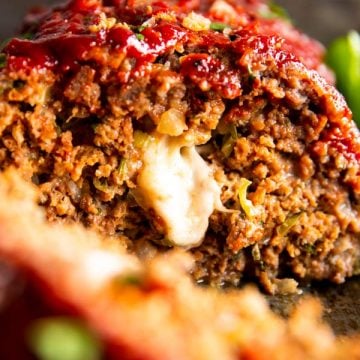 Mozzarella Stuffed Meatloaf
The ultimate comfort food: A delicious meatloaf filled with gooey cheese that oozes out as you slice it!
made it? tap the stars to add your rating!
Ingredients
For the meatloaf:
1

pound

ground beef

1

medium onion

finely chopped

1

stalk celery

finely chopped

½

small green pepper

finely chopped

1

large egg

4

tablespoons

breadcrumbs

1

handful fresh parsley

finely chopped (or 1 teaspoon dried)

1

teaspoon

mustard

2

teaspoons

Italian seasoning

1

teaspoon

ground paprika

½

teaspoon

salt
For stuffing:
4

oz

mozzarella cheese

diced
For topping:
½

cup

ketchup OR your favorite meatloaf sauce
Instructions
Prep: Line a rimmed sheet pan with aluminum foil and lightly grease it (you can skip the foil, it just makes clean up a little messier). Preheat the oven to 350°F.

Make the meatloaf mix: Place all ingredients for the meatloaf in a large mixing bowl and combine well (I like using a hand mixer with the dough hook attachment for minimal mess and maximum convenience).

Shape: Shape meat mix into a loaf on the prepared pan. Create a deep crease down the middle and fill with mozzarella cheese. Tightly pinch the meat mix together on top of the cheese to close.

Bake: Spread entire loaf with ⅓ of the sauce. Bake for 30 minutes. Carefully spread with another ⅓ of the sauce and finish baking for 20-30 minutes, or until internal temperature of the meat reaches 160°F.

Finish: Remove cooked meatloaf from the oven. Immediately spread with remaining sauce. Allow to rest for 10 minutes before slicing.
Want to save this recipe?
Create an account for free to start your personal recipe box. Save any recipe by tapping the heart in the bottom right corner.
Join Now
Nutrition
Calories:
174
kcal
Carbohydrates:
10
g
Protein:
17
g
Fat:
6
g
Saturated Fat:
3
g
Cholesterol:
66
mg
Sodium:
460
mg
Potassium:
316
mg
Sugar:
4
g
Vitamin A:
405
IU
Vitamin C:
8.3
mg
Calcium:
102
mg
Iron:
2.1
mg
Nutrition is an estimate.
More recipe information