Pecan Pumpkin Waffles are an easy treat for fall weekends. Make them for breakfast or as part of a brunch – your family will love them!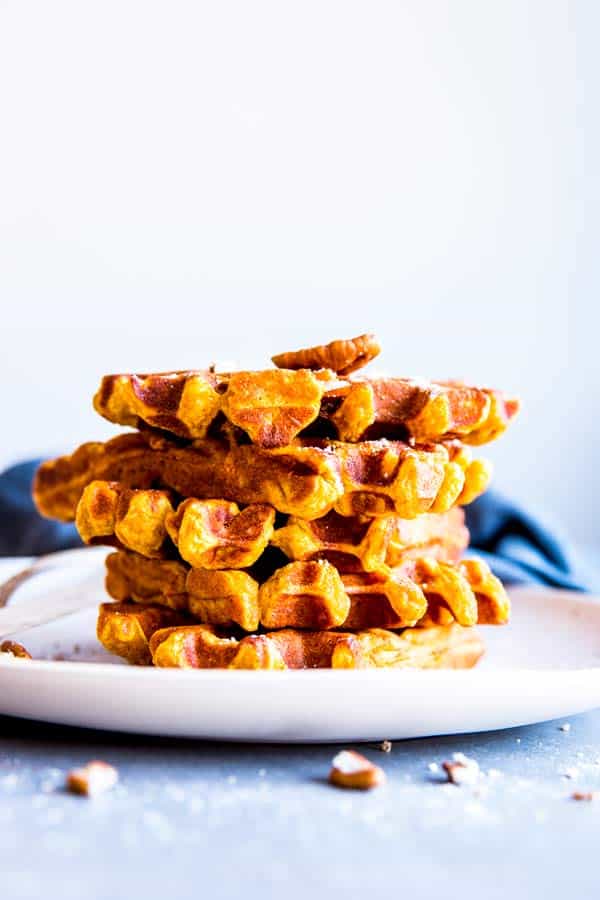 So, friends. It's September. I should start making it a tradition for the first post in September to be a pumpkin recipe.
Because Harry Potter goes to school on Sept. 1st, hence the only logical explanation is for 09/01 to be the official start of the autumn season, and I'm officially allowed to stuff this blow with all things pumpkin ???
Kidding. Sort of ?
If you're equally as excited about all things fall as I am, then fear not. This blog has a wealth of pumpkin recipes just waiting for you to make them.
Possibly within the next 48 hours, because nothing is as much fun as going absolutely crazy with something you love, amirite? ??‍♀️
other delicious pumpkin recipes: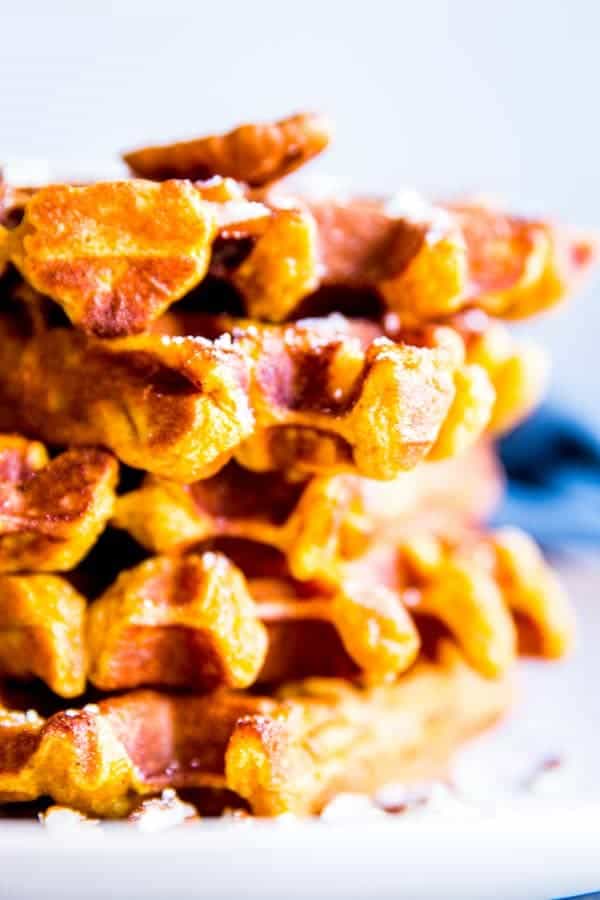 Now, this waffle recipe is not exactly new.
My Simple Pumpkin Waffles are actually one of the most popular fall recipes here on Savory Nothings, and so many of you told me that you added pecans to make them even more delicious… I had to try it myself!
Spoiler alert: You were right. Pecans ARE amazing in these waffles.
I already tried these back in August with a bag of homemade pumpkin purée I had frozen a year ago.
And I fully planned on sticking the waffles in the freezer until September… But they were so delicious, my kids gobbled them up in no time at all ??‍♀️
I'm actually not that sorry about it, because this means I get to make a new batch now, ha!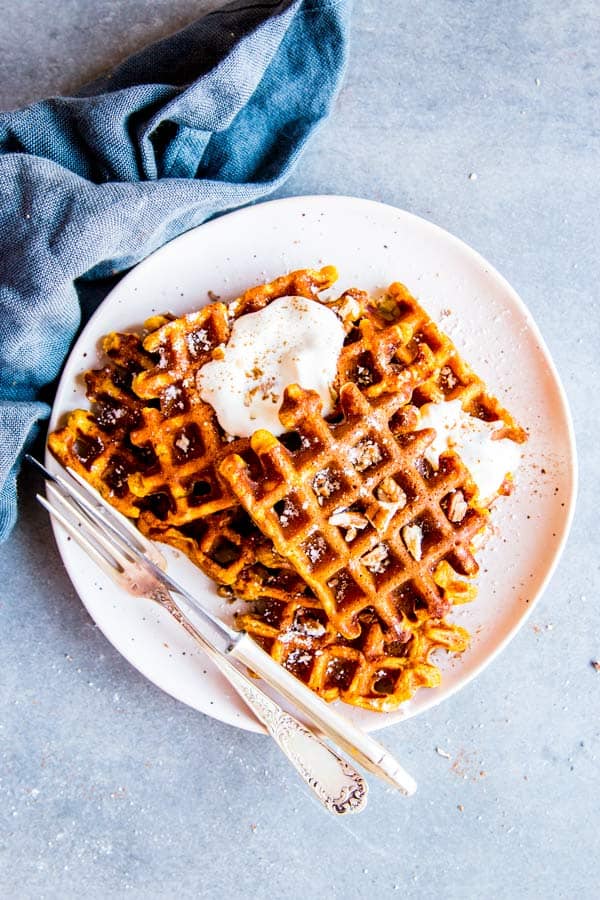 My best tips to make these pecan pumpkin waffles absolutely foolproof:
Use high-quality canned pumpkin
Cheap canned pumpkin can have a high water content, which messes with recipes for baking, pancakes and waffles. Better yet, make your own! It's cheap and easy.
It's just 1 cup of pumpkin…
… and not an entire can ?
A few people have made this mistake, so be sure to read the recipe exactly, and measure out your 1 cup of pumpkin for the recipe.
If you accidentally add the entire can, double all other recipe ingredients for a double batch.
How to bake waffles:
How do you know when waffles are done?
It's actually quite simple: Definitely wait to open the waffle iron to check on them as long as it's still steaming.
Steam = there's still plenty of liquid in the waffle batter, but once it stops steaming so hard you can carefully open the iron and check on the waffles.
Then finish cooking them until they're browned.
I actually have a full post outlining how to make homemade waffles, if you want to know in detail.
A word (or two) about this recipe:
This is pretty much my original recipe for pumpkin waffles, I just refreshed it a little.
Mainly I'm beating the egg whites separately here to make the waffles a little airier, but they are delicious either way, so if you're short on time you can absolutely skip this extra step.
If you don't know how to separate eggs, check out my tutorial on how to separate eggs.
Note that these are not the crispiest waffles ever due to the pumpkin in them, but they are absolutely delicious.
To make them extra crispy, place them on a rack once they come out of the waffle maker and keep them on a low heat in the oven until all waffles are done.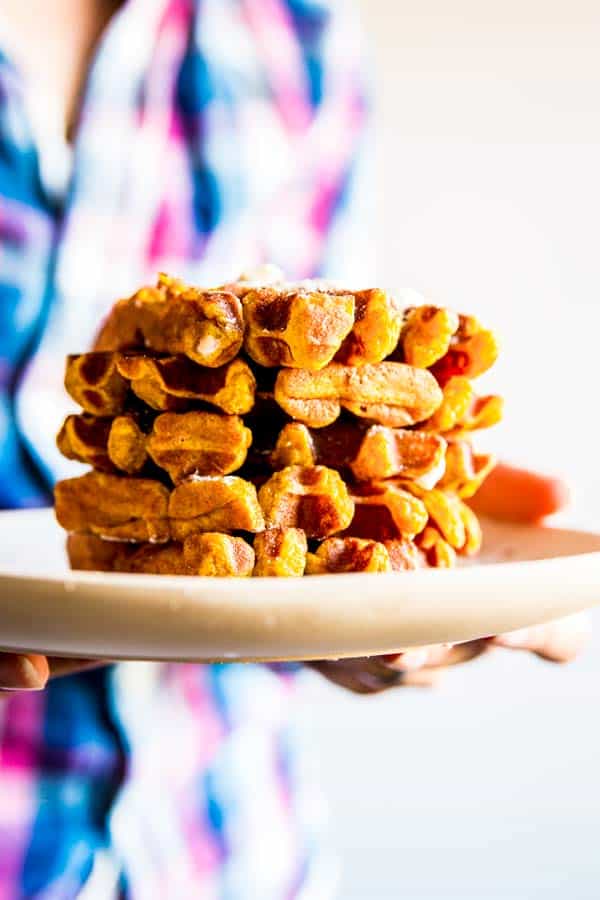 Now some FAQs about these pecan pumpkin waffles:
Can you freeze these waffles?
Yes, absolutely! I freeze all kinds of waffles all the time. It's so convenient to have them on hand for quick breakfasts!
WHILE THIS RECIPE CAN BE FROZEN, PLEASE REMEMBER TO DO THE FOLLOWING:
Wait for the waffles to cool completely before freezing them (otherwise your freezer could heat up too much and affect the other frozen goods in there).
Use a container or bag that is suitable for freezing.
Label the bag or container with the contents, today's date AND the use-by time (the waffles can be frozen for up to 3 months).
Defrost thoroughly before eating.
There is no need to reheat the waffles after defrosting them, but I do like popping them into the toaster to warm them up and for them to get a little crispy again.
What sides go well with waffles for breakfast?
There are lots of things we like to eat with pumpkin waffles for breakfast:
Greek yogurt with a little maple syrup stirred in
Sautéd cinnamon apples
Turkey breakfast sausage
OR I have an entire post about what to serve with waffles for breakfast… Did I mention I'm obsessed with waffles? ?
watch me make this recipe here:
(If you're on a desktop computer or a laptop, the video could already be playing in the sidebar on the right hand side!)
grab the printable recipe here:
Printable recipe
Printable Recipe Card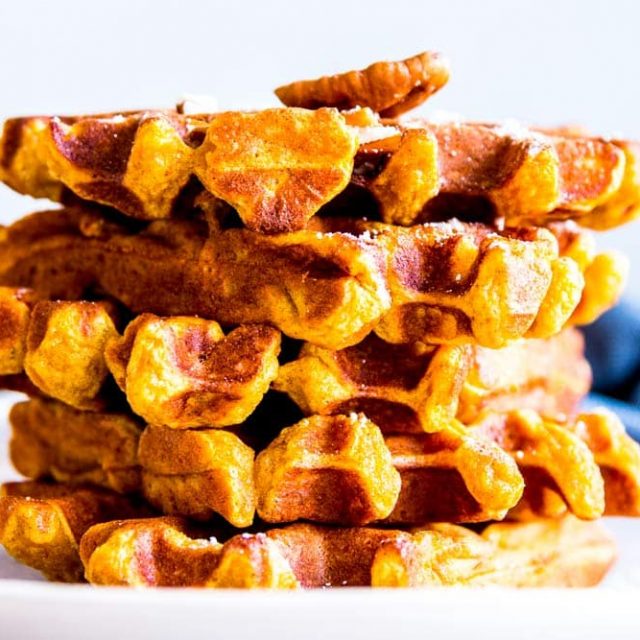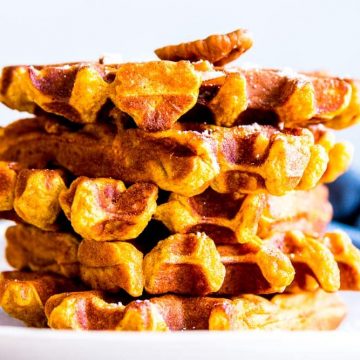 Pecan Pumpkin Waffles
Pecan Pumpkin Waffles are an easy treat for fall weekends. Make them for breakfast or as part of a brunch – your family will love them! Great for Thanksgiving, Halloween or Christmas morning.
made it? tap the stars to add your rating!
Ingredients
Dry Ingredients
2

cups

all purpose flour

¼

cup

brown sugar

packed (optional for sweeter waffles)

2

teaspoon

baking powder

1

tablespoon

pumpkin pie spice

¼

teaspoon

salt
Wet Ingredients
3

large eggs

separated

1 ⅓

cups

buttermilk

1

CUP

canned pumpkin

5

tablespoons

unsalted butter

melted and cooled

¼

cup

maple syrup
Instructions
Place all dry ingredients in a large bowl. Mix well.

Beat the egg whites until stiff peaks form. Place all remaining wet ingredients in a medium bowl or measuring jug and whisk until smooth. Fold in the beaten egg whites.

Add the wet to the dry ingredients and fold together JUST until combined. Do not overmix, a few lumps are fine. Fold in the pecans with 2-3 stirs.

Cook the waffles in your waffle iron per the manufacturer's instructions. To make the waffles crisper and keep them warm, place them on a rack on the lowest oven setting until all waffles are done.
Want to save this recipe?
Create an account for free to start your personal recipe box. Save any recipe by tapping the heart in the bottom right corner.
Join Now
Notes
The links below are affiliate links and I earn a commission for purchases made through them.
Nutrition
Calories:
431
kcal
Carbohydrates:
58
g
Protein:
10
g
Fat:
18
g
Saturated Fat:
8
g
Cholesterol:
113
mg
Sodium:
194
mg
Potassium:
440
mg
Fiber:
3
g
Sugar:
21
g
Vitamin A:
6853
IU
Vitamin C:
2
mg
Calcium:
184
mg
Iron:
3
mg
Nutrition is an estimate.
More recipe information