These No Bake Peppermint Bark Oreo Balls are as good as they look, but they keep your oven free for cookie baking! Full of festive peppermint flavors and almost too pretty to eat, these will be your favorite Christmas treat yet!
Since I've been non-stop cookie baking ever since December started but am still well behind my Christmas baking, I figured I should add a few no bake treats for good measure.
I actually don't love all the fussing, decorating and making things look pretty that come with no bake treats (which is why I usually make cookies that automagically turn out pretty – like Snowballs or Chocolate Crinkles), but I made an exception for these.
My kids think these are the best things ever. It might just be their obsession with candy canes, but who knows 😉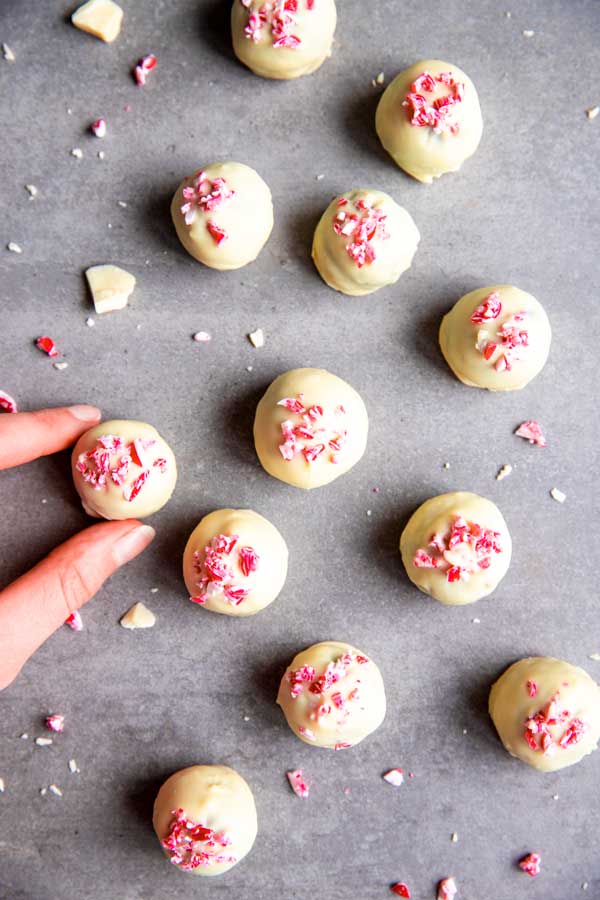 How do you make peppermint Oreo balls?
I'm not going to lie – no bake treats are not as easy as they seem at first. I'm a full-time work at home mom of two little ones, so I usually resort to cookies like Snickerdoodles that need absolutely zero fussing.
But these Oreo truffles are still plenty easy and SO pretty, they are absolutely worth making if you have a little time and patience.
I mean, the base is incredibly easy. Chuck Oreo cookies and cream cheese in your food processor and process until the cookies are finely crushed and everything turns into a sticky ball.
You can use Peppermint Bark Oreos if you have them. But you can also use regular Oreos (or double stuffed – just reduce the amount of cream cheese) and a few drops of peppermint extract.
Then you roll them into 1-inch balls (that's about 1 heaping teaspoon of cookie mix). I like to freeze them for 15 minutes at this point to help them firm up. This will also help the melted chocolate set faster.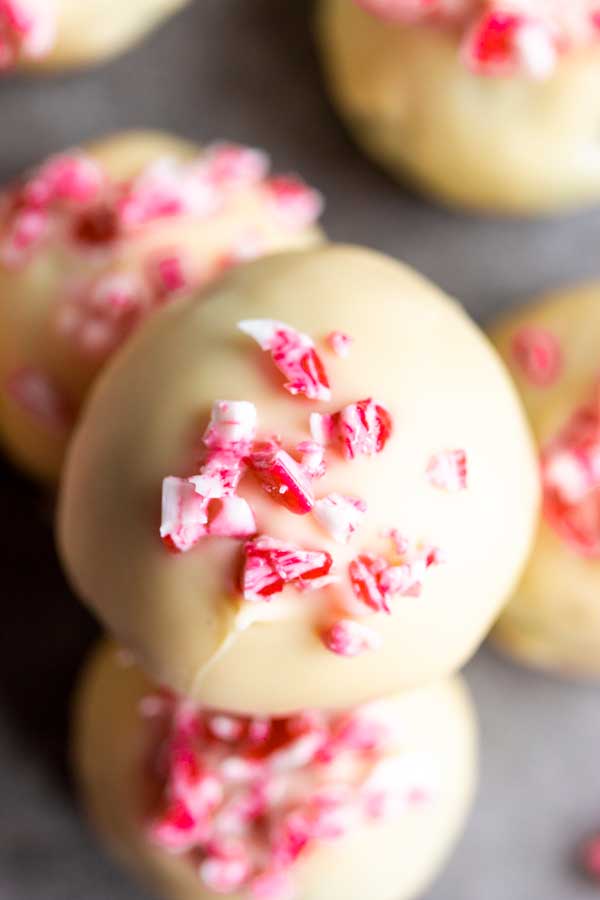 What chocolate is best for covering the Oreo Truffles?
Especially for white chocolate, it's important to use one that's specifically for melting.
Trust me… Things get messy if you try using the wrong white chocolate for coating.
A few great options:
Ghirardelli's White Melting Wafers
Wilton's White Candy Melts (both the bright white and regular white look pretty)
a block of Make Your Own Vanilla Almond Bark (which is what I mostly use!)
How do you roll Oreo Balls in chocolate?
It took me a few batches of Oreo truffles to figure out the perfect coating technique. Here's how I do it:
Melt the chocolate and have a fork, large spoon and a few toothpicks ready. Place a sheet of baking parchment on a sheet pan next to your melted chocolate.
Place an Oreo ball on the fork and dip the bottom in the melted chocolate, then use the spoon to evenly pour melted chocolate all over the Oreo ball.
Use the toothpick to gently slide the coated truffle back and forth on the fork, then wipe away any excess chocolate from the bottom of the fork.
Carefully slide the coated truffle off the fork and onto the lined baking sheet.
I know this sounds complicated, ha! But it's the best way to evenly coat your truffles without getting tons of Oreo crumbs everywhere.
When using white chocolate, I actually freeze the balls until firm and then coat them for a second time to stop the black truffle center from shining through the chocolate.
A little extra work but it's worth it.
Ah and do make sure you have your crushed candy cane ready, because it needs to go on right after coating the truffles – it will only stick if it goes on while the chocolate is still melty!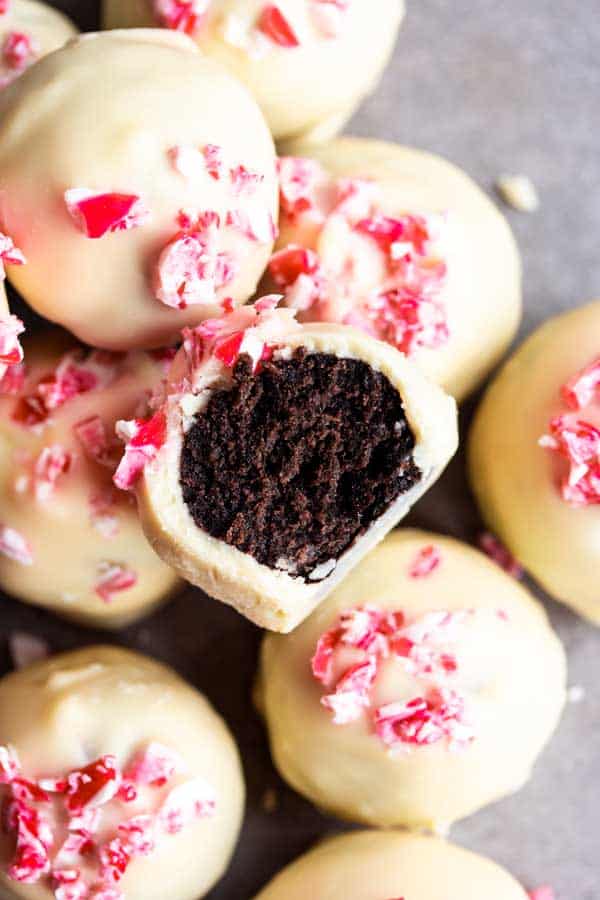 How do you store Oreo balls? How long do they last?
Oreo balls are pretty easy to store. You can either refrigerate them or freeze them.
To refrigerate: Refrigerate for up to 2 weeks in an airtight container.
To freeze: Freeze for up to 2 months in a labelled, freezer-friendly container.
Despite all the dipping, these are now one of my favorite no bake treats to make. I mean, right next to No Bake Chocolate Peanut Butter Bars and No-Bake Millionaire's Shortbread Bars 😉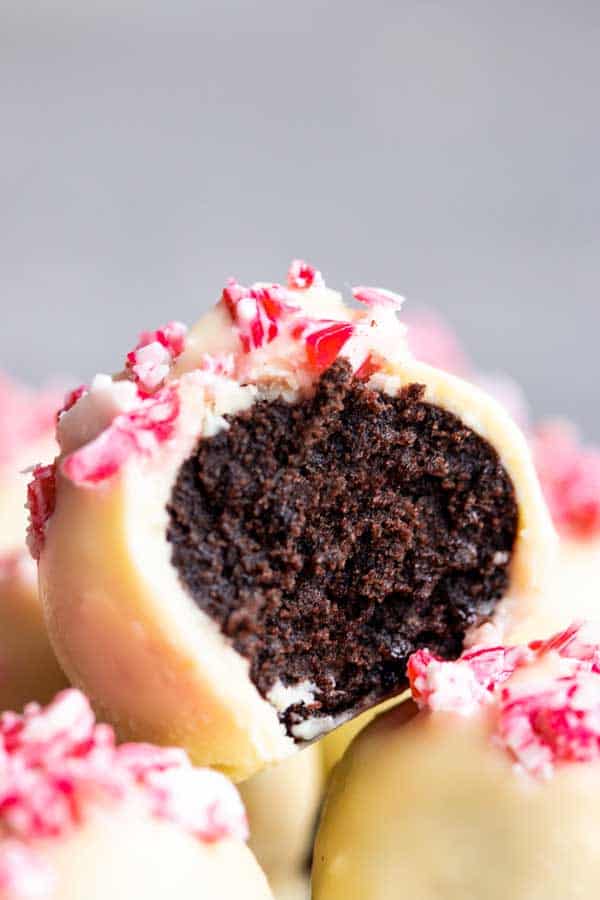 Get the printable recipe here:
Printable recipe
Printable Recipe Card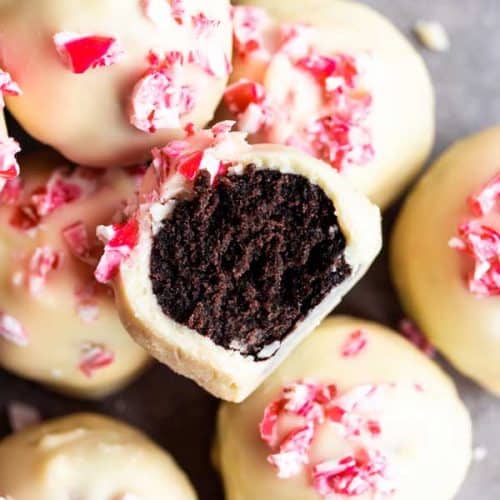 No Bake Peppermint Bark Oreo Truffles
These No Bake Peppermint Bark Oreo Balls are as good as they look, but they keep your oven free for cookie baking!
made it? tap the stars to add your rating!
Ingredients
1

package Oreos

36 pieces - you can use regular, double stuffed or Peppermint bark

8

ounces

brick-style cream cheese

use 4 ounces if using double stuffed Oreos!

1-2

teaspoons

peppermint extract

optional for a more minty flavor; leave out if using Peppermint Bark Oreos

8

oz

white melting chocolate

see post for notes on which chocolate to use; will need 16oz if wanting to coat truffles twice

6

small candy canes

crushed
Instructions
Place Oreos, cream cheese and peppermint extract (if using) in a food processor with the blade attachment and process until completely crushed and starting to ball up.

Roll mix into 1-inch balls (about 1-2 teaspoons of cookie mixture) and place on a lined baking sheet. Freeze for at least 15 minutes or until completely firm, otherwise they may fall apart during coating.

Melt 8 oz of chocolate according to package instructions. Coat the Oreo truffles with chocolate (see IMPORTANT notes and instructions in the post above to keep them from falling apart!!) and place back on the lined baking sheet.

If wanting to coat twice, place them in the freezer until firm and then repeat the coating process. Otherwise, immediately sprinkle with the crushed candy canes and freeze until firm, then store in the fridge or freezer.
Want to save this recipe?
Create an account for free to start your personal recipe box. Save any recipe by tapping the heart in the bottom right corner.
Join Now
Nutrition
Calories:
52
kcal
Carbohydrates:
6
g
Protein:
1
g
Fat:
2
g
Saturated Fat:
1
g
Cholesterol:
2
mg
Sodium:
52
mg
Potassium:
36
mg
Sugar:
6
g
Vitamin A:
5
IU
Calcium:
36
mg
Iron:
0.1
mg
Nutrition is an estimate.
More recipe information