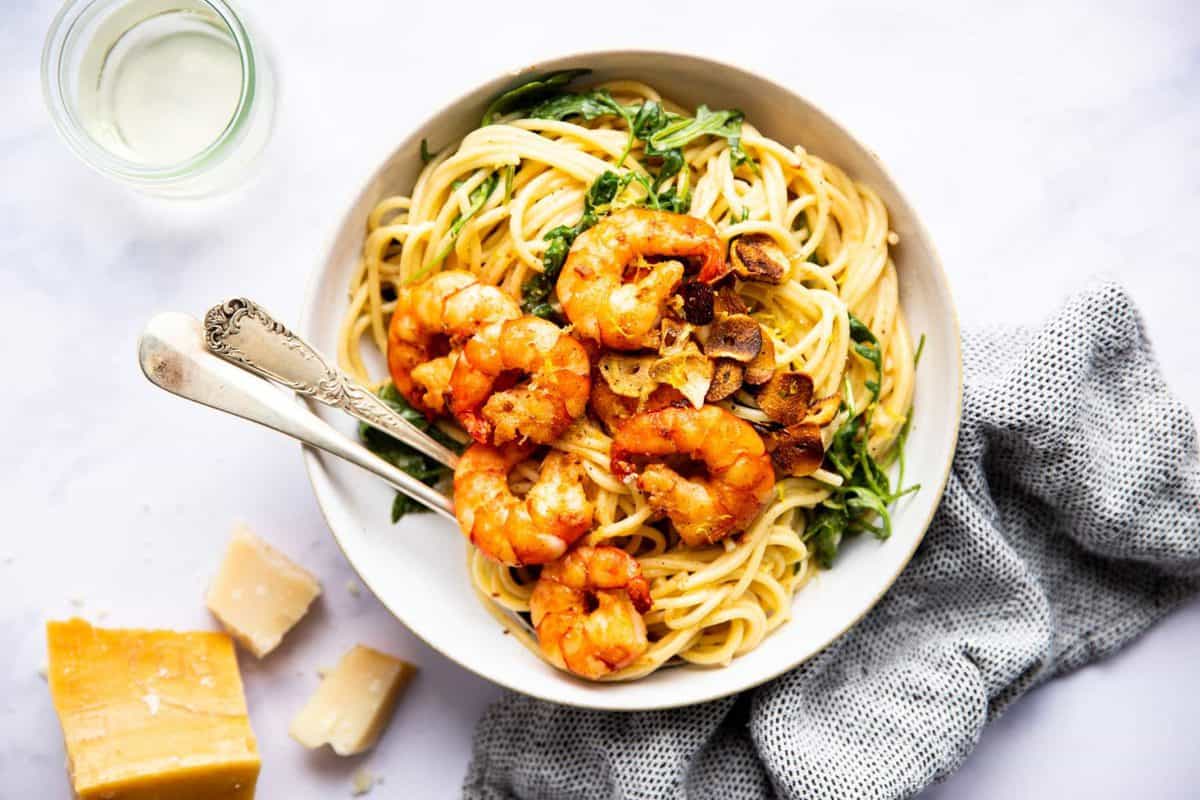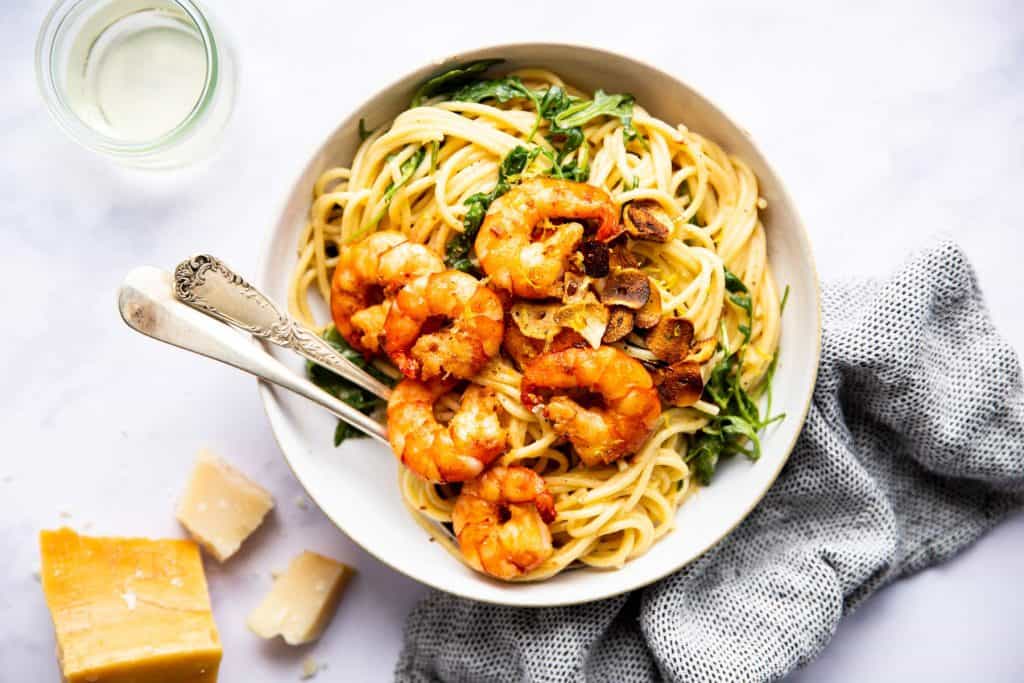 made it? tap the stars to add your rating!
If you're looking for a simple but special dinner recipe, try adding Lemon Garlic Butter Shrimp to some creamy Cacio e Pepe pasta! This meal is perfect for a date night in (Valentine's Day!), or to surprise guests with a delicious meal.
Ingredients
For the Pasta:
1

pound

spaghetti

(linguine or any other long, thin pasta shape you have on hand)

2

tablespoons

unsalted butter

1-2

teaspoons

freshly cracked black pepper

1 ¼

cups

grated parmesan

(Romano cheese, OR a mix)
For the Shrimp:
3

tablespoons

unsalted butter

2

cloves

garlic

(finely minced)

1

pound

shrimp

(I used raw jumbo Black Tiger)

salt & freshly cracked black pepper

2

tablespoons

white wine

(OR water)

1-2

tablespoons

lemon juice
To Serve:
baby greens, lemon zest, chili flakes, fried garlic…
Instructions
Cook pasta:
Cook pasta according to package directions. Right before draining, reserve 1 cup of pasta cooking water!! Drain the rest.
Cook Shrimp:
While the pasta is cooking, melt ½ tablespoon butter in the same pan as cooking the garlic (no need to clean it) over medium-high heat. Add the 2 cloves minced garlic and cook until fragrant, around 30-60 seconds.

Season the shrimp with salt and pepper, then add to the garlic in the pan and cook for 2 minutes per side.

Add the other ½ tablespoon butter and the white wine. Cook, tossing from time to time, until shrimp has cooked through (do not overcook!).

Take off the heat, season with lemon juice, salt and pepper to taste and set aside on a warmed plate tented with aluminum foil.
Finish Pasta:
Melt 1 more tablespoons butter in the same pan (again, please don't clean it!). Add the pepper and cook 30-60 seconds, until fragrant.

Add half of the reserved pasta cooking water to the skillet and bring to a simmer. Toss in the cooked pasta and 1 more tablespoon butter until melted.

Reduce the heat to low and toss in the cheese until melted. Toss in baby greens (if using), adding more pasta water if the sauce seems too dry.

Serve the pasta topped with shrimp, lemon zest, chili flakes and fried garlic, if you like.
Add Your Review
Nora's Tips
Make sure to use LOW heat when adding the cheese, otherwise the sauce could split.
to make fried garlic, slice 4 cloves garlic very thinly and brown them over medium-high heat in a little oil in a single layer in a skillet for 30 seconds per side. Remove to a plate lined with kitchen paper, then serve over the pasta.
If you don't want to use shrimp, you can also use diced chicken breast instead.
If you accidentally forget to save your 1 cup of pasta cooking water when you drain the spaghetti, try using half and half and some extra salt instead. It will be even creamier!
More recipe information
Join my Newsletter to Get Recipes in Your Inbox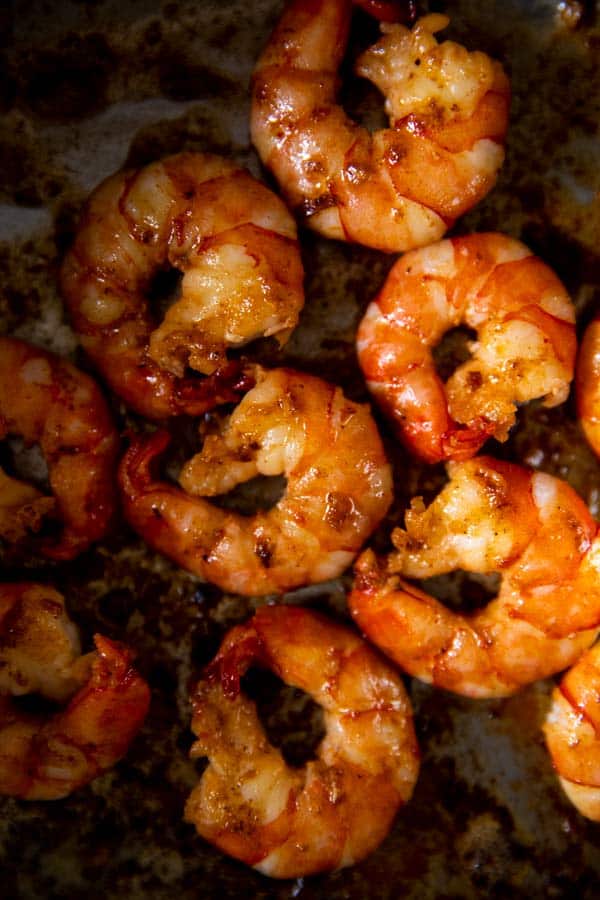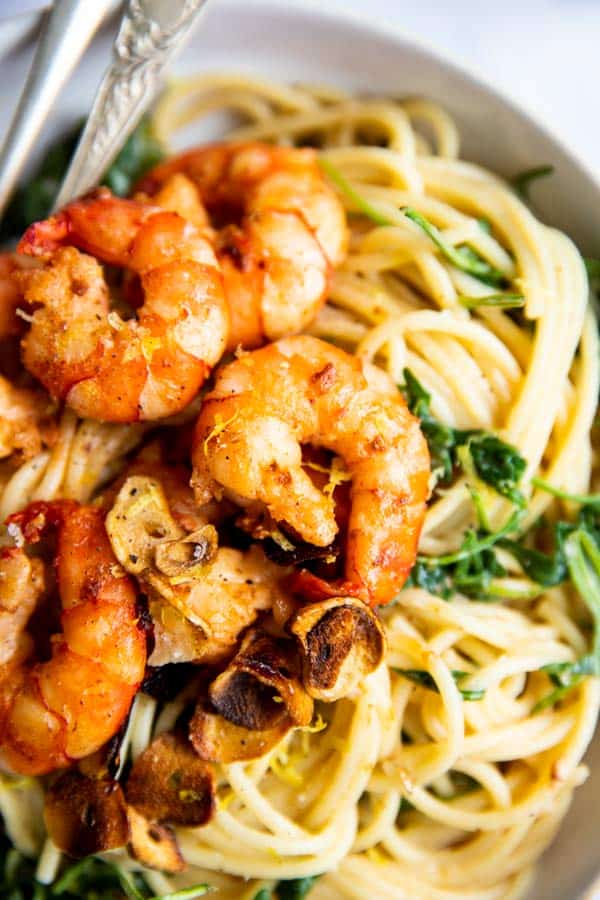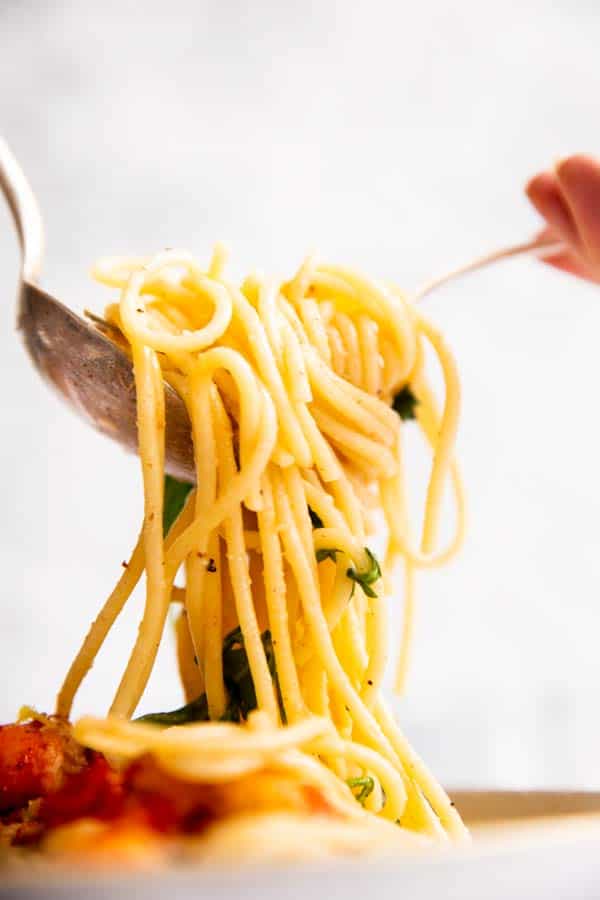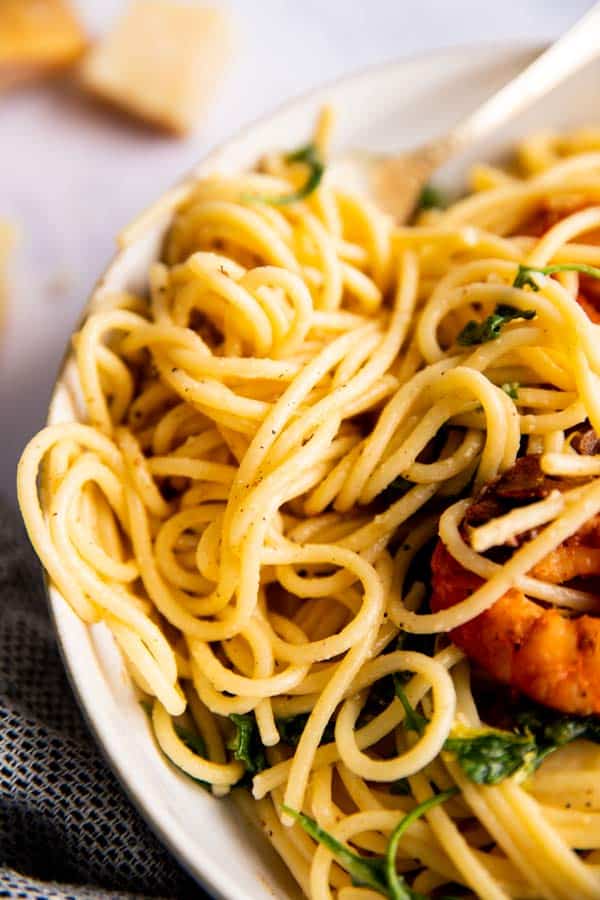 More Recipes You'll Love: