Printable recipe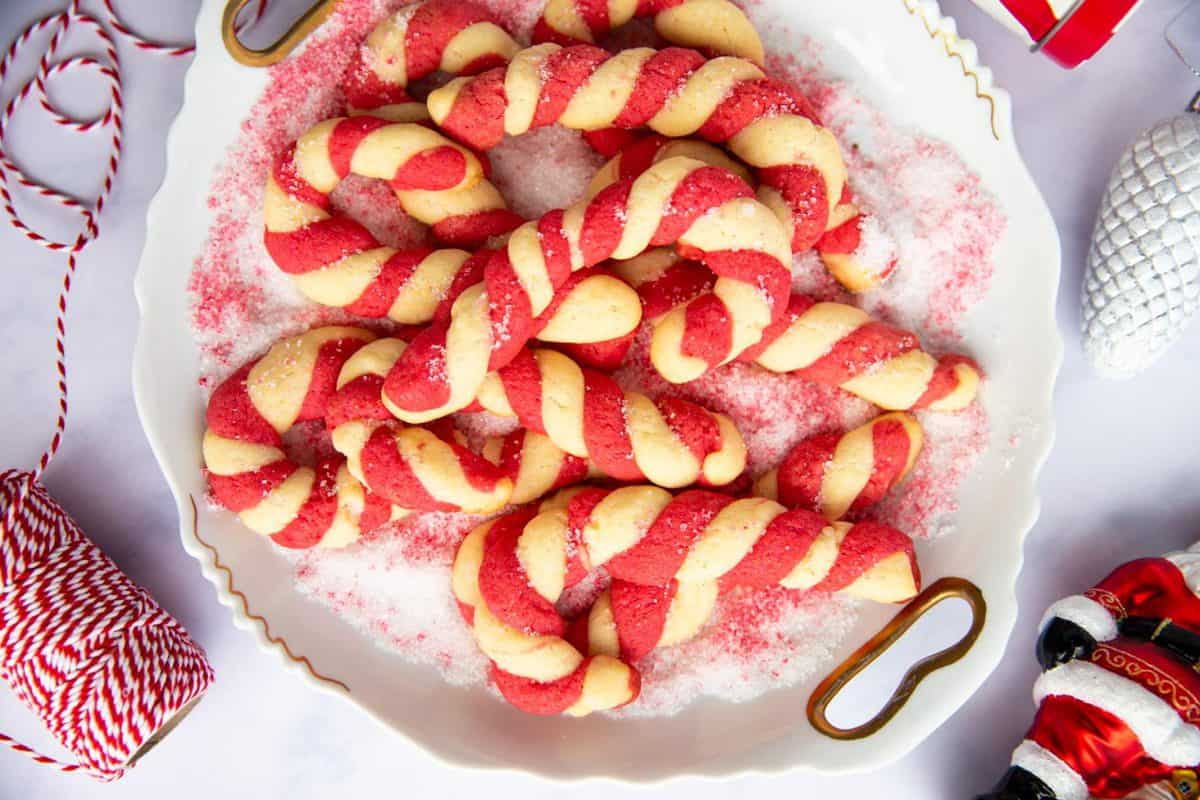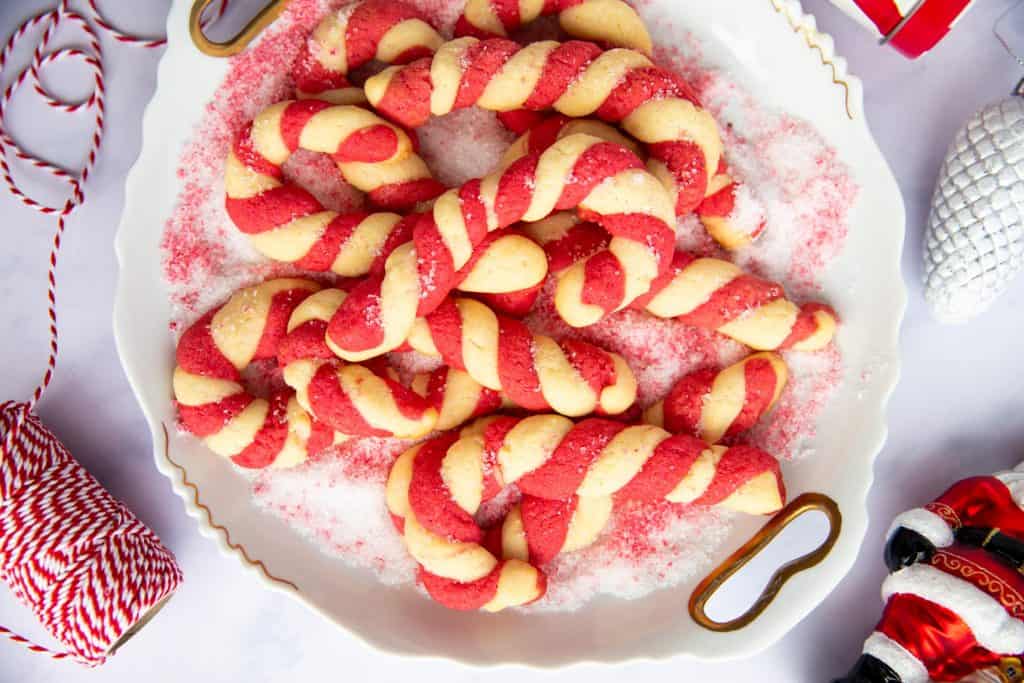 made it? tap the stars to add your rating!
Ready In:
1

hour
20

minutes
Is it really Christmas without candy cane cookies? I don't think so, which is why they're at the top of my holiday baking list each and every year.
I make mine like the very old fashioned recipes, namely without peppermint extract. I use almond, but please feel free to substitute peppermint extract if that's what you prefer. I also prefer to sprinkle them with a mix of granulated and red decorating sugar because that's how I've always made them, but I added the option of crushed peppermint candies to the instructions as well.
However you make these – they turn out delicious and are sure to spread some festive cheer!
Ingredients
1

cup

butter

(softened)

1

cup

granulated sugar

1

large egg

1

teaspoon

vanilla extract

1

teaspoon

almond extract

(OR peppermint extract, if you prefer)

3

cups

all-purpose flour

1

teaspoon

baking powder

½

teaspoon

salt

1

teaspoon

red food coloring

(or less if you have a more concentrated food coloring (I used 1 teaspoon gel))
For Sprinkling (optional):
½

cup (each)

regular sugar and red decorating sugar (OR crushed peppermint candies)

(combined in a shallow dish)
Instructions
Make cookie dough:
Cream wet ingredients: Place butter and sugar in a large mixing bowl and cream with an electric mixer until well combined. Add the egg and extracts, then beat until the egg is fully combined – do not mix any longer than necessary, or your cookies may turn out tough. It will look scraggly, but that's fine.

Add dry ingredients: Combine the flour, baking powder and salt in a medium bowl, then gradually add to the butter mixture and mix on low until combined.

Color cookie dough: Tip out half of the cookie dough mix on your work surface and knead a few times until smooth. Set aside. Add the red food coloring to the remaining half of cookie dough in your mixing bowl and mix with your hand mixer on low speed until fully incorporated. Add more coloring as needed (I used about one teaspoon gel).
Shape Cookies:
Divide each color cookie dough into about 8 pieces and roll, one at a time, into long ropes on a lightly floured surface (do not use too much flour or your candy canes will end up looking unappealing; keep remaining dough under a clean tea towel to keep it from drying out). Cut the logs into 4-5 inch pieces.

For each cookie set a red and a white rope of dough next to each other, then twist together.

Place on lined baking sheets (set cookies 2 inches apart) and curve one end to form the handle of the candy cane.

Chill the shaped cookies for 30 minutes. Proceed in the same manner until all candy canes are shaped.
Bake Cookies:
Heat oven to 375°F. Once hot, bake chilled cookies (one tray at a time!) for 8-10 minutes, or until very lightly browned. Remove from the oven and immediately sprinkle with the sugar or peppermint candy mixture (see notes). Cool on the baking sheet for 5 minutes, then remove to a wire rack to cool completely.
Add Your Review
Nora's Tips
Ingredient Notes:
Extracts: If you want a very strong peppermint flavor, use 2 teaspoons peppermint extract. You can also use only vanilla extract in place of the almond.
Food coloring: I find gel colors work best when incorporating into a cookie dough. The drops can certainly work, too, but it's a little more work to get the color distributed, which can result in overworked dough.
Sugar: I know many recipes use confectioner's sugar, but I prefer using granulated sugar because it makes a dough that's much easier to handle in my experience.
Baking Tips:
Dough consistency: Your dough should be quite soft and pliable. If it's dry and cracking a lot during rolling, it's likely that either your egg was a little smaller or you accidentally added a bit too much flour (which happens easily!). Add one or two tablespoons of milk, which should solve the problem. On the other hand, if your red dough is a bit too sticky due to the food coloring, knead in a few teaspoons more flour.
Chilling: I purposefully chill the cookies AFTER shaping them. a) it's easier and neater to shape the cookies when the dough is warm (it breaks and cracks more easily when chilled), b) it takes a lot less time to chill and c) the dough and cookie sheets are thoroughly chilled when the cookies hit the oven (vs getting warmed up by hands etc) for best shape retention.
Sugar sprinkling: To make the sugar stick better, you can instead brush the cooled cookies with a thin powdered sugar glaze before sprinkling. I don't do this because it slightly mutes the red, but I know many people who swear by it.
Freezing:
I actually don't recommend freezing this recipe – the finished cookies are too delicate to be handled as much. And freezing the dough makes it a lot harder to work into the candy cane shapes once defrosted.
They do keep well in closed cookie tins at room temperature for 1-2 weeks though.
More recipe information
Join my Newsletter to Get Recipes in Your Inbox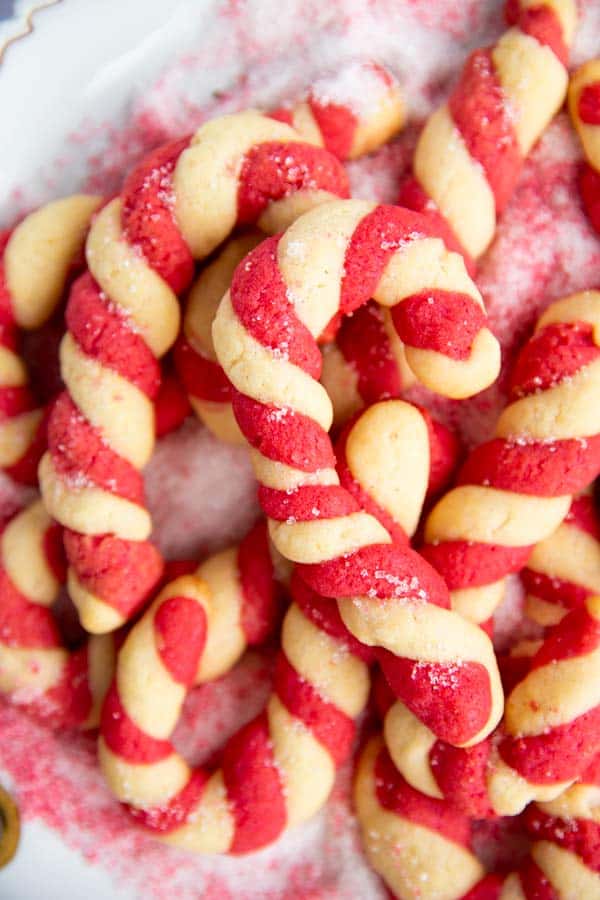 Try these Cookies Next: