Printable recipe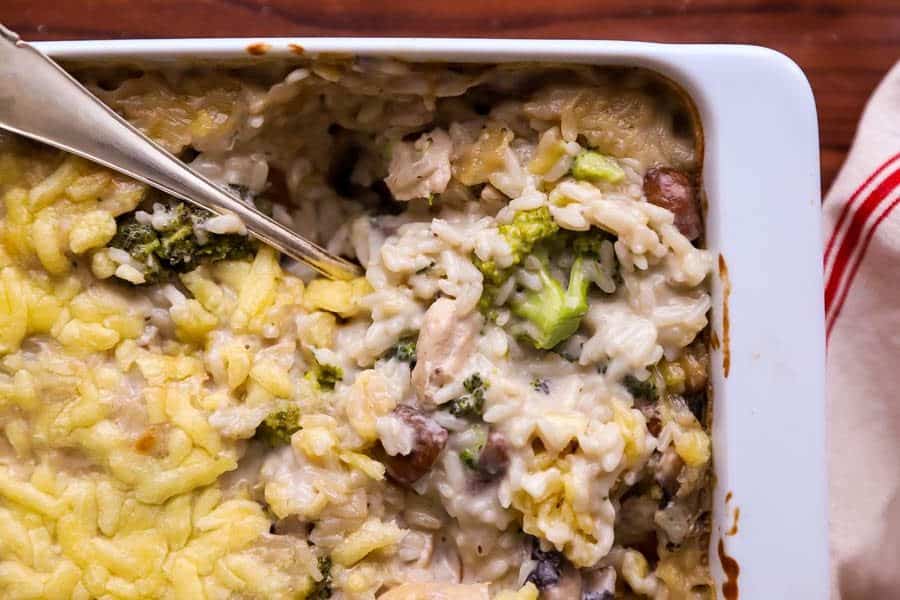 made it? tap the stars to add your rating!
There is nothing quite as home-y and comforting as a Chicken, Broccoli and Rice Casserole, if you ask me. It's the dish that reminds me of weeknight meals during my childhood, church potlucks and having babies.
I make mine without any condensed cream soups, but use lean chicken breast, fresh mushrooms and plenty of broccoli instead. If you prefer, you can make this bake with brown rice or a wild rice mix instead of the white my recipe calls for – it's the one traditional ingredient I couldn't break away from.
My kids adore this recipe – the creamy (and not mushy!) rice, picking out their favorite bits (broccoli! I'm not even kidding) and the melty cheese… This is pure soul food to us!
Ingredients
12-

oz

package long grain rice

(cooked according to package directions)

¼

cup

butter

(divided)

1

pound

chicken breast

(diced)

1

small onion

(chopped)

½

pound

mushrooms

(sliced)

½

teaspoon

dried garlic powder

¼

teaspoon

celery salt

¼

teaspoon

dried thyme

4

tablespoons

flour

1 ½ – 2

cups

chicken broth

1

cup

evaporated milk

1

head broccoli

(in florets)

8-

oz

package cream cheese

2

cups

shredded cheese

(American, cheddar, mozzarella… whatever you like)
Instructions
Prep: Preheat the oven to 375F. Lightly grease a deep 9×13 inch casserole dish.

Sauté chicken and aromatics: Melt 2 tablespoons butter in a large skillet over medium-high heat. Add chicken and cook until lightly browned on all sides. Stir in onion and mushrooms, cook until softened, about 5 minutes.Stir in garlic powder, celery salt, dried thyme and remaining butter.

Make sauce:

Stir in flour, making sure no more streaks of dry flour are visible. Pour in 1.5 cups broth and 1 cup evaporated milk, stirring well until smooth.

Add broccoli and cheeses:

Stir in broccoli and simmer for 5 minutes, adding up to ½ cup extra broth if it looks dry. Take off the heat and stir in cream cheese, 1 cup shredded cheese and rice.

Assemble: Place rice mix into the prepared casserole dish. Top with remaining 1 cup of cheese.

Bake: Bake uncovered at 375F for 20-30 minutes, or until cheese has melted and casserole is bubbly.
Add Your Review
Nora's Tips
Ingredient Notes:
Rice: I used a white parboiled rice, but feel free to use whatever long-grain variety you prefer (wild rice mix, brown rice…). Keep in mind: A brown rice may soak up more liquid from the casserole, so you may need to add some extra broth or evaporated milk.
Chicken: You can use shredded rotisserie chicken, leftover turkey or canned chicken on place of the raw diced chicken breast.
Mushrooms: If you're not a fan, just leave them out! You can also use canned sliced mushrooms in place of the fresh.
Celery salt: I'm not sure how common it is to have celery salt on hand these days (I'm an old lady in many ways). If you don't have it, just leave it out. You can also add a few pinches of poultry seasoning instead, if you have that in your pantry.
Evaporated milk: If you don't have evaporated milk, you can also use regular milk. It will not be quite as creamy though, and the sauce splits a bit more easily, so be careful during cooking. Whole milk works out best, 2% or 1% milk still work though.
Broccoli: Frozen broccoli florets are a good substitute for the fresh. No need to defrost, just simmer them for a few minutes in the sauce as you would fresh broccoli. Frozen broccoli tends to be a bit mushier than fresh, so that's an outcome you're going to have to live with if you plan on using frozen.
Note: This recipe can be made gluten free if you use cornstarch instead of the flour called for, HOWEVER, please check ALL of your ingredients to make sure they are certified gf before using them (especially the chicken broth!).
Cooking Tips:
If you have lumps in the sauce: If you have lumps in the sauce, use a whisk to try and get as many out as you can.
To prevent lumps in the first place, make sure to stir in the flour until no more dry streaks are visible!
Make Ahead Instructions:
I make this casserole up to 3 days ahead of time.
Assemble the full casserole right up to the final baking step, let it cool for 30 minutes at room temperature, then cover tightly with cling film and refrigerate for up to 3 days.
To bake, remove the casserole from the oven, unwrap and let sit on the counter while the oven preheats.
Bake as directed in the recipe, though you may need to add an extra 5-10 minutes to the baking time as the casserole is cold from the fridge.
Freezer Instructions:
You can freeze this casserole for up to 3 months.
Assemble the full casserole right up to the final baking step, let it cool for 30 minutes at room temperature, then cover tightly first with cling film and then with aluminum foil. Label with the name and use-by date (freeze for up to 3 months) before placing in the freezer.
To heat from frozen: Remove the casserole from the freezer and unwrap. Loosely cover with aluminum foil and bake in the preheated oven for 60 minutes. Remove the foil and bake another 15 minutes, or until the cheese has melted and the casserole is bubbly.
Serve this with:
A Chicken, Broccoli Rice Casserole is generally a full meal packed into one dish. That being said, I do enjoy adding something fresh to the meal.
We'll either have a leafy green salad with my Homemade Ranch Salad Dressing or Honey Mustard Salad Dressing. Or I'll serve a fruit salad for dessert – usually my Winter Fruit Salad because we mostly have this casserole during the colder months.
Nutrition
Serving:
1
/8 of recipe
|
Calories:
487
kcal
|
Carbohydrates:
24
g
|
Protein:
31
g
|
Fat:
30
g
|
Saturated Fat:
17
g
|
Polyunsaturated Fat:
10
g
|
Cholesterol:
130
mg
|
Sodium:
667
mg
|
Fiber:
1
g
|
Sugar:
6
g
More recipe information
Join my Newsletter to Get Recipes in Your Inbox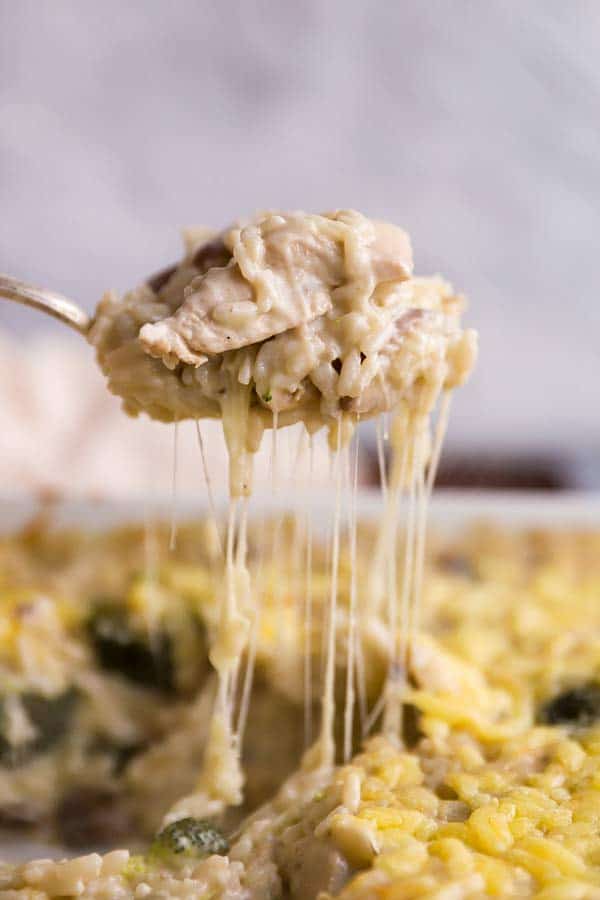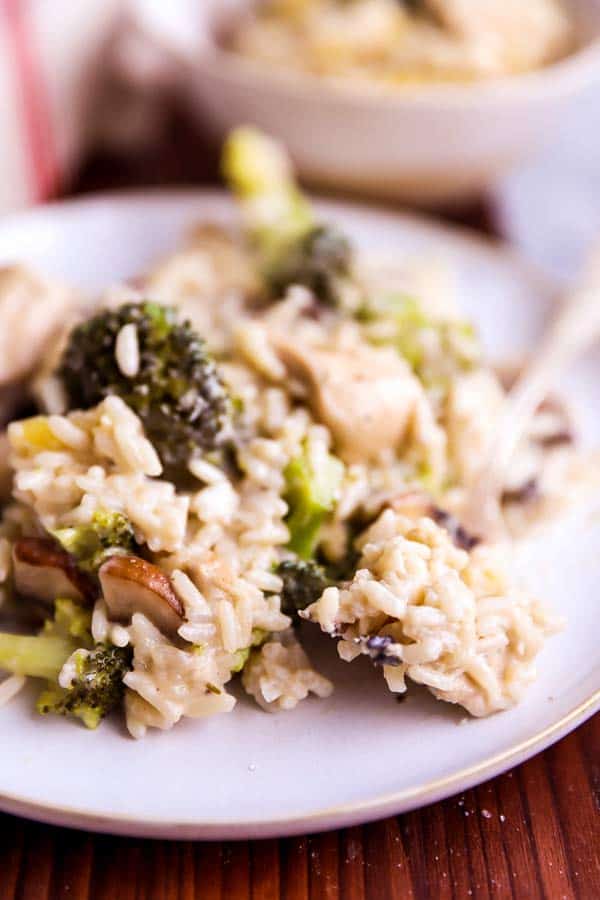 More Casserole Recipes You'll Love: