Corned Beef and Cabbage is a classic recipe to make for St. Patrick's Day. It's simple to cook on the stovetop and turns dinner into a hearty meal. True Irish-inspired comfort food!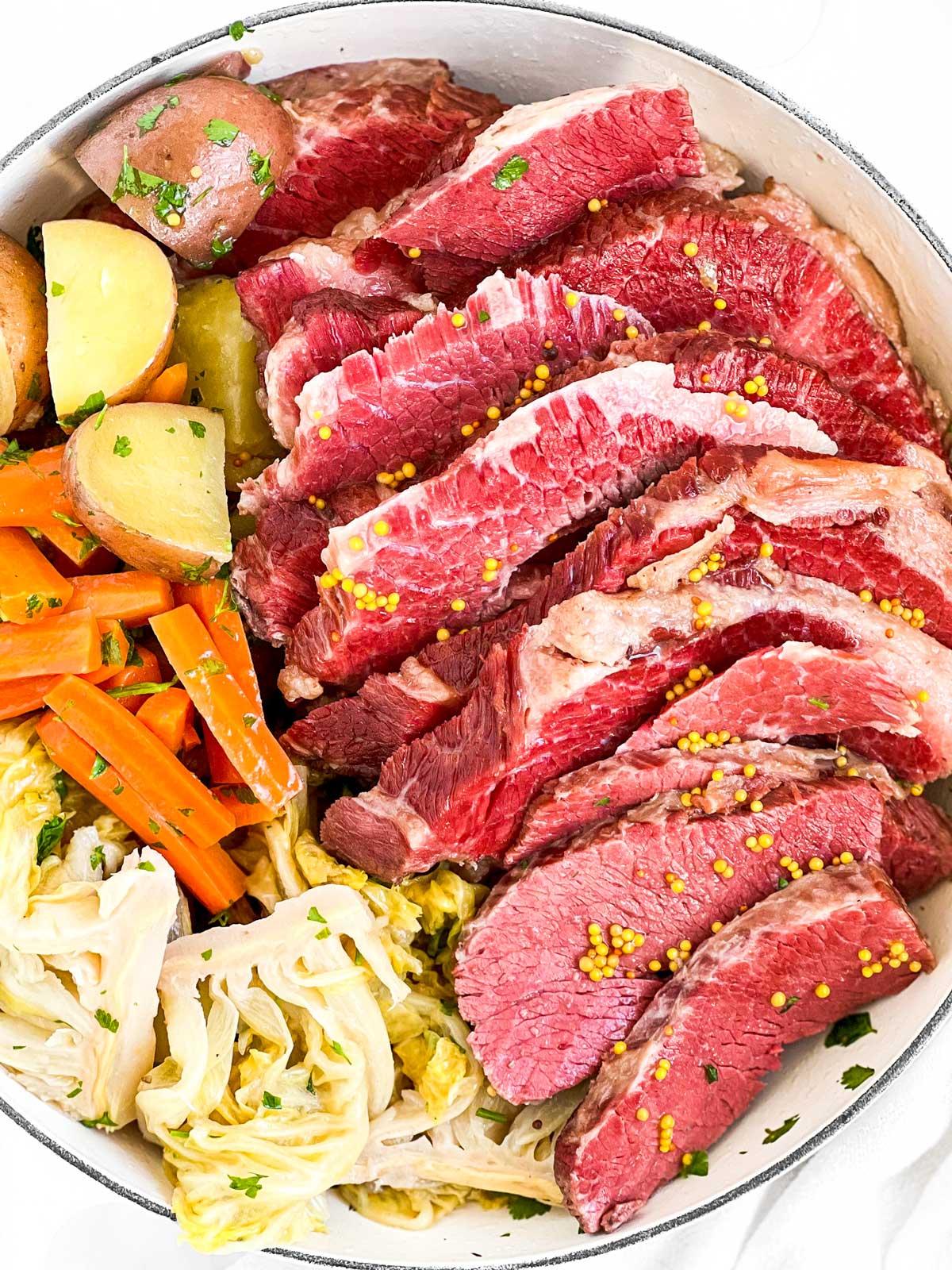 Nothing beats good old fashioned comfort food like grandma used to make. Corned beef is something I just love, and not just because it's a fond childhood memory.
There's something about the combination of buttery vegetables and hearty beef, with hints of pickling spices and mustard that's oh-so comforting. The perfect dinner on a chilly night!
Ingredients you'll need
Here is a visual overview of the ingredients in the recipe. Scroll down to the printable recipe card at the bottom of this post for quantities!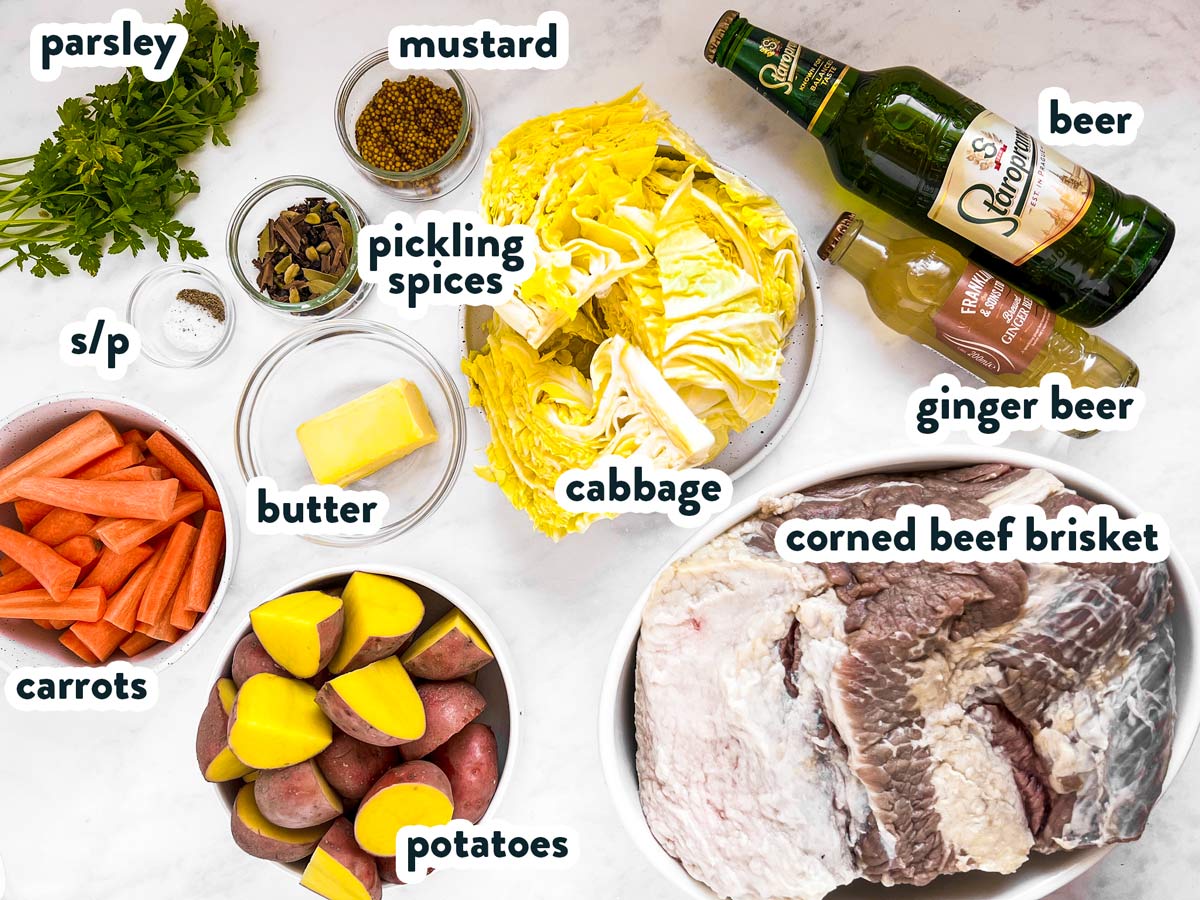 Ingredient notes
Beef: For true corned beef, you need to purchase a corned beef brisket – preferably flat cut. This is brisket brined with the addition of sodium nitrate (an ingredient found in many cured meats, like bacon or hot dogs). The sodium nitrate is what makes the meat look pink after cooking. You can also find instructions for pickling your own brisket (which is what I do, I follow Michael Ruhlman's recipe). You can use an uncured brisket if you are uncomfortable sodium nitrate or can't get a hold of corned beef, it will be tasty but the color will not the be the same.
Potatoes: Use waxy potatoes for best results. I used redskin ones.
Pickling spices: If you purchase a corned brisket, it usually comes with a spice packet. Use this if you have it. If you pickle your own brisket or use an uncured one, use a combination of black peppercorns, mustard seeds, coriander seeds,

allspice berries

, crushed cinnamon sticks, crushed bay leaves, whole cloves, and ground ginger – about ½ teaspoon of each. I highly recommend placing the spices in a small spice bag for cooking.
Beer: Many recipes use a dark stout for corned beef, but I prefer a lighter ale as it doesn't produce the deep bitterness a stout is known for. While the bitterness is great in recipes like Guinness Beef Stew, for me personally it's not a good fit with corned beef.
Ginger beer: I love adding ginger beer, as inspired by Michael Ruhlman's recipe for home-cured brisket. If that's a step too far for you, feel free to use more ale, or beef broth. If using, do make sure to use ginger BEER and not ginger ALE.
How to make Corned Beef and Cabbage
1. Prepare meat for cooking: Place the corned beef in a pot large enough to comfortably hold your brisket and fully cover it with liquid. Add the beer and ginger beer (if using), then add enough water to cover the meat. Add the spice packet.
2. Cook meat: Bring the liquid to a boil over high heat. Reduce the heat to a low simmer, cover with a lid and cook for 2-3 hours, depending on the size of your brisket (cooking time is around 50-60 minutes per pound).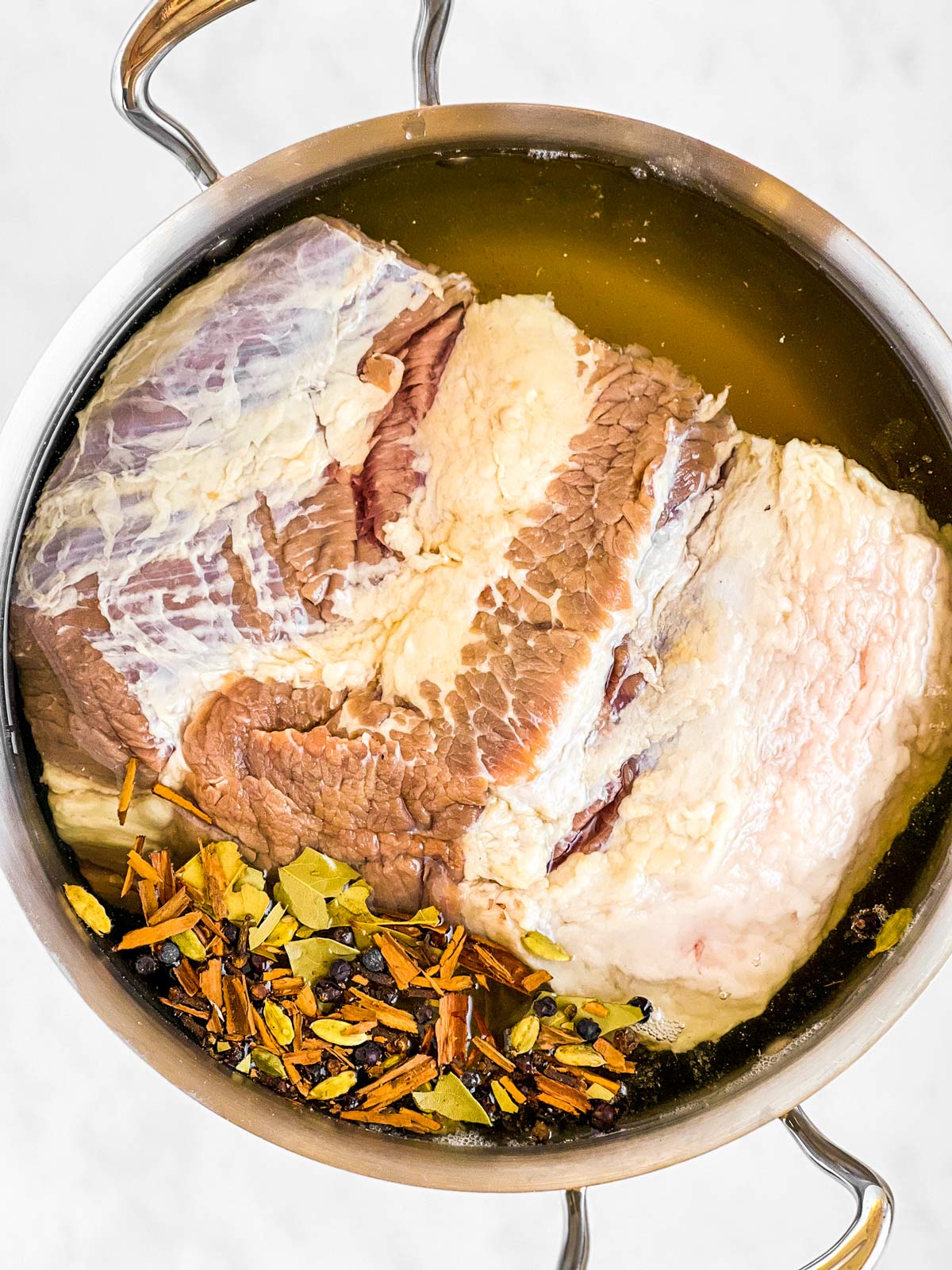 3. Remove meat: Once the brisket is fork-tender, take off the heat and carefully remove it from the pot (watch out for liquid splatters!). Do NOT discard cooking liquid! Set the meat aside on a platter and keep warm by tenting with foil.
4. Cook vegetables: Put the pot back over medium-low heat. Add the vegetables and simmer until tender, about 15-25 minutes, depending on how soft you like them. If you prefer your cabbage less cooked, add it once the potatoes and carrots have already cooked for 10 minutes.
5. Toss with butter and parsley: Melt the butter in a large and wide pot over medium heat. Take off the heat. Remove the vegetables from the broth, add to the melted butter with the chopped parsley. VERY GENTLY coat the vegetables with butter and parsley, making sure you're not breaking them up/mashing them. (I used another large clean pot for this step, but you can also use a large serving bowl and melt the butter in the microwave or in a small stockpot).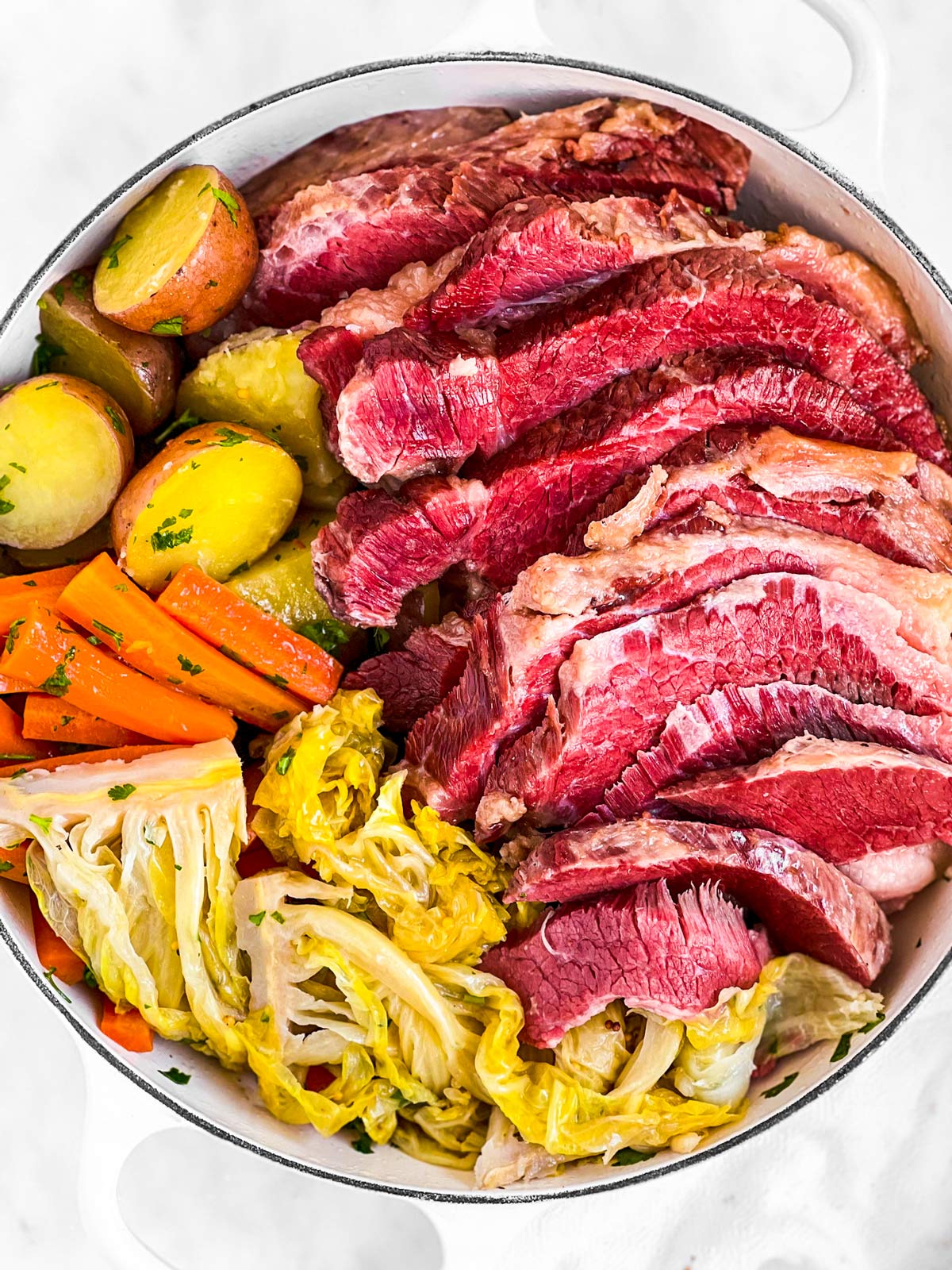 5. Slice and serve: Slice the rested corned beef against the grain. Serve with the vegetables, broth and mustard.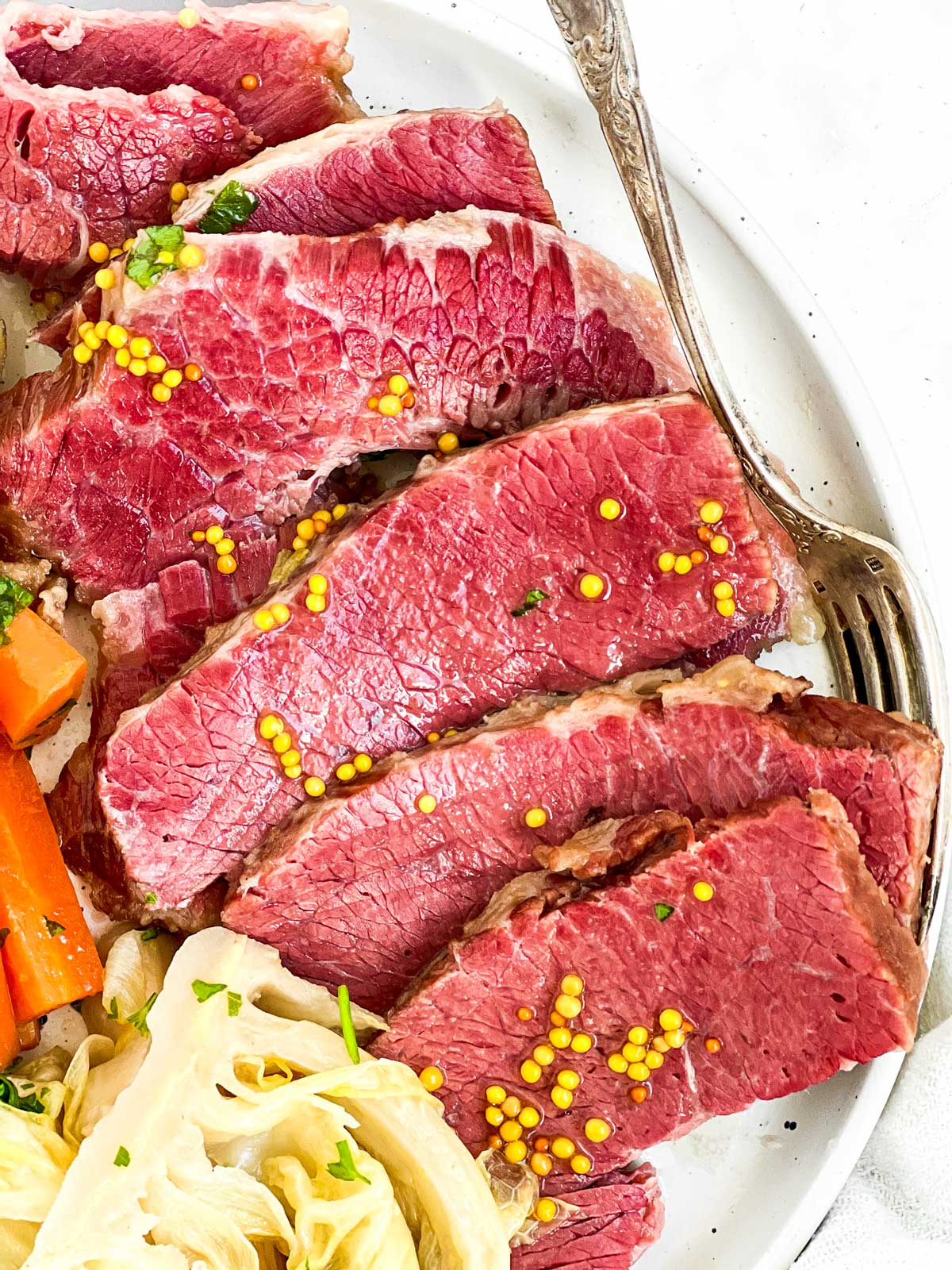 Recipe tips
Trimming fat: If your corned brisket has a thick fat layer on top, you may want to trim it before cooking. Do not trim away all of the fat, leaving a thin layer helps to keep the brisket from drying out.
Rinsing: I know rinsing such a large slab of meat can seem like too much work – but it's important to rinse off any extra brine. Otherwise, your meat may come out too salty. It's easiest to place the packaged corned beef into your sink, then remove the packaging right there and rinse it using a soft stream of water – don't turn your water on too much, or you'll splash it around all over your kitchen.
Internal temperature: For most meat cuts, I recommend using a food thermometer to check for doneness. But while corned beef is technically "done" at 145°F with a 3 minute rest as per the USDA, it needs longer cooking to turn out tender. And don't be alarmed if the meat looks pink inside when slicing, that's because it's pickled with sodium nitrate.
Overcooking: As with everything, you can overcook corned beef. The overcooking mostly happens when you cook it too hot. As long as you make sure your liquids stay at a gentle simmer, your beef won't overcook if you stick to 50-60 minutes of cooking time per pound of beef.
Resting: Please do not skip resting the meat under a tent of aluminum foil, it helps to relax the fibres after cooking and makes it even more tender. Since you're cooking the vegetables after cooking the meat, it should have sufficient resting time. If you skip the vegetables and only cook the meat, I still recommend letting it rest for around 10-15 minutes before slicing.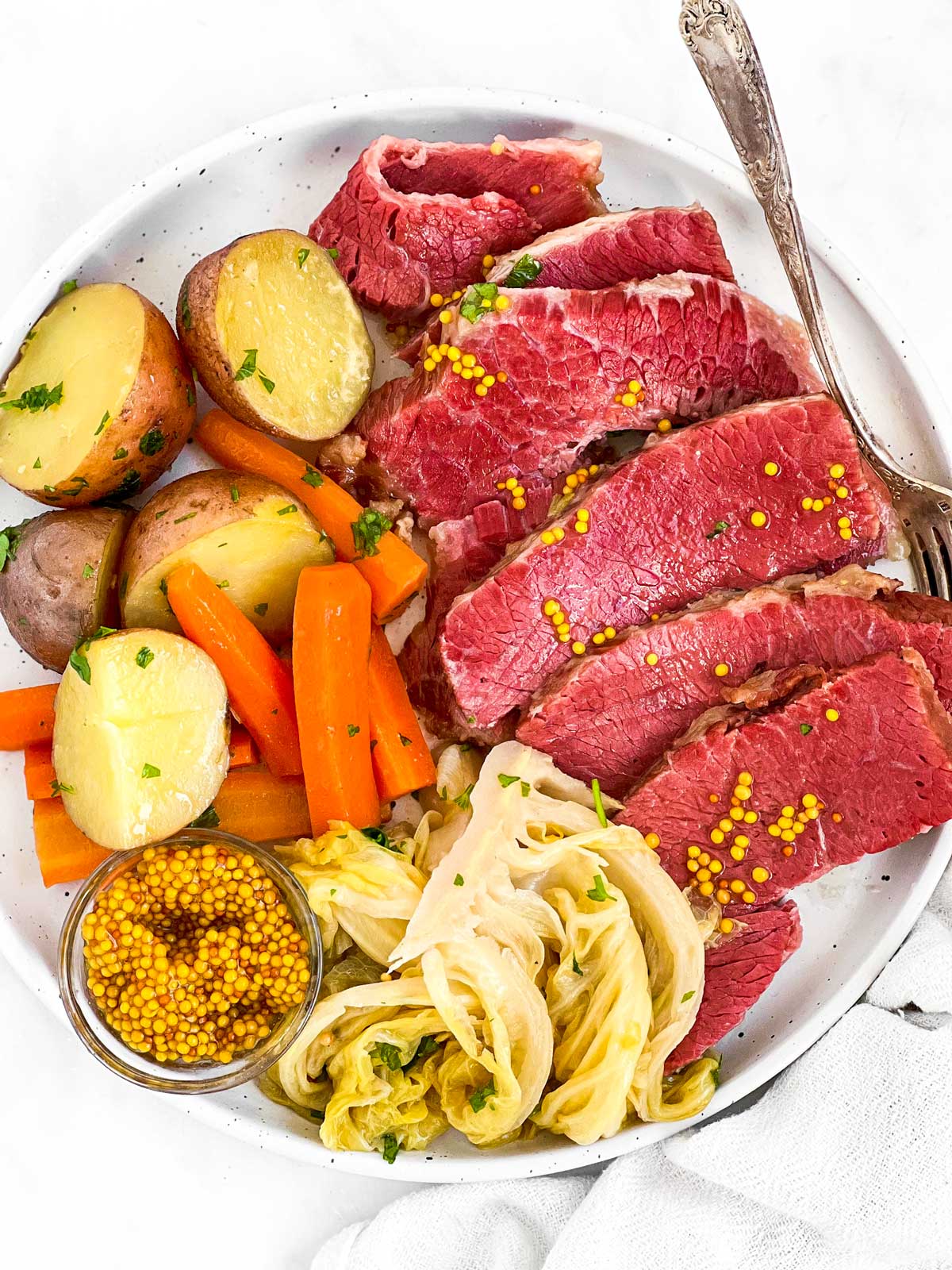 Serving ideas
While this recipe doesn't necessarily need anything to serve it with, it certainly doesn't hurt to bake up a loaf of a traditional whole wheat Irish Soda Bread (the kind without sugar or raisins – it's just like a rustic, artisan country loaf).
If you have big eaters who love potatoes, it never hurts to make up a batch of Colcannon on the side.
For a more American-Irish dinner, you can never go wrong with Mac and Cheese!
For something a little different and refreshing, try a Three Bean Salad or a Broccoli Salad.
PS If you try this recipe, please leave a review in the comment section and add a star rating in the recipe card – I appreciate your feedback! Follow along on Pinterest, Facebook or Instagram.
Printable recipe
Printable Recipe Card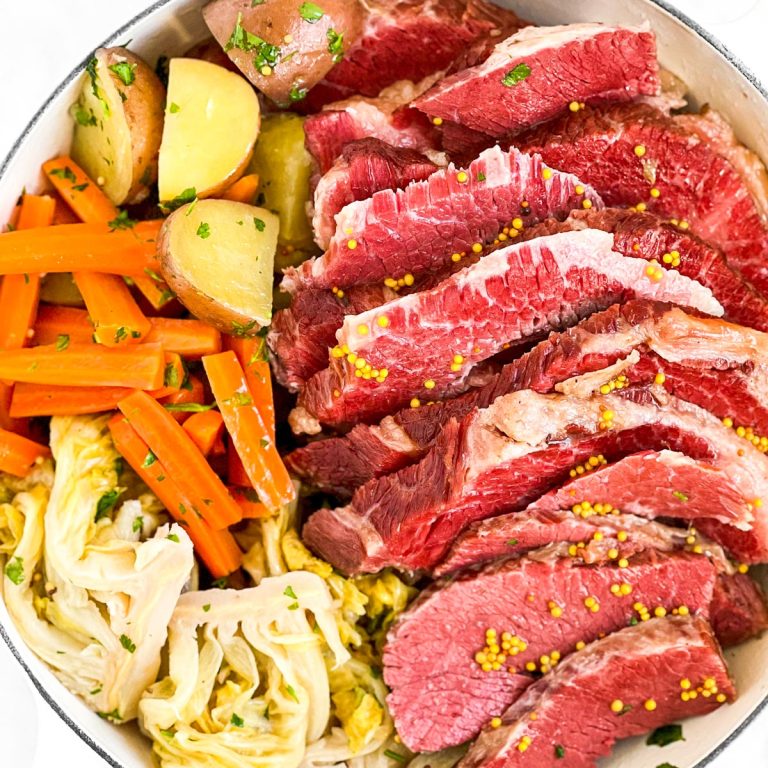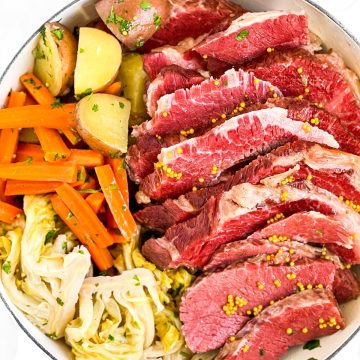 Corned Beef and Cabbage
This is a classic recipe to make for St. Patrick's Day – it's simple to prepare and mostly simmers on the stove, hands-off!
made it? tap the stars to add your rating!
Ingredients
1

(3 pound)

corned beef brisket

with spice packet (see notes if curing your own brisket)

1

(12-oz) bottle

beer

(see notes for suitable types of beer)

12

oz

ginger beer

see notes for specifics

1

pound

red potatoes

cut into 1 to 2 inch pieces

½

pound

carrots

peeled, halved lengthwise and cut into 2 inch pieces

½

small head

green cabbage

cut into 4 wedges (do not remove core)

2

tablespoons

butter

2

tablespoons

chopped parsley

salt and pepper

to taste

1-2

tablespoons

Dijon mustard

optional
Instructions
Prepare meat for cooking: Remove corned beef from packaging and rinse under cold water. Pat dry with paper towels. Place in large pot or Dutch oven, fatty side facing up. Add beer, ginger beer and spices from packet. If needed, add water or beef broth to cover meat fully.

Cook meat: Place pot over high heat and bring to a boil. Reduce heat to a simmer. Cover pot with lid and cook for around 3 hours, or 50-60 minutes per pound of meat. Beef should be fork-tender when ready.

Cook vegetables: Once meat is tender, remove to a platter and tent with foil to rest. Place potatoes and carrots in beer broth, lay cabbage on top. Cover and simmer for 15-25 minutes, until vegetables are buttery.

Finish: Melt butter in wide pan. Remove vegetables from broth (do not discard broth). Add vegetables and chopped parsley to pan, very gently coat with butter (do not smash vegetables). Combine some of the cooking liquid with mustard, if desired.

Serve: Cut rested beef against the grain into ½ inch slices. Serve with vegetables and mustard-seasoned broth.
Want to save this recipe?
Create an account for free to start your personal recipe box. Save any recipe by tapping the heart in the bottom right corner.
Join Now
Notes
Ingredient notes
Pickling spices: If pickling your own brisket or using an uncured one, use a combination of black peppercorns, mustard seeds, coriander seeds, allspice berries, crushed cinnamon sticks, crushed bay leaves, whole cloves, and ground ginger – about ½ teaspoon of each.
Beer: Use a light ale for a less bitter taste. If preferring the bitterness, a dark stout can be used – though it does yield a different flavor. If not a fan of beer, a dry white wine can be used instead.
Ginger beer: Do not use ginger ale, use ginger beer. If not a fan, skip and use a second bottle of beer instead.
Recipe tips
Trimming fat: If brisket has a thick layer of fat, trim to a thin layer before cooking.
Rinsing: Do not skip rinsing beef after unwrapping, as leftover brine can make meat too salty.
Overcooking: Make sure liquids stay at a simmer. Cooking brisket too vigorously can yield tough meat.
Resting: Resting helps meat turn out very tender. Do not skip, even if only cooking meat without the vegetables.
Nutrition is an estimate.
More recipe information
More St. Patrick's Day dinners