Printable recipe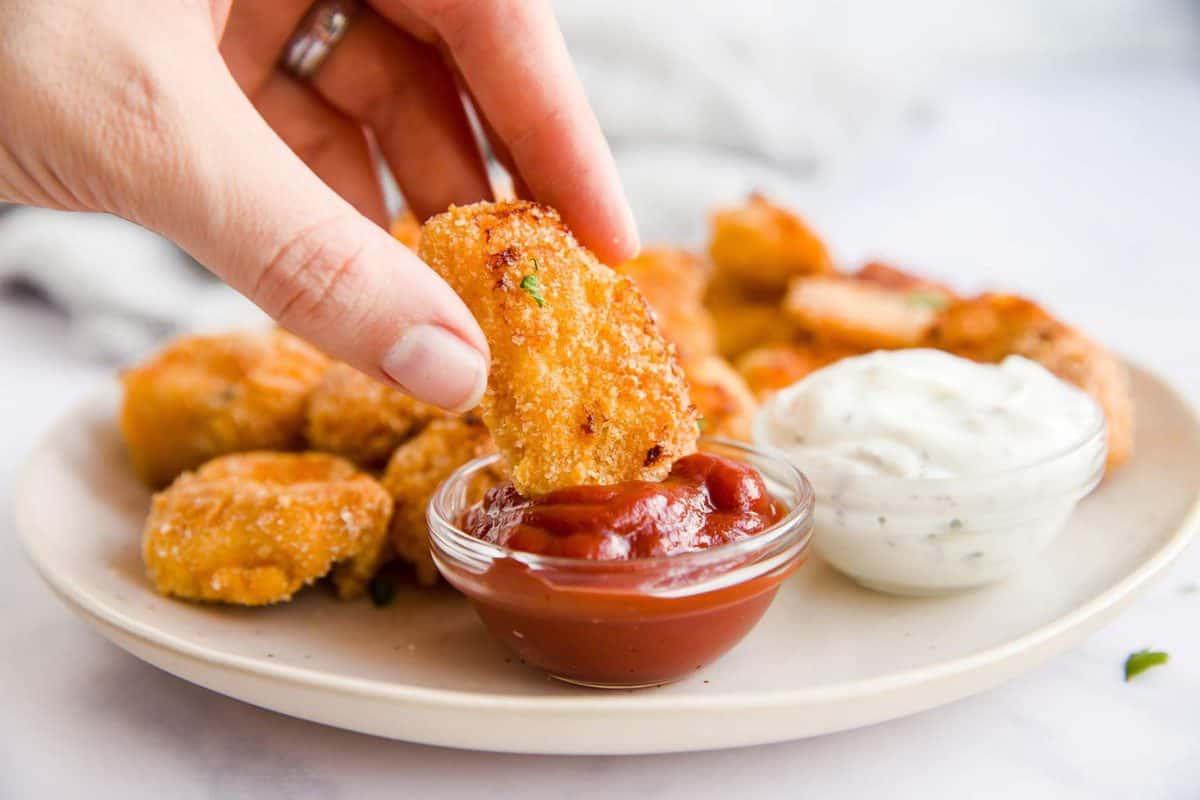 made it? tap the stars to add your rating!
I love making kid favorites like baked chicken nuggets at home. I know what the ingredients are, the kids get to help in the kitchen – and it usually tastes better than getting take out or buying frozen, too! Crispy breaded chicken pieces like these homemade chicken nuggets are a huge favorite with my kids – sometimes I switch it up and make Crispy Oven Fried Chicken, but they love it all!
If your kids enjoy fast food, surprise them with this homemade baked chicken nuggets recipe! You'll get some big smiles around the table for sure. I serve these with my homemade ranch dip and with ketchup, because a nugget without a dip is only half the fun.
Ingredients
1

pound

chicken breast

(I use boneless skinless)

1

cup

flour

2

teaspoons

ground paprika

(reduce or leave out for young children)

½

teaspoon

garlic powder

(reduce or leave out for young children)

¼

teaspoon

onion powder

(reduce or leave out for young children)

2

teaspoons

salt

(reduce or leave out for young children)

½

teaspoon

ground black pepper

2

large eggs

1

cup

bread crumbs

cooking spray

(OR butter OR oil)
Instructions
Prep: Preheat the oven to 400°F (200°C). Place a baking pan in the oven to preheat (a black pan works best).

Add the eggs to a bowl and whisk until beaten.

Place the breadcrumbs in a seperate shallow dish.

Prepare chicken: Pat your chicken dry and cut into chunks or strips, then place it in a large ziploc bag. Add the flour and all seasoning including the salt and pepper in the bag with the chicken. Close the bag, letting out as much air as possible. Shake very well to evenly coat the chicken.

Bread chicken: Open the ziploc bag and remove the chicken pieces, shaking off any excess flour. Place all of the chicken in the bowl with the eggs and toss well until all of the pieces are coated with egg. One by one, remove the chicken pieces from the bag and dredge them through the breadcrumbs, pushing down on the chicken to make sure the crumbs stick well. Set breaded chicken pieces aside on a plate.

Bake the chicken nuggets: Carefully remove the hot pan from the oven. Spray with cooking spray (or melt butter/oil all over the pan). Place the nuggets on the pan, then bake in the hot oven for 8-10 minutes. Carefully flip, then finish baking for another 8-10 minutes. Finish under the broiler for a few minutes, until colden-crispy. Serve immediately with your favorite dips.
Add Your Review
Step by Step Recipe Video
Nora's Tips
Please note: I changed and updated this recipe once in 2017 to address concerns about it tasting bland. I updated it again to make the cooking process easier on Dec 12, 2019.
Ingredient Notes:
gluten free: readers have successfully reported making the chicken nuggets with gluten free flour and gluten free breadcrumbs for a gluten free version
breadcrumbs: use crushed cornflakes in place of the breadcrumbs for extra crunch!
seasoning: switch up the seasoning to fit your taste – see cooking tips for ideas.
note about young kids: I reduce or leave out the seasoning for toddlers and very young children!
Cooking Tips:
Prepping the chicken: Pat the chicken dry with paper towels before breading for the best results. Chicken that is too wet (from prior freezing etc) tends to turn out soggy.
Breading the Chicken:  The one thing you mustn't do is putting any combination of flour, eggs and breadcrumbs together in the same dish/bag.
If you follow the instructions correctly you will end up with a deliciously crispy coating around the entire chicken and not just with a few bread crumbs stuck to it here and there – your kids (and any chicken nuggets loving adults in your life) will love you for it!
The beautiful thing about this?
You can't only bread chicken but pretty much anything using this method! I even use a similar method for my Crispy Oven Fried Coconut Chicken, my Buttermilk Oven Fried Chicken. Uhm, and my Garlic Parmesan Crispy Oven Fried Chicken ? But that's how well it works!
Flipping the chicken: Be careful when flipping the chicken nuggets, if the breading sticks to the pan don't jus rip it off but carefully slide a blunt knife or a metal spatula underneath to losen it.
Make sure to use enough cooking spray/oil/butter on the sheet pan to prevent the sticking issue!
Make the seasoning your own: I purposefully seasoned these to make them flavorful, but not spicy or overwhelmingly spiced.
This is the way I often make them for my kids, sometimes I add a little garlic and onion powder.
You can definitely switch up the seasoning though – you can add ranch seasoning, cajun seasoning or chili powder to add some heat, you can even add grated parmesan to the breadcrumbs.
Note: Why use a dark sheet pan?
I always use a dark sheet pan (vs a silver one or a white enameled one) when I want to get something crispy out of the oven.
It reflects the heat better and really helps crisping up the coating of the nuggets better than any other color.
If you don't have one, you can find one here on Amazon (this link is an affiliate link, if you click through and make a purchase, I earn a commission).
CAN YOU FREEZE THESE HOMEMADE CHICKEN NUGGETS?
Can you freeze them, ha! YES you can.
NORA'S TIPS TO FREEZE CHICKEN NUGGETS:
Wait for the nuggets to cool completely before freezing them (otherwise your freezer could heat up too much and affect the other frozen goods in there).
Use a container or bag that is suitable for freezing.
Label the bag or container with the contents, today's date AND the use-by time (the chicken nuggets are best eaten within 3 months).
Make sure the nuggets are piping hot and steaming all the way through before serving.
I recommend freezing in a single layer on a cookie sheet for ~1 hour before transferring to freezer bags.
You can reheat them in the microwave or for 15-20 minutes at 375 in the oven, or until they're piping hot all the way through. You don't need to defrost them before reheating.
WHAT CAN YOU SERVE WITH CHICKEN NUGGETS?
Chicken nuggets aren't just a drive-through finger food! With the right sides, you can turn them into a healthy and satisfying meal.
Some of our favorites:
Nutrition
Calories:
386
kcal
|
Carbohydrates:
45
g
|
Protein:
34
g
|
Fat:
7
g
|
Saturated Fat:
2
g
|
Cholesterol:
154
mg
|
Sodium:
1525
mg
|
Potassium:
559
mg
|
Fiber:
2
g
|
Sugar:
2
g
|
Vitamin A:
645
IU
|
Vitamin C:
1
mg
|
Calcium:
72
mg
|
Iron:
4
mg
More recipe information
Join my Newsletter to Get Recipes in Your Inbox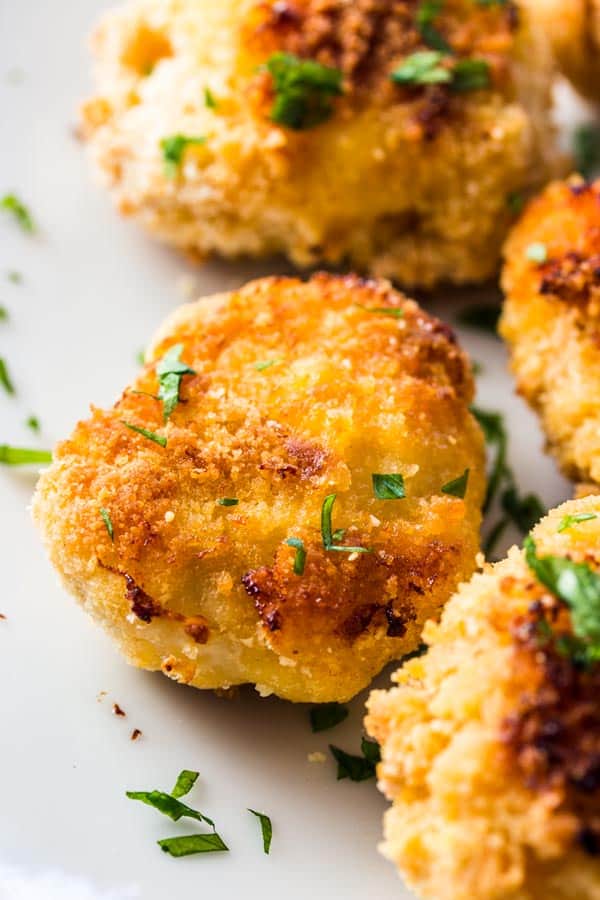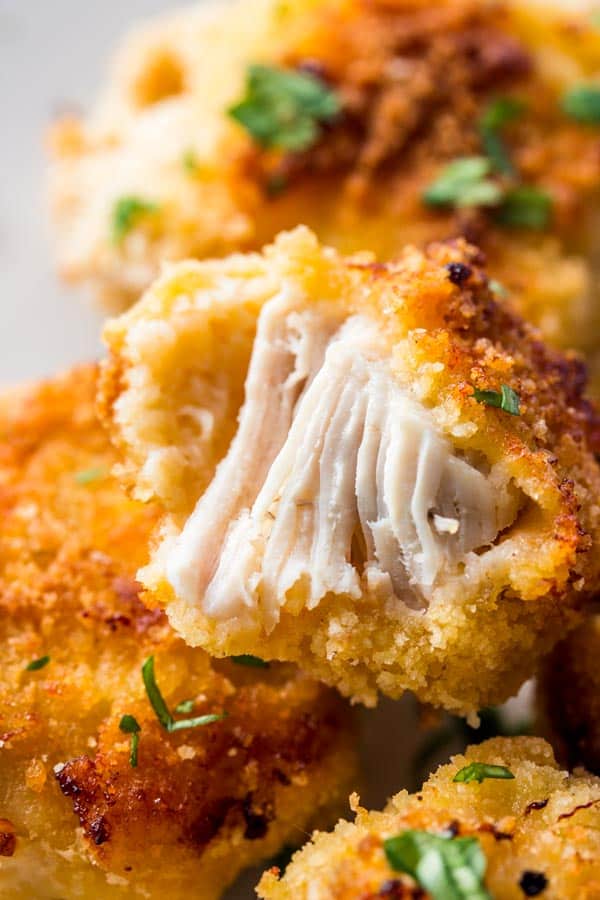 Check out our Oven Fried Chicken Breast Recipes collection for more ideas!