Printable recipe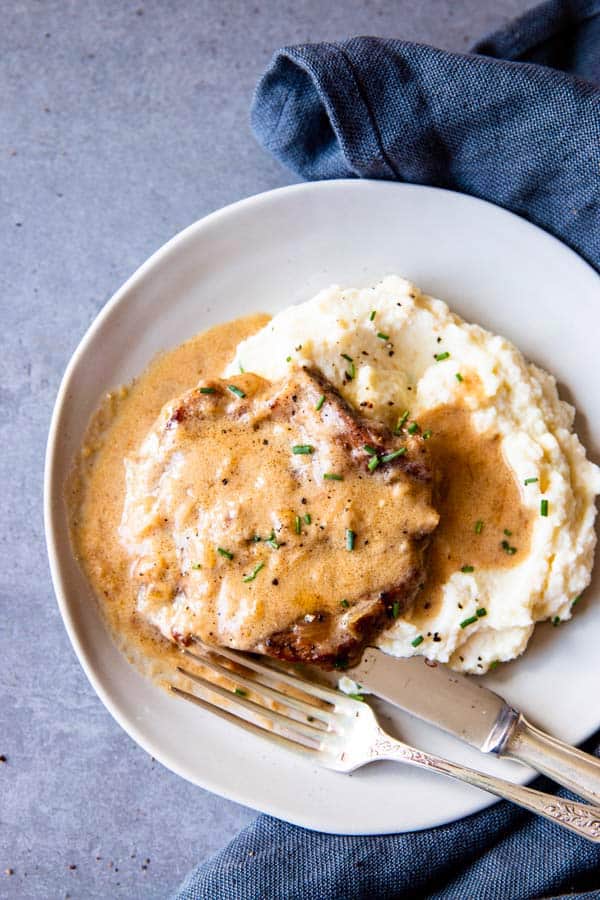 made it? tap the stars to add your rating!
This is one of those recipes I often jump to when I forgot to defrost any meat, or simply didn't have time to make a real meal plan. They will cook straight from frozen, but I like to defrost them for 15 minutes or so, just to make them thaw a little. That way they still brown OK to add more flavor to the sauce. My husband and kids usually fight over who gets to mop up the leftover sauce in the instant pot with some bread – it's that good!
Ingredients
1

tablespoon

butter

2

medium onions

(cut into slim wedges)

4

THICK CUT pork chops

(do NOT use thin chops or they'll dry out – America's/New York cut is best; shoulder or sirloin haven't turned out well for me)

salt + pepper to taste

1

cup

beef stock

1

teaspoon

Worcestershire sauce

1

teaspoon

cornstarch

⅓

cup

sour cream
Instructions
Brown onions and pork: Set instant pot to sauté. Add butter and cook onions until softened. Push to one side and add chops to brown. Season with salt and pepper as they cook.

Add sauce: Switch off instant pot. Add beef stock and Worcestershire sauce, scraping the browned bits from the bottom of the instant pot. 

Pressure cook: Close instant pot and set valve to sealing. Choose "pressure cook" for 8 minutes. After cooking time is up, do a natural pressure release for 5 minutes, then manually release remaining pressure and open.

Thicken: For a thicker sauce, remove chops form instant pot and cover to keep warm. Set instant pot to sauté and simmer sauce for a few minutes. If desired, add a slurry of cornstarch and 1 tablespoon water.

Add cream: Switch off instant pot and let it cool down for a few seconds. Stir in sour cream. Serve sauce over chops.
Add Your Review
Nutrition
Calories:
359
kcal
|
Carbohydrates:
7
g
|
Protein:
39
g
|
Fat:
19
g
|
Saturated Fat:
8
g
|
Cholesterol:
131
mg
|
Sodium:
258
mg
|
Potassium:
865
mg
|
Fiber:
1
g
|
Sugar:
3
g
|
Vitamin A:
207
IU
|
Vitamin C:
4
mg
|
Calcium:
50
mg
|
Iron:
1
mg
More recipe information
Join my Newsletter to Get Recipes in Your Inbox
A few tips for this recipe:
Don't skip browning the meat.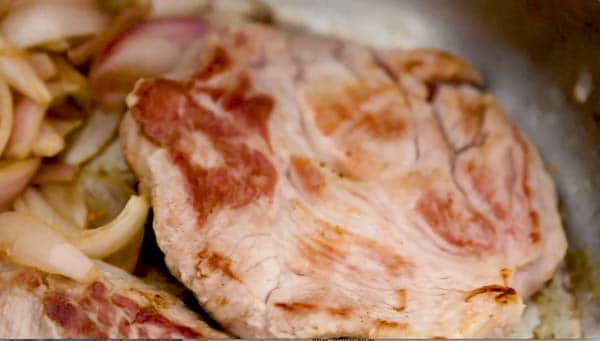 It adds an extra layer of flavor for almost no extra effort.
Unless…
You want to cook the chops from frozen?
No problem!
In this case you can obviously not brown them (unless you have 15-30 minutes to just start defrosting the meat – then definitely do that and brown the chops as written in the recipe!), but it's brilliant for anyone who cannot plan 5 minutes into the future. Ahem, *raises hand*
I have done this more times than I'd ever care to admit… And I've only had my instant pot for a short few months.
Just add a couple of minutes to the cooking time, and you'll be all set.
USE THE RIGHT CHOPS!!!!!!
This is VERY important. Otherwise, you'll end up with dry, tough, overcooked meat.
Do not use quick sear, thin-cut, slim chops.
I haven't had good results with sirloin or shoulder chops. Generally, thick-cut New York/America's Cut pork chops turn out best.
You can also use bone-in rib chops, just add a few minutes to the cooking time.
Thicken the sauce to your taste.
The sauce doesn't cook down because the IP has a lid on, so you need to thicken it once the meat is done.
If you like a thinner sauce, simply simmer the liquids for a while on the sauté setting.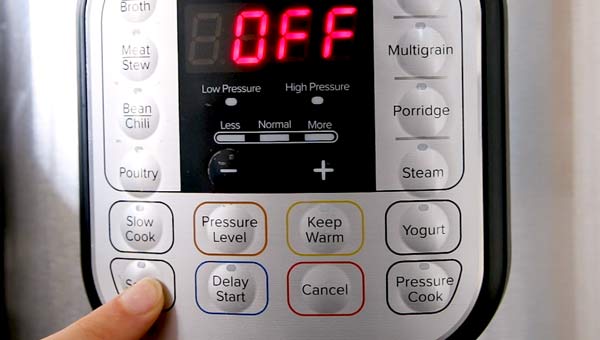 And what you'll end up with is an amazing main dish, one that's ready in just a short 30 minutes – EVEN if you're as incapable of thawing meat for dinner as I am.
Before we finish up our chat about pork chops, here are a few mildly embarrassing facts about myself:
I'm currently listening to the soundtrack of Twilight: Breaking Dawn Part 1.
It's the wedding song.
I watched the movie during nap time today, and it was glorious. #momconfessions
I ugly cried.
Maybe I'm also crying right now, just because of the song.
But it might also be because I have this awful love-hate relationship with my instant pot.
It blew up (and there's a spot on my kitchen ceiling to prove it) when I first used it to cook black beans.
It failed me when I tested my turkey pumpkin chili, and I had to transfer everything to my stovetop pressure cooker mid-cooking.
Also, it's just generally a miserable git, and I named it Mabel so I could have a proper argument with my kitchen appliance.
But it's also amazing. It makes the best chicken tortilla soup. The quickest job of any legume. And the most tender pork chops.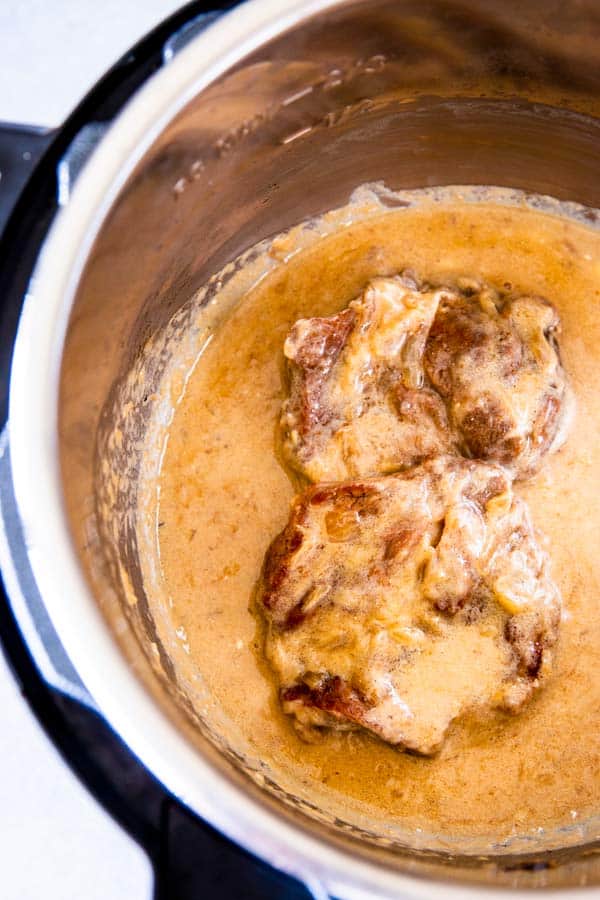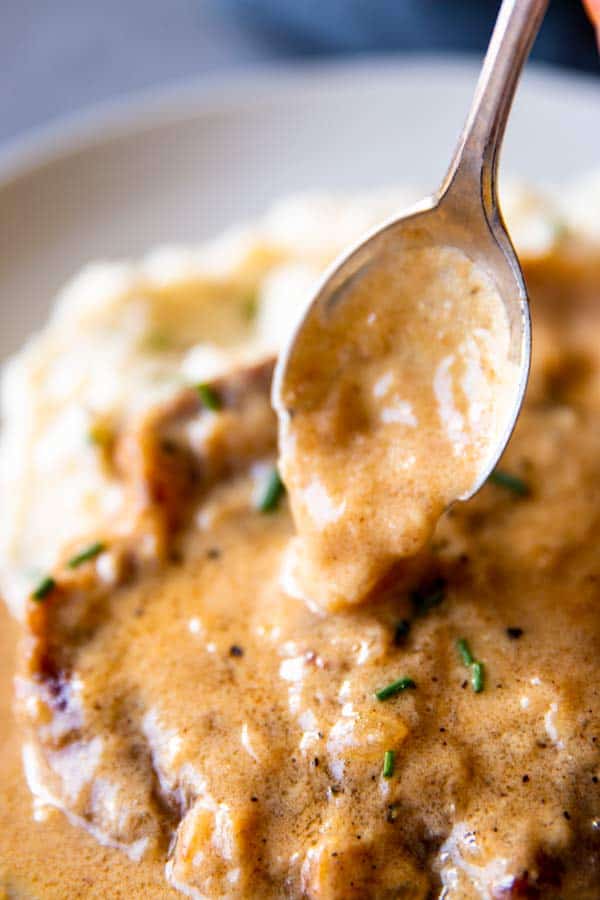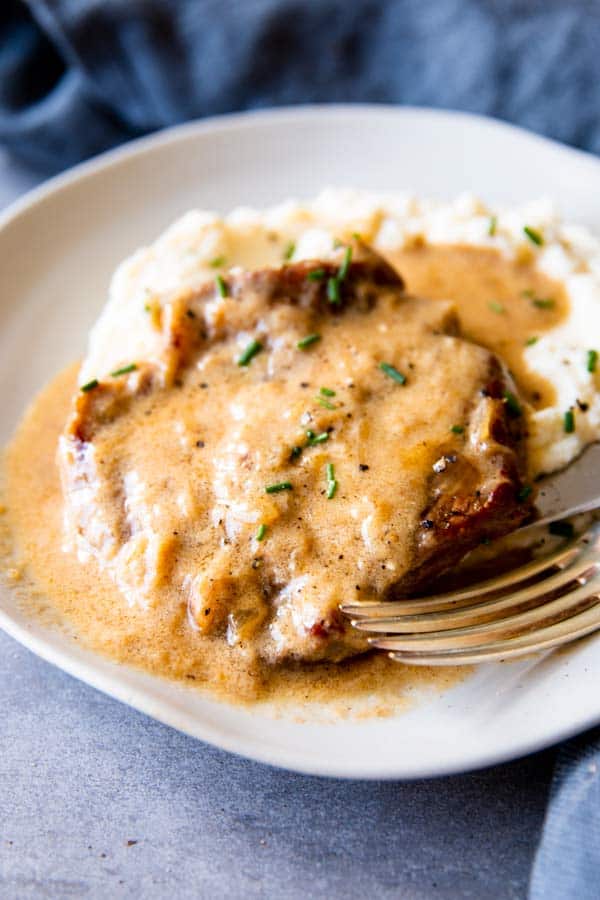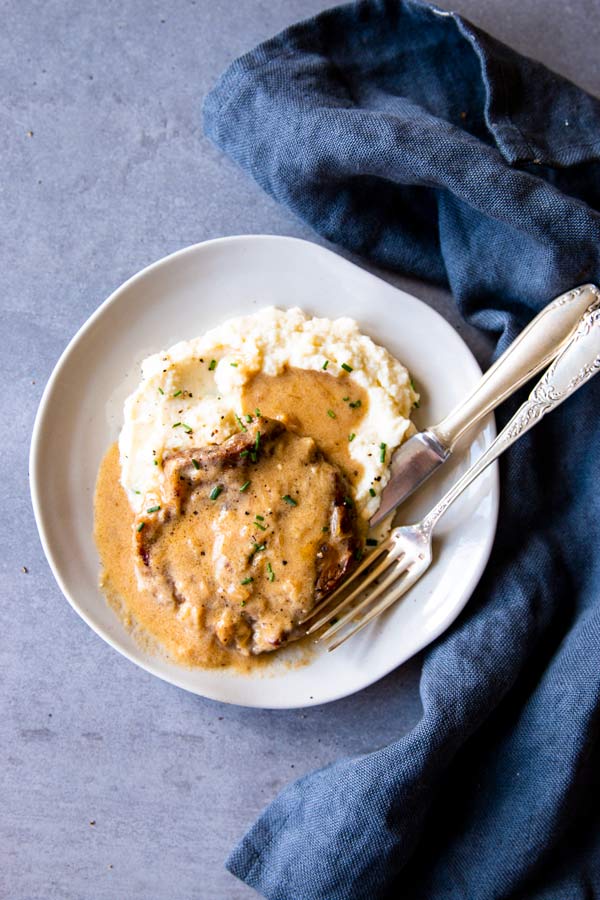 These are so tender, I didn't know it was possible. This Instant Pot thing does some kind of magical sorcery to pork chops.
Maybe it's vampire sorcery.
Or a wolf thing.
I don't even care. It's delicious.
Pair that with a creamy sauce and a large pile of mashed potatoes, and you've got yourself a deal.
Oh and just FYI, I have skipped to the song Flightless Bird now.
Don't worry, my eyes are just wet from thinking about the onion in this recipe.
Have I found you….. Well, anyways, what I HAVE found is a perfect pork chop recipe.
---
More delicious instant pot pork chop recipes:
Instant Pot Creamy Mushroom Pork Chops
Instant Pot Honey Mustard Pork Chops
---