Apple Cinnamon Overnight Oats are a quick and easy make ahead breakfast the whole family will enjoy! It's perfect for the first days of fall, when it's still warm out but you're craving those autumn flavors already.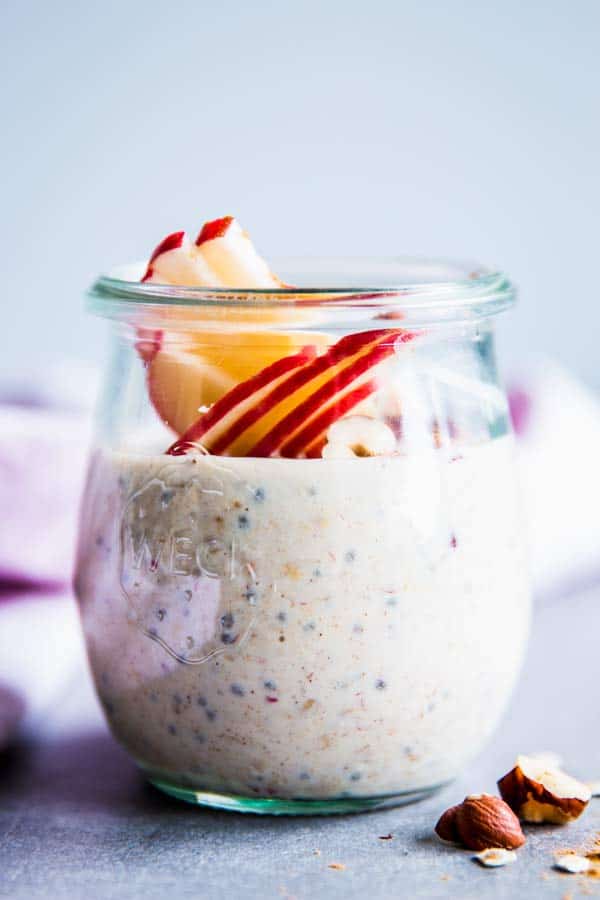 Did you know I'm a total, fan of overnight oats? I have so many recipes — one of my favorites is Almond Blueberry Overnight Oats.
And I even have a tutorial (with video!) that teaches you exactly how to make overnight oats.
Come to think of it, maybe fan is not even a strong enough word.
I guess you could say I feel about Overnight Oats the way I feel about Harry Potter:
Totally obsessed (the books, not the movies, just so we're clear on that).
Might be the fact that they were my mom's "don't have the strength to cook tonight" dinner of choice.
Or maybe I just love them because they're SO ridiculously easy to make, taste amazing — and both my kids eat them up with zero complaints.
Overnight oats are my number one choice for quick breakfasts, right alongside muffins or leftover berry cobbler.
And don't tell me you never pretend leftover dessert is an appropriate breakfast. It is, especially when you have multiple little kids, consider this your permission slip.
Anyways. Overnight oats. The bomb dot com.
And this version is filled with all the yummy apple and cinnamon flavors your little fall-loving heart can think of.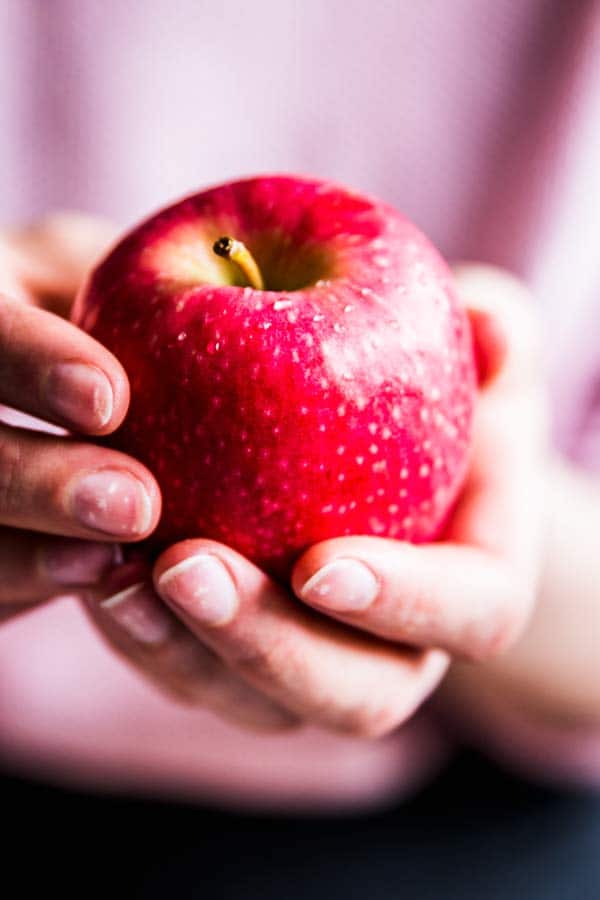 Here are my tips for the best apple cinnamon overnight oats:
I know it may seem redundant to include tips for something that's literally "dump in a bowl, stir and refrigerate", but hey. You know me: Wordy person.
So here are my top 3 tips to make foolproof overnight oats:
1 – What type of oats are best for overnight oats:
Both quick oats and rolled oats work just fine for overnight oats.
There are two differences. For one, the texture: The quick oats turn out a lot creamier and less like traditional oatmeal out of the two, because they're just a lot finer.
The rolled oats will have more texture, so pick whatever suits your taste. The second difference is my next tip:
2 – If you're short on time:
So… Honestly: How long do overnight oats really need to sit?
Maybe I need to correct myself when I say I make overnight oats all the time.
Because mostly, I make 30-minute oats. Which means I'll stir them up right as I get up in the morning, so they're ready when the kids come down for breakfast.
To make this work, you'll just need to make sure you're using quick oats. Easy peasy!
3 – What to do if the texture isn't right:
If the texture isn't right in the morning, it's super easy to fix.
If it's too runny, just stir in another tablespoon or two of oats and wait for 5 minutes.
If it's too thick, I generally prefer adding more yogurt vs milk, because I'm clumsy and always end up adding too much milk…. If you're better than me at handling liquids on 3 hours of sleep, more power to you.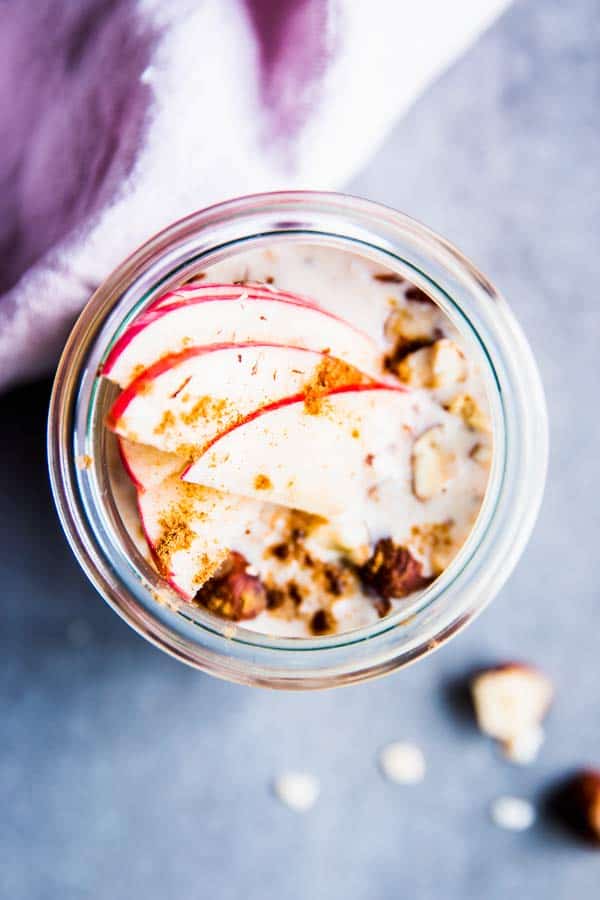 Now on to some FAQs I get asked about overnight oats all the time:
Do you eat overnight oats cold?
Yes! Funny, right?!
It may sound weird, but you really do not heat up overnight oats before eating them.
The oats will get soft and creamy in the fridge, so there's no need to cook them at all.
Can you make overnight oats without chia seeds?
Yep! My mom wasn't that forward-thinking in the 90s, and we never had chia in them. The oats just turn out extra creamy with the chia seeds added, that's all.
How long do overnight oats last?
In my house? Three seconds 😉
But seriously now, if I prep overnight oats ahead for the week, I don't make them for more than 3 days ahead. After that, they just get too soak-y and mushy for my taste.
P.S. Just in case you were wondering about the true start of fall (since this is a super autumny apple cinnamon recipe and all): it's September 1st. September 1st is when Harry Potter goes back to school. So naturally, September 1st is when fall starts. Discussion: Settled.
P.S: Before 09/01 you can always go for Raspberry Coconut Overnight Oats. Or Banana Chocolate Chip Overnight Oats. Or Vanilla Strawberry Overnight Oats.
Uhm, or how about Strawberry Peanut Butter Overnight Oats? Told you, Harry Potter level in love with these little jars of goodness 😉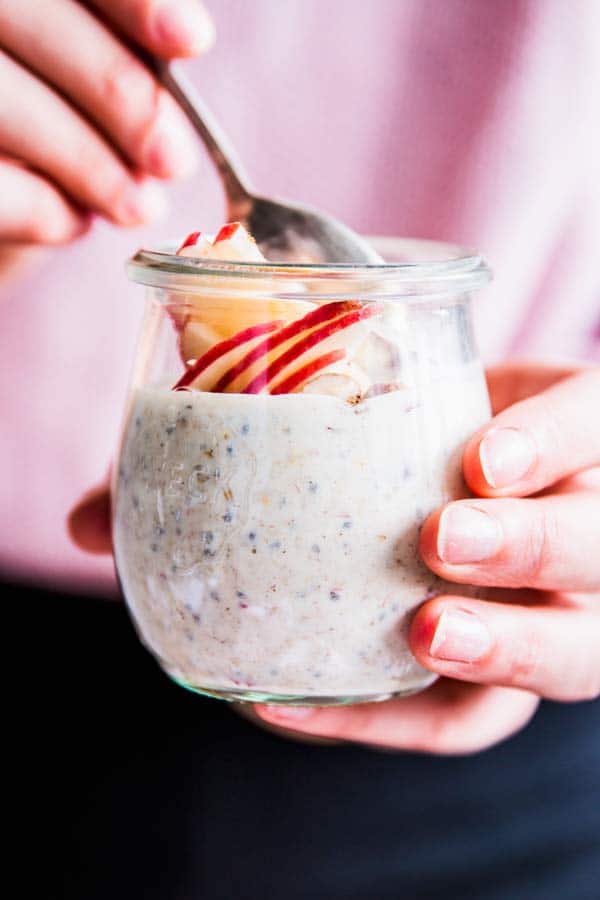 Grab the printable recipe below and try them out!
This recipe was first published on Food Fanatic as Apple Cinnamon Overnight Oats Recipe.