This Brussels Sprout and Bacon Risotto is proof that bacon makes everything better – even already delicious and creamy risotto! Try this recipe if you love rich flavors, parmesan cheese and Italian favorites made at home.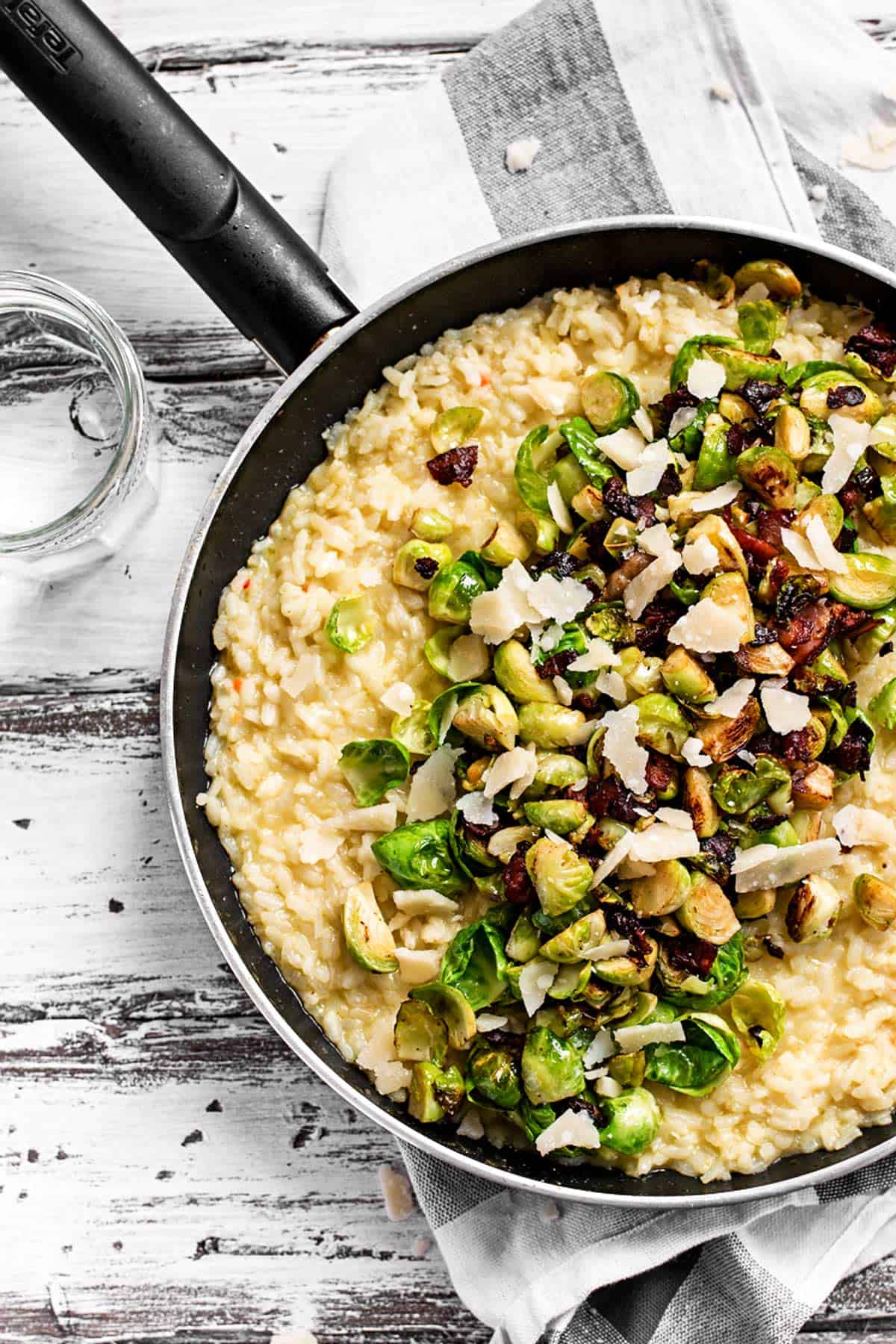 Risotto is one of my favorite meals of all time – and it's the dish my husband stole my heart with when we were dating. Risotto is actually quite easy to make once you get the hang of it! Here, you'll be combining the creamy Italian favorite with fall-inspired Brussels sprouts and bacon.
How to make risotto
Making risotto at home isn't hard at all, if you follow a few key steps. The important thing to know is this: Risotto isn't supposed to be overcooked rice – it's rice cooked al-dente (with a bite) that sits in a creamy, starchy sauce.
The risotto should also not be claggy/sticky, but more soupy and "run away" on the plate.
Key steps for the perfect risotto
Cook the onion: First, you sauté the onion in olive oil until it has softened (otherwise your risotto will taste of raw onion later). Use a skillet or a heavy-bottomed pot to make your risotto.
Sauté the rice: This is one of the most important parts of risotto! Add the rice to the onion and sauté while stirring constantly, until the rice looks translucent. This helps the starch to release into a creamy sauce later.
Deglaze the pan: Pour the white wine into the pan, scraping any browned bits off the bottom. To keep your risotto from tasting too much of raw alcohol, make sure to simmer the dish until almost all of the wine has evaporated.
Cook the risotto: To cook the risotto, keep ladling hot broth (just pour chicken broth into a saucepan, bring to a boil once and then keep it warm over medium-low heat on the stove) over the rice so it's JUST covered. Simmer gently until the rice has absorbed almost all of the broth you added, then ladle on more broth. Continue like this until the rice is done, about 20 minutes.
Cook the bacon and Brussels sprouts: Do this while the risotto simmers. Just cook the bacon in a medium skillet until crispy, then add the quartered Brussels sprouts and sauté until crispy on the outside and tender on the inside.
Finish the risotto: Once the rice is done, take it off the heat. Stir the grated parmesan and butter into the risotto, then serve immediately with the bacon and Brussels sprouts.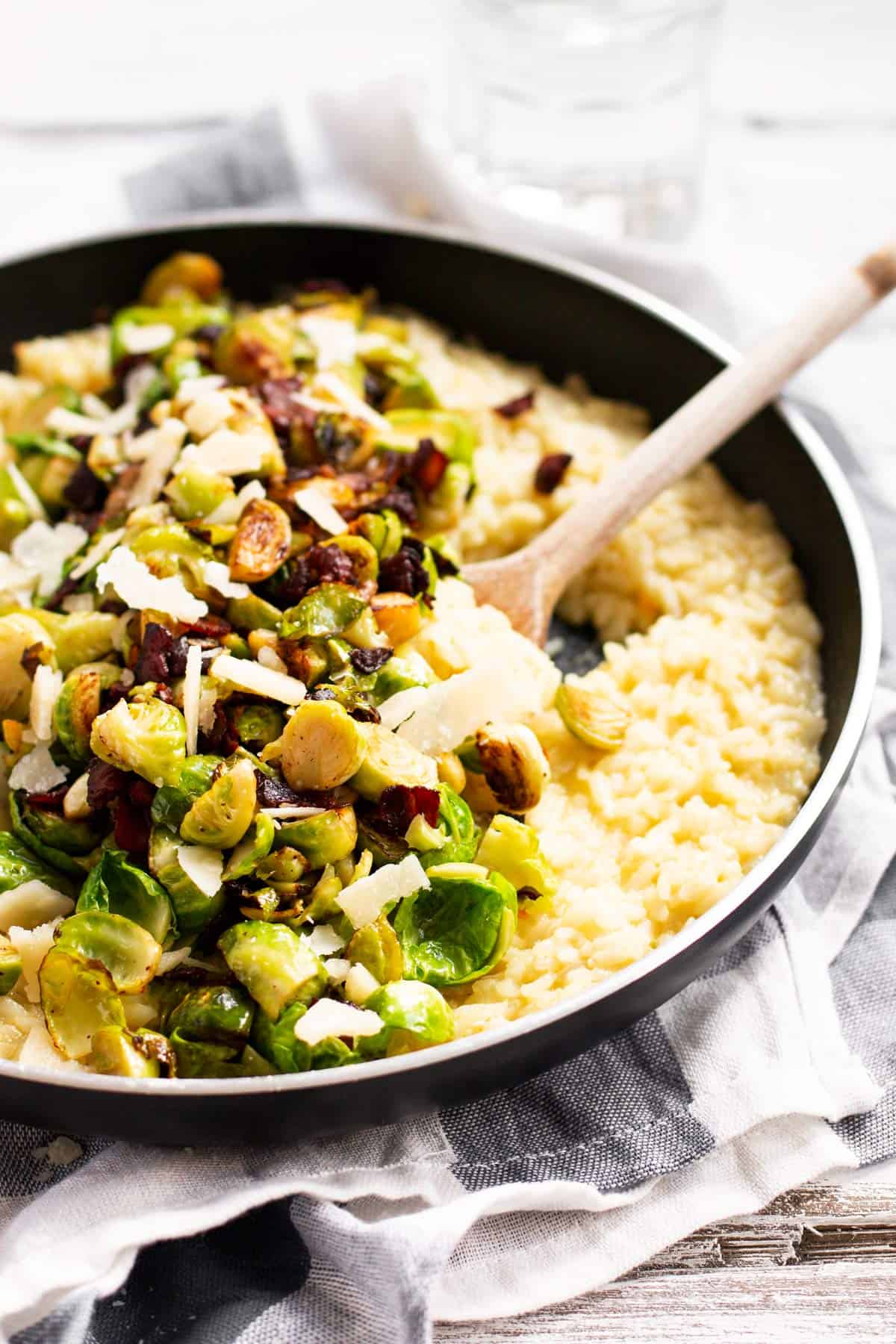 Risotto FAQ's:
What is risotto rice?
Rice varieties that are used to make risotto are Italian, short-grain and higher in starch.

The most popular is Arborio, while other varieties called Carnaroli, Vialone, Nano, and Baldo are a little harder to find.
Which white wine is best for cooking?
I prefer steering clear from wines labelled as "cooking wine", because they usually have unnecessary additives – that being said, cooking wine works perfectly fine in this dish.

If you're going to use a regular wine, definitely pick a dry one. Pinot Grigio, Sauvignon Blanc or Zinfandel are all great choices. You may use Chardonnay, but only unoaked. This goes for all types of wine when it comes to cooking – oaked wines turn bitter during cooking.
Is risotto gluten free?
Risotto is gluten free (as rice is gluten-free), as long as you use all certified gluten free ingredients. It's ESPECIALLY important to check your chicken stock!
Can you freeze risotto?
I do not recommend freezing risotto, because it changes the texture a lot.
If you have leftovers, it's better to refrigerate them for up to 2 days.
Reheat:
in the microwave for 4-5 minutes.
on the stove in a skillet in little cakes until crispy on the outside
on the stove in a small saucepan with a little extra chicken broth added until creamy
However you reheat the risotto, make sure it's steaming hot all the way through before serving.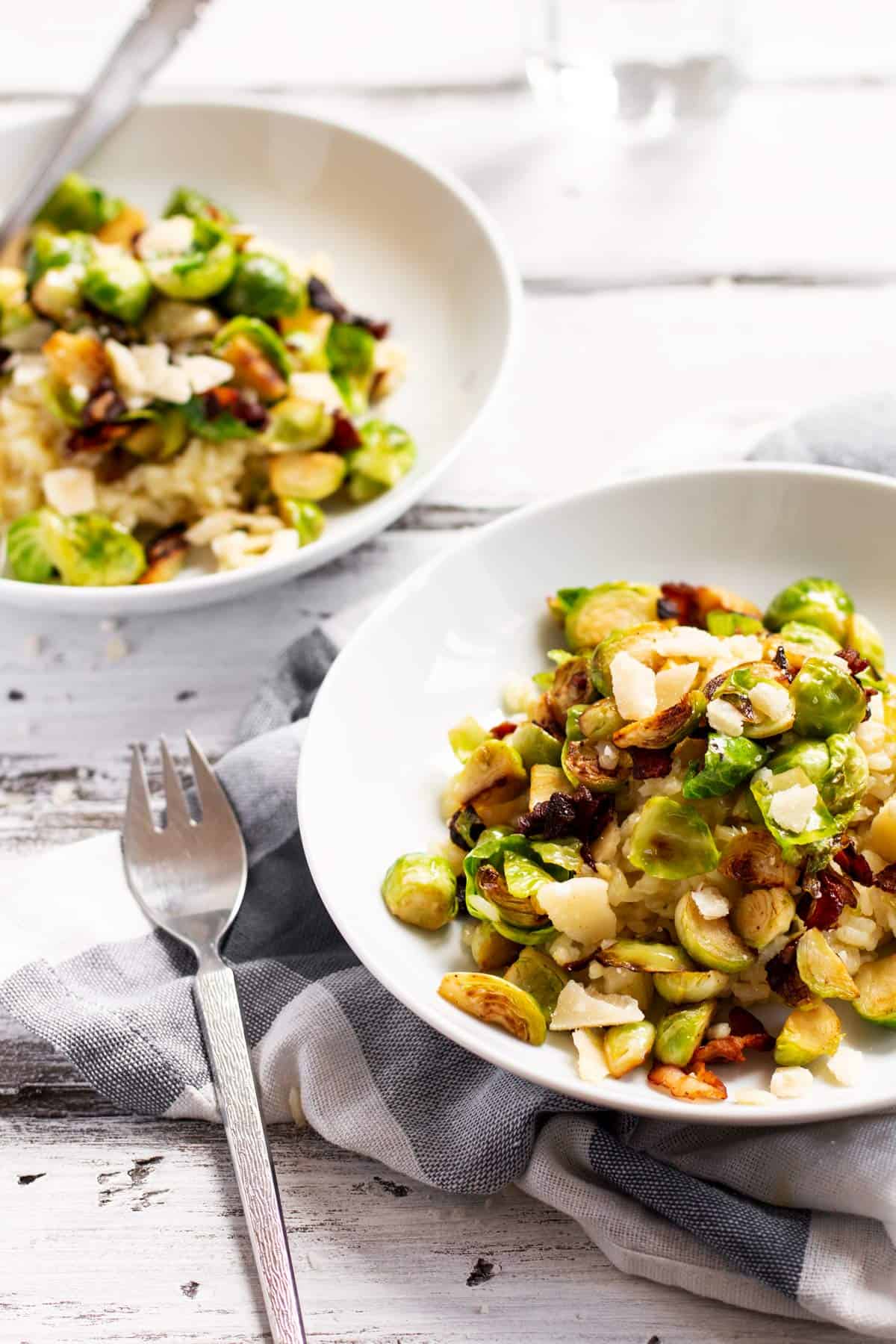 Serving suggestions
Since this is a pretty fall/winter inspired dish, we love this with a side of greens dressed in white balsamic vinaigrette, with a slice of Lemon Pound Cake for dessert.
PS If you try this recipe, please leave a review in the comment section and add a star rating in the recipe card – I appreciate your feedback! Follow along on Pinterest, Facebook or Instagram.
Printable recipe
Printable Recipe Card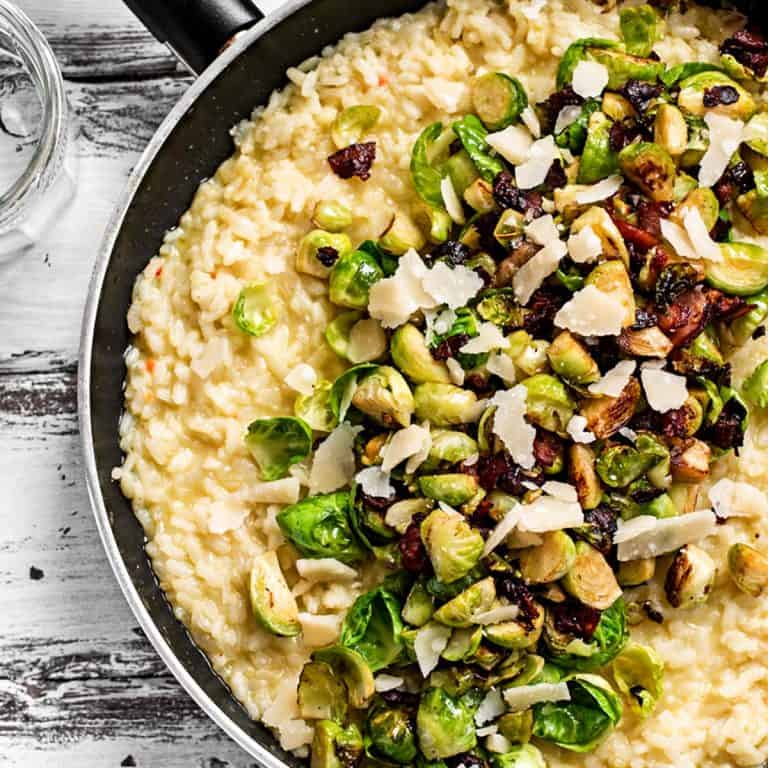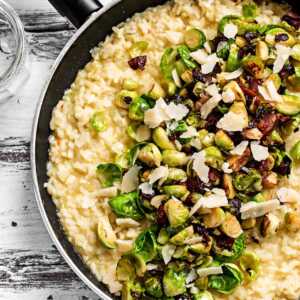 Pin Recipe
Risotto with Bacon and Brussels Sprouts
Cozy up with this delicious Risotto with Bacon and Brussels Sprouts this weekend! It's comfort food at its finest.
made it? tap the stars to add your rating!
Ingredients
For the Risotto:
2

tablespoons

olive oil

1

onion

finely diced

2

cups

risotto rice

we prefer Arborio

½

cup

dry white wine

6

cups

hot chicken broth

½

cup

Parmesan cheese

grated

2

tablespoons

cold butter
For the Bacon & Brussel Sprouts:
8

slices

bacon

diced

2

bags (12-oz)

fresh brussel sprouts

quartered
Instructions
Make the Risotto:
Sauté the aromatics: Heat a large skillet over medium heat. Add the oil, then add the onion and cook for 2-3 minutes or until starting to soften. Add the rice and continue cooking for 1-2 minutes, stirring constantly, until the rice turns slightly translucent.

Deglaze: Pour the white wine into the skillet, scraping any browned bits off the bottom of the pan. Simmer until almost all of the liquid is gone (this should only take a couple of minutes).

Cook risotto: Add a few ladles of broth until the rice is just covered. Reduce to a simmer and cook, stirring often, until most of the broth has been absorbed. Repeat this process until all the broth has been used up or until the rice is done. This should take 15-20 minutes.
Cook Bacon and Brussel Sprouts:
In a separate frying pan cook the bacon until crispy while the risotto is cooking. Add the brussels sprouts and continue cooking until crispy and tender, about 8-10 minutes.
Finish Risotto:
To finish the risotto, take it off the heat. Stir the Parmesan cheese and the cold butter into the rice. Serve topped with the bacon and brussels sprouts.
Want to save this recipe?
Create an account for free and start your personal Savory Nothings recipe box. Save any recipe by tapping the heart in the bottom right corner.
Join Now
Notes
To keep the broth hot, keep it in a small saucepan on low next to your risotto pan.
Nutrition
Serving:
1
serving
Calories:
553
kcal
Carbohydrates:
67
g
Protein:
16
g
Fat:
23
g
Saturated Fat:
9
g
Cholesterol:
35
mg
Sodium:
1252
mg
Potassium:
786
mg
Fiber:
6
g
Sugar:
4
g
Vitamin A:
1048
IU
Vitamin C:
114
mg
Calcium:
168
mg
Iron:
5
mg
Nutrition is an estimate.
More recipe information
More Italian-inspired recipes