Now you can make crusty, artisan-like no knead HOMEMADE French Bread from scratch with barely any effort! This is one of the best lazy cook's/baker's hack I've ever found – no kneading, no shaping, no overnight rise, and it comes out perfect every time with just 5 MINUTES PREP and about 10 minutes active time in total!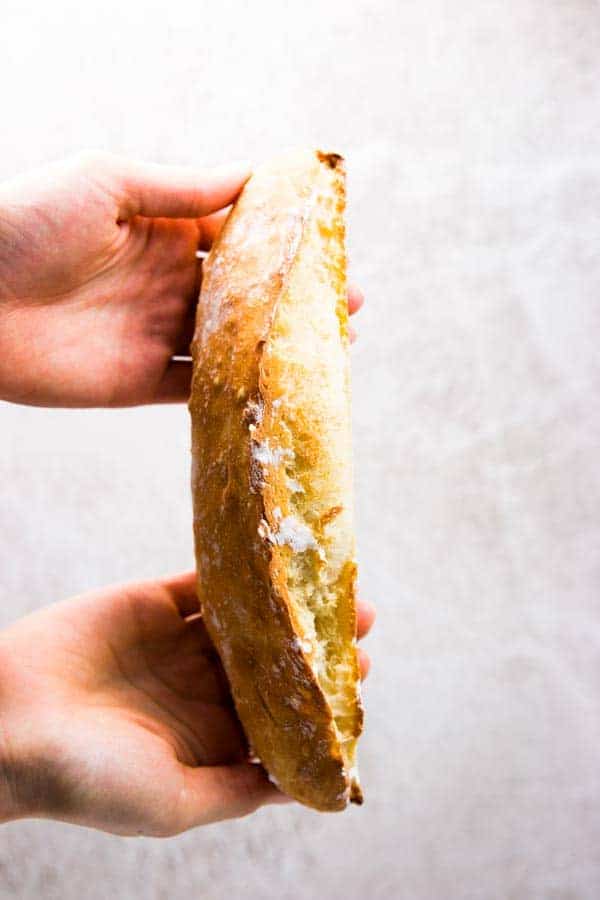 Can you tell how excited I am about this recipe?? I think the two exclamation marks in the title might have given it away already. This recipe is magical. Harry Potter level magic, I'm telling you.
The method used for it is… Not traditional. Definitely not authentic. And most likely something any artisan bakery owner in Paris would shout a flurry of French swear words at me for. Merde! Zut! Imbécile!
All you need to do for this magical homemade French bread is:
Chuck water, yeast, a pinch of sugar, flour and salt into a bowl.
Stir just until no dry flour remains.
Cover and forget about it for two hours.
Then all that's left to do is cutting it in half or into thirds and baking it on high heat with a bowl of water in the oven for an extra crusty… Crust. (That was so eloquent.)
And the result is… As I said before: Magical. Extraordinary. So good you'll want to stuff your face with the entire loaf right as it comes out of the oven.
The crust has a crunch to it, the interior is fluffy and chewy and has this nice, large, open crumb. Can you tell I'm obsessed?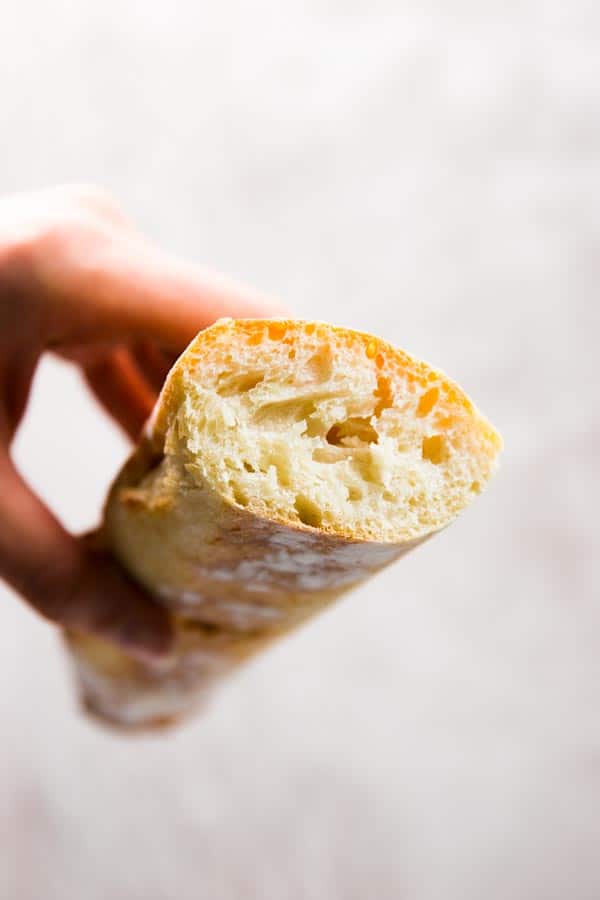 I first heard about the Dutch oven no knead bread from a friend's husband, about three years ago. I was suuuuper sceptic, because I believe in kneading yeast dough to develop the gluten. I mean, to be honest, I usually do bread quite differently. I activate the yeast. Then I make a sponge. I knead until the gluten has developed. I do multiple rises.
See my Challah Bread and Cinnamon Rolls for proof! And while they both turn out absolutely magnificent, I don't even know what to believe anymore with all this no-knead business.
One major difference here is how slack the dough is with no-knead breads. You couldn't knead it even if you tried, and the high moisture content is what gives the nice texture and crust.
And for the same reason (as with regular Dutch oven no-knead breads), this baguette magique can't be slashed before baking, it just rips open randomly while in the oven. Which gives it that homey, artisan feel and makes the crack ultra-crispy.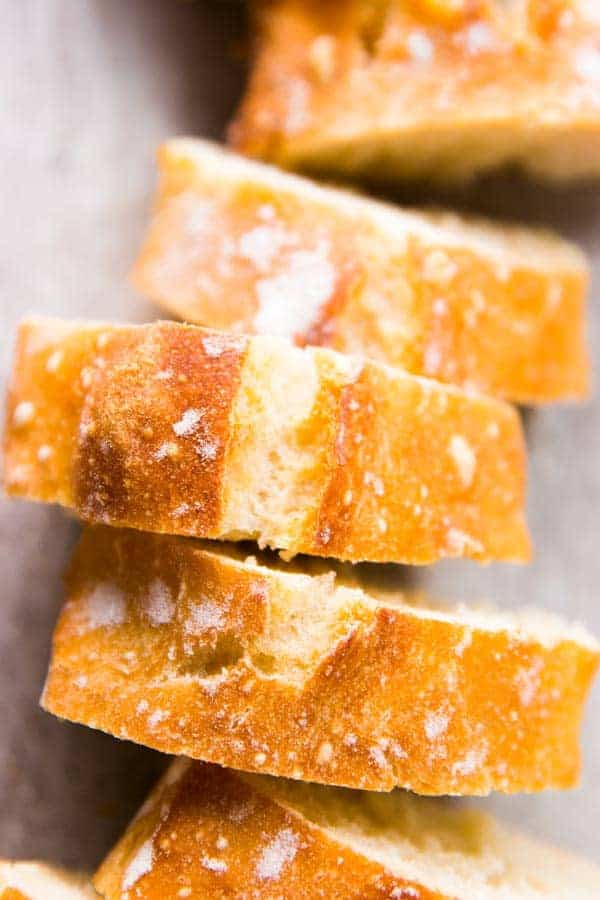 I found this recipe on a German blog and I've been hooked every since. I made it three times last week alone ? Did you see my Insta-Story yesterday?? It's just too good. We love it so much, my husband even ordered me a baguette pan as a surprise!
Now I will say, the bread does turn out with the best shape in a baguette pan, BUT I made it plenty times without one before!
It definitely needs something to hold it together though, so what I did before I had the special pan was to just use a Silpat mat, pulling it up between the baguettes to create long creases. Take a peak at the step photos below or scroll down to see it in the video – it's easy peasy! And if you don't have silicone baking mats, you can shape some aluminium foil and cover it with baking parchment!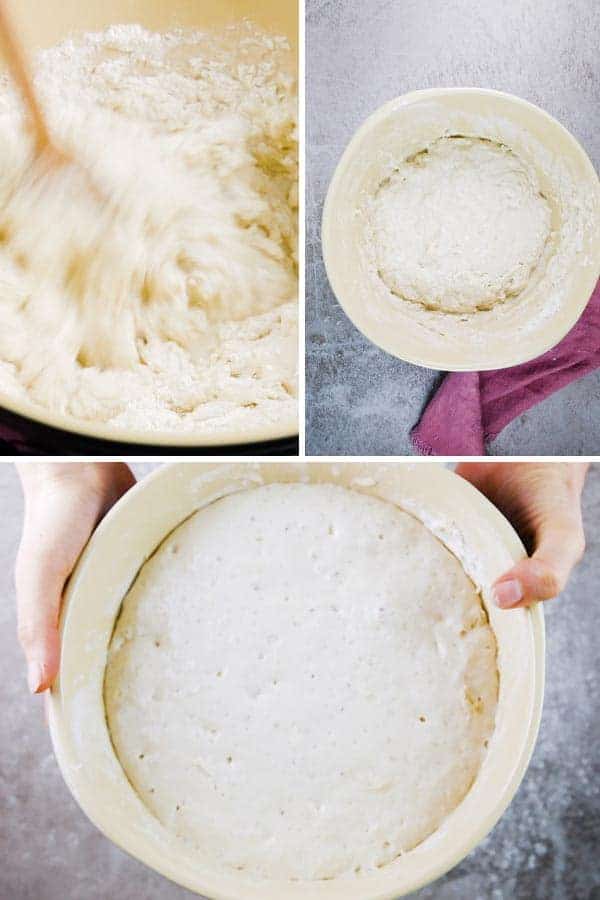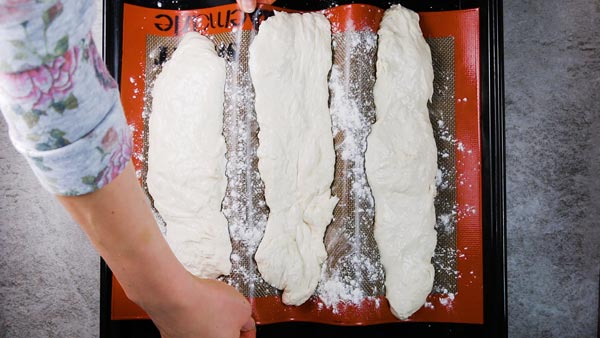 I want to make my recipes as accessible to anyone and I'm usually very against over-purchasing single use objects for the kitchen, but if you're planning on baking your own bread a lot and just happen to love a crusty French bread, I think the 15$ for an easy-to-store pan are justifiable ?
We have this for Sunday brunch. Or with a bowl of soup. Or topped with brie and prosciutto (hey, fusion cuisine!) for a quick lunch.
I initially tried this recipe just to prove it doesn't work, but now I can't stop making it – I hope you'll try it too, let yourself be amazed by it and leave me a comment/star rating to let me know what you think about it!
– Nora xo
Watch how to make no knead homemade French bread:
Get the printable recipe:
Printable recipe
Printable Recipe Card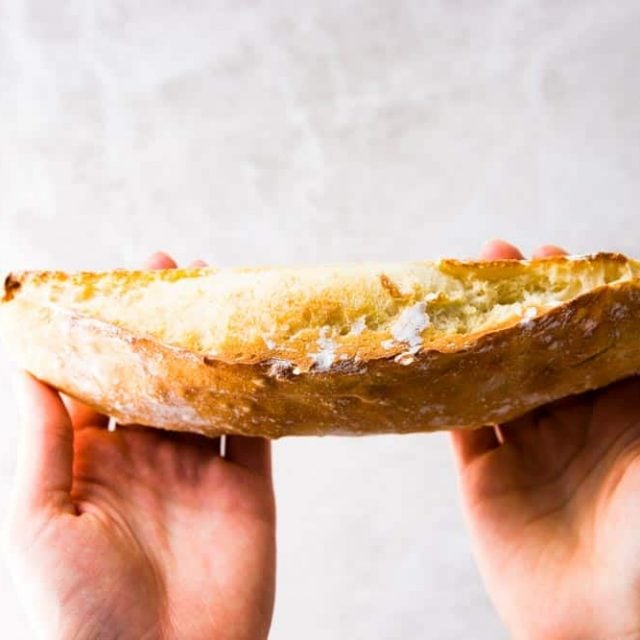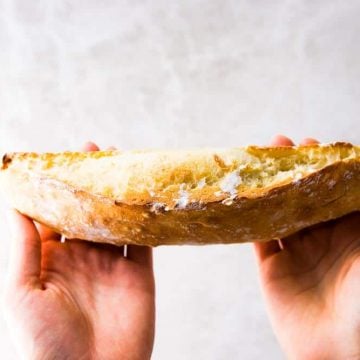 No Knead Homemade French Bread
Now you can make crusty, artisan-like HOMEMADE French Bread from scratch with barely any effort - no kneading, no complicated techniques or overnight rises! Just 5 minutes prep!
made it? tap the stars to add your rating!
Ingredients
1 ½

teaspoons

active dry yeast

1 ¼

cups

lukewarm water

½

teaspoon

white sugar

3

cups

all-purpose flour

1

teaspoon

salt
Instructions
Make the dough: Stir the yeast, water and sugar together in a large bowl. Stir in the flour and salt just until combined. Cover with a clean dish towel and allow to rest at room temperature for 2 hours.

Cut the dough: Once the dough has risen, preheat the oven to 465°F. Place a rimmed cookie sheet on the lowest rack. Generously flour a work surface. Very carefully tip the dough on the worktop - try not to knock out any air. Cut the dough into three equal longish pieces (you can also do two for larger baguettes).

Shape the bread: Carefully place the dough in a French bread pan. (Check the notes if you don't have a French bread pan - I made this without a French bread pan many times and this recipe works like a charm!)

Bake: Fill the rimmed cookie sheet you placed in the oven earlier with water to create steam. Immediately put the bread on the middle rack and bake for 20-25 minutes (25-30 if making two larger baguettes), or until crusty on top. Turn the bread upside down and finish baking on the upper-middle rack for about 5 more minutes, or until the bottom is browned and crusty, too.
Want to save this recipe?
Create an account for free to start your personal recipe box. Save any recipe by tapping the heart in the bottom right corner.
Join Now
Notes
If you don't have a French bread pan, use a silicone baking mat to pull up between the French bread loaves. This will create a similar effect to the special pan. For more tips and photos/video of this, check the post above!
Nutrition
Calories:
477.08
kcal
Carbohydrates:
98.53
g
Protein:
15.34
g
Fat:
1.68
g
Saturated Fat:
0.25
g
Sodium:
780.73
mg
Potassium:
191.05
mg
Fiber:
4.99
g
Sugar:
1
g
Calcium:
18.75
mg
Iron:
5.93
mg
Nutrition is an estimate.
More recipe information