Pear Crisp is a simple seasonal dessert that's quick and easy to prep. Loaded with fall spices, cranberries and a juicy pear filling, this is the perfect treat for autumn.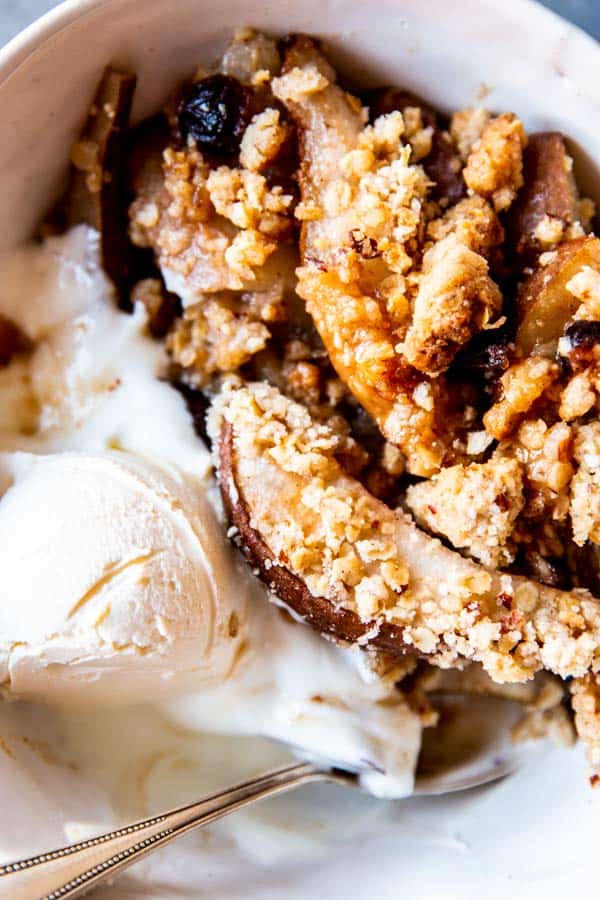 This post contains affiliate links and we earn a commission for purchases made after clicking through.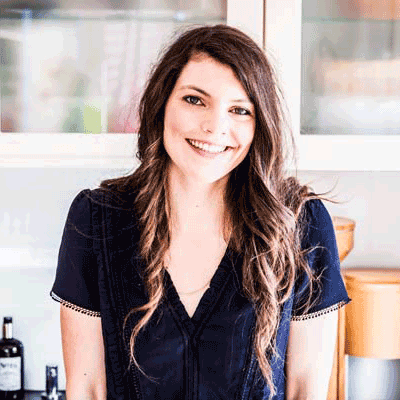 I have a borderline unhealthy obsession with crisps. And with Harry Potter, as long as we're talking about those kinds of things...
Pear crisp is an especially delicious dessert to make during fall – and it's so easy, even my kids can whip this up almost by themselves!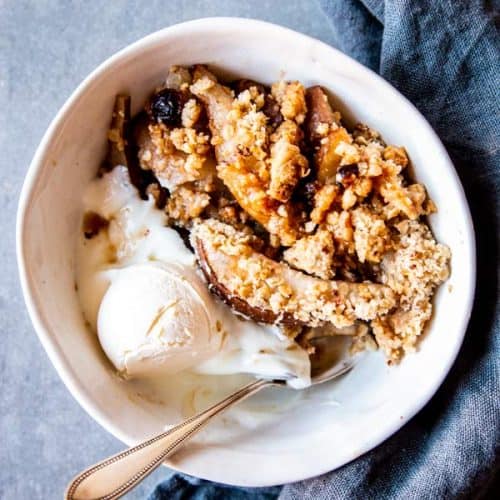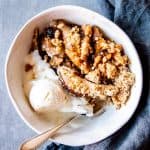 How to Make Pear Crisp:
Read on for the detailed step-by-step ingredients and instructions, or scroll down for tips and the printable recipe card.
Ingredients for Pear Crisp:
This delicious, warm, fall spiced pear crisp is what we're here for today. It's filled with warming spices, real maple syrup and has the delicious addition of ground nuts in the topping – for extra flavor and depth. So good.
For the Topping:
light brown sugar
ground almonds
rolled oats
all-purpose flour
ground cinnamon
salt
cold butter
For the Filling:
pears
maple syrup
dried cranberries
ground cinnamon
ground nutmeg
ground ginger
ground allspice
You can skip the ground almonds in the topping and use the same amount of rolled oats instead. Or replace them with any ground nuts you have on hand!
Replace the brown sugar in the topping with granulated sugar if that's what you have on hand. The taste will be a little different, but still very delicious.
Instead of maple syrup, you can use granulated or brown sugar for the filling. Honey would also work well.
The dried cranberries in the filling are optional. I appreciate them for a pop of color and a more interesting texture.
If you don't have the single spices called for in the recipe, use pumpkin pie spice.
Key Steps for the Best Pear Crisp:
1 Always make the topping first
Make the topping before you start with anything else, then stick it in the fridge while you prep the filling.
That way you get more of a crumb-y streusel topping vs a runaway situation.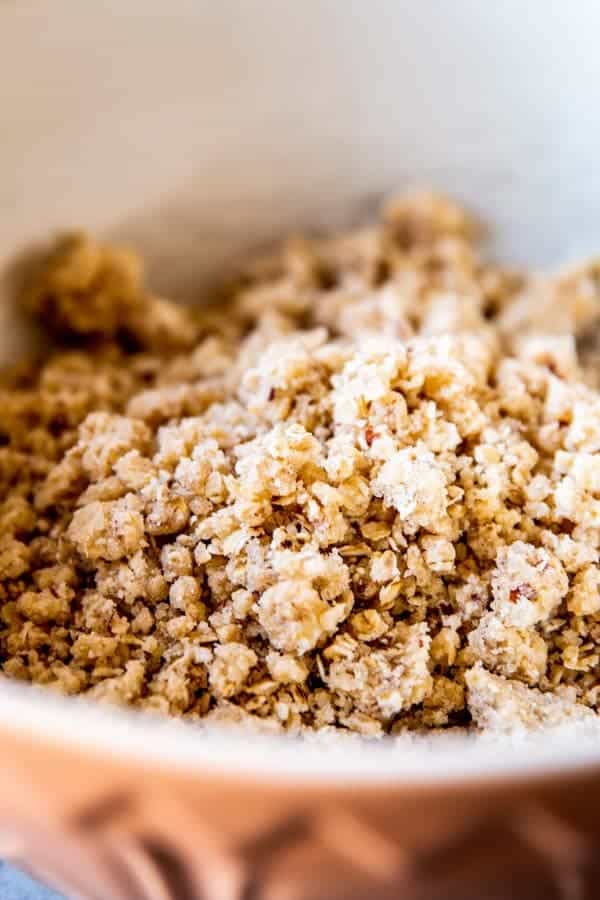 2 Make the filling right in the baking dish.
I add everything to the dish and toss with clean hands. It's a little messy, but I'd much rather wipe down my counter than wash an extra bowl.
It works better if your dish is a little roomier than mine (I would use a different one for personal use, but this one is so pretty for photos 😉 ).
This is a slightly bigger version of my dish:
Taste your pears before you make the filling, and use more or less maple syrup depending on their sweetness/tartness!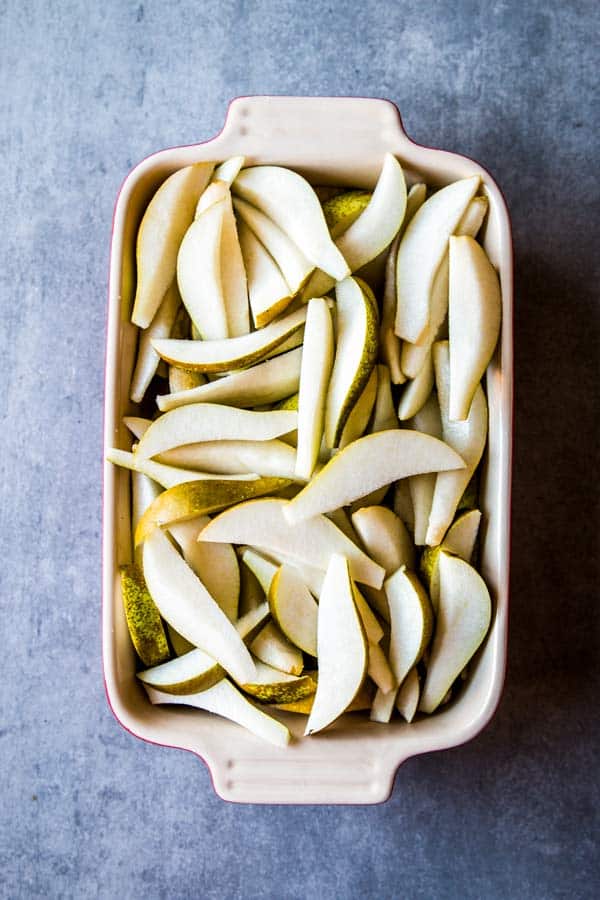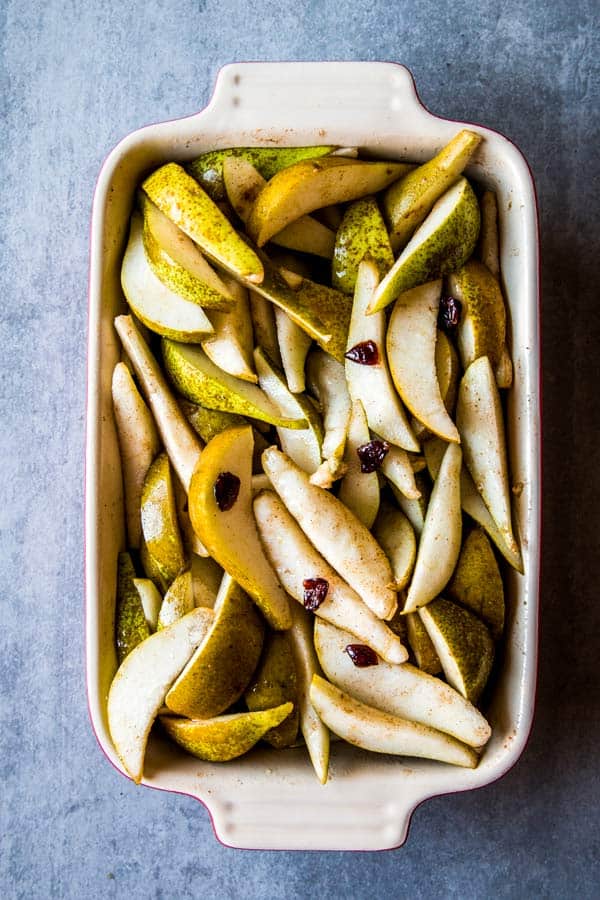 3 – Bake and rest the crisp the right way:
Don't bake your crisp too hot (360°F is perfectly fine) and in the lower half of your oven (unless you're using a convection oven, in which case it doesn't matter as much).
That way your topping won't burn, and the filling will get jammy and bubbly.
Allow the crisp to rest for 10-15 minutes on the counter before serving, so the juices can cool and thicken. It helps to dig a little hole into a few spots of the crisp to allow steam to escape from the inside (that's weird, but it works).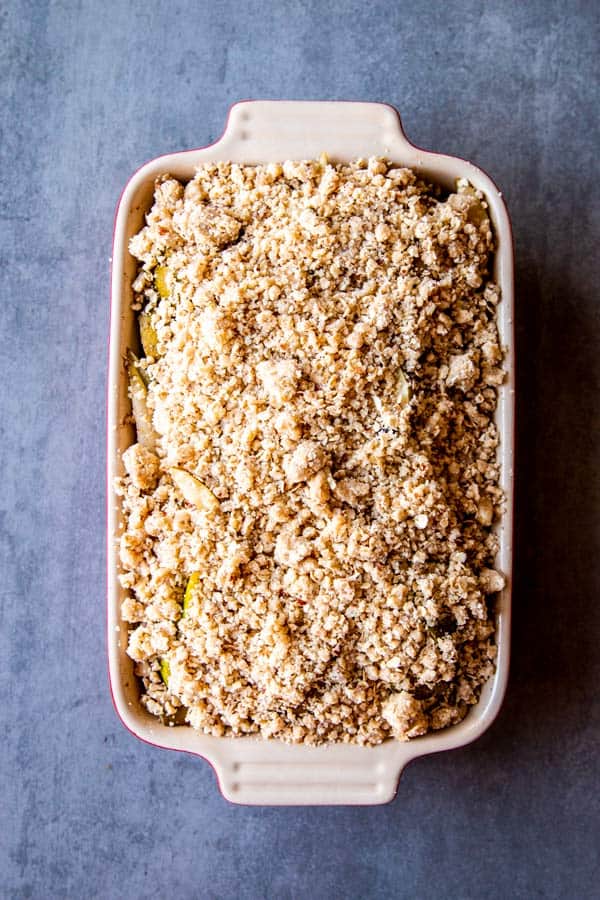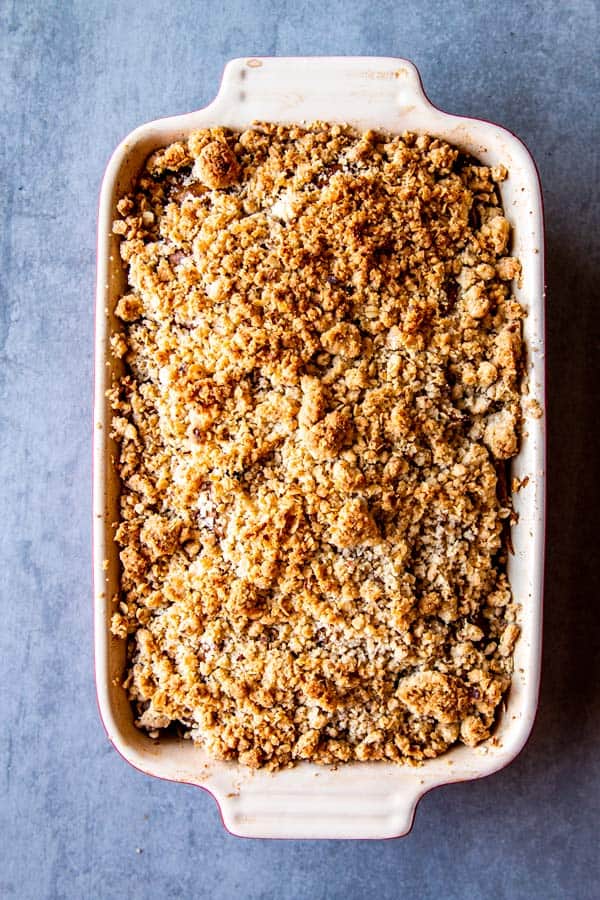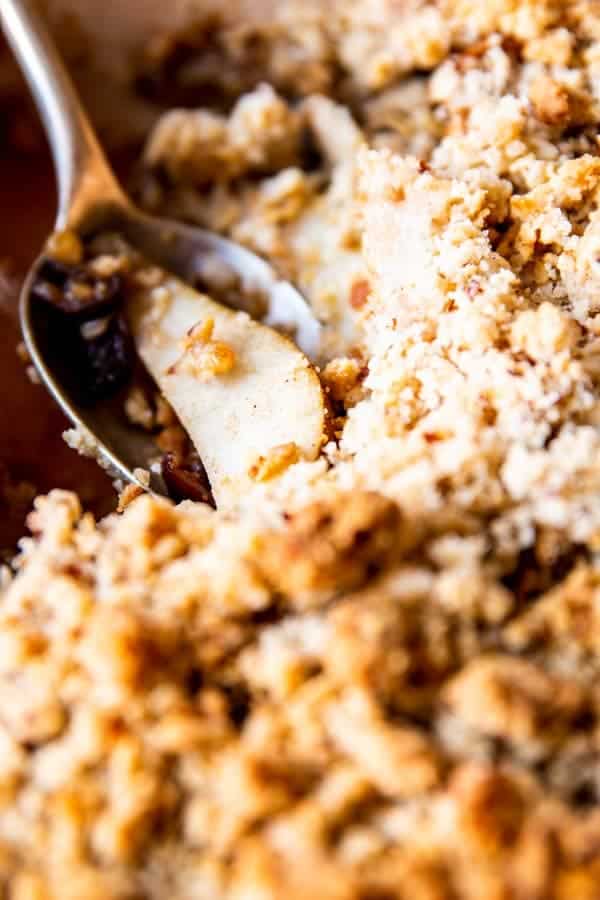 Make Ahead Instructions:
Make your pear crisp up to 12 hours ahead and keep the cooled crisp covered in the fridge.
Reheat it in burst in the microwave (individual servings work better), OR place the entire baking dish in the oven at 300°F until the crisp is hot again.
How to Serve a Pear Crisp:
Last but not least… I know everyone loves a scoop of ice cream on top of their crisp… But can I be honest? I way prefer a spoonful of tart yogurt.
I did the whole ice cream thing for the photos here, but honestly: If you've never had cool, fresh yogurt on a warm crisp? Try it. It's nothing short of amazing.
And I hear homemade whipped cream is pretty awesome, too!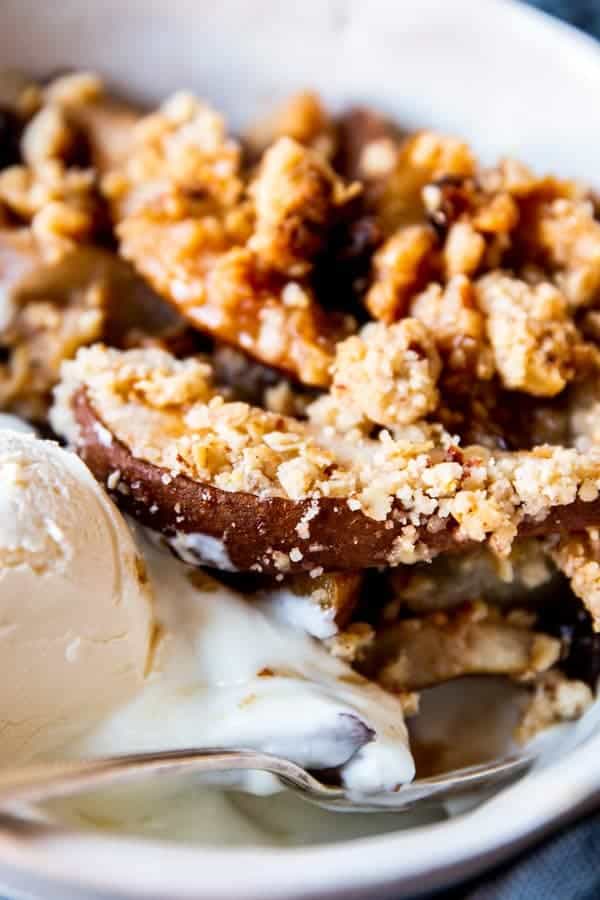 P.S: The Harry Potter books, not the movies. I mean, they're OK… But the books? Pure magic.
Get the printable recipe for my pear crisp here:
Printable recipe
Printable Recipe Card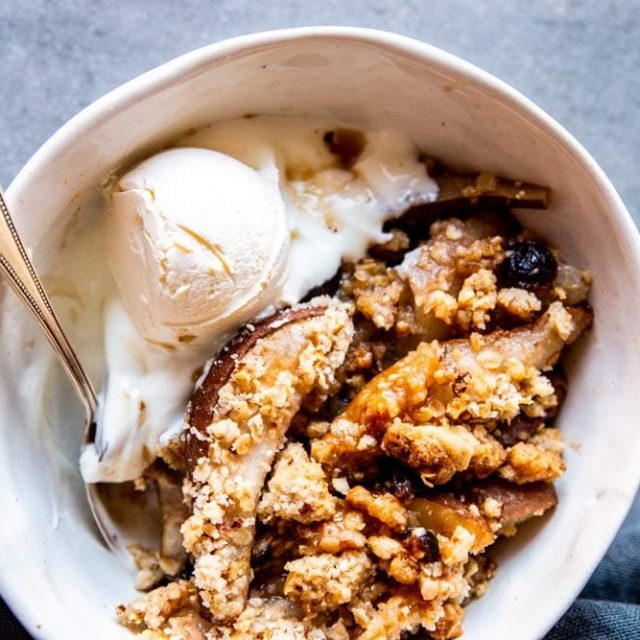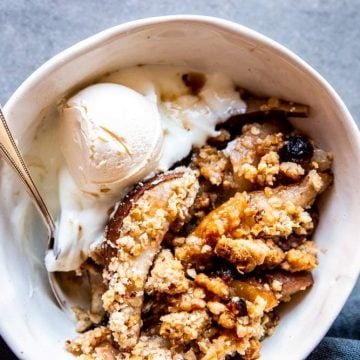 Autumn Spiced Pear Crisp
Pear Crisp is a simple seasonal dessert that's quick and easy to prep. Loaded with fall spices, cranberries and a juicy pear filling, this is the perfect treat for autumn.
made it? tap the stars to add your rating!
Ingredients
For the Topping:
½

cup

light brown sugar

¼

cup

ground almonds

or any ground nuts you like OR more rolled oats

½

cup

rolled oats

½

cup

all-purpose flour

½

teaspoon

ground cinnamon

1

pinch

salt

5

tablespoons

cold butter
For the Filling:
8-10

small pears

cored and thinly sliced (enough to tightly pack a 7×11 baking dish)

2

tablespoons

pure maple syrup

or more to taste

¼

cup

dried cranberries

optional

1

teaspoon

cinnamon

⅛

teaspoon

ground nutmeg

⅛

teaspoon

ground ginger

⅛

teaspoon

ground allspice
Instructions
Make topping: Place brown sugar, ground almonds, oats, flour, cinnamon and salt in a medium bowl and mix well. Cut in cold butter until you have a bowl filled with pea-sized crumbles. Refrigerate until ready to use.

Make filling: Preheat oven to 360°F. Place all ingredients for the filling in a 7×11 baking dish and toss well.

Bake: Evenly scatter topping over the filling. Bake for 30-40 minutes, or until filling is bubbly and topping is browned. Rest the crisp on a cooling rack for 10 minutes before serving.
Want to save this recipe?
Create an account for free to start your personal recipe box. Save any recipe by tapping the heart in the bottom right corner.
Join Now
Nutrition
Calories:
365
kcal
Carbohydrates:
64
g
Protein:
4
g
Fat:
13
g
Saturated Fat:
6
g
Cholesterol:
25
mg
Sodium:
98
mg
Potassium:
250
mg
Fiber:
7
g
Sugar:
40
g
Vitamin A:
329
IU
Vitamin C:
7
mg
Calcium:
56
mg
Iron:
1
mg
Nutrition is an estimate.
More recipe information
Try These Crisp and Cobbler Recipes Next: