This Balsamic Glazed Caprese Chicken is an easy chicken recipe to whip up on even the busiest weeknight! Juicy chicken breasts are cooked in balsamic vinegar together with cherry tomatoes and topped with melty mozzarella cheese for the ultimate family dinner.
Cooking the chicken in a garlicky balsamic sauce adds so much extra flavor, and it's absolutely delicious serve over pasta or rice. For other easy chicken recipes, see my Balsamic Bruschetta Chicken or my Balsamic Glazed Chicken Sheet Pan Dinner!
Chicken is one of our favorite dinners – which is probably why there's so many chicken recipes on this blog, ahem. But chicken can get really boring, really fast.
Not with this recipe though! The chicken stays so juicy with such amazing flavor from the tomatoes, balsamic, garlic and herbs. And as we all know, melty cheese never hurts ?
Luckily for all us busy moms, this chicken recipe is incredibly quick and easy to make. That way you still have the time and headspace to whip up a side and yell at the big kids to set the table – while the little one is clinging to your knees.
If you ask me, it's always good to have a few easy meals up your sleeve for when life (inevitably) happens. Some of our favorites include this Garlic Butter Lemon Baked Cod and these Instant Pot Sour Cream Pork Chops – and my Balsamic Glazed Caprese Chicken, obviously.
How to Make Balsamic Glazed Caprese Chicken:
Read on for the detailed steps, or scroll down for how to make this recipe in the oven, which cuts of chicken work here, more tips to make this recipe foolproof and the printable recipe card.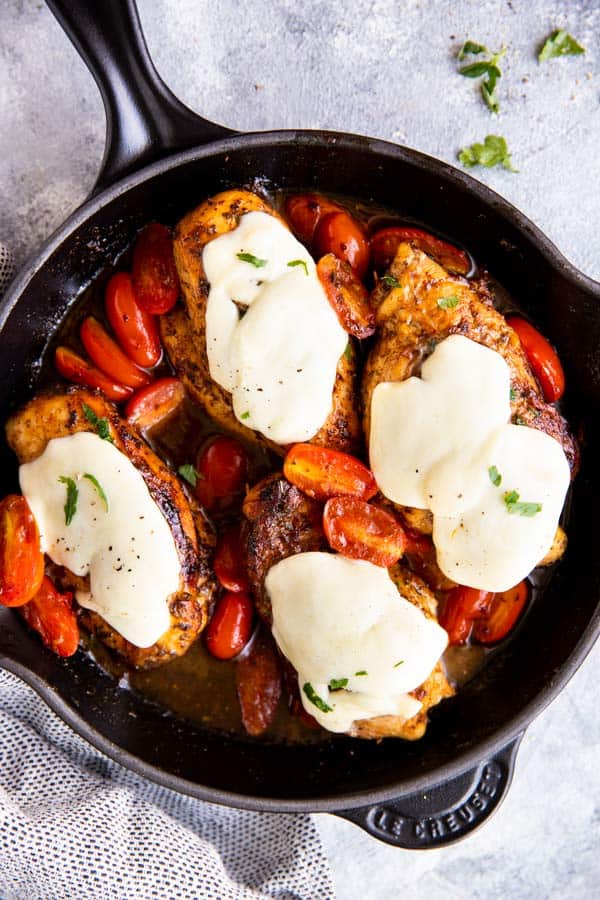 ► 1 Prep Chicken: If you want to marinate the chicken for more flavor, it's the first thing you'll have to do. Chicken only needs 15-30 minutes in marinade, so you don't need to think ahead too far. My Balsamic Chicken Marinade is what I usually use!
► 2 Cook Chicken: If you chose not to marinate your chicken, season it with salt and pepper. Heat some olive oil in a skillet large enough to hold all of your chicken. Once the oil is hot, add the chicken and cook it over medium-high heat until golden-brown and cooked through, about 5-6 minutes on either side.
Set the chicken aside on a plate. To keep it warm, you can tent it with foil or cover it with a soup plate.
► 3 Make Sauce: Next, pour the chicken broth into the skillet, scraping any browned bits off the bottom of the pan. Stir in the balsamic vinegar, mustard, garlic, seasoning and brown sugar (if you want to use it – it offsets the acidic vinegar a little, but it's entirely optional).
Simmer until the sauce has thickened to your liking – we like a medium-thick sauce, but you can cook it down until it's a thick glaze if you prefer. I usually slice the tomatoes while the sauce is simmering here!
► 4 Cook Tomatoes: Add the sliced tomatoes to the pan with the balsamic sauce. Cook over medium heat until softened, about 4 minutes. Make sure you don't overcook the tomatoes, or they'll turn everything into tomato sauce!
► 5 Heat Chicken: Finally, return the chicken to the skillet with the balsamic sauce and tomatoes. Simmer for a couple of minutes while spooning balsamic glaze over the chicken, until chicken is heated through.
► 6 Melt Cheese: Take the skillet off the heat and top each chicken breast with mozzarella cheese. Cover with a lid and let stand for a few minutes, until the cheese has melted.
TIPS FOR THIS BALSAMIC GLAZED CAPRESE CHICKEN:
when simmering the sauce to reduce and thicken it, make sure it doesn't reduce too much or it will get a burn-y and bitter taste
only gently cook the tomatoes over medium heat, or they'll quickly fall apart and you'll end up with tomato sauce instead
use thinner slices of mozzarella, so that it completely melts in the skillet. In case it doesn't melt quickly enough, put it under the broiler for a couple of minutes.
How to Make Balsamic Glazed Caprese Chicken in the Oven:
You can easily finish this recipe in the oven if you prefer!
Only just brown the chicken in the skillet instead of cooking it through, using a pan that can go into the oven.
Reduce the sauce to your liking, then add the chicken and bake for 15 minutes.
Add the tomatoes around the chicken and bake for another 5-10 minutes, until the chicken is cooked through. Top the chicken with mozzarella and bake for 1-2 more minutes, until cheese has melted.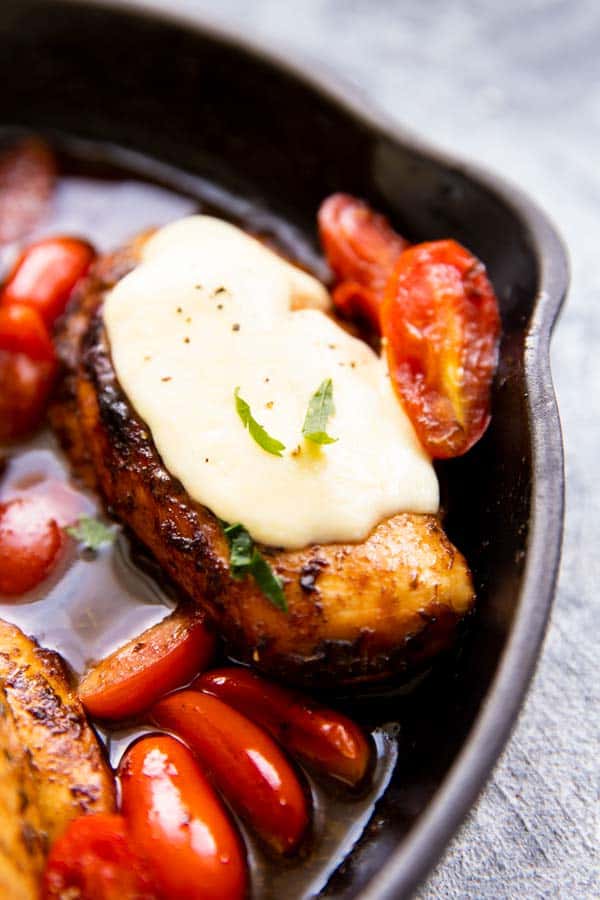 Which other chicken cuts work with this recipe?
You can use boneless or bone-in, skin-on chicken thighs if you prefer!
The cooking time will increase a little, the chicken thighs need 8-10 minutes per side, depending on their size. Bone-in chicken thighs may need even longer, be sure to check the chicken's internal temperature before serving!
I love using a kitchen thermometer like this one to make sure my food is cooked to a safe temperature! (This is an affiliate link and I make a commission for purchases made after clicking through.)
What to Serve with Balsamic Glazed Caprese Chicken: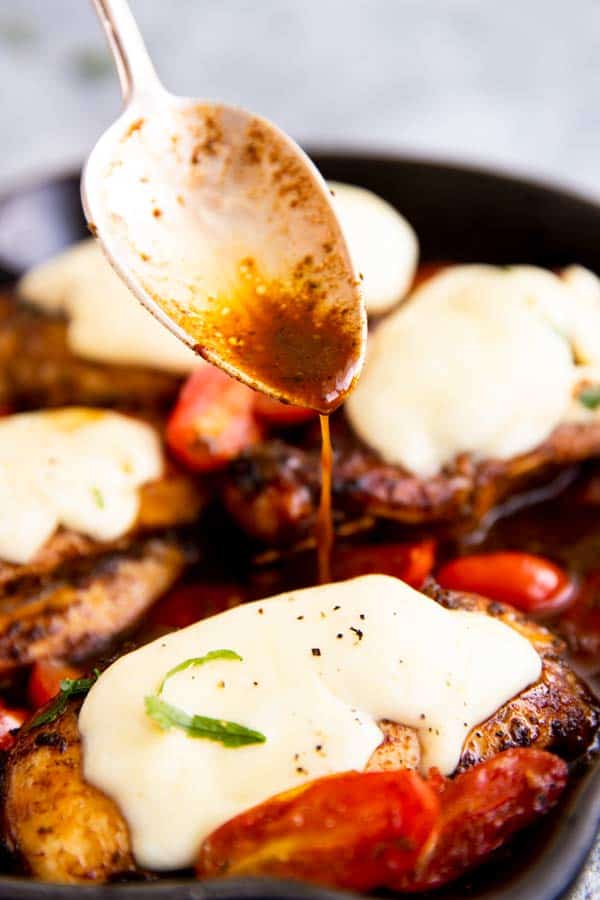 This delicious sauce was meant to be mopped up by all the delicious things! Here are some of our favorite sides:
Starchy Sides
Vegetable Sides
Salad Sides
If you have another favorite side dish, let me know in the comments so I can try it out!
Get the printable recipe here:
Printable recipe
More Chicken Recipes:
More Caprese: