Printable recipe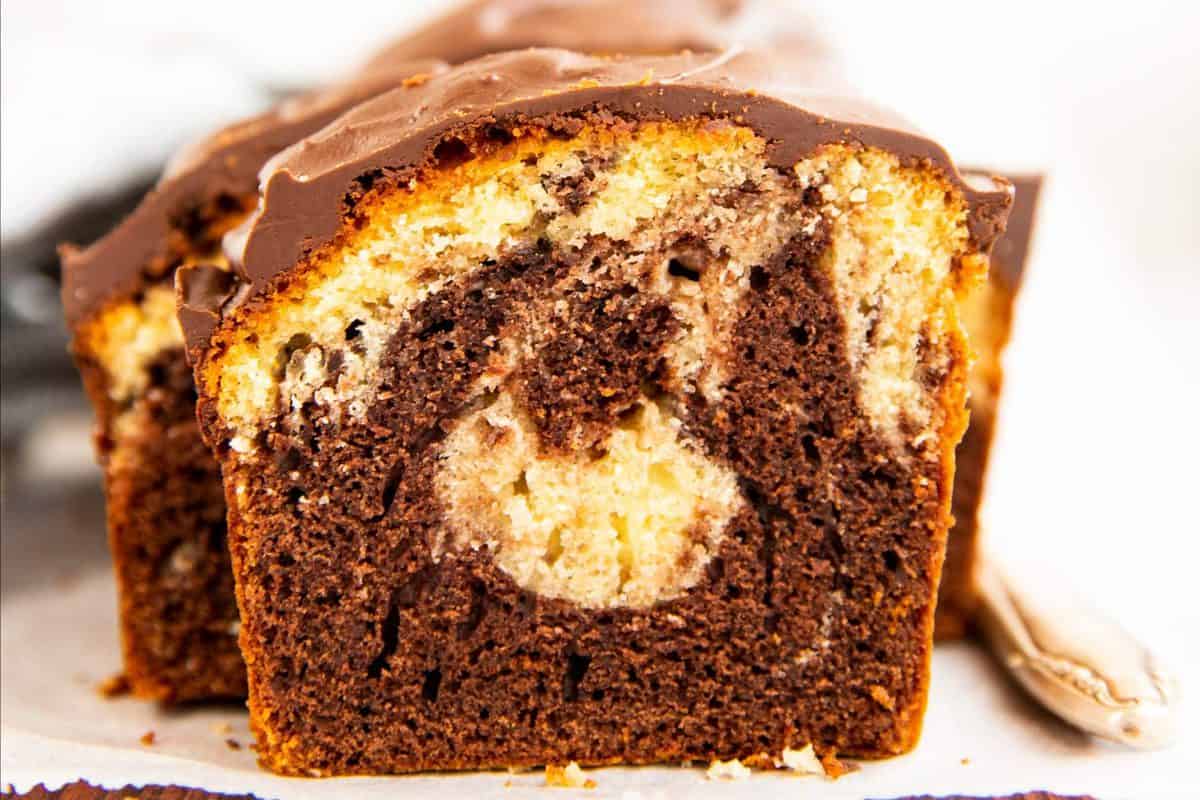 made it? tap the stars to add your rating!
Ready In:
1

hour
15

minutes
This is such a fun twist on pound cake – I flavor and color half of the batter with cocoa powder and then marble it together with classic vanilla batter for a beautiful surprise once you slice into this cake.
Ingredients
1

stick butter

(softened)

3

large eggs

1

cup

granulated sugar

¼

teaspoon

salt

⅔

cup

heavy cream OR milk

1

teaspoon

vanilla extract

2

cups

white flour

1

tablespoon

baking powder
For the chocolate batter:
4

tablespoons

unsweetened cocoa powder

1 – 2

tablespoons

heavy cream OR milk
Instructions
Prep: Heat oven to 360°F and line a 4×8 inch loaf pan with nonstick baking parchment.

Make cake batter: In a large mixing bowl, cream butter with an electric mixer until smooth, then add the eggs, sugar and salt and cream until light and fluffy. Beat in milk. Combine flour and baking powder in a separate bowl, then beat into egg mixture on low until smooth.

Divide batter: Place half of the cake batter into the prepared pan. Beat cocoa powder and extra milk into remaining batter in the bowl. Spread batter on top of light batter in prepared pan, then carefully swirl together using a fork (don't swirl too much or you'll completely mix it – see video for my technique).

Bake: Bake around 50-55 minutes, or until a toothpick inserted into the middle comes out just clean. Cool in the pan for 5 minutes, then lift out and place on a cooling rack to cool completely.
Add Your Review
Nora's Tips
To Make a Chocolate Glaze:
Melt 4oz semi-sweet or dark chocolate with 1 tablespoon butter and 2-3 tablespoons icing sugar over medium-low heat until smooth. Place the COMPLETELY COOLED pound cake back into the loaf pan and spread the glaze on top. Let cool and dry at room temperature until glaze is firm.
More recipe information
Join my Newsletter to Get Recipes in Your Inbox
Step by Step Photos: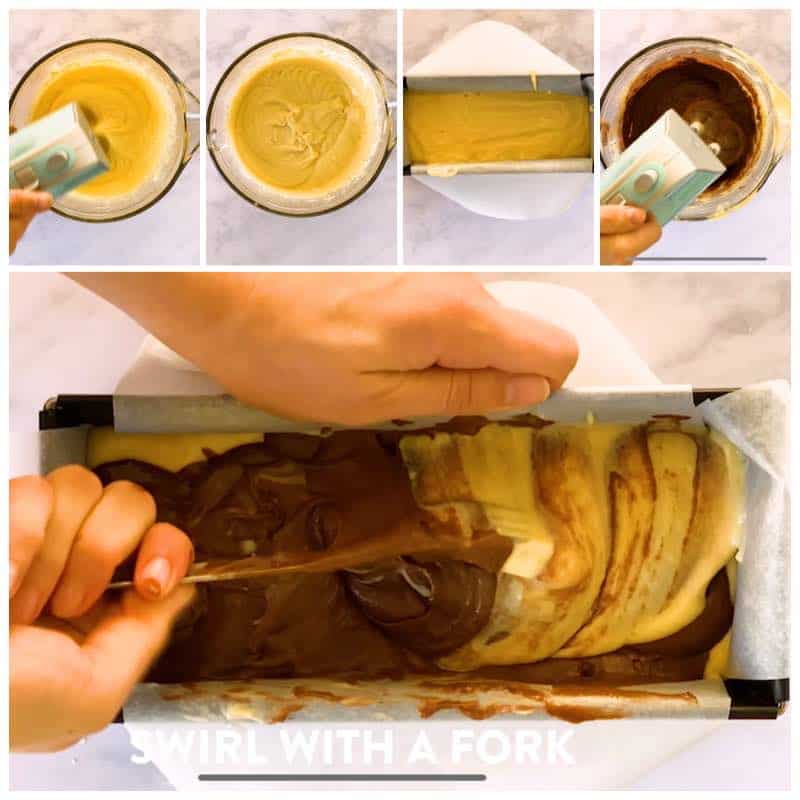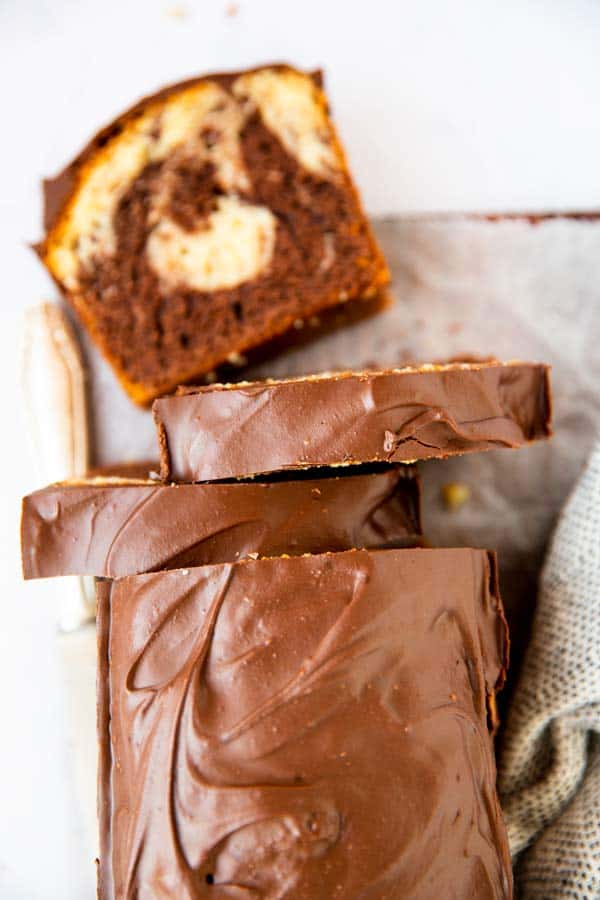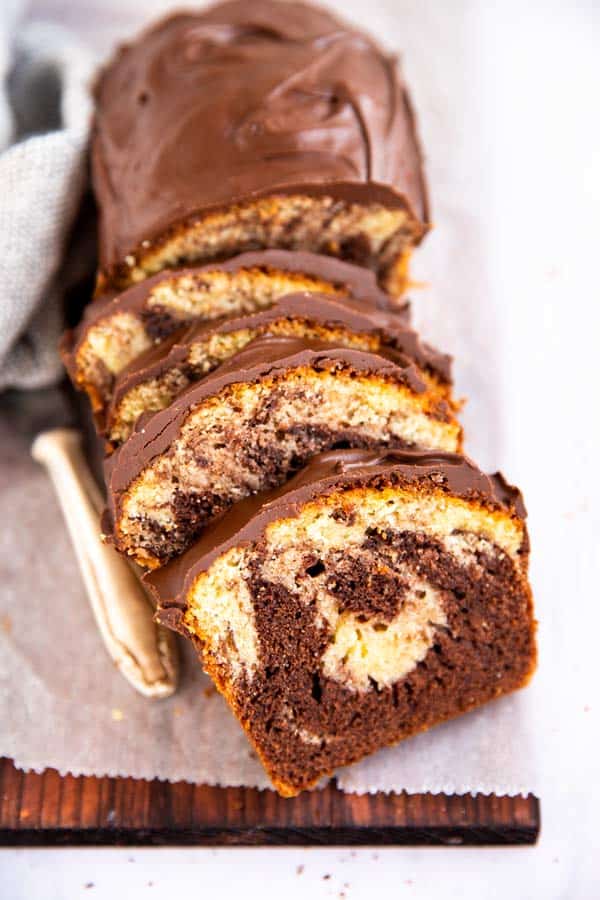 More Recipes You'll Love: