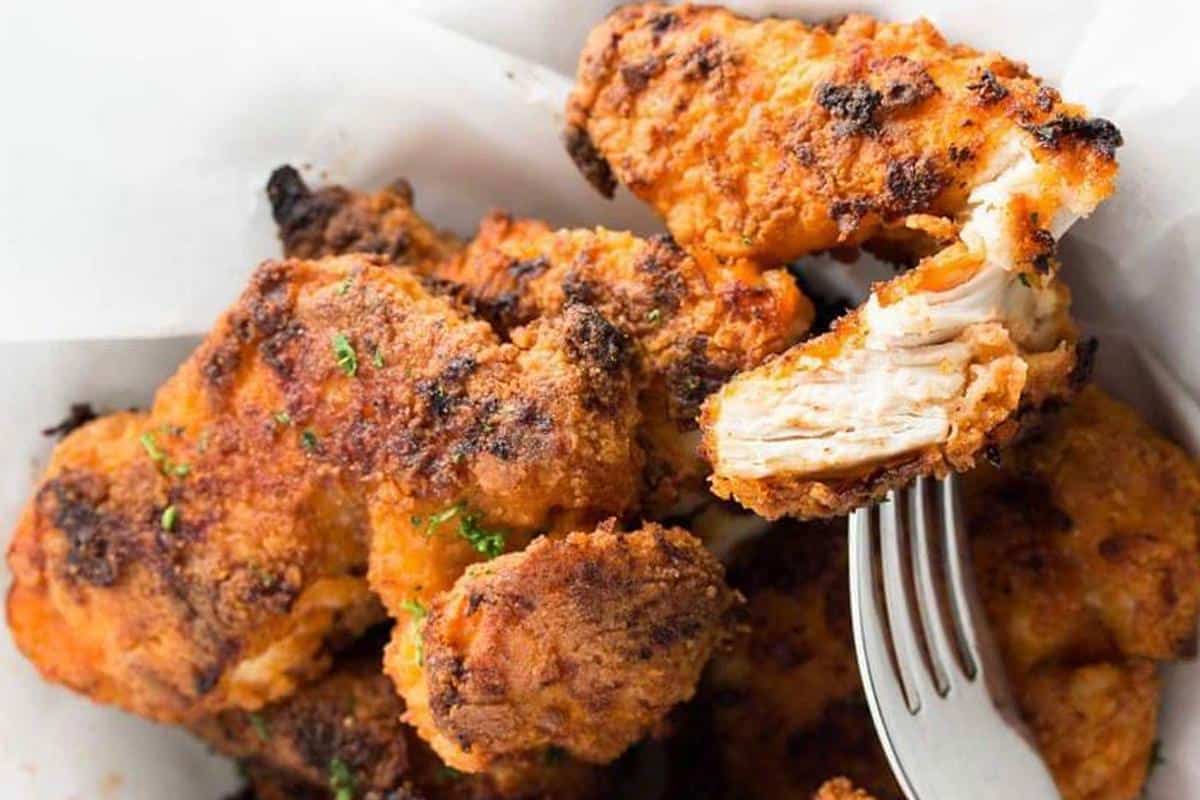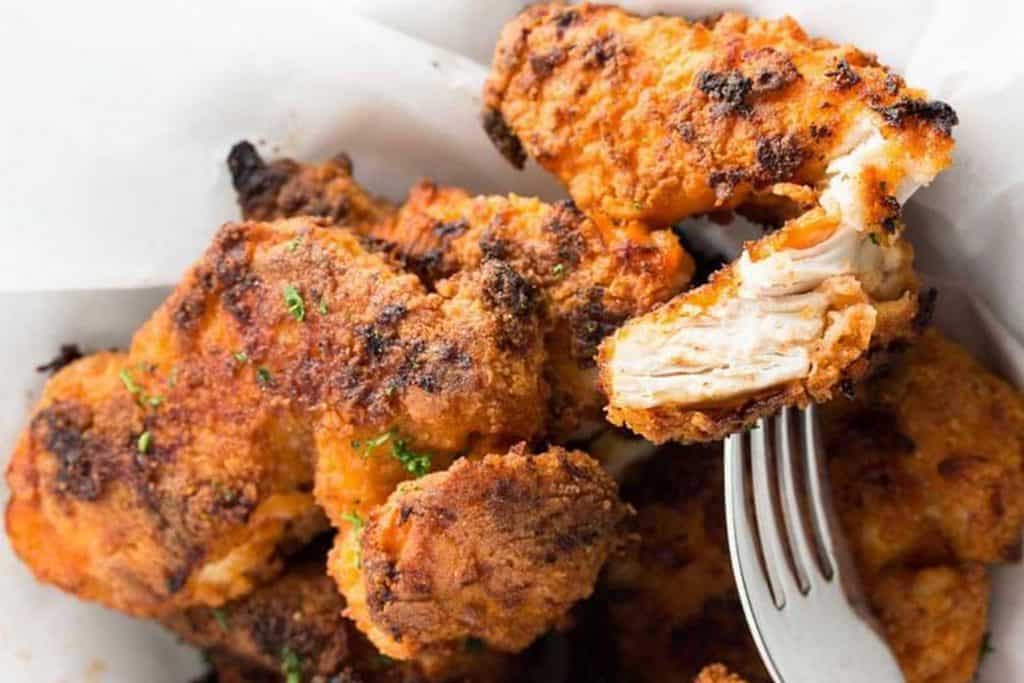 made it? tap the stars to add your rating!
A few years back I loved getting chicken from KFC as a Sunday night tradition. Now that I have my own family I prefer to cook at home. And I especially prefer to have less greasy traditions! That's why I figured out how to make it at home.
Everyone will love this crispy oven fried chicken recipe – it's so simple to make but so full of flavor! We love to serve it with potato wedges or mac and cheese, or add your family's favorite sides for an all-around comforting meal.
Recommended Equipment:
roasting pan (dark colored)
Ingredients
For the egg mix:
1

large egg

⅓

cup

milk

(OR buttermilk)
For the breading:
1

cup

all purpose flour

4

tablespoons

plain breadcrumbs

(Panko or Italian seasoned work as well)

1

teaspoon

baking powder

½

tablespoon

salt

2

teaspoons

ground paprika

1

teaspoon

garlic powder

1

teaspoon

onion powder

½

teaspoon

ground pepper
For the Chicken:
2

pounds

skinless, boneless chicken breast

(cut into strips (I do 3-4 per breast))
For the pan:
¼

cup

butter

(or more as needed)
Instructions
Prep: Heat the oven to 410°F (210°C). Place a dark-colored (or at the very least a silver metal) roasting pan (a rimmed baking sheet works as well) in the oven to heat up.

Prepare breading: In a medium bowl, whisk together the egg and the milk. In a separate bowl, mix the flour, breadcrumbs, baking powder and seasoning together.

Bread the chicken: Toss the chicken pieces in the flour, coating evenly and shaking off any extra flour. Next, toss the chicken pieces in the egg mixtures. Then, dip each into the flour mix again, this time coating very well – press the breading well on the chicken to make it stick.

Place chicken on pan: Take the baking pan out of the oven and melt the butter on it. Place the coated chicken pieces on the tray – leave enough space in between, I usually bake it in two batches.

Oven fry: Bake for 10-12 minutes, carefully flip and bake for another 5-10 minutes (depending on how thick your chicken pieces are). Finish by broiling the chicken until it turns golden brown and crispy.
Add Your Review
Step by Step Recipe Video
Nora's Tips
Step by Step Photos: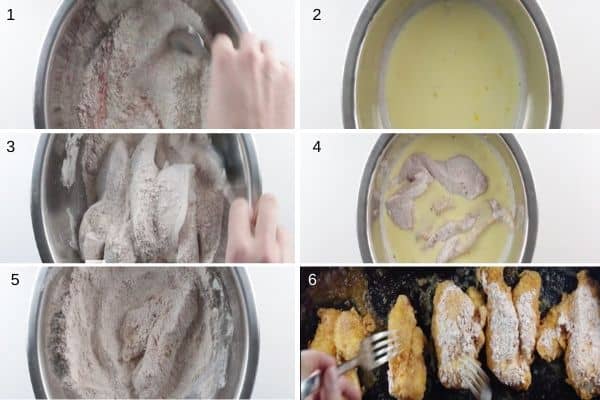 Important ingredient notes:
Chicken parts: I usually use chicken breast only because it's easiest for me to make and everyone will eat it. You can use whatever pieces you want, though – many readers have successfully made it with thighs and drumsticks.
Salt and spices: I reduced the salt by half from a previous version because some people felt it was too salty; if you've made this before and the saltiness was right for you, feel free to increase. And I know it sounds like a crazy amount of spices… But trust me here, your chicken will turn out bland if you don't season it enough. If you want to add some heat, try using some cayenne pepper or chili powder.
Important Cooking Tips
Use a dark pan: A dark pan reflect the heat best, which results in the crispiest chicken. A silver pan is acceptable and yields good results, too.
Use kitchen tongs: Using kitchen tongs to toss the chicken, and then coat it with the breading, is the easiest way to keep the mess to a minimum.
Flip it VERY carefully: Use a spatula to slide underneath the chicken and very gently release the chicken from the pan before flipping/serving. If you just rip it off with tongs etc, the breading will fall off.
Let the chicken rest for 3-4 minutes before serving, but don't let it sit around for longer than that for best results.
Reheating Leftovers:
If you have leftovers, you can easily reheat them in the oven. The chicken won't be quite as juicy as freshly baked, but it's still good.
Check out my step by step instructions for reheating fried chicken here!
Freezer Instructions:
Wait for the chicken to cool completely before freezing it (otherwise your freezer could heat up too much and affect the other frozen goods in there).
Use a container or bag that is suitable for freezing. Label the bag or container with the contents, today's date AND the use-by time (the chicken is best eaten within 3 months).
I recommend freezing in a single layer on a cookie sheet for ~1 hour before transferring to freezer bags.
You can reheat the oven fried chicken in the microwave or for 20-25 minutes at 375 in the oven, or until it's piping hot all the way through.
You don't need to defrost it before reheating.
Our favorite side dishes:
Finally, I want to show you just how versatile this recipe is. There are lots of ways to have fried chicken and these are some of our favorites:
In a bun topped with sliced avocado and coleslaw on the side (I had this at a restaurant with regular fried chicken and it was so good!)
Really, this is THE recipe you've got to try. It's what my kids want for their birthday dinner every single year, so you know it's a good one 😉
Nutrition
Serving:
1
/6 of Recipe
|
Calories:
436
kcal
|
Carbohydrates:
21
g
|
Protein:
52
g
|
Fat:
15
g
|
Saturated Fat:
7
g
|
Polyunsaturated Fat:
6
g
|
Cholesterol:
181
mg
|
Sodium:
836
mg
|
Fiber:
1
g
|
Sugar:
1
g
More recipe information
Join my Newsletter to Get Recipes in Your Inbox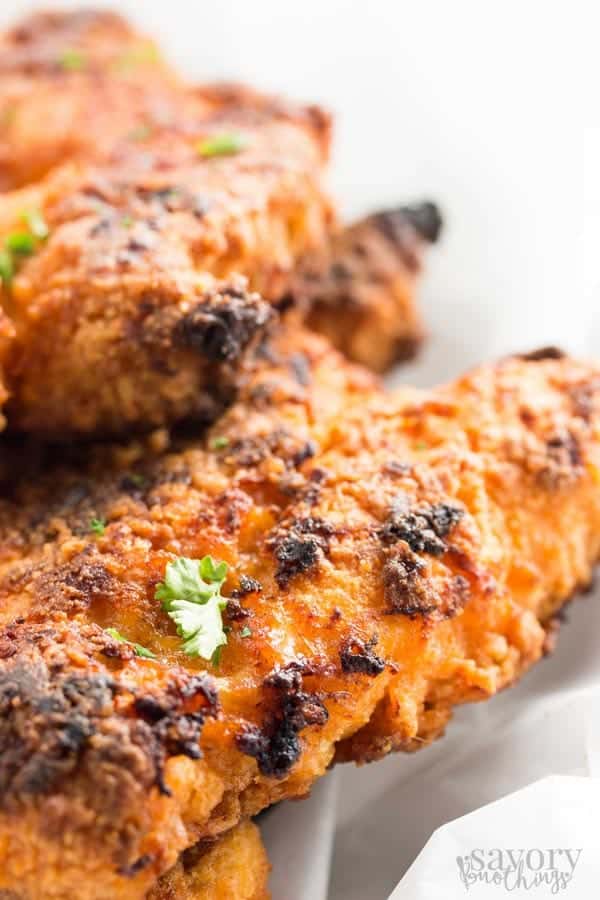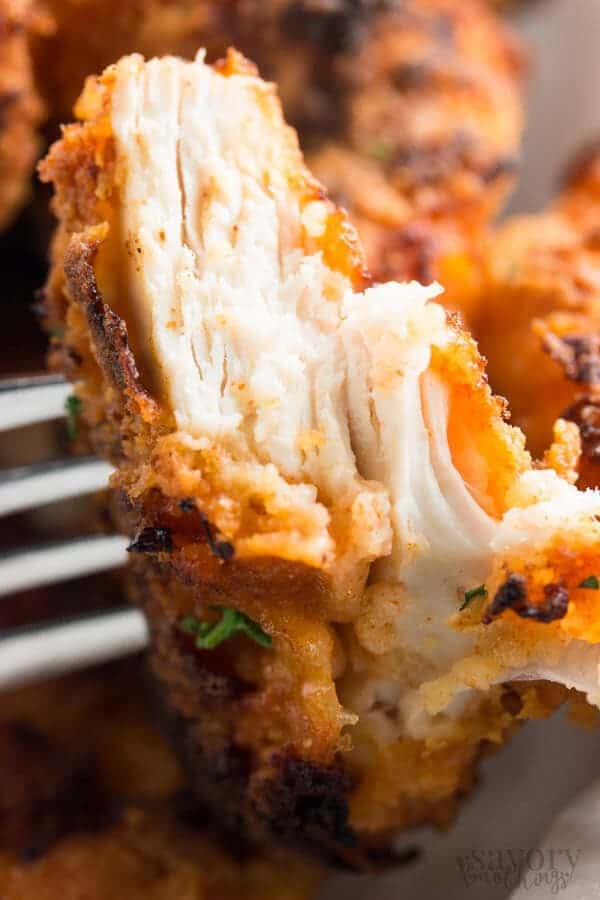 In full disclosure: While I do love this recipe 100% (I wouldn't have shared it otherwise!) it is important to me to tell you that you shouldn't expect the same results from baking as you should from deep-frying.
This recipe here does make a crispy oven fried chicken, but it's not identical to regular deep fried chicken. It's very delicious though (I do really like it better than KFC!) and your family will probably fight for the last crunchy oven fried chicken piece. I know mine does 😉
Try these recipes next:
Check out our Oven Fried Chicken Breast Recipes collection for more ideas!